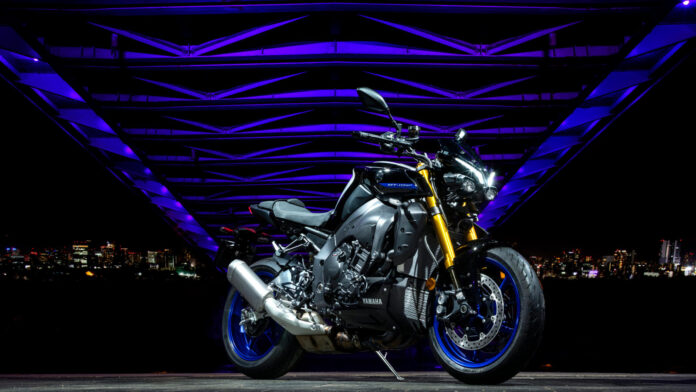 Raw, uncompromising style, premium specification and exclusive finish
The Dark Side of Japan
Since 2013, the Dark Side of Japan has been the inspiration behind the development of Yamaha's MT models, which have given Europe's thrill-seeking riders a whole new level of excitement and dynamism. Designed and built by people who eat, breathe and sleep motorcycles, Yamaha's MT models have created their own dynamic Hyper Naked category and introduced a huge number of riders to a new kind of two-wheel experience.
With their torque-rich engine performance, agile handling and naked good looks, each and every MT is designed to deliver a sporty, thrilling and rewarding ride that reinforces every motorcyclist's passion for two wheels. With over a quarter of a million MTs sold in Europe since the first model arrived eight years ago, the Yamaha Hyper Naked range is helping to make motorcycling an even more exciting, accessible and attractive lifestyle choice.
With over 290,000 sold in Europe, the MT line up has brought a new excitement to the street, and the smaller capacity models have been successful in attracting a whole new generation of people into the world of two wheels.
From the new MT-10 to the MT-125, Yamaha's Hyper Naked range is designed to give every rider the opportunity to be a part of the most exciting and accessible movement in European motorcycling.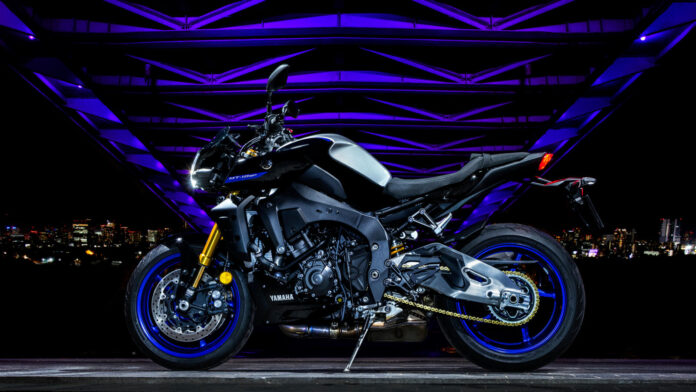 New MT-10 SP
Ultimate riding experience
One of the key attractions of Yamaha's MT range is that it offers the widest range of Hyper Naked models, giving riders with different experience levels, requirements and budgets the chance to choose the right bike. Finished in exclusive colours and graphics, the SP models represent the pinnacle of machine development, and feature the most sophisticated specifications available.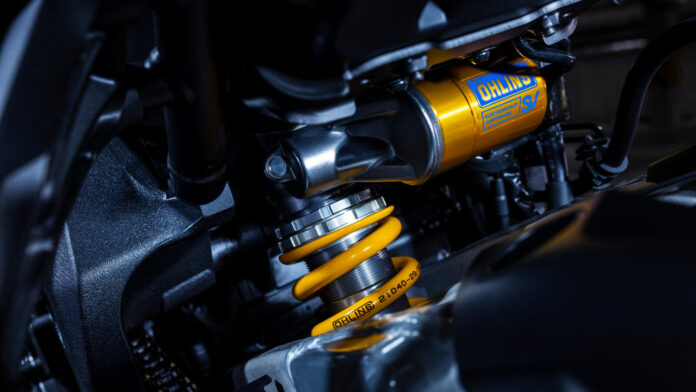 Öhlins semi-active suspension system
The new MT-10 SP is designed for riders who want the most exclusive Hyper Naked with the very highest chassis technology ever fitted to a production model. This machine is the first motorcycle in the world to be equipped with Öhlins' very latest electronically controlled suspension system at the front and rear.
Although the Yamaha R1M features a similar system, the MT-10 SP has been fitted with the next generation of the Öhlins electronically controlled suspension system that uses new spool valve damping technology.
This state-of-the-art technology gives a greater range of damping adjustments and gives a higher degree of response. The rider can make suspension changes by accessing the ERS menu in the TRC settings. The ERS menu offers a choice of three semi-active damping modes (A-1, A-2 & A-3) as well as three manual settings (M-1, M-2 & M-3).
When any of the automatic modes are selected the system adjusts the rebound and compression damping to match the current running conditions, and changes are constantly made to ensure that the most appropriate settings are always in play.
Manual mode allows precise electronic adjustment of compression and rebound damping for both the front fork and rear shock. Managed through the YRC menu the suspension can be tailored to suit the exact rider style or riding environment required.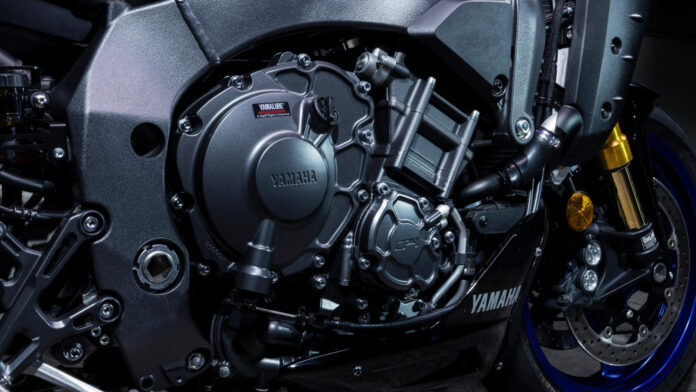 Semi-active damping modes
A-1 is a sporty mode that is designed to give confidence and feedback on twisties and secondary roads, with a high degree of front and rear feel, and good chassis stability during acceleration and braking.
A-2 is best suited to sporty riding on a typical highway.
A-3 is designed for touring conditions with an emphasis on comfort and stability.
Three-piece belly pan
The new MT-10 SP is also equipped with an exclusive three-piece belly pan that gives a more aggressive race-bred look to this top of the range flagship model and additionally protects the oil cooler.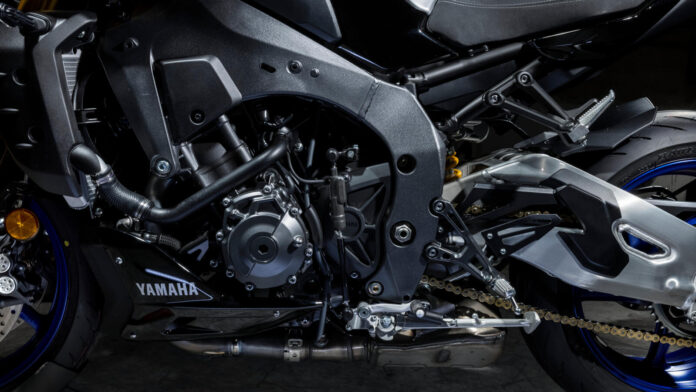 Braided brake hoses
Braided brake hoses are fitted as standard, giving the rider a high level of feel at the lever, and offering a higher level of performance in track riding events where intensive use of the brakes results in extremely high temperatures.
Exclusive colours and graphics
Every SP model has exclusive colours and graphics, and the new MT-10 SP has an Icon Performance finish that is inspired by the scheme used on the class-leading R1M Supersport track and race bike.
MT-10 SP availability and price
Deliveries to European Yamaha dealers will commence mid 2022. Prices vary per region, so please contact the national Yamaha distributor for full information.
Yamaha Genuine Accessories and Hyper Naked Clothing
Yamaha has developed a range of kits and individual Genuine Accessories that enable MT owners to easily personalise their motorcycle with high quality parts that have been developed to give an excellent fit and a premium finish.
Customers can order the kits and accessories before collecting their new motorcycle, and have them fitted by their Yamaha dealer. All of the items in the kits can also be purchased individually, and in addition to the kit items, the Genuine Accessory list includes everything from Akrapovic Exhaust Systems and levers through to grip heaters and billet handlebar ends.
Yamaha's extensive MT clothing line includes male and female jackets and trousers, as well as a selection of hoodies, T-shirts, gloves and a range of CE-approved riding gear. The MT collection is constantly evolving, and new products are added throughout the year.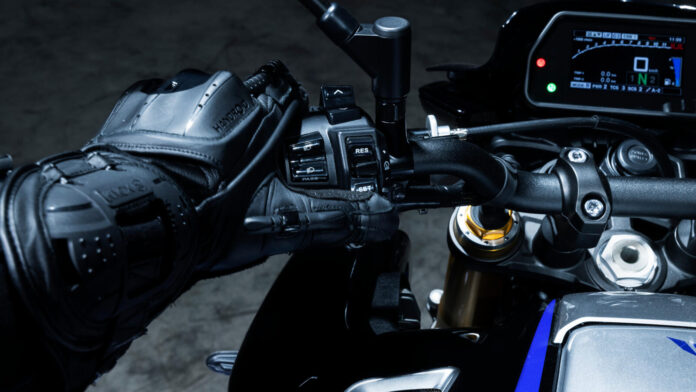 MyGarage app
Yamaha's MyGarage app is the quick and easy way for customers to build a virtual version of any MT model with a range of Genuine Accessories while sitting at home with their smart phone or laptop. The free App allows users to add and remove accessories to create their ideal MT, and the finished result can be viewed in 3D from every angle.
MyGarage takes the guesswork out of choosing which accessories to fit, and to make things even easier the customer's final selection can be emailed to their chosen Yamaha dealer who will fit the selected Genuine Accessories to their new MT.
For full information on Yamaha Genuine Accessories and Apparel or MyGarage please visit www.yamaha-motor.eu/gb
MyRide
Yamaha's free MyRide app gives all MT riders the chance to get more enjoyment and information out of every ride. Available for iOS and Android devices, it tracks and stores every route covered, and enables users to create their own story and add pictures which can be shared on social media.
MyRide allows all MT riders to review riding statistics including total distance, elevation, top speed, average speed, acceleration and lean angle, allowing the rider to compare statistics with fellow riders.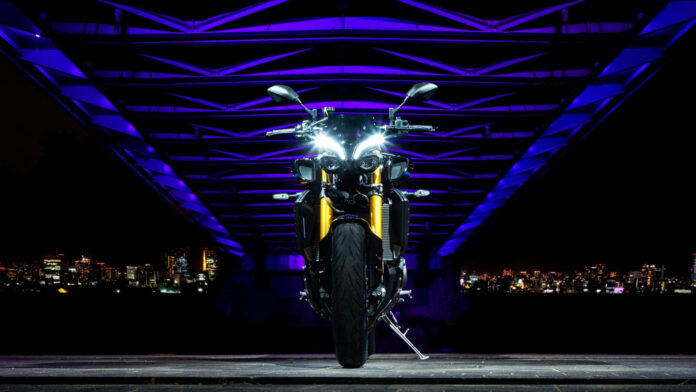 For more Yamaha Motorcycles UK news check out our dedicated page Yamaha Motorcycles UK
or head to the official Yamaha Motorcycles UK website yamaha-motor.eu/gb/en/