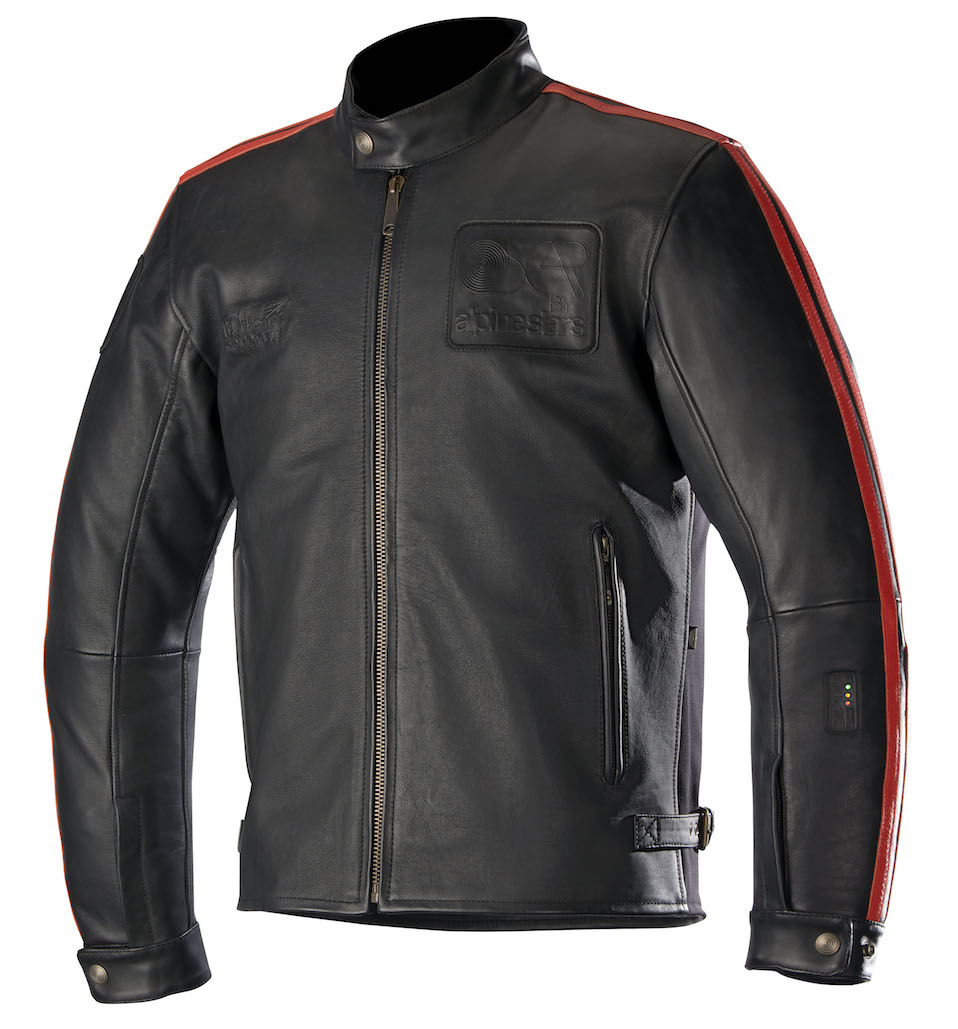 Product Name – Charlie leather jacket Tech-Air compatible (suggested retail price – € 599.95 Euro / £ 579.99 Sterling)  + Tech-Air Race airbag (suggested retail price  – € 1,199.95 Euro / £ 999.99 Sterling)
SIZES: S-3XL
Category – Urban Commuting
Description – The Charlie Leather Jacket for Tech-Air™ is the perfect fusion of Alpinestars heritage and state-of-the-art performance protection with Alpinestars industry leading Tech-Air™ motorcycling airbag system. Part of the OSCAR by Alpinestars collection, the Charlie features a removable thermal liner for comfort and CE certified protection with in a specially treated leather main shell, which is washed and waxed for durability and finish, the Charlie Jacket only improves with age.
The Alpinestars Tech-Air™ technology brings full upper body protection to serious track day and performance riders. Sold separately and compatible with the dedicated Leather Suits, the Tech-Air™ Race is completely self-contained, meaning there are no bike-to-rider set-up configurations required, which ensures the ultimate in convenience, freedom and versatility. When fully inflated, the system's airbag offers critical protection to the back, kidneys, chest and shoulders. Plus, with a simple upgrade the versatile system firmware, the Race system can be configured to run the Tech-Air™ Street setting for non-race use in road and off-road situations.
Full grain leather main shell construction with a natural finish for abrasion resistance, and durability as well as a soft, luxurious feel.
Compatible with Alpinestars' class-leading Tech-Air™ full upper body airbag system. The garment is designed with calibrated stretch inserts on the rear to accommodate airbag's inflated volume without compromising seam strength or materials integrity. The garment's ergonomic design means that it can be worn without airbag system for a personalized fit.
For Tech-Air™ compatibility:
– LED display on sleeve indicating airbag's operational status, plus internal conduit for system vest's ECU.
– Internal hook and loop grip closure plus cable conduits in order to seamlessly accommodate airbag system.
Slim-fitting, CE certified and removable Bio Light shoulder and elbow protectors for optimized levels of protection.
Removable flannel liner is thermalinsulated (80g) offering versatile weather protection in colder climates.
Back protector pocket can be upgraded with Alpinestars CE certified Nucleon backprotector insertas accessory.
Pre-curved sleeve construction for comfort and movement in the riding position.
Zipper and snap sleeve cuff closure and adjustment for personalized fit and security.
Zippered hand pockets for peace-of-mind closure. Interior wallet/document compartment pocket.
Embossed OSCAR by Alpinestars shoulder detailing, zips and trims.
Developed following more than 15 years of extensive R&D in class-leading airbag technology, starting in MotoGP and taking in over half a million miles of road testing, Tech-Air™ is the world's first and only independent full body, dedicated airbag systems specifically designed to offer a rider protection from the first impact in an accident.
Tech-Air™ uses a sophisticated algorithm to provide critical airbag protection for the first impact, meaning the primary contact between the rider and obstacles or vehicle. The system offers unparalleled freedom and versatility. With no connections between bike and rider both systems are completely independent, meaning a rider can have full upper body airbag protection on any motorbike, regardless of make or model.
The Tech-Air™ Street system can be used for road and off-road adventure touring while Tech-Air™ Race can be used for performance track riding but also, via a system firmware swap, can be configured to run the Street settings for the ultimate in versatility.
OSCAR by Alpinestars is a truly unique apparel and footwear collection dedicated to motorcycling lifestyle and fueled by the company's rich 50-year heritage. Reawakening a name that was synonymous with Alpinestars after it was bestowed the prestigious Italian fashion and design 'Oscar' awards in 1972 and 73 and inspiring a collection carrying 'Oscar by Alpinestars', the collection launched for Spring 2015, fuses classic 1970s styling with modern material preparations, design techniques and cutting-edge technical features. The designs, drawn from Alpinestars archives and reimagined for today's men and women riders, are a perfect blend of innovation and craftsmanship. Five decades of freedom, form and function; the legacy continues …