Big Man Forato On Top Of The World In Italy While Laengenfelder Dominates His Ram Qualifying Race
What an eventful day that just ended in Maggiora with the MXGP and MX2 RAM Qualifying Races of the MXGP of Italy. Racing went strong despite the tough conditions brought by huge rain falling on Maggiora in the morning.
In MXGP, SM Action Racing Team Yuasa Battery MXGP's Alberto Forato rode superbly at home, in front of the Italian crowd cheering for him the whole way through. The Italian took his first MXGP race win of his career. Behind him a raging battle went on between the front two riders in the Championship. Red Bull GASGAS Factory Racing's Jorge Prado got the advantage and finished second while Kawasaki Racing Team's Romain Febvre settled for third. 
In MX2, the excellent Red Bull GASGAS Factory Racing's Simon Laengenfelder displayed a clever race to win his fourth RAM Qualifying Race of the season in front of Monster Energy Yamaha Factory MX2 Team's Jago Geerts who is really getting back to his best with the second place and Nestaan Husqvarna Factory Racing's Lucas Coenen who stayed consistent to finish third.
The day was closed by an exciting Paddock Show which saw the winners of the RAM Qualifying Race coming up on stage alongside the Team Italy MXoN, Red Bull KTM Factory Racing's Andrea Adamo, Red Bull GASGAS Factory Racing's Mattia Guadagnini and race winner Alberto Forato. The public also got treated to many Motocross Legends and former riders who will also take part in the Parade of the Legends Sunday morning. There were even more surprises for the fans with the presentation of the Maglia Azzurra by the FMI President Giovani Coppioli together with Team Italy to the public who erupted in joy.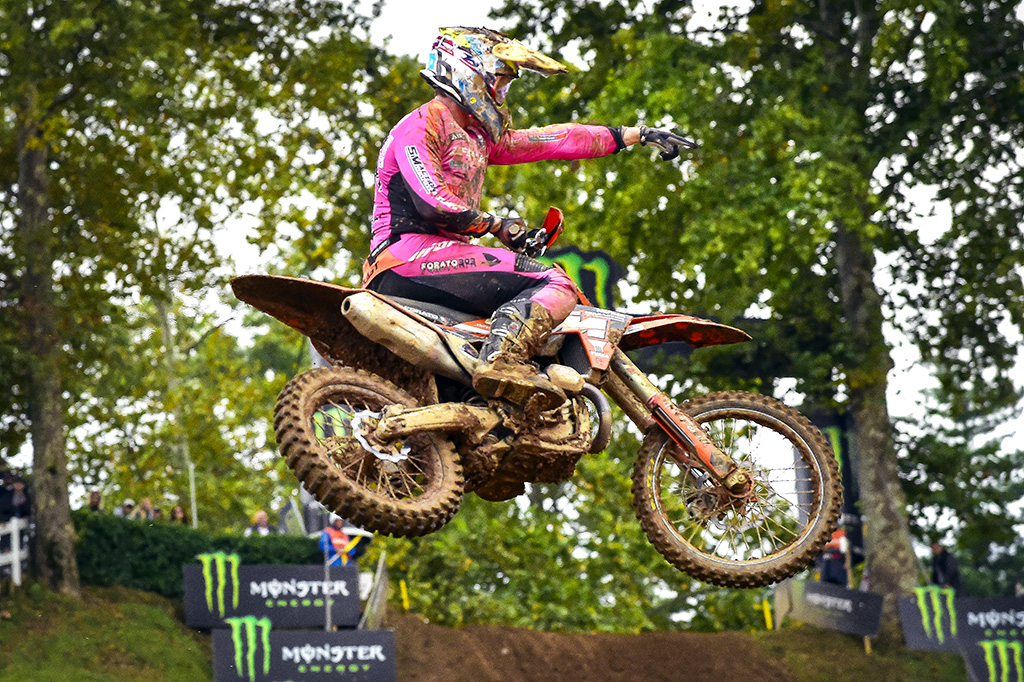 The Race started perfectly for Jorge Prado who took a blistering start despite having the 12th gate pick which shows how much he perfected his starts. Behind the Red Plate, Alberto Forato got an amazing start to find himself 2nd in front of Team HRC's Tim Gajser.
The opening lap proved to be vital for the riders and unfortunately proved to be brutal for Monster Energy Yamaha Factory MXGP Team's Maxime Renaux who tipped over halfway a hill and got issues to retire from the race. However, the front riders kept riding strong especially Forato who showed an incredible pace to close the gap gradually with Prado. On lap 5 of 12, Forato got on the back wheel of the Spaniard to see the crowd going wild. The young Italian didn't stop there as he made an excellent and ruthless pass on Prado halfway down a hill with the two riders going elbow to elbow. Forato kept his charge on to take the lead and fly away in front to take his first MXGP victory of his career, and what is more on home soil.
Prado got under pressure again on lap 6 by Gajser and could not defend the attack on the inside from the Slovenian. Gajser moved up to 2nd but crashed on lap 8 to go down to 5th. Prado got his 2nd place back and this time had to defend over the last 4 laps on the fast Febvre. Febvre started in 5th place but showed a blazing pace to pass Monster Energy Yamaha Factory MXGP Team's Jeremy Seewer for 4th on lap 3 and found himself behind Prado after Gajser's fall. The last few laps got very intense with Febvre trying everything to pass his rival in the Championship and keep his hopes of being champion alive. However, Prado showed great composure to defend strongly and keep the 2nd place until the end. Febvre had to settle for the 3rd place and lost one precious point to Prado.
Despite a great start, Seewer made some mistakes and had to settle for the 8th place in the end. On his side, after his fall Gajser picked himself in 5th right behind his teammate Ruben Fernandez. The Spanish rider who rode very consistently with a good pace thought he did the hardest to finish 4th but it was without counting on Gajser's determination. The defending Champion managed to pass his teammate on the last lap to finish at a good 4th place. Fernandez settled also for a encouraging 5th place.
Team Gebben Van Venroy Yamaha Racing's Calvin Vlaanderen showed again his consistency with solid race as he gained a couple of positions to finish 6th. The other home rider Mattia Guadagnini display another good performance to confirm his great results from Turkiye. Guadagnini shadowed Vlaanderen to finish 7th in the end.
Standing Construct Honda MXGP's Pauls Jonass also showed up again to finish in the points as he rode consistently and overtook ASA United GASGAS's Ivo Monticelli for 9th on lap 5 to stay in that position until the checkered flag and get 2 points. Monticelli settled for 14th in the end. The last point was rewarded to Monster Energy Yamaha Factory MXGP Team's Glenn Coldenhoff who had to employ all his skills on the treacherous track to go from 14th to 10th making some good moves along the way. The other home hero, MRT Racing Team Beta's Alessandro Lupino unfortunately could not get better than the 18th place.
Alberto Forato: "That's a lot for real! I don't know what to say! I'm so happy, huge thanks to everyone. I've been working so hard to get finally here. Now I want to enjoy this and get ready for the two races tomorrow! Ciao Mama!"
MXGP – RAM Qualifying Race – Top 10 Classification: 1. Alberto Forato (ITA, KTM), 25:44.675; 2. Jorge Prado (ESP, GASGAS), +0:05.983; 3. Romain Febvre (FRA, Kawasaki), +0:07.260; 4. Tim Gajser (SLO, Honda), +0:31.021; 5. Ruben Fernandez (ESP, Honda), +0:33.055; 6. Calvin Vlaanderen (NED, Yamaha), +0:37.621; 7. Mattia Guadagnini (ITA, GASGAS), +0:42.169; 8. Jeremy Seewer (SUI, Yamaha), +0:43.283; 9. Pauls Jonass (LAT, Honda), +1:08.761; 10. Glenn Coldenhoff (NED, Yamaha), +1:13.039
MXGP – World Championship Top 10 Classification: 1. Jorge Prado (ESP, GAS), 850 points; 2. Romain Febvre (FRA, KAW), 782 p.; 3. Jeremy Seewer (SUI, YAM), 679 p.; 4. Glenn Coldenhoff (NED, YAM), 629 p.; 5. Ruben Fernandez (ESP, HON), 576 p.; 6. Calvin Vlaanderen (NED, YAM), 537 p.; 7. Jeffrey Herlings (NED, KTM), 456 p.; 8. Alberto Forato (ITA, KTM), 454 p.; 9. Valentin Guillod (SUI, HON), 310 p.; 10. Maxime Renaux (FRA, YAM), 302 p.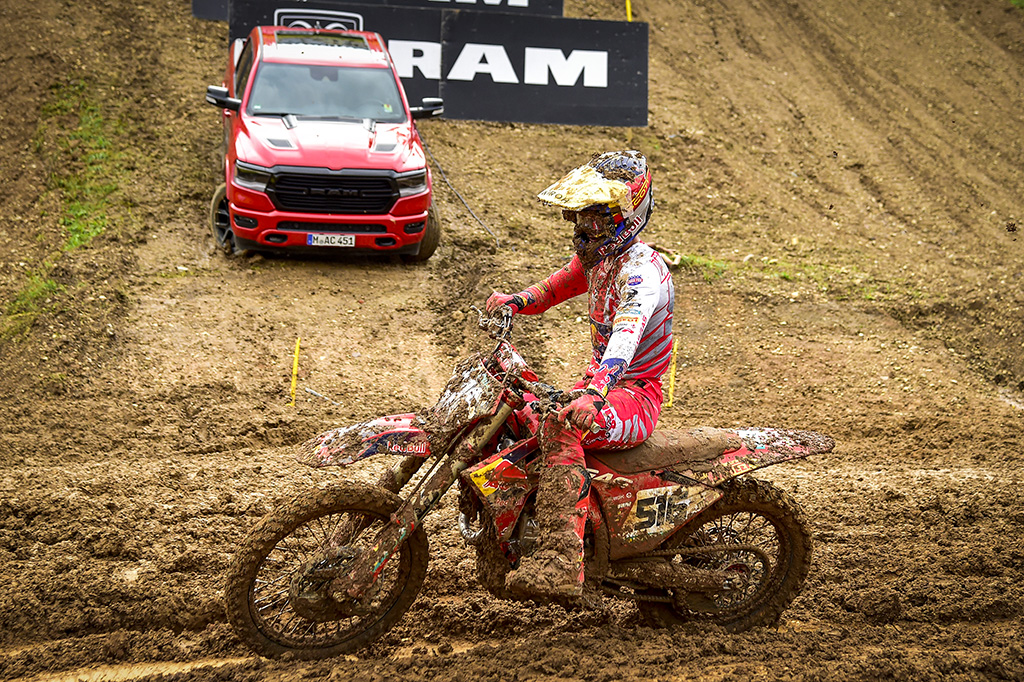 In MX2, it was JM Honda Racing's Camden Mc Lellan who took an amazing start to get in front on the very first corner. Mc Lellan led the way ahead of Jago Geerts and Simon Laengenfelder and showed amazing control on a track that tricked many riders.
Few of them being Red Bull KTM Factory Racing's Liam Everts who fell in the first corner along with his teammate Sacha Coenen. Everts managed to come back but crashed again on lap 5 of 11 to miss a good chance to reduce the gap in the Championship as he finished 17th and out of the points. S.Coenen made also another mistake and finished 27th.  The other rider who encountered some difficulties was Nestaan Husqvarna Factory Racing's Kay de Wolf who started in 10th position to fall the first time on lap 2 and the second time on lap 4,  finishing 19th the end.
In the meantime, at the front, Mc Lellan was showing that he can lead a race with authority as he increased the gap at the lead to 8 seconds. Geerts, second for most of the race got under pressure by Laengenfelder on lap 8. It didn't take long for the German to overtake the Belgian to move up to 2nd. Everyone thought that Mc Lellan would bring it home and get his first win in MX2, but the conditions took the better of him on lap 10 when the South African completely lost control of his livery and crashed out of the lead. It was a golden opportunity for Laengenfelder who took the lead to win his 4th RAM Qualifying Race of the season. Geerts finished at a good 2nd place while unfortunately, Mc Lellan finished 13th in the end.
Nestaan Husqvarna Factory Racing's Lucas Coenen stayed consistent and out of danger to finish at an excellent 3rd place in front of Andrea Adamo. The Red Plate did the job on home soil to increase his lead on his closest rival and teammate Everts who was out of the points. It was a similar race for F&H Kawasaki Racing Team's Kevin Horgmo who got a good start and maintain his position well given the conditions to finish 5th after capitalising on Mc Lellan's crash.
Monster Energy Yamaha Factory MX2 Team's Rick Elzinga and Nestaan Husqvarna Factory Racing's Roan Van de Moosdijk rode for most of the race together, stayed consistent and kept they cool in tough condition to bring it home in 6th and 7th place respectively. The great operation of the day was for VHR Racing Team's Isak Gifting who made a good start to go 7th in the opening lap. However, the Swedish rider lost control on a landing on lap 3 and went off track hitting a series of banners in a dominos-like moment but managed the incredible feat to stay on two wheels and get back on the track to keep racing. Despite losing few positions, the Swede went back at it to overtake Team Ship To Cycle Honda SR Motoblouz's Emil Weckman to finish 8th. Weckman also showed great skill in the mud as he finished 9th.
The performance of the day was for the returning Monster Energy Yamaha Factory MX2 Team's Thibault Benistant who fell in the opening lap to find himself in 15th position but showed the talent that we all we know to cleverly move up into the points and finish in a very good 10th place given his start.
Simon Laengenfelder: "It was a difficult race as in the end the helmet got so heavy and the goggle was just hanging on the edge! The track was difficult to ride and I was lucky to stay on the bike over the first lap but it was a good race and I'm so happy to get the pole position tomorrow."
MX2 – RAM Qualifying Race – Top 10 Classification: 1. Simon Laengenfelder (GER, GASGAS), 24:28.768; 2. Jago Geerts (BEL, Yamaha), +0:02.515; 3. Lucas Coenen (BEL, Husqvarna), +0:19.546; 4. Andrea Adamo (ITA, KTM), +0:30.226; 5. Kevin Horgmo (NOR, Kawasaki), +0:44.494; 6. Rick Elzinga (NED, Yamaha), +0:49.256; 7. Roan Van De Moosdijk (NED, Husqvarna), +0:53.716; 8. Isak Gifting (SWE, GASGAS), +1:01.612; 9. Emil Weckman (FIN, Honda), +1:08.568; 10. Thibault Benistant (FRA, Yamaha), +1:11.063
MX2 – World Championship Top 10 Classification: 1. Andrea Adamo (ITA, KTM), 739 points; 2. Liam Everts (BEL, KTM), 684 p.; 3. Jago Geerts (BEL, YAM), 659 p.; 4. Simon Laengenfelder (GER, GAS), 655 p.; 5. Lucas Coenen (BEL, HUS), 528 p.; 6. Roan Van De Moosdijk (NED, HUS), 512 p.; 7. Kevin Horgmo (NOR, KAW), 511 p.; 8. Kay de Wolf (NED, HUS), 501 p.; 9. Thibault Benistant (FRA, YAM), 463 p.; 10. Rick Elzinga (NED, YAM), 357 p

MXGP OF ITALY QUICK FACTS:
Circuit length: 1630m
Type of ground: Hard Pack
Temperature: 21°
Weather conditions: Cloudy
For more news check out our dedicated MXGP/MX2 News page
Or visit the official MXGP website mxgp.com