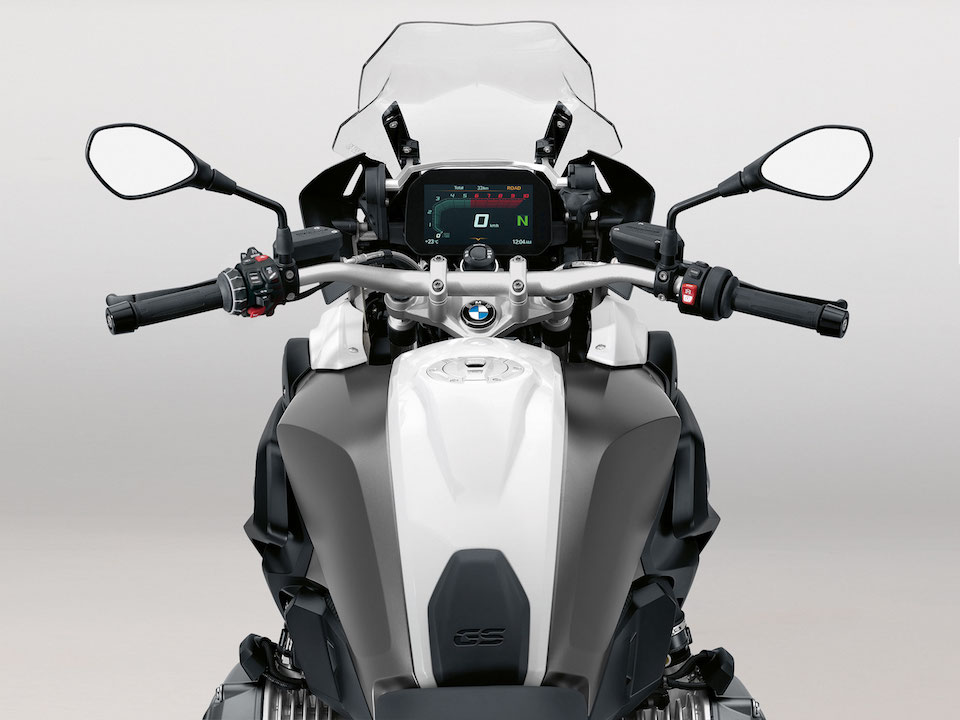 Owners who purchase a new BMW R 1200 GS before 31 March 2018 will receive a complimentary 6.5" TFT full-colour screen upgrade.
Britain's most popular adventure bike continues to improve with new owners receiving a complimentary TFT screen upgrade on new R 1200 GS models purchased between 1 January and 31 March 2018. The offer also includes the purchase of new R 1200 GS Rallye, R 1200 GS Rallye TE, R 1200 GS TE and R 1200 GS Exclusive TE models.
Revealed in July 2017, BMW Motorrad's 6.5 inch full-colour TFT display provides riders with clear information while riding, complimented by full connectivity to their smartphone. The rider is able to access all motorcycle data and Connectivity functions quickly, and comfortably, with the BMW Motorrad multi-controller. Through the TFT display, riders can read a variety of technical information, such as tyre pressure settings, while on the move without being distracted from traffic.
The TFT functionality allows music and audio playback while riding, the rider's smartphone controlled through the multi-controller and the BMW Motorrad Connected App.
Navigation provided through the free BMW Motorrad Connected App is displayed directly on to the TFT screen with optional route recording. The arrow navigation provides turn-by-turn directions and precise indications including lane guiding for upcoming manoeuvres.
TFT screens are also available as an additional extra on the BMW R 1200 GS Adventure and will be available on the F 850 GS, F 750 GS and C 400 X upon their release in 2018.
More information about the TFT Colour Screen and the offer is available here.
For more information on BMW Motorrad products, or to find your local BMW Motorrad Retailer, visit www.bmw-motorrad.co.uk or call 0800 777 155.
SBN Directory - add your motorcycle related business here
Click here for more info on Arai Helmets
Click here for more info on Xena Security
Click here for more info and to buy Biker T-Shirts
Grid Girls UK
If you would like to receive our headlines daily to your email inbox then sign up to our newsletter: Here
Subscribe to our news channels: Here