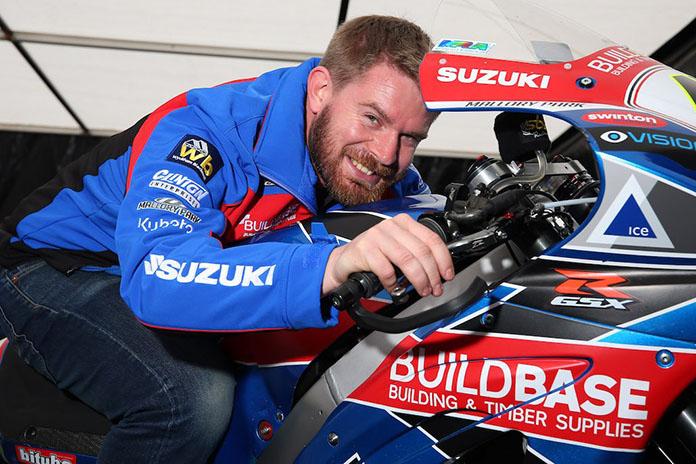 Carl Cox Motorsport supports New Zealand racer in Isle of Man TT debut with Buildbase Suzuki.
The Buildbase Suzuki team has announced that it will contest this year's Isle of Man TT with newcomer Jay Lawrence, with the New Zealander and Carl Cox Motorsport-supported rider campaigning GSX-R1000R machinery in the Superbike, Superstock, and Senior TT races.
Despite being a TT-newcomer, Lawrence is no stranger to the Isle of Man or the Suzuki family, having raced the Mountain course during last year's Classic TT with Team Classic Suzuki. He also races a GSX-R1000R in the New Zealand Superbike Championship and has tasted victory on New Zealand roads, winning around the famous Cemetery Circuit.
For Buildbase Suzuki – victors of the blue ribband Senior TT in 2017 with the new GSX-R1000R – working with Lawrence this year represents a new challenge, but also an opportunity to help develop an emerging talent that has already received high praise and recognition from the likes of three-time British Superbike Champion John Reynolds, who was Lawrence's teammate at the Phillip Island Classic.
Steve Hicken, Buildbase Suzuki team manager, "It's a different approach to the TT for us this year, but something we're looking forward to all the same. Jay's got an impressive CV, Suzuki GSX-R1000R experience, and has already raced the TT course so we're not starting from scratch. He's going to be coming in with his own goals, and if we can help him have a safe couple of weeks and improve his pace every time he goes out, it'll be a successful couple of weeks."
Jay Lawrence, "It was great to get those first laps at the Island under my belt with Team Classic Suzuki but now it's the real deal. I have to thank Carl Cox again for supporting me and the fantastic opportunity we have with Buildbase Suzuki, who have such a strong TT pedigree. I'm looking forward to getting to know them better and spin some laps, before we head across to the Island in a few weeks' time.
"Personally I've always loved street courses like the Cemetery Circuit back in New Zealand, but of course the TT is the absolute pinnacle for me and many road racers. I'm under no illusions as to the size of the learning curve ahead and the strength of the competition, but we have to start somewhere."
You can follow the Buildbase Suzuki team at the Isle of Man TT via @_HawkRacing on Twitter, and find out more about the GSXR-1000R, currently available on 0% APR finance, here.