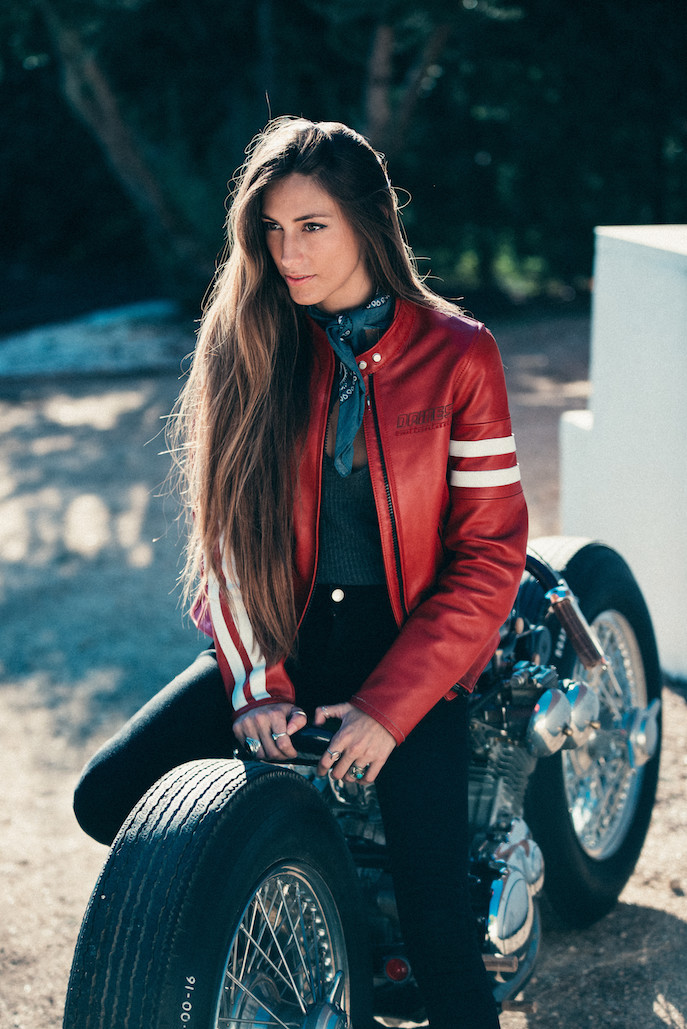 Dainese Exhibits At The 2018 Motor Bike Expo With A Booth Dedicated To The New Dainese Settantadue Brand
The style of historic garments meets latest-generation technology: the Dainese Group's new brand presents outerwear from its Speed Leather, Archetypes and Demon Flower lines at the Verona event.
Following the success of 2017, Dainese returns to the Motor Bike Expo and presents Dainese Settantadue, the Group's new brand. Dainese Settantadue resurrects the history of motorcycle clothing in the glory years and gives it a Contemporary Heritage twist, with garments that combine elegance and technical solutions able to satisfy today's safety requirements.
Art Director Renato Montagner explains the guideline that led to the birth of the new brand: "The main thread of Settantadue lies in its interpretation of Dainese's origins and 45 years of experience, always at the forefront of innovation. The traditional processing of the leather, the attention paid to details recreated especially for each piece, the integration of Pro-Armor protectors without distorting shapes or equilibriums: a fusion, rather than a revisiting of past garments. Just as history is not only made up of heroes, style does not only belong to champions. This is why we've also taken inspiration from the every-day biker, who finds the bike to be a form of expression and keeps the spirit of this passion alive. For example, models like the Toga and the Chiodo were not linked to prominent figures in the past but have always represented a clearly recognisable image".
The leather jacket is the star of the first Dainese Settantadue collection, a timeless garment that unites generations of motorcycle lovers. Lines include: Archetypes, Speed Leather and Demon Flower. All created with meticulous attention to detail, they are inspired by key stylistic elements from the past. Archetypes focuses on cult products such as the Chiodo, the classic leather jacket much loved by bikers, rockers and travellers in the 60s and 70s. Speed Leather brings jackets like Toga72 and Rapida72 to the attention of the public, jackets that hark back to the racing suits that Dainese produced at the start of its journey. The Demon Flower line presents Patina72, with its unique lining created for Dainese Settantadue by New York artist Othelo Gervacio and enhanced with a hand-finished treatment of the drum-dyed leather.
From 18 to 21 January, the entire collection will be on show in Hall 4, stand 14I.
The Dainese Settantadue brand narrative continues online with a dedicated website and social profiles that express the genuine passion for this original and authentic lifestyle day after day.
WEBSITE: www.dainesesettantadue.com
Instagram: www.instagram.com/dainese72
Pinterest: www.pinterest.com/dainese72
Spotify: www.spotify.com/user/dainese72
Facebook: www.facebook.com/dainese72
Locations:
DAINESE SETTANTADUE: Hall 4, Stand 14I
DAINESE D-MOBILE RACING TRUCK: Hall 6, stand 23N
SBN Directory - add your motorcycle related business here
Click here for more info on Arai Helmets
Click here for more info on Xena Security
Click here for more info and to buy Biker T-Shirts
Grid Girls UK
If you would like to receive our headlines daily to your email inbox then sign up to our newsletter: Here
Subscribe to our news channels: Here