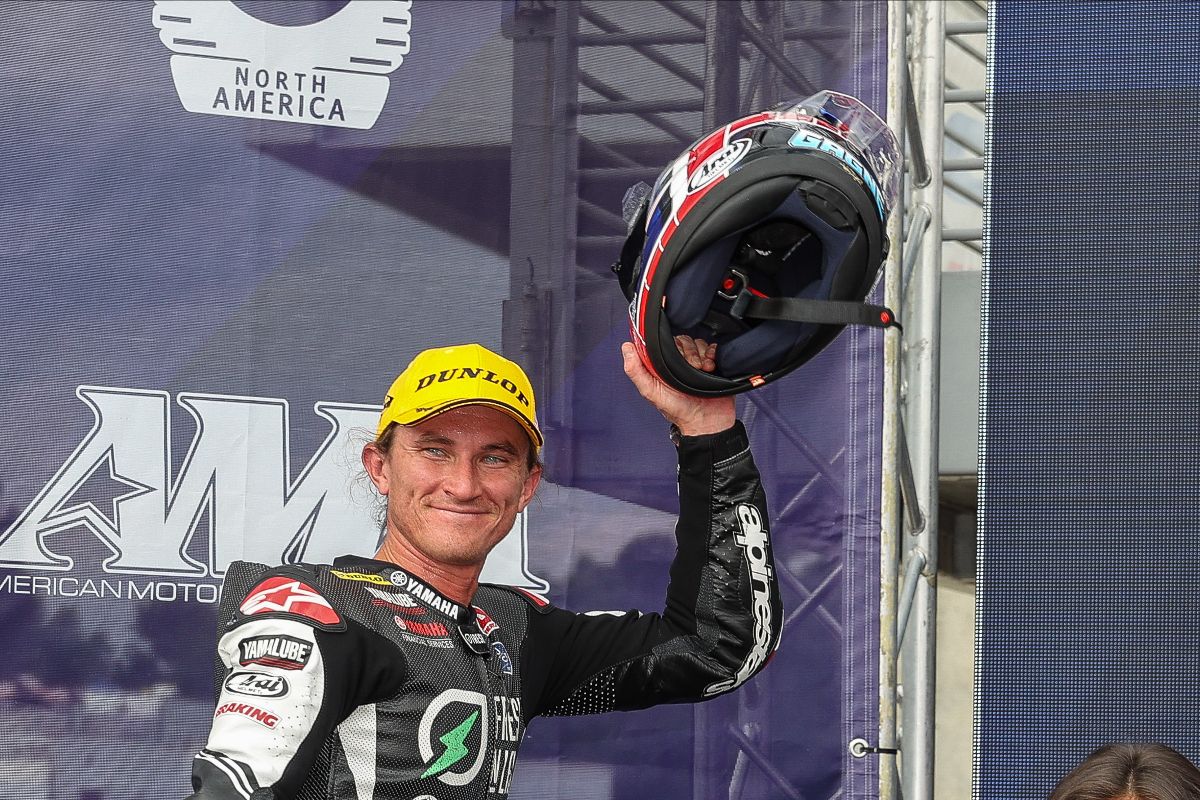 Fresh N Lean Progressive Yamaha Racing's Jake Gagne won his second race of the young season at Barber Motorsports Park on Saturday, and he did so in the same fashion in which he won 29 races over the course of the 2021 and 2022 seasons. He started from pole, put his head down, quickly opened up a two-second-plus lead and maintained that lead to the finish of the shortened 16-lap race.
The win, which was the 31st of Gagne's Superbike career, moved him out of a tie with Cameron Beaubier in the MotoAmerica Medallia Superbike Championship and into the lead by himself. He now leads Beaubier by 12 points, 70-58. Beaubier finished fourth on Saturday on his Tytlers Cycle Racing BMW M 1000 RR.
The man who was closest to Gagne at the finish was his teammate Cameron Petersen, the South African keeping Gagne honest from start to finish and crossing the finish line 1.8 seconds behind the defending two-time Medallia Superbike Champion.
Third place went to Westby Racing's Mathew Scholtz, giving Yamaha a one-two-three finish at Barber. Scholtz didn't get a good start and by the time he got through to third, the two Attack riders had distanced themselves from the rest. Scholtz ended up 6.1 seconds behind Gagne and 2.8 seconds ahead of Beaubier.
Beaubier, meanwhile, had rid himself of the battle he found himself in early with Warhorse HSBK Racing Ducati's Josh Herrin, Vision Wheel M4 ECSTAR Suzuki's Richie Escalante and Tytlers Cycle Racing's PJ Jacobsen.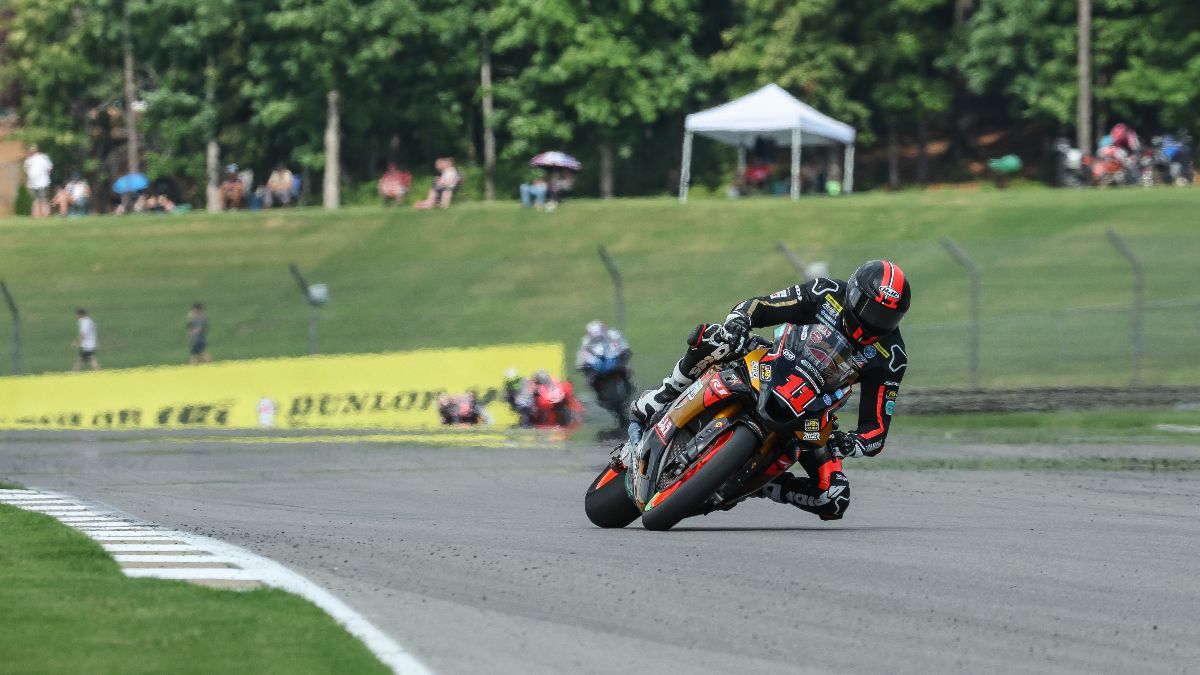 It was Jacobsen who worked his way through that pack to finish fifth, some eight seconds ahead of the Herrin/Escalante battle that went the distance with Herrin beating Escalante by just .289 of a second to take sixth.
Aftercare Scheibe Racing's Ashton Yates got the better of Tytlers Cycle Racing's Corey Alexander by just .299 of a second for eighth with Disrupt Racing's Hayden Gillim rounding out the top 10 finishers.
Saturday's race was shortened from 20 laps to 16 due to excessive tire wear and the lap count for Sunday's race two will be announced after evaluation of the tires following today's race.
After three races of the 2023 championship, Gagne leads Beaubier, 70-58, with Scholtz third with 43 points.
Race two at Barber Motorsports Park will begin Sunday at 3:10 p.m.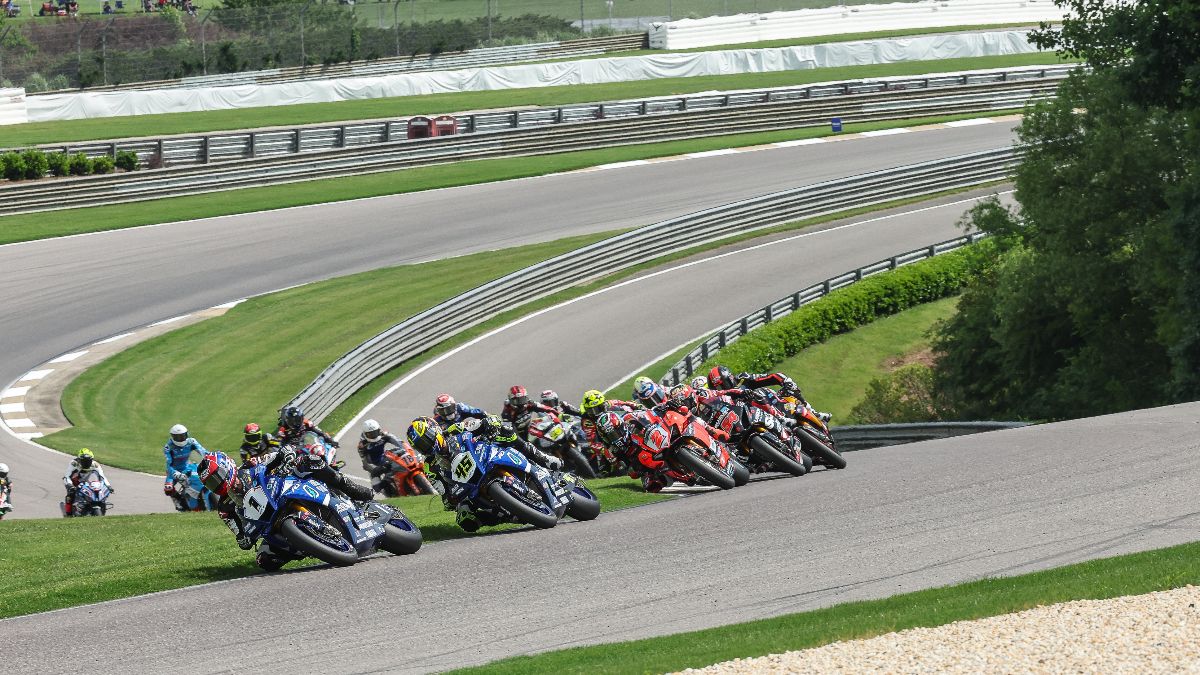 MotoAmerica – Race Result 1 – Barber Motorsports Park
1. Jake Gagne – Fresh N Lean Progressive Yamaha – 22:27.408
2. Cameron Petersen – Fresh N Lean Progressive Yamaha – +1.869
3. Mathew Scholtz – Westby Racing LLC – +6.153
4. Cameron Beaubier – Tytlers Cycle Racing – +9.031
5. PJ Jacobsen – Tytlers Cycle Racing – +12.974
6. Josh Herrin – Warhorse HSBK Racing Ducati – +20.291
7. Richie Escalante – Vision Wheel M4 ECSTAR Suzuki – +20.580
8. Ashton Yates – Aftercare Scheibe Racing – +28.851
9. Corey Alexander – Tytlers Cycle Racing – +29.150
10. Hayden Gillim – Disrupt Racing – +33.909
11. David Anthony – Wrench Motorcycles – +34.899
12. Toni Elias – Vision Wheel M4 ECSTAR Suzuki – +38.064
13. Max Flinders – Thrashed Bike Racing – +53.278
14. Travis Wyman – Travis Wyman Racing – +57.903
15. Benjamin Smith – CW Moto Racing – +1:01.474
16. Nolan Lamkin – Tom Wood Powersports – +1:11.522
17. Joseph Giannotto – Limitless Racing – +1:12.476
18. Jason Waters – Edge Racing – +1:23.886
DNF
Gabriel Da Silva – Steel Commander Racing Team –
Danilo Lewis – Team Brazil –
Ryan Burke – Burke Racing –
JC Camacho – Flo4Law Racing –
Zachary Butler – Redline-Moto –
Manuel Segura – Red Lobo Racing –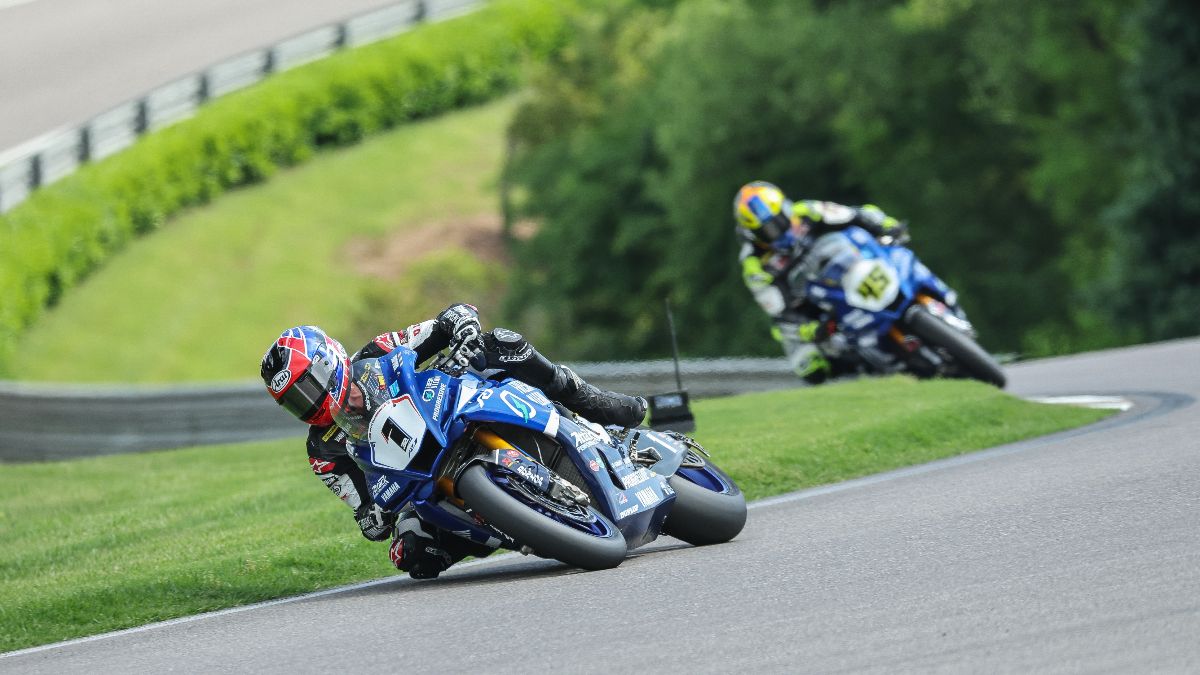 Superbike Quotes
Jake Gagne – Winner
"I think that the heat this afternoon really made a difference (to tire wear). It definitely helped. I know we were suffering when the temperatures were cooler, just getting some tearing. If you saw the tires in the podium, they looked pretty dang good. Of course, they're going to wear, especially at a track like this. The track is so hot. They (the tires) get hot. They get greasy. But that being said, temperatures like this, I think the full race distance wouldn't have been a problem. These guys know what they're doing and have a good feel for what's underneath them. Dunlop always does a good job and makes the right call. But it was a fun race. Like Cam (Petersen) said, those first couple laps I was able to put my head down and kind of get that little bit of a gap. It's a tricky spot. It was right around two seconds or so, and then that second half he was clawing back a couple tenths a lap. I think it was down to 1.5 at some point. But like we were talking about, it's tricky. You miss your mark here just a little bit, and you're in the marbles out there and you could push the front. Anything can happen. I just tried to play it smart. But Cam kept me honest. Like Mat (Scholtz) said, I know he had the pace and he got caught up with those guys in the beginning so I'm sure we're in for a dogfight tomorrow."
Cameron Petersen – Second Place
"It's tough. Honestly, I think the difference is it's just those first few laps. I kind of always settle down into a pretty good pace, it's just those first few laps that Jake's (Gagne) just so good at hanging it out and riding the bike to its full potential, where it kind of takes me a little bit. Definitely tough towards the end there. I could see there was one or two laps where I kind of maybe gained just a little bit of time on him. I was like, 'all right, man, maybe if you push that 10 percent harder you might be able to catch him.' But I definitely had (Road) Atlanta in the back of my mind. I wanted this podium desperately. I started off the season very horribly, so for sure just when I saw three laps to go, the gap to Matty (Scholtz) kind of stayed the same. I just kind of knew, bring the bike home in second and we can build off of this. Just again congrats to these guys. Pretty cool to share the podium with some of my best friends. Good day for Yamaha.
Mathew Scholtz – Third Place
"My start was terrible. I was back in fifth or sixth place. Battled Richie (Escalante) for one or two laps. Then Josh (Herrin) was really fighting me hard. But I managed to get past him and then put in a couple decent laps. It's not that I caught Cam (Petersen) and Jake (Gagne). I just kind of felt that if I was there, I could have actually been a part of the battle and hung onto them. So, I know tomorrow we just have to kind of clean up a few spots on the track where we were losing some serious time. Otherwise, I feel like I can be battling these boys up here next to me."
For more news check out our dedicated MotoAmerica News page MotoAmerica News
Or visit the official MotoAmerica website motoamerica.com/