Indian Motorcycle, America's First Motorcycle Company, revealed its second unique customisation project recently, working in collaboration with renowned Japanese builder Go Takamine, to highlight the vast personalisation possibilities of the all-new Indian Chief line-up once more.
Forming his own unique approach to bike building from what was effectively necessity; living in Japan in the late nineties and needing to get through Tokyo's heavy traffic, Go's 'Brat Style' was, and still is, about being simple and effective.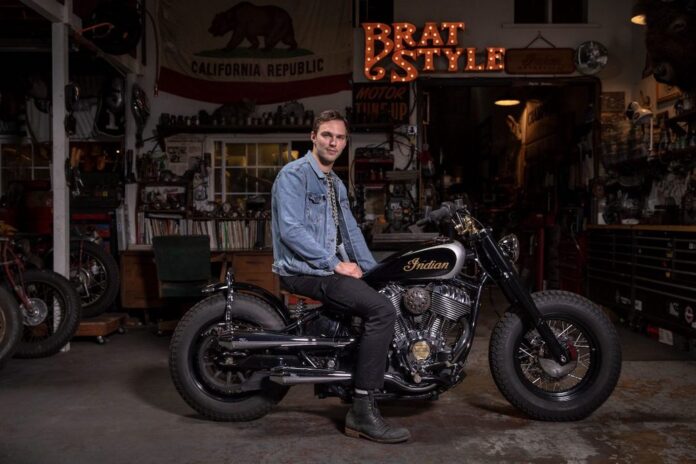 "For me bike culture started at school. Half of my class were bike crazy and that's what shaped my life and direction," commented Go. "I learned a lot in the early days from friends and my local bike shop. Brat Style evolved from this, as did my shop. It's about things being simple and effective and yet still feeling like a kid".
Having relocated his life and shop to California eight years ago, Go's passion for building and racing vintage bikes became more achievable thanks to the scene being more active than in his native homeland. And of course, his exposure to Indian Motorcycle became even greater.
The build of the Brat Style Chief came from conversations with Indian Motorcycle's Ola Stenegard, a friend of Go's who had shown him some early sketches of the new Chief.
"The frame design was the first thing that caught my eye," continued Go. "Straight away I could see the potential, which of course Ola had intended when he and his team designed the new Chief. It fits so well with what I like to create and so the seed was sewn for this project."
Like in so many of Go's creations, his vision was to create something 'simple not flashy', and work began to bring Brat Style to the Chief. The fuel tank design was a big part of the core aesthetics. Taking the shape that Go loved but condensing the width and reducing the height. Next was the rear fender. Once again taking inspiration from great functional period design, Go went with a rear fender from a 1937 Ford, honing it to work and fit perfectly with the rear wheel and swingarm of the Chief.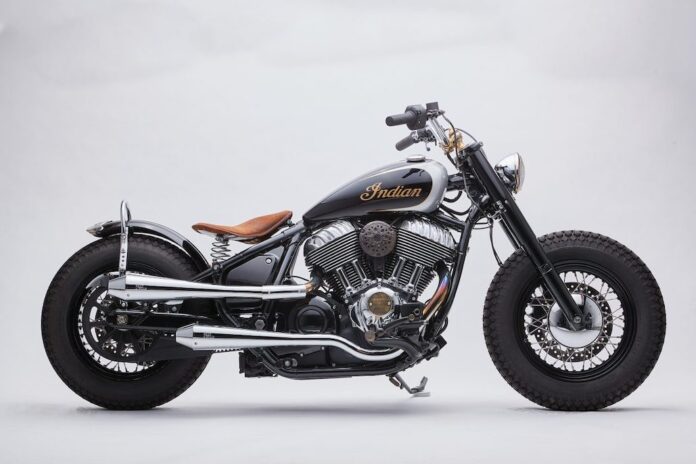 As the Brat Style look began to form, Go selected and machined key components, like the fork covers and chain guard, handmade form sheet metal, through to the Brat Style original megaphone exhausts, the handlebars and unique brass risers and foot pegs.
With such unique attention to detail, the final aesthetics needed to be just right, with Go selecting a simple yet classic paint scheme for the Brat Style Chief, featuring a scallop with the old Indian Motorcycle logo.
"It's my baby, but the customers reaction when I hand over the bike is the most important thing," said Go.
On this occasion, the customer was none other than renowned actor Nicholas Hoult, famed for his roles in Mad Max and Young Ones where he found his passion for motorcycles.
Hoult was blown away with the finished result of Go's Brat Style Chief, becoming the custodian of one very special Indian Motorcycle.
To see more detail of the build and Hoult's reaction, visit the Indian Motorcycle YouTube channel and to read an in-depth interview with Ola Stenegard and Go Takamine, click here.
The Brat Style Chief is the second in the series of three renowned V-twin customisers selected by Indian Motorcycle to produce totally unique builds from the 2022 Indian Chief. The third and final project to be revealed will be from freestyle motocross legend Carey Hart. Stay tuned.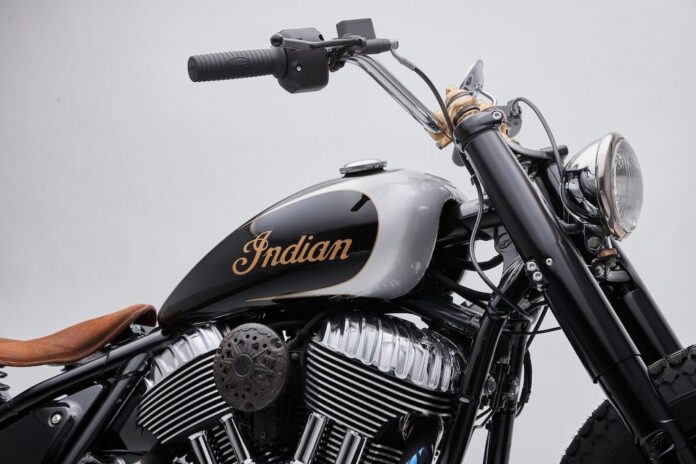 Social Channels
Go Takamine Instagram @go_takamine
Nicholas Hoult Instagram @nicholashoult
Indian Motorcycle's head of design, Ola Stenegard caught up with Go Takamine to discuss the inspiration and build process behind the Brat Style Chief.
The inspiration behind the Brat Style Chief
His love of Indian Motorcycle and the scene
Nicholas Hoult's reaction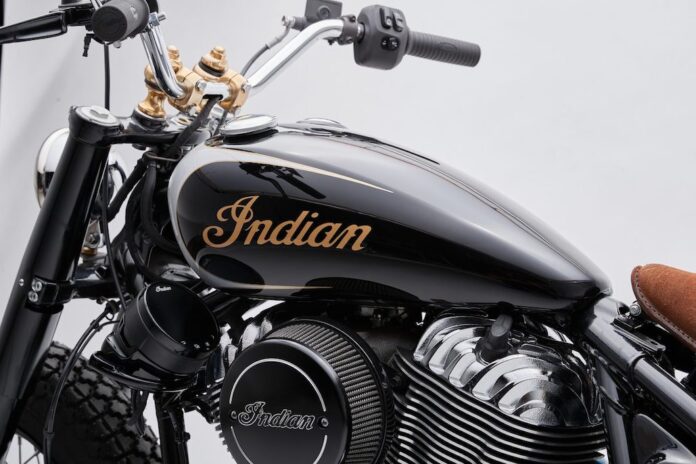 Ola: Go, we've known each other for many years now and I've always deeply admired your bikes, it's been an honor to collaborate with you again on a great build. Over the years, you've got more and more into old Indian Motorcycles, tell me what sparked the interest?
Go: Indian Motorcycle for me, is about high rpm and very interesting V-Twin engines from the 1930s to 40s period. I like the Chiefs and Scouts because they are so fast, even in stock form. Yes, it can be hard to find the parts from this era, but it's interesting and a challenge because not everyone can do this.
Ola: You're clearly a big fan, so how many do you own and what are you working on right now?
Go: I have seven of my own currently, ranging from a '27 Wall of Death bike, to '39 SS Flat Track race bike, and then three Chiefs from '46 and '47 in stock, bobber and chopper form. I've also got two Chout's from 1927 and 1941. That's not counting the working projects, where I have around another 10 on the go, with a few 30s Sport Scouts, Chiefs and a 648 Big Base.
Ola: Your Indian customs were a great source of inspiration for the new Chief, which makes it really cool to now come full circle in this collaboration, having you customise a bike you helped inspire. But which Indian Motorcycles or people from history inspired you?
Go: For the bike, I've always loved and respected the very original design, but I also love Bobber and Chopper history.
For the people, there are so many custom builders and mechanics who are better than me, and I think they are all wonderful. If I have to highlight some, then, when I was in Japan, Mr. Masaru Yamada of Triumph's engine tuner in Tokyo and 'Smokey' of Indian engine tuner in Long Beach CA.
Unfortunately both of them recently passed away, but I am very grateful and respectful.
Ola: There is so much work that many won't notice at first glance, can you tell us some of the most challenging parts, that people might miss?
Go: It looks simple and easy, but I'm actually thinking about many things when I begin a build like this.
Things like the ground clearance, the position of the tank and the rear fender, etc. I try again and again until I am satisfied, and I always decide based on my feelings at that time.
Ola: A lot of work went into the tank, you narrowed, sectioned and lowered it over the frame?
Go: Yes, the tank looks like stock, but it's not.  I narrowed the width and height of the original tank to the limit where the fuel injection pump can be attached. I also cut the height and adjusted it. And I attached two vintage Indian tank caps. I like the design of the original tank, so I used it as a base.
Ola:  Are those original old Flanders risers?
Go: No, I'm not sure about the brand, but I actually found these at a swap meet.
Ola: What's your process, do you sketch or do you mock-up your ideas directly on the bike? Do you slowly let it grow during the build or do you always have a clear vision for the bike?
Go:No, I don't sketch. I want to make it while checking from all angles, 360 degrees, so I can't think of it only with sketch.
Ola: What was going through your mind when you found out that the bike was for famous actor Nick Hoult?
Go:  I was honoured and happy because I've known from the movie, Mad Max.  I was looking forward to seeing him when the bike was completed.
Ola: How did he react when he got it? When he rode it?
Go: He was very happy. I was most interested in his reaction, so I was really happy that he was pleased, and I enjoyed riding together that day.
Ola: You moved from Tokyo to Long Beach. I know you still keep both shops running. Was it a dream come true moving to the USA? Was it challenging?
Go: Sure, it was a challenge. All I wanted to do was race with real riders on vintage bikes. The engine work has been a challenge on the older bikes, but I keep trying and trying.  I think my dreams have come true, but I'll keep going. I'm still learning every day.
Ola: Do you have plans for your own new Chief?
Go:When it comes, I want to go far without thinking about anything.
I'm not sure what I will customise, yet.
Ola: Last but not least, tell me about the horn cover on the right side, where is that from? Where did you find it? And why did you choose this bike to carry it?
Go: I found it at a vintage motorcycle swap meet in Ohio. I think it's old aftermarket parts.
When I removed the original cover, I was concerned about the spot there, so I put it on. I like the patina so I'm going to keep it.
Ola: And before we finish, is there anything else you would like to add about this project or the Chief?
Go: This original bike is a great design! The engine power is also the best. It's easy to customise and it's a really awesome bike.I very much appreciate the designer that has gone into the new chief from you, Ola and the rest of the Indian Motorcycle team.
Ola: Thanks so much and thank you for building this incredible bike and for your time today. Ride safe.
For more Indian Motorcycle UK news check out our dedicated page Indian Motorcycle UK News
or head to the official Indian Motorcycles UK website indianmotorcycle.co.uk/