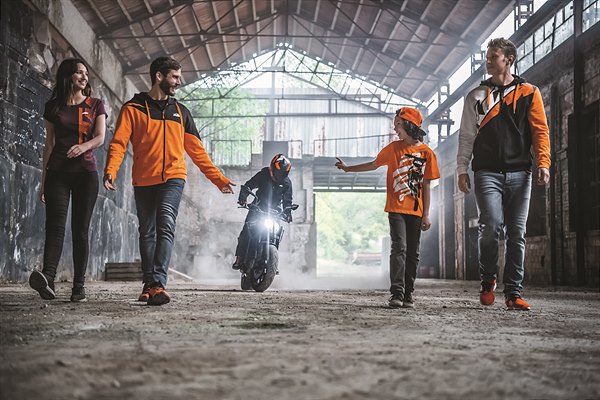 Fresh range gives dedicated KTM fans the most diverse choice yet.
The 2019 KTM PowerWear collection allows the committed KTM riders to reflect their passion with an eclectic choice of casual clothing and essential accessories for those times when not riding their bike – because READY TO RACE is a way of life!
The latest KTM PowerWear Casual & Accessories range features everything from bikes to bags, hoodies to hats, mugs to mats, shades to shoes and watches to wallets, made specifically to meet the demands of die-hard KTM fans who live life in the fast lane.
With over 160 items for riders, racers and fans of all ages, the range is broken into nine distinctive collections to suit the attitude and ambition of its intended user: Radical, Pure, Unbound, Emphasis, Replica, Orange, Mechanic, X-BOW and Kini-Red Bull.
See, feel and try on the KTM 2019 PowerWear Casual & Accessories range at your local authorised KTM dealer. The full range can also be viewed online at www.ktm.com.
KTM 2019 PowerWear Casual & Accessories highlights
RADICAL EMPHATIC TEE £20.88 (Radical Collection)
The Radical Collection features designs as loud as the KTM motorcycles they represent. Made from 100% cotton and 100% power, the Radical Emphatic Tee features a razor-sharp design to make a high-octane statement when supporting trackside.
PURE JACKET £124.62 (Pure Collection)
Subtle isn't a word usually associated with KTM. That said, the Pure Collection features clean, authoritative designs but still shouts KTM attitude. The Pure Jacket strikes the perfect balance between form and function; waterproof, wind resistant and full of orange style 24/7.
UNBOUND VEST £124.62 (Unbound Collection)
The Unbound Collection encourages exploring the limits of everyday convention and beyond. KTM's goal when designing the Unbound Vest was to follow the same winning formula as that of its motorcycles – keep the performance and function high and the weight low. Reversible with a sporty cut, this vest is also water and wind repellent. Available for men and women.
EMPHASIS HOODIE £75.18 (Emphasis Collection)
The Emphasis Collection has been made with the hardcore training requirements of a champion in mind. Leading that charge is the Emphasis Hoodie; fast drying, elastic and breathable. Available for guys and girls with a READY TO RACE attitude in a wide range of sizes.
REPLICA TEAM SOFTSHELL £109.68 (Replica Collection)
From the pit lanes of MotoGP™ to Supercross, the Replica Collection allows fans and aspiring champions to look just as READY TO RACE as the pros do. The Replica Team Softshell lets guys and girls show their support and colors on or off the track or simply feel like a KTM factory rider.
ORANGE JACKET £166.44 (Orange Collection)
The Orange Collection stands alone with its unique blend of orange, black and white contrasts. Multi-functional, durable and undeniably KTM, the Orange Jacket is the perfect trackside companion – whatever the weather! Available for him or her in a wide range of sizes.
MECHANIC SHIRT £54.30 (Mechanic Collection)
The Mechanic Collection embodies everything a KTM specialist demands from their work clothes; robust and made to work. Gone are the days of oil-stained overalls and old tee-shirts, the Mechanic Shirt is a must-have item for every master technician's workshop.