The 2023 FIM Motocross World Championship is here and ready to start this weekend in Villa La Angostura for the start of what is going to be a thrilling season.
The resort town of Villa La Angostura on Nahuel Huapi Lake is already buzzing for the MXGP season opener. The MXGP of Patagonia-Argentina is one of the top favourites on the racing calendar as it is well known for its scenic landscape at the foot of the Andes, the beautiful forests and lakes and the welcoming people that characterise the Neuquen province.
The MXGP of Patagonia-Argentina first made its appearance on the MXGP calendar back in 2015 and the beautiful dark soil track of Villa La Angostura will be hosting MXGP and the fastest riders in the world for the 7thtime!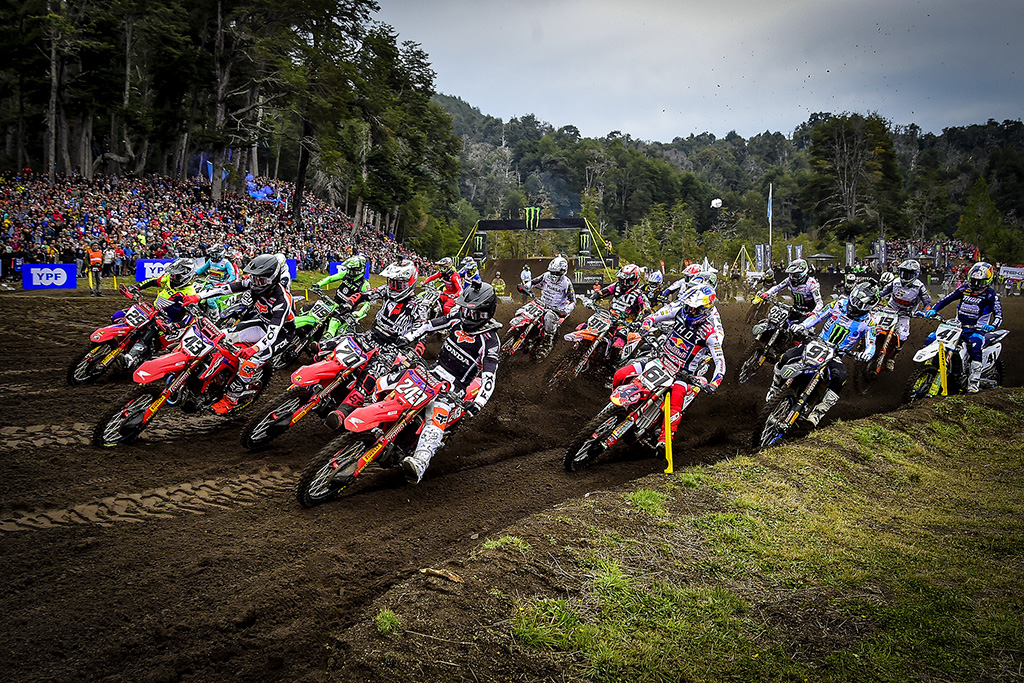 There have been many changes that have taken place in the off-season with riders moving teams and teams changing manufacturers which will make the opening round even more thrilling as we get to watch everyone lining up in their new colours!
After missing 2022, all eyes will be on the long-awaited return of Red Bull KTM Factory Racing's Jeffrey Herlings to see if he can comeback at the top of the Championship. The Dutchman will be determined to win in 2023 to reach the incredible total of 6 World Title and write his name forever more in the legend of motocross and join in third on the all-time list, the Belgian legend Joel Roberts. The bullet will be expected to gain crucial points this weekend to get off to a good start. He will also be able to count on the experience of KTM's new Team Manager Tony Cairoli, to help him on his quest to lift a 6th Motocross World Championship.
Following a dominant display in 2022, defending MXGP World Champion Tim Gajser will unfortunately be missing from the starting line-up as he is in recovery and out at least for the beginning of the season due to the injury he picked up in pre-season. However, Team HRC can count on his new teammate Ruben Fernandez to represent the team as he's ready to battle for the high-end of the table after 2 podiums last year and a promising overall 8th place on his first full season in the MXGP class.
The list of contenders for the podium this weekend is not short of extremely talented riders and we can expect RedBull GasGas Factory's Jorge Prado to be one of them. Year on year the Spaniard is improving and he showed that last year finishing 3rd in the Championship standings and closing an impressive campaign. It will be interesting to see if Prado, famous for his fast starts (16 Fox Holeshot in 2022), can maintain that advantage this season and add more GP wins to his name, starting in Argentina this weekend where he already won in MX2 in 2019. Joining the Spaniard is Mattia Guadagnini, who is ready to start his first full MXGP season after competing in the last 10 rounds last year and gathering significant experience in the top category.
Another team that is bound to be very strong again and make an assault on the Championships will be Monster Energy Yamaha Factory MXGP who enters in 2023 with the same line-up as last season.
Jeremy Seewer on the back of a remarkable season again and finishing 2nd behind Tim Gajser. The Swiss is one of the most consistent riders over the last 5 years since stepping up from MX2 but is still waiting to clinch the mighty title. Being a 5-time Vice Motocross World Champion, and after good results in pre-season Seewer has all the experience required to clinch his first podium of the season.
There's also Maxime Renaux who has proved in his Rookie season that he was very competitive with 1 GP win in Spain, and finishing the season just outside the Podium. Having won one race last year in Argentina, Renaux showed that he is more than comfortable on these tracks.
Glenn Coldenhoff showed last year with 1 GP win and a strong 2nd half of the season that he is a force to reckon with for 2023. With strong results in the pre-season he arrives in Argentina with lots of confidence and will be fighting for a spot on the podium.
Another contender for the podium this week will be Kawasaki Racing Team's Romain Febvre who is back to his best after having missed most of the 2022 season due to injury but showed quality in the last GPs of the campaign. His good form has continued during pre-season and the 2015 MXGP World Champion has shown time and again how fast he can be, which makes him a serious candidate to the podium this weekend.
On the back of a 10th place in the Championship last season, Mitch Evans has switched to Kawasaki Racing Team and will be Romain Febvre new teammate. The Australian is excited to work with Antti Pyrhönen and show his talents on a Kawasaki KX450-SR.
We can also count on Standing Construct Honda to fight for a spot on the podium this weekend as the team kept its experienced and consistent line-up with Brian Bogers and Pauls Jonass. The two men showed great display throughout the 2022 season. Bogers with a GP win in Flanders and an overall 6th place in the Championship is consistently improving.
Jonass, 9th in the overall standing in 2022, comes to Argentina, with the advantage to have already won here in 2018 in MX2 and has also been regularly in the top 10s last season.
Calvin Vlaanderen, who extended his contract with Gebben Van Venrooy Yamaha is one to watch after winning the MXGP of Sardinia and getting 2 podiums in 2022. He will enter into his 4th season in MXGP with the aim to build on his last year's performance and win even more GPs and continue to perform at the highest level.
Alberto Forato will try to improve and build up on his 11th place in 2022 as he stays with SM Action Racing. Although it is interesting to note that SM Action Racing will now switch to a KTM machinery.
Meanwhile, Ben Watson will join Alessandro Lupino to race under the all-Italian MRT Racing Team BETA. The pair will work together to develop a strong motocross bike for the brand.
This season with JM Honda Racing is Brent van Doninck who has improved all throughout last season to get 4 top 10s in the last 8 races with an overall 15th place in the Championship. He will hope to build on these results to get an even stronger season in 2023.
The Swiss Valentin Guillod has signed for Team Ship To Cycle Honda Motoblouz SR and will now be competing on Honda machinery with his new teammate Rookie Stephen Rubini who stepped up from the MX2 class on the back of a 9th place in the Championship.
The Swedish team JWR Honda Racing will present two new riders in a completely new line-up with the experienced Swedish rider Alvin Ostlund and Hardi Roosiorg. Both riders will hop on the Hon­da CR­F450R with the objective to deliver strong performances in 2023.
De Baets Yamaha Mx-Team has signed Benoit Paturel who wants to start fresh in 2023, after having struggled with injuries in 2022 and competing in 10 rounds. Making the switch from a Honda to a Yamaha livery, the Frenchman is motivated for a healthy and competitive 2023 campaign.
Finally, Kevin Brumann will take part for the first time in the entire MXGP season with JK Racing, after having taken his marks on the last 4 GPs last season. The young Swiss rider, on board of the brand new YZ450F will want to prove he can compete at the top level.
2022 MXGP of Patagonia-Argentina – MXGP top 3:
Tim Gajser
Maxime Renaux
Jorge Prado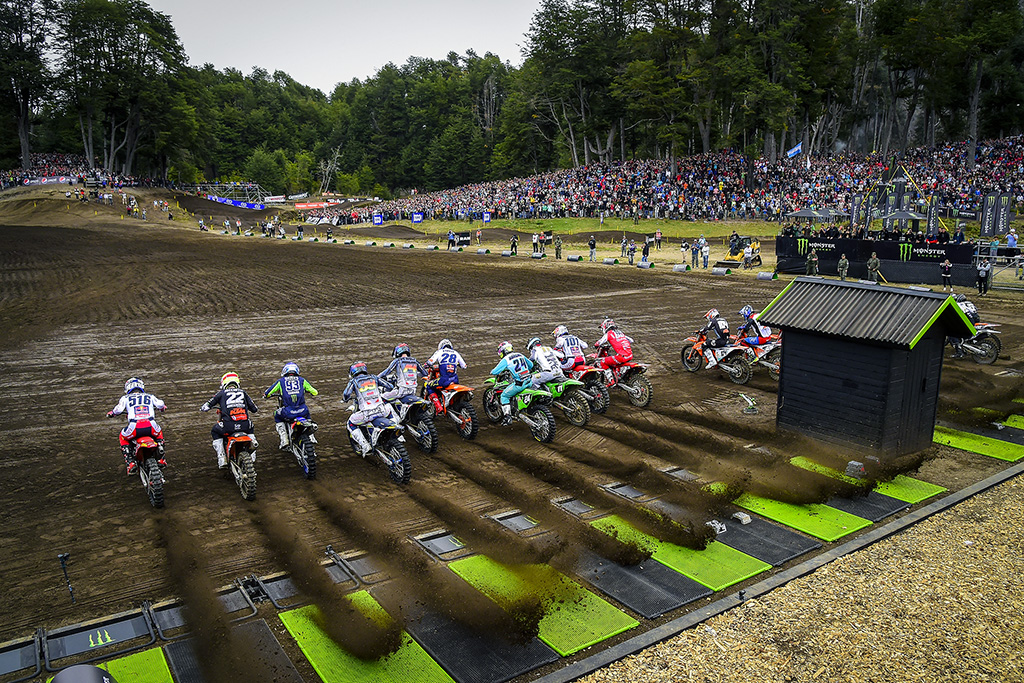 While the competitiveness will be high in MXGP, the MX2 class promised to be just as much challenging.
Monster Energy Yamaha Factory MX2's Jago Geert finished for the third time in a row Vice Motocross World Champion in MX2 last year, in one of the tightest seasons we have ever seen. Ending on the last race of the last round of the season in a "winner takes it all" scenario. The Belgian has now all the tools to be again one of the biggest favourites in MX2 and finally put his hands on a crown that has escaped him so far. Of course, he is a huge contender for a podium this weekend in Argentina.
The other big podium threats this season will be Simon Laengenfelder, the only MX2 rider of Red Bull Gasgas Factory Racing. He seems to be ready to put on a tough challenge on Geerts after winning one GP last year and displaying an excellent season to finish 3rd in the overall standing.
Along with Geerts, Monster Energy Yamaha Factory will present a very strong line-up that will be pushing week in week out for a place on the podium with Thibault Benistant and EMX250 European Champion Rick Elzinga. Benistant will be one to watch as he will enter his third full MX2 season, having finished 5th in the Championship, with a GP win in Germany. Except Vialle and Geerts, the Frenchman along with Laengenfelder were the only other GP winners in 2022 which shows his capacities to be on the top march of the podium in Argentina.
Elzinga on the other hand is stepping up to MX2 as a European Champion with 4 GP wins under his belt in that category in 2022. The strong rider may compensate his lack of experience at this level with his youthful drive to perform straight away. The MXGP of Argentina might just be the opportunity for the young Dutchman to put on the show on his first MX2 GP.
The other rider that may challenge the big favourites is Kevin Horgmo. Although the F&H Kawasaki Racingrider experienced only one podium last season, his incredible consistency in the top 10s throughout the campaign shows his talents. Just outside the overall podium, the young Danish rider will definitely race to win this season and might well start in Argentina.
David Braceras will also make his debut in MX2 with his new team F&H Kawasaki Racing. A strong performer throughout the last EMX250 season, it will be interesting to see how high he can perform under an experienced team.
Defending World Champion team Red Bull KTM Factory Racing enters into 2023 with three new riders. On the back of a promising 10th place in the Championship, Liam Everts, who moved to Red Bull KTM Factory Racing, will be riding the powerful KTM 250 SX-F which is the machine with the most titles in MX2, the last one was Tom Vialle in 2022. The Belgian wishes to continue the Everts legacy and challenges the top of the leaderboard.
Red Bull KTM can also count on Andrea Adamo who made the move from GasGas and who has been one the brightest star of the 2022 MX2 season. The third rider is Sacha Coenen that will be the real Rookie of the team, after stepping up from EMX250. Together and after a winter preparation that allowed them to feel comfortable on their new livery, Everts, Adamo and Coenen will be expected to be pushing for the top, starting this weekend.
This could be a year where Nestaan Husqvarna Factory Racing upset the hierarchy with promising riders like Kay De Wolf and Roan van de Moosdijk, both having stored much needed experience through their couple of MX2 season and reaching many podiums. There is also the rookie Lucas Coenen (twin brother of Sacha) who is new to the team and stepping up from EMX250. Lucas Coenen had a strong pre-season preparation showing his motivation to enter the MX2 category.
Another one to be reminded is Mikkel Haarup from Big Van World MTX Kawasaki. The Danish rider proved that he likes the circuit of Villa La Angostura as he finished 3rd last season in Patagonia-Argentina. He eventually ended at the 7th place in the Championship and will be one of the threat to podium finishes.
In contention for the top spots will also be Tem JP253 Ktm Racing Team Jan Pancar who showed good flash of his potential last season and has made the switch to a KTM machinery for the upcoming season.
Finally, another one to look for this season is Camden McLellan who signed for JM Honda Racing after a great and consistent display last season in EMX250. He is coming off a successful pre-season which places him as a potential challenger for podium finishes in 2023 and particularly in Argentina this weekend for his first MX2 overseas racing.
Tom Guyon with Fantic Factory Maddii is a rider who showed his talent on his rookie season in 2022. The Frenchman showed that he is a rider that will gain to get a full MX2 season after finishing at the 15th place overall despite missing the start of the season through injuries.
2022 MXGP of Patagonia-Argentina – MX2 top 3:
Tom Vialle
Jago Geerts
Mikkel Haarup
TIMETABLE (Local Timing UTC-3)
SATURDAY: 10:45 MX2 Free Practice, 11:15 MXGP OAT Free Practice, 12:10 MXGP Wildcard Free/Qualifying Practice 13:20 MX2 Time Practice, 14:00 MXGP OAT Time Practice, 15:25 MX2 Qualifying Race, 16:10 MXGP Qualifying Race.
SUNDAY: 10:25 MX2 Warm-up, 10:45 MXGP Warm-up, 12:15 MX2 Race 1, 13:15 MXGP Race 1, 15:10 MX2 Race 2, 16:10 MXGP Race 2.
For more news check out our dedicated MXGP/MX2 News page
Or visit the official MXGP website mxgp.com