The FIM Motocross World Championship is coming to Germany for the ninth round of the 2023 season. The famous circuit of Teutschenthal will be hosting the Liqui Moly MXGP of Germany, marking the 28th event, including the 2013 Monster Energy FIM MXoN, for this regular stop in the MXGP Calendar.
The hard pack of Talkessel Circuit in Teutschenthal is a must-stop of the MXGP season as the circuit always offers a good show for the large and passionate German public. In the past the top 3 in the Championship, Red Bull KTM Factory Racing's Jeffrey Herlings, Red Bull GASGAS Factory Racing's Jorge Prado and Kawasaki Racing Team's Romain Febvre have all won on this track which is an interesting fact and will add to the high-intensity competition.
The Liqui Moly MXGP of Germany will also host the 6th round of the EMX250 and EMX125 presented by FMF Racing with Hutten Metaal Yamaha Racing Team's Andrea Bonacorsi leading in EMX250 while MJC Yamaha Official EMX125's Janis Reisulis leads the EMX125.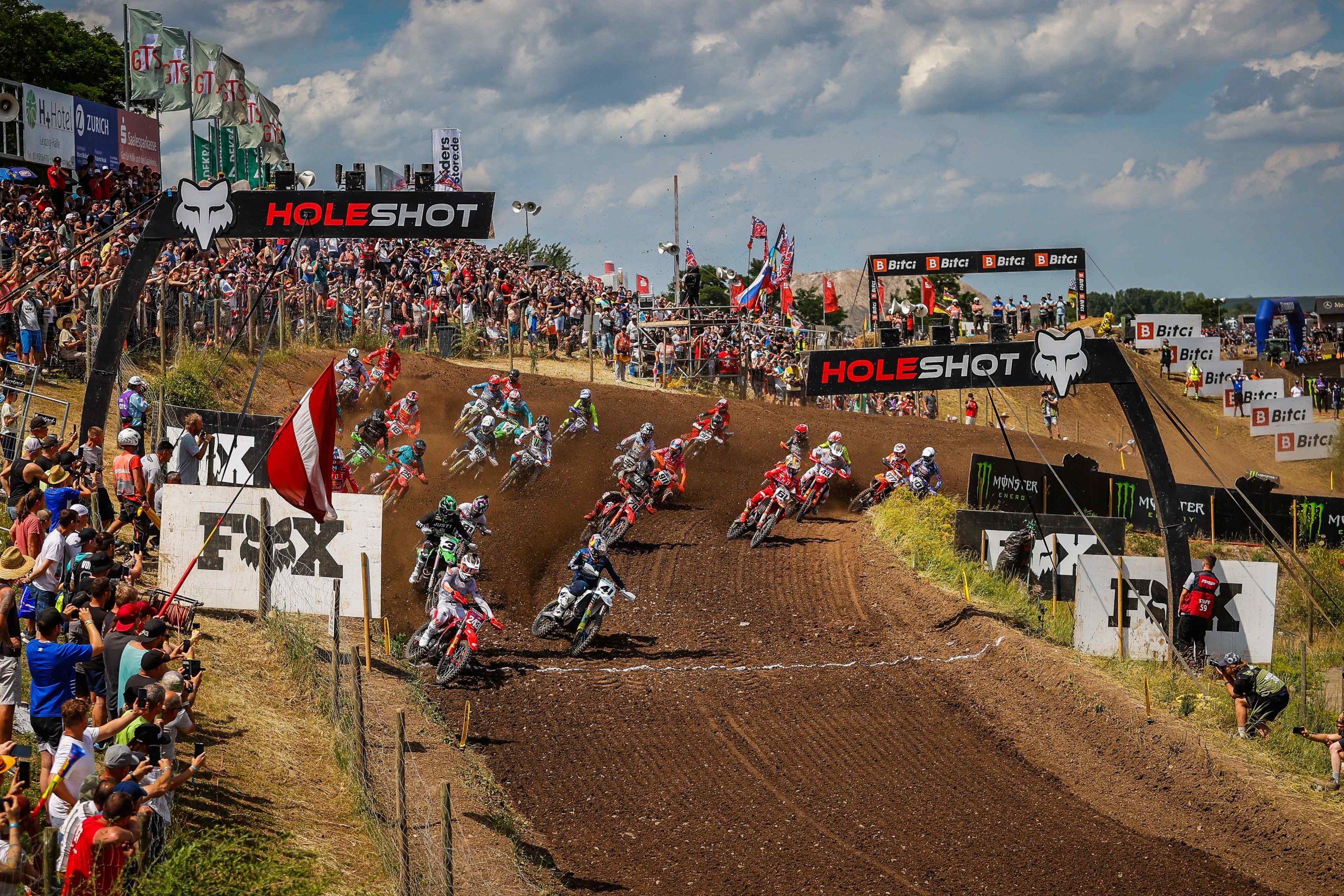 The Liqui Moly MXGP of Germany marked the 11th stop of the 2022 series with a dominant Team HRC's Tim Gajser who came out victorious in front of Monster Energy Yamaha Factory MXGP Team's Jeremy Seewer, second and Jorge Prado third.
In 2023, Jorge Prado is the leader of the Championship as he arrives in Germany. He just finished on the second step of the podium in Latvia but lost some points to the winner of the GP Jeffrey Herlings. The Spanish was not satisfied with his performance in Latvia and vowed to come in at Teutschenthal to win the Grand Prix. He has already won on this track in MX2 (2018, 2019) and will draw certainly from his experience to fight for the win.
Jeffrey Herlings couldn't be more confident as he comes to Germany on the back of the perfect weekend with a RAM Qualifying win and the two races on Sunday to win the MXGP of Latvia. Herlings bounced back quickly after a missed Grand Prix of France and is closing in on Prado at the top of the Championship and the track of Teutschenthal could be a good opportunity as he won once in MXGP in 2018 and twice in MX2 (2014, 2016). Herlings has been working on his starts and it shows as the 'bullet' gets closer to the front quicker which has brought him a lot of success over the last couple of months.
Romain Febvre is on a great form as he stepped on the last two podiums and added a race win to his name in France. In Latvia the Frenchman went 6-2 for a 3rd overall and while he still has not won a GP this season yet, he has shown that he is a constant threat for podiums. Febvre has won the GP of Germany in 2015 in MXGP during his MXGP World Champion year. His well-known technique and determination might be of great help to grab a first GP win this weekend.
12 points behind in 4th is Team HRC's Rubén Fernández who went 9th overall in Latvia although the Spaniard showed his usual consistency as he finished 3rd in race 1 to only encounter bike problems in race 2 and could not finish where he wanted. However, his qualities are undeniable when all goes well with his bike as he seemed to have found the way to always fight for podium places since Switzerland. This weekend will be a good opportunity to get good points move towards the 3rd place in the Championship.
Jeremy Seewer is still 5th in the Championship as he managed to salvage good points in Latvia with a 7-5 for 5th overall. Seewer had to draw a lot of energy in race 1 to move up to 7th after a poor start and showed that he is one to be resourceful when things don't go his way and never gave up. The recent GP winner of France is on the rise and could well be one to watch in Germany this weekend on a track where he has not won yet.
Level on points on 6th place are two Dutch riders, Monster Energy Yamaha Factory MXGP Team's Glenn Coldenhoff and Team Gebben Van Venroy Yamaha Racing's Calvin Vlaanderen both on 260 points. Coldenhoff managed a really strong 4-4 in Latvia to miss out the podium for only 1 point. The 'Hoff' is being steady recently as he is looking like he got into his usual rhythm to perform well. Vlaanderen is mister consistent with 8 top 10s in as many GP this season however he has not broken the 5th place's ceiling so far although he has shown his incredible reliability and a good speed. He seemed determined to fight for an attainable podium with his quality riding.
Red Bull GASGAS Factory Racing's Mattia Guadagnini and Monster Energy Yamaha Factory MXGP Team's Maxime Renaux, 8th and 9th in the Championship respectively are still out with injuries and will not participate in the MXGP of Germany however, 11 and 12 pints behind in 10th position is the talented SM Action Racing Team Yuasa Battery MXGP's Alberto Forato. Forato could well find himself in the top 8 at the end of Germany as the Italian has shown great speed and control already in France despite having to retire, and in Latvia where he got the 7th place overall. The Italian is an exciting rider to watch as showed that he can compete with the top riders this season. It will be interesting to see if he can keep it up his pace this weekend to score important points.
Home rider KTM Kosak Team's Tom Koch is the first German rider in the Championship in 18th place with 66 points and will be excited to be riding at home with the added support from the home fans. His best results were just outside the top 10 in 11th position in Spain and France. Riding at home could give him that extra support to get into the top 10.
His teammate, KTM Kosak Team's Maximilian Spies is another German rider that will surely try to draw from the home support to beat his best result of the season that he clinched in Latvia (12th overall). KTM Sarholz Racing Team's Henry Jacobi, the other home rider has made his comeback in France and Latvia and will use the home GP to get his fitness and speed back. The fast starter will want to get as many points as possible inn this special Grand Prix.
This weekend will also mark the return of JK Racing Yamaha's Kevin Brumann to the competition after having to missed the MXGPs of France and Latvia due to an injury. He will be fully back on track in Teutschenthal.
Championship Standings Top 10
1. Jorge Prado (ESP, GAS), 393 points;
2. Jeffrey Herlings (NED, KTM), 378 p.;
3. Romain Febvre (FRA, KAW), 306 p.;
4. Ruben Fernandez (ESP, HON), 294 p.;
5. Jeremy Seewer (SUI, YAM), 273 p.;
6. Glenn Coldenhoff (NED, YAM), 260 p.;
7. Calvin Vlaanderen (NED, YAM), 260 p.;
8. Mattia Guadagnini (ITA, GAS), 203 p.;
9. Maxime Renaux (FRA, YAM), 202 p.;
10. Alberto Forato (ITA, KTM), 191 p.
2022 Liqui Moly MXGP of Germany – MXGP Top 3:
Tom Gajser
Jeremy Seewer
Jorge Prado
In 2022, it was Monster Energy Yamaha Factory MX2 Team's Thibault Benistant who won his only GP of the season ahead of Monster Energy Yamaha Factory MX2 Team's Jago Geerts and WZ RACING TEAM's Mikkel Haarup.
New leader in the Championship, Nestaan Husqvarna Factory Racing's Kay de Wolf grabbed his first Red Plate at the MXGP of Latvia and went on to win his first GP of his career in an emphatic way with a win of the RAM Qualifying Race and a perfect 1-1 on Sunday to lift the trophy. Things could not go better for the Dutchman who showed so much consistency, thanks to the hard work he has put since the pre-season. The MXGP of Germany could be the ideal moment for him to increase his lead in the Championship and install himself even more into the role of leader of the MX2 Championship.
12 points behind, Red Bull KTM Factory Racing's Andrea Adamo received the Red Plate after the RAM Qualifying Race in Latvia but could not onto it after race 1 and de Wolf's win. The Italian rider managed to get the 4th overall with a 5-4. Adamo is a model of consistency as has not been outside the top 4 over the last 6 Grand Prix and is determined to win another Grand Prix after Trentino. Adamo aims to win the Championship and has the qualities to do so.
Getting back to the 3rd place in the Championship Thibault Benistant looks very fast recently. On the back of his GP win in France, the Frenchman rode amazingly in Latvia as he tightly missed out on a race win and had to dig deep in race 2 following a multi-rider collision that made him pick up his bike on last position. He managed to show all his talent to get back to 6th for a solid 3rd overall. Benistant is looking ready to fight for the Red Plate and will definitely think about his MX2 GP win in Germany last year when he will arrive this weekend in Teutschenthal full of confidence.
Jago Geerts is now 4th in the Championship as the Belgian is still out with a wrist injury sustained in France.
5th in the Championship, Nestaan Husqvarna Factory Racing's Roan Van de Moosdijk arrives in Germany with second podium of the season in Latvia with an excellent 3-3 for 2nd overall. Van De Moosdijk is keeping up with the top riders and shows that he can lead race as he has done in Latvia and earlier in the season in Switzerland. He is one to watch this weekend after getting more consistent and finding his fitness and flow back.
Red Bull KTM Factory Racing's Liam Everts is a solid 6th in the Championship and comes in Germany on the back of another good performance with a 4-8 for 6th overall. Everts found his flow over the last 3 GPs as he looks comfortable on his bike and is always ready to put up a fight at the front of the pack. The KTM rider is on the rise and is showing a lot of maturity in his riding and will be a candidate for the podium in Germany.
7th in the Championship is Red Bull GASGAS Factory Racing's Simon Laengenfelder who is out for the MXGP of Germany as he is still injured while the 8th of series F&H Kawasaki Racing Team's Kevin Horgmocontinues on his solid performance with a good 5th overall in Latvia. The Norwegian has consistently been in the top 10 this season and will vow to carry on that feat in Germany.
Nestaan Husqvarna Factory Racing's Lucas Coenen is 9th in the Championship but is one rider that has shown so much potential this season. His explosive starts and speed his exciting. He has not been on the podium yet this season probably due to the lack of consistency but he won a race already in his rookie year and has shown that he can really be a contender for podium finishes if he stays consistent over two races.
TEM JP253 KTM Racing Team's Jan Pancar continues to be 10th in the championship although he has been out of overall top 10s finishing over the last three GPs. He will want to rectify this over the weekend in Germany and garner important points.
Championship Standings Top 10
1. Kay de Wolf (NED, HUS), 367 points;
2. Andrea Adamo (ITA, KTM), 355 p.;
3. Thibault Benistant (FRA, YAM), 348 p.;
4. Jago Geerts (BEL, YAM), 319 p.;
5. Roan Van De Moosdijk (NED, HUS), 303 p.;
6. Liam Everts (BEL, KTM), 273 p.;
7. Simon Laengenfelder (GER, GAS), 259 p.;
8. Kevin Horgmo (NOR, KAW), 232 p.;
9. Lucas Coenen (BEL, HUS), 223 p.;
10. Jan Pancar (SLO, KTM), 160 p.;
2022 Liqui Moly MXGP of Germany – MX2 Top 3:
Thibault Benistant
Jago Geerts
Mikkel Haarup
TIMETABLE
SATURDAY: 07:15 EMX125 Group 1 Free Practice, 07:40 EMX125 Group2 Free Practice, 8:10 MXE Time Practice, 08:30 EMX250 Group 1 Free Practice, 08:55 EMX250 Group 1 Free Practice, 09:20 EMX125 Group 1, 09:55 EMX125 Group 2 Qualifying Practice, 10:30 MX2 Free Practice, 11:00 MXGP Free Practice, 12:00 EMX250 Qualifying Practice Group 1, 12:35 EMX250 Qualifying Practice Group 2, 13:25 MXE Race 1, 13:45 MX2 Time Practice, 14:20 MXGP Time Practice, 15:05 EMX125 Race 1, 15:50 EMX250 Race 1, 16:35 MX2 RAM Qualifying Race, 17:20 MXGP RAM Qualifying Race.
SUNDAY: 09:45 EMX125 Race 2, 10:25 MX2 Warm-up, 10:45 MXGP Warm-up, 11:05 MXE Race 2, 11:55 EMX250 Race 2, 13:15 MX2 Race 1, 14:15 MXGP Race 1, 16:10 MX2 Race 2, 17:10 MXGP Race 2.
For more news check out our dedicated MXGP/MX2 News page
Or visit the official MXGP website mxgp.com