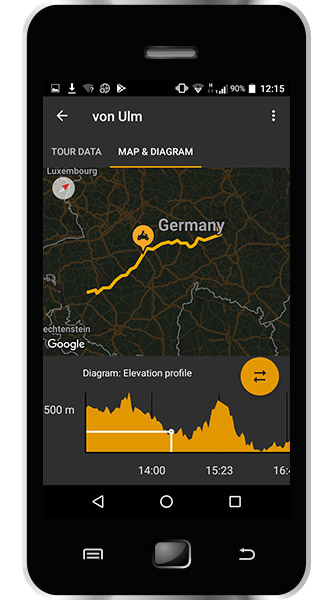 The worlds first eCall system for motorcycles just gets better and better. Originally launched in the summer of 2017 to the UK market, dguard is the only retro-fit eCall system for motorcycles in the market. dguard sends a message detailing  your location directly to the emergency services when it detects a crash scenario.
Not only does dguard trigger that vital emergency services response to your location, it also detects movement of your motorcycle without a key present, triggering a theft alert directly to your phone, whilst it continues to continually track your bike as you alert the police. This makes dguard a unique product in the motorcycle market place.
New features for 2018, dguard will now feature a 'Touring Roadbook' capturing your routes and tours in detail.  Accessed via your smartphone app the user can record journeys made, speed and altitude.  Numerous filter options make the dguard app very user-friendly. You can personalise your tours, add comments and share them with your friends on social media platforms. This is a user activated option that you can switch on/off via your app.
Installation has been made easier too, with less components to fit to the motorcycle in dguard v.3, authorised installers now have more options to fit the unit in a covert location on the bike.
The registration process has also been simplified to make it a faster process for both the authorised installer and the user.
Existing customers will receive a complimentary upgrade to dguard V.3 via a software update.
When seconds count, dguard can save your life
Main Specification:
Worlds only universal retro fit eCall system for motorcycles
Accident Detection call directly to emergency services
Theft Detection notification to user with constant updates
Roadbook journey logging – route, speed, altitude, route mapping, share on social media
Bluetooth connection to drivers headset*
User friendly dguard app with full configuration of settings
Universal fitting to motorcycles with an ignition key
Authorised Installer fitment
RRP: £499.99 + installation costs
To find your nearest authorised fitter please CLICK HERE or visitwww.bikeit.co.uk
SBN Directory - add your motorcycle related business here
Click here for more info on Arai Helmets
Click here for more info on Xena Security
Click here for more info and to buy Biker T-Shirts
Grid Girls UK
If you would like to receive our headlines daily to your email inbox then sign up to our newsletter: Here
Subscribe to our news channels: Here