---
---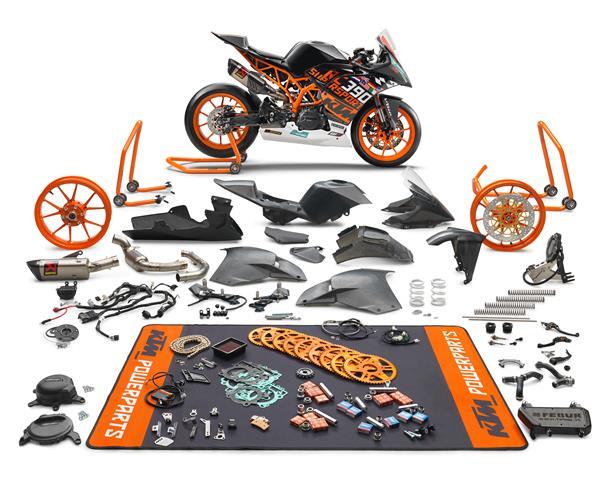 Track focused R version backed-up with READY TO RACE Supersport 300 competition kit
KTM has further sharpened its street supersport RC 390 with the introduction of the new KTM RC 390 R – a homologated, limited edition machine ready for Supersport 300 competition when combined with the optional and dedicated SSP300 Race Kit.
With a relentless commitment to developing lower capacity models with high levels of performance and a history of presenting hardcore 'R' models, KTM introduces the new RC 390 R taking inspiration from the new Supersport 300 category racing.
Limited to just 500 units overall, this new R version embodies the typical KTM READY TO RACE spirit and builds on the abilities and pure appeal of the KTM RC 390. Armed with a series of hardware upgrades, the KTM RC 390 R is also perfectly placed to suit extreme track riding use.
Fully adjustable WP suspension front and back was tailormade for this exciting new model, providing huge levels of adjustment in order to get the KTM RC 390 R perfectly set-up for both rider and riding conditions.
With less focus on all-day comfort, a new top yoke and handlebar kit allows a more extreme racing handlebar position and adjustable for riders of all sizes. Beautifully finished, its machined construction provides precision, strength and weight saving. The addition of CNC milled, foldable brake and clutch levers provide increased feedback at fingers and are designed to flick-up in the case of a spill, helping to keep the KTM RC 390 R READY TO RACE!
Other changes include a shorter intake trumpet to increase the overall efficiency of the KTM RC 390 R in race conditions and to create an engine characteristic with a slightly wider power band. Finished with new high quality graphics to display the intent of this new machine, the KTM RC 390 R will be available to order through official KTM dealers in Europe as well in oversea markets and will cost 8,500 euros, incl. German VAT.
SSP300 – READY TO RACE
Homologated for competition use, aligned with the current official motorsport rulebook, the KTM RC 390 R is also the perfect platform for top-level Supersport 300 racing with the addition of the SSP300 Race Kit.
Limited to just 50 kits per year directly through KTM Customer Racing and made specifically for the new R model, the additional SSP 300 Race Kit contains more than 230 individual parts and gives motorsport teams the ability to make and maintain the homologated version into a dedicated Supersport 300 contender.
The kit aligns with the international SSP 300 FIM regulations for 2018 and offers everything which is needed for competition, including a full titanium Akrapovič SSP300 EVO02 system with race ECU, STM slipper clutch, quickshifter, wiring harness, spare wheels, a huge selection of gearing options, increased cooling system and a full bodywork kit made from lightweight and strong materials, among many other detailed parts.
The kit costs 11,000 euros (MSRP), including German VAT, and is not compatible to existing KTM RC 390 CUP motorcycles or any RC specification before 2017.
With the new KTM RC 390 R, the lower capacity supersports market has a new performance benchmark. Combining this superior base model with the most comprehensive race kit and a professional service back up through KTM Customer Racing creates a truly READY TO RACE formula for Supersport 300 competition.
---
Follow us on social media:
Instagram: @superbikenews
Twitter: @sbknews
Facebook: @superbikenews
Click here for more info on Arai Helmets
Click here for more info on Xena Security