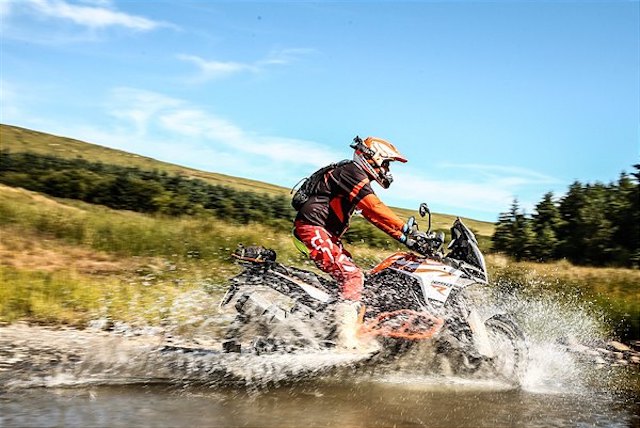 KTM is proud to announce a new addition to its Experience Partner line-up. The Sweet Lamb KTM Adventure Bike Experience will begin operations in the Spring of 2019 and will feature the highly anticipated KTM 790 ADVENTURE R and the king of off-road big bikes, the KTM 1290 SUPER ADVENTURE R.
KTM Off-Road Experiences offer riders the opportunity to try the very best in off-road machinery in the very best environments with teaching from the very best coaches. With Motocross, Enduro and Electric Experiences already established, the Sweet Lamb KTM Adventure Bike Experience finally covers all the off-road areas that KTM is READY TO RACE in. The Sweet Lamb team has been running a successful school on the site, and now the partnership with KTM UK allows riders to use the very latest Orange machinery to get the most from their time at the spectacular venue and iconic Rally GB stage location.
KTM UK has been impressed by the facility, teachings, enthusiasm and ambitions of the Sweet Lamb team, and is looking forward to the first events to be held in Spring 2019. Located just off the A44 in mid-Wales, the two day Experience will offer ACU licensed tuition that will ensure that all levels of riders develop fundamental skills that will enhance their riding ability and enable them to explore all 6,600 acres of Sweet Lamb. Once riders have the Bronze course under their belts, they can graduate onto the Silver and Orange courses – with the Orange Pro days using some of KTM's Pro Riders to pass on invaluable tips. Tuition will be in small groups, ensuring that each rider gets the most out of their days at the Experience.
Boasting a skills zone, 20 miles of tracks, many smaller trails and the option to cover almost any of the ground in between these established routes, it's clear that Sweet Lamb offers Adventure riders the terrain they crave. Thanks to the innate skills of the KTM 1290 SUPER ADVENTURE R and the eagerly awaited KTM 790 ADVENTURE R each rider will have the very best machinery to take on the challenges that await at Sweet Lamb.
More information of the Sweet Lamb KTM Adventure Bike Experience, including dates, pricing and other details can be found at ktm.adventurerallybike.co.uk. All other KTM Off-Road Experiences can be found here www.ktm.com/offroadexperience.
The Sweet Lamb team will be on hand at the KTM stand at the Off-Road Experience desk throughout Motorcycle Live. For journalists attending on Media Monday, please come and see the team for further information or speak to a member of staff at any other point during the show.
Mark Molineux, Chief Instructor, Sweet Lamb KTM Adventure Bike Experience: "This is very exciting news for the team here at Sweet Lamb and for Adventure bike riding in the UK. We believe we have the best environment available. That's not just the best in Wales, not just the best in the UK, but the best dedicated facility in Europe. We are all very excited to welcome in a fleet of brand new KTMs, because the best Adventure environment deserves the best Adventure bikes – and that's what the Orange bikes are. KTM leads the world in off-road machinery and this will be evident for customers at the Experience. The opportunity to use the new 790 ADVENTURE R is the cherry on the cake – for us and for our customers – and we can't wait to get started."
Matt Walker, Managing Director KTM UK: "Having held our inaugural Adventure Bike Rally at Sweet Lamb in the summer, it's clear that there is no other facility like it in the UK. The riding options here are amazing, and once you couple this terrain with the natural ability of KTM Adventure bikes off-road and the excellent tuition from the Sweet Lamb team it is the perfect addition to the KTM Off-Road Experience line-up. We can't wait for customers to try the bikes and the Sweet Lamb Experience."
Images: Chippy Wood
SBN Directory - add your motorcycle related business here
Click here for more info on Arai Helmets
Click here for more info on Xena Security
Click here for more info and to buy Biker T-Shirts
Grid Girls UK
If you would like to receive our headlines daily to your email inbox then sign up to our newsletter: Here
Subscribe to our news channels: Here