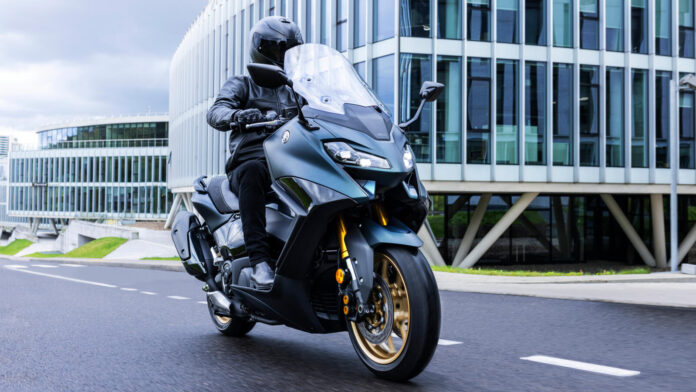 Straight to the MAX.
During its 20 years as Europe's most successful Sport Scooter, the TMAX has constantly evolved and improved to meet the changing needs of many thousands of customers who have chosen to ride this iconic machine.
For 2022 the TMAX benefits from a radical new Supersport-inspired design together with a more compact new body as well as updated wheels and suspension that deliver sportier handling performance.
It's also the smartest and highest specification Yamaha Sport Scooter, and is equipped with full-colour 7-inch connected TFT instruments offering Full-map Garmin Navigation.* Sportier, slimmer and smarter, the 8th generation TMAX and TMAX Tech MAX are equipped to deliver the ultimate fully-automatic riding experience.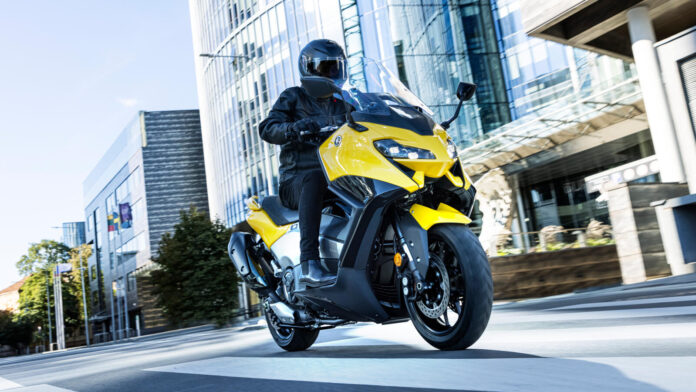 Rediscovering the essential TMAX
The two-wheel world changed forever when the first TMAX was revealed back in 2001. Never before had anyone seen anything like it. Here was a machine like no other, offering thrilling and easy to use performance, together with serious long-distance high-speed capabilities and unbeatable day-to-day convenience. Many had thought it impossible to create such a hybrid vehicle that could bring the scooter and motorcycle worlds together for the very first time.
Ever since the company was founded, Yamaha's innovative designers have established a reputation for creating some of the world's most exciting and radical new concepts that have opened up whole new segments in the marketplace. Examples include the company's lightweight Deltabox frame technology that totally transformed the supersport bike scene in the 1980s.
So when the world witnessed the launch of the original TMAX – and the emergence of an all-new category 20 years ago – few people were surprised to discover that the first ever Sport Scooter was created by Yamaha Motor Company.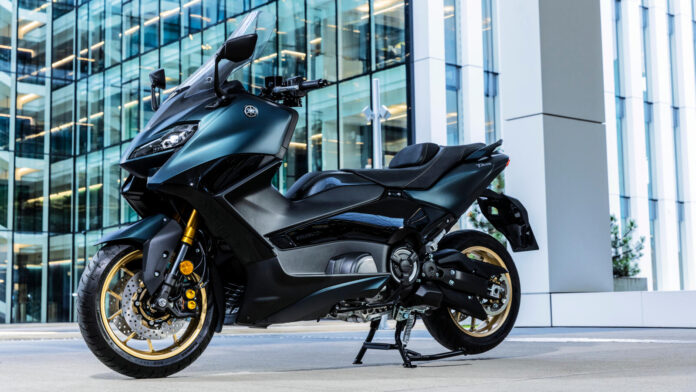 Sportier performance, more dynamic looks and connected technology
The 2022 TMAX remains true to the original concept that has made this revolutionary machine one of Yamaha's best-selling models. The very special combination of a high-powered twin-cylinder engine mounted rigidly to a lightweight chassis and dressed in the most beautifully designed body is what makes the TMAX such an enduring success.
Since its introduction in 2001 this game-changing Yamaha has been the best-selling Sport Scooter every year for two decades, and the new higher specification model is fully equipped to reinforce the TMAX's position at the top of the sales charts. Attracting a fiercely loyal and knowledgeable following throughout Europe, TMAX continues to provide both new and returning customers with a thrilling riding experience, together with Yamaha's outstanding quality and highest levels of comfort and convenience.
Compact and dynamic new body
The TMAX's all-new body is more compact than ever, and features a radical new face with aggressively styled wings and prominent angular air intakes, as well as slimmer dual LED headlights with integrated flashers that give an even more imposing and commanding Supersport-inspired look.
While still being instantly recognisable as the iconic TMAX, virtually every body panel and exterior part is redesigned for 2022 to give this best-selling model a more dynamic and edgy appearance that is bound to draw favourable comparisons with some of today's leading supersport motorcycles. And that is exactly what makes the TMAX popular with Europe's riders – it is a machine that offers the very best of both worlds by combining outstanding high speed performance, stability and sports handling of a motorcycle and the simplicity and user-friendliness of a scooter.
As well as its bold new face the TMAX features an all-new windscreen that contributes towards its compact new look and enhances ride quality – and there's also a much slimmer waist section that improves rider mobility. The newly designed smoother tail section with its T-shaped rear light emphasises the clean and sporty lines – and new boomerangs and redesigned panels blend perfectly with the rest of the new body to give the 2022 model a fresh and attractive new look that continues the legendary TMAX bloodline while projecting a confident and contemporary look.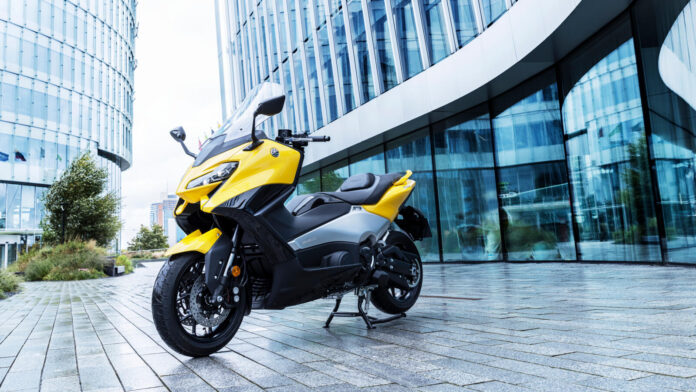 Extreme Yellow colour
To pay homage to the original model that totally transformed the marketplace and introduced a whole new way of living and riding, the new TMAX will be available in Extreme Yellow. This strong and bold colour will always be associated with the world's first Sport Scooter, and perfectly captures the dynamic and fun-loving spirit of Europe's number one scooter. Also available in Icon Blue and Sword Grey.
Connected 7-inch full colour TFT instruments
The new TMAX gets a significant upgrade with a best-in-class connected 7-inch full colour TFT screen that displays a range of easy to read data. Riders can select one of three display styles to suit their personal preferences. All three display a central digital speedometer – the Sporty style features a radial block-type tachometer, while the Intelligent style has a more subtle needle style tachometer, and the Authentic style displays a conventional looking needle tachometer.
Each display incorporates a wide range of running information, and the Intelligent style uniquely incorporates an animated visualiser that constantly changes appearance to enhance the feeling of rider-machine harmony and provide an added dimension to every journey.
Smartphone connectivity
TMAX riders can connect their smartphone to the 7-inch full-colour screen via Bluetooth, Wi-Fi or the USB port located in the waterproof front storage compartment, which also features a dedicated smartphone holder.
After the smartphone has been connected, the rider can use the joystick and home button on the left handlebar to select chosen functions, including playing music, receiving notifications, checking on local weather and more. To listen to music or respond to calls a headset** connected via Bluetooth is required – and texts can be displayed when the TMAX is parked.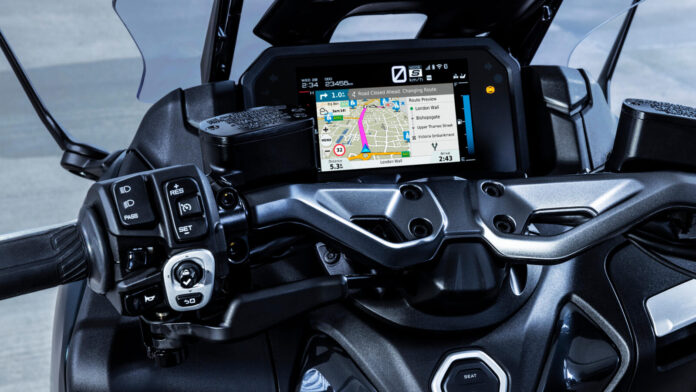 Full-map Garmin Navigation*
The new connected TMAX enables riders to access Full-map Garmin Navigation that gives spoken turn-by-turn directions through a Bluetooth connected headset** linked to the TMAX. This state-of-the-art system features live traffic updates and offers timesaving detour options. Garmin's PhotoReal Junction View realistically depicts junctions and interchanges along the route for easy navigation, and a bright coloured arrow notifies the TMAX rider of the appropriate lane to be in for the next exit.
Garmin's Rider Alerts provide a wide range of information on upcoming hazards along the route such as sharp bends, and also displays notifications regarding speed limits, nearby schools and more. The fuel tracking function estimates distance before a refill is required, and suggests places to stop. The TMAX's Full-map Garmin Navigation system also shows real-time weather conditions as well as a daily forecast, making it a valuable asset for every journey.
The 7-inch TFT screen's full-colour display gives a clear and easy to read navigation information, while continuing to show machine running information along the top and sides of the screen – and the app can be started and menus selected via the handlebar mounted joystick.
* Full-map Garmin Navigation requires a subscription service agreement and is not offered in all countries. Some navigation features are not available in all countries, please check with Garmin for availability.
** Headset not included with the TMAX.
Lightweight Spin Forged wheels
The TMAX's sporty and precise handling performance is further refined by the fitting of new lightweight 10-spoke Spin Forged wheels that have been manufactured using Yamaha-exclusive technology – a process that makes it possible to produce wheels with much thinner sections while offering the same strength. These new lighter wheels reduce unsprung weight for more responsive suspension action – and the moment of inertia is reduced by approximately 10% at the front and 6% at the rear, to give a sportier ride and lighter feeling handling.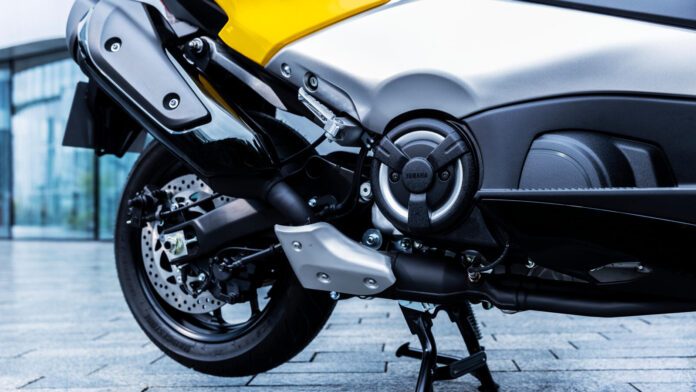 Newly developed suspension settings and new Bridgestone tyres
Equipped with high-specification 41 mm upside down forks and a single shock link-type rear system, the TMAX's motorcycle-type suspension delivers class-leading handling characteristics and excellent stability at all speeds. For 2022 the new TMAX runs with revised suspension settings that have been developed to provide a higher degree of front end feel combined with enhanced agility. This has been achieved with an increased damping force that gives a slightly firmer feel to the suspension action.
The TMAX's sporty handling and high-speed stability are also enhanced with the use of new model-specific Bridgestone Battlax SC2 tyres that have been developed alongside the Yamaha-exclusive Spin Forged wheels and revised suspension settings.
Sportier riding position
A revised riding position has been developed in order to enable the rider to enjoy the full sports potential of the TMAX's powerful 560cc EURO5 engine and lightweight aluminium chassis. All three points of the rider triangle have been moved in order to create a slightly more forward-leaning body position. This has been achieved by the use of new-shape forged aluminium handlebars with a reduced backsweep and lower upsweep, as well as a longer main seat and longer footboards that offer more freedom of movement.
This sportier forward-leaning riding position together with the new handlebar shape gives the rider a higher level of feedback from the front wheel, enabling them to feel more connected with the road surface – and the high quality of the forged aluminium handlebars underlines the premium finish and best-in-class specification of this best-selling Sport Scooter.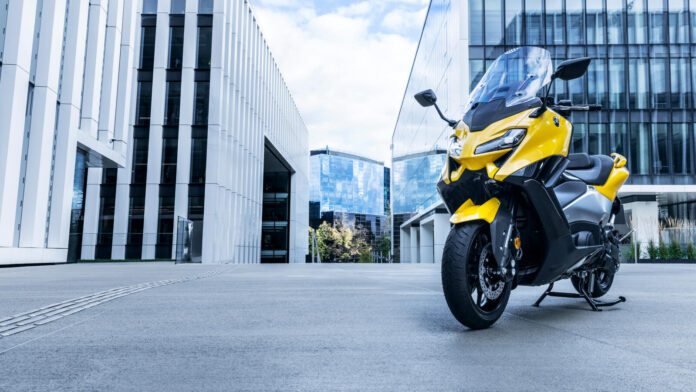 Adjustable rider's backrest
The longer main seat features an adjustable rider's backrest with a total of 30 mm front/rear movement, giving added support when accelerating and extra comfort during longer rides. Together with the longer footboards and new handlebars, the longer seat improves the ergonomics and enables riders with different physiques to find the best riding position – as well as giving all riders greater freedom to adjust their posture to suit different riding conditions.
The TMAX's slimmer waist section and narrower seat around the thigh area also improves the rider's leg reach to the ground, and for increased passenger comfort on longer rides the footpegs are lowered by 5 mm and the hip position is raised by 15 mm.
Compact new low-noise adjustable windscreen
The TMAX is fitted with a newly designed adjustable screen that contributes to the new model's more compact body design. A key feature on the new screen is a central air intake that is designed to reduce wind pressure on the rider's upper body at higher speeds for a more comfortable and enjoyable ride. Another feature of the new screen design is that it reduces wind noise and contributes towards the new model's better acoustics – enabling the rider to enjoy various smartphone audio services when using a Bluetooth helmet intercom system linked to the TMAX.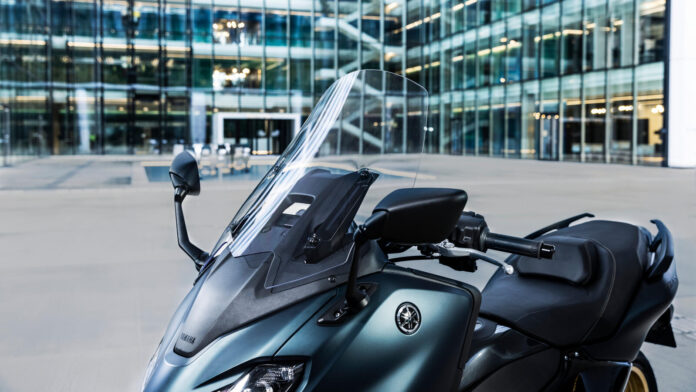 Yamaha Chip Controlled Throttle (YCC-T) with APSG
Europe's number one Sport Scooter gets the full ride-by-wire technology package in the form of a new Accelerator Position Sensor Grip (APSG) that is linked to the proven Yamaha Chip Controlled Throttle (YCC-T). This new APSG replaces the conventional cable and pulley system, and features a magnet and sensor that detects throttle inputs and transmits the data to the YCC-T.
This lightweight unit features a spring, slider and gear that give varying degrees of resistance so that is offers excellent controllability together with the intuitive feel of a traditional cable throttle.
Supersport-bike style combination headlights & T-shaped rear unit
TMAX is the most advanced scooter ever built by Yamaha, and the look and feel of the 2022 model takes one step closer to the motorcycle world with its aggressive new face that wouldn't look out of place parked next to an R-Series supersport bike.
Newly designed slimmer twin-eye LED headlights feature mono-focus lenses that project a brilliant beam of light for excellent night-time riding vision and 24 hour visibility. The compact and sporty design features integrated flashers for a beautifully refined look that underlines the premium finish and high status of this class-leading Sport Scooter.
The view of the TMAX rear end is just as impressive as the front, and the new tail light features a model-exclusive T-shaped design with integrated flashers that reinforces the strong and bold presence of this high performance machine.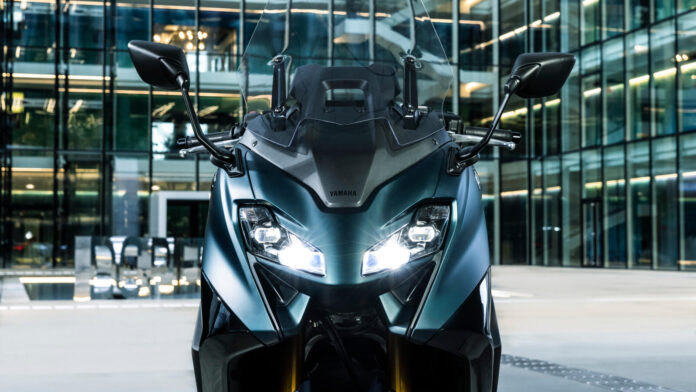 High performance 560cc EURO5 engine
The original TMAX was the first scooter to offer motorcycle performance with scooter convenience. Throughout its 20-year reign as the undisputed King of Sport Scooters this outstandingly successful machine has consistently offered Europe's riders the best package of sporty performance, first-class engineering and premium ride quality.
A key feature of the powerful 560cc parallel twin cylinder engine is its even-firing 360-degree crank with a horizontally-opposed reciprocating piston balancer. Used on no other motorcycle or scooter, this unique design helps to cancel out vibration without the need for a conventional rotary balancer – thereby substantially reducing engine height and enabling the use of a larger underseat storage area. By adopting this TMAX-exclusive layout, Yamaha's engineers have been able to create an engine that is powerful, compact and smooth-running – the ideal qualities for a Sport Scooter.
The original TMAX was also the first Sport Scooter to feature its engine mounted rigidly into a tubular chassis, a key feature that enabled riders to enjoy motorcycle-type performance for the first time.
Distinctive exhaust sound
The TMAX is known for its powerful sound quality with a clear and deep exhaust note that is unique to the this iconic Sport Scooter, and its distinctive tonality accentuates the thrill of the ride and creates a direct connection between the rider and the engine.
With its 360-degree crank and horizontally-opposed reciprocating piston balancer, the TMAX engine configuration is inherently a mechanically quiet design, and during the development of the 560cc engine attention was focused on creating a specially tuned sound that complements and enhances the sportiness of the TMAX. This clean and deep sound conveys a feeling of power at low rpm – and the intensity increases as the throttle is twisted, giving a thrilling and satisfying ride at all speeds.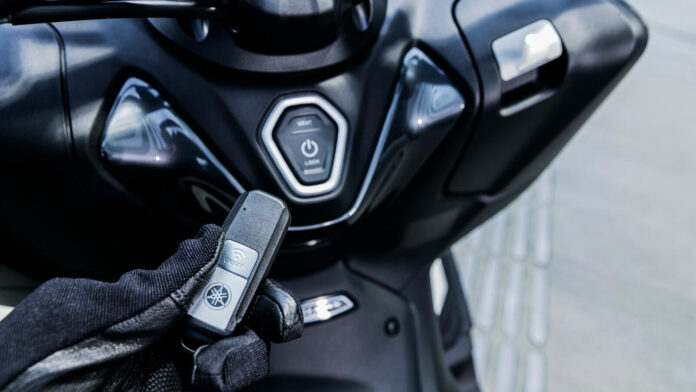 Smart Key keyless operation and newly designed control switches
Keyless operation enables the rider to access their scooter as long as they have the Smart Key with them – and for 2022 the TMAX takes scooter convenience to the next level with its newly designed switches that simplify the whole process. A new centre switch brings many of the functions together so that the rider can now turn the main power on and off, activate the main switch and handlebar steering lock, and open the seat with fewer operational steps.
Electrically operated aero-style fuel cap
TMAX is the first Yamaha motorcycle or scooter to be equipped with a smart aero-style fuel cap that automatically opens if the hinge is flipped up within two minutes of the main switch being turned off. This flush-fitting fuel cap can also be accessed at any time as long as the user has the Smart Key on them – and the steering lock or main stand lock are active. There's also an alarm that sounds if the fuel cap hasn't been closed properly when the main switch is turned on.
TMAX Key Features
New connected multi-display 7-inch full-colour TFT screen
Smartphone connectivity through MyRide App and MyRide – Link
Full-map Garmin Navigation*
Waterproof smartphone storage compartment with USB
Backlit fluorescent centre switch
Powerful rigidly-mounted 560cc EURO5 twin cylinder engine
Smooth and efficient CVT belt transmission
35kW power output, A2 licence
Clear, deep and pure engine sound
Lightest in class – 218 kg wet weight
Dynamic new sports body design with supersport-inspired face
Slimmer waist section
Redesigned adjustable screen with centre air vent
Bold new dual slimline LED headlights with integrated flashers
TMAX-exclusive T-shaped LED taillight with integrated flashers
More sporty riding position
Improved rider and passenger ergonomics
Longer seat with adjustable rider's backrest
Longer footboards
Restyled boomerang sidepanels
Forged aluminium handlebars with revised shape
Keyless aero-style electrically-operated fuel filler cap
Premium components used throughout
Smart Key keyless operation with simplified control switches
On-screen functions controlled by handlebar mounted joystick
Lightweight aluminium CF die-cast frame
Radial-mount 4-pot opposed piston front brake calipers
New lightweight Spin Forged 10-spoke wheels
Newly developed model-specific Bridgestone Battlax SC2 tyres
Inverted 41 mm forks and link-type rear suspension
Sportier suspension damping settings
Yamaha Chip Controlled Throttle (YCC-T)
Accelerator Position Sensor Grip (APSG)
Traction control system
D-MODE selectable engine running modes
Large, illuminated storage space – one full face helmet or briefcase/laptop
Anti-theft locking centre stand
* Full-map Garmin Navigation requires a subscription service agreement and is not offered in all countries. Some navigation features are not available in all countries, please check with Garmin for availability.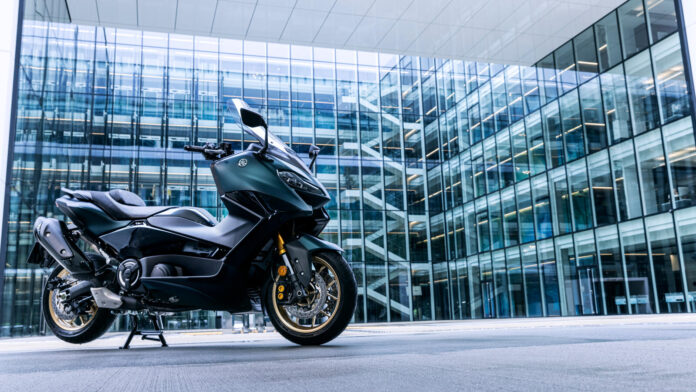 TMAX Tech MAX: Accept only the icon.
TMAX Tech MAX is the ultimate Yamaha Sport Scooter that is designed to satisfy the most demanding customers who always require the highest specification.
The TMAX Tech MAX shares the same specification as the new 2022 TMAX, and benefits from a range of additional technology that focuses on delivering an even higher quality riding experience.
The screen on the Tech MAX is electrically adjustable, enabling the rider to quickly set the screen height to best suit their riding condition. This screen is designed to provide a comfortable ride especially at higher speeds, and it also helps to reduce wind noise so that the rider can enjoy audio feeds to their Bluetooth connected headset.**
TMAX Tech MAX owners are typically all-season riders who use their Yamaha for weekly commuting as well as weekend touring, and the heated seat and heated grips ensure all-season riding comfort, even on longer journeys.
Cruise control comes as standard, and is a much-appreciated feature that can make long distance riding even more enjoyable, and can also help riders to maintain the local speed limits.
The link-type rear suspension on the TMAX Tech MAX is adjustable, making it easy to set the machine up to suit solo or two-up riding. Backlit switches are also standard, and premium materials are used on the interior underline the Tech MAX's status as the ultimate Sport Scooter.
** Bluetooth connected headset not included.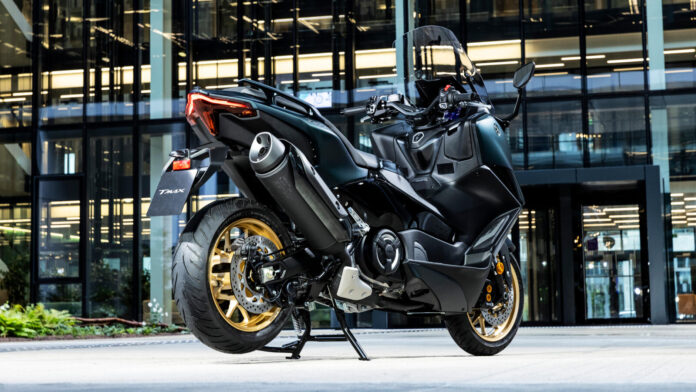 TMAX Tech MAX Exclusive Key Features
Heated seat with improved temperature control
Heated grips
Electrically adjustable windscreen
Cruise control
Backlit fluorescent handlebar and centre switches
Adjustable rear suspension
Premium quality interior
220 kg wet weight
TMAX standard model is not available in UK.
. . TMAX Tech MAX will be available in two colours: Dark Petrol and Power Grey.
Deliveries to European Yamaha dealers will commence from March 2022. Prices vary per region, so please contact the national Yamaha distributor for full information.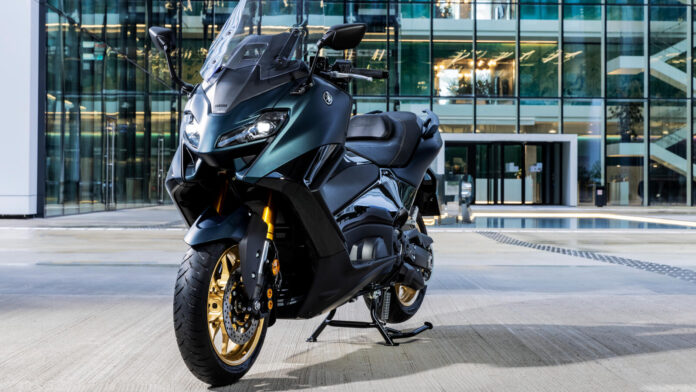 Yamaha Genuine Accessories and Clothing
Yamaha has developed a range of Genuine Accessories that enable the TMAX owner to easily personalise their Sport Scooter and build their very own unique machine that best suits their individual lifestyle and usage.
The ever-growing line-up includes a selection of comfort, cosmetic and performance accessories that have been developed by Yamaha for the 2022 TMAX and Tech MAX. By only choosing Genuine Accessories the customer can be sure that each item has been built to give a perfect fit, and has been manufactured to the same high quality as their machine.
Yamaha also offer a comprehensive selection of riding gear and casual wear suitable for TMAX and TMAX Tech MAX riders, including CE approved riding jackets and gloves, plus a choice of T-shirts, hoodies, baseball caps and more for men, women and kids.
MyGarage app
Yamaha's MyGarage app is the quick and easy way for customers to build a virtual TMAX or TMAX Tech MAX with a range of Genuine Accessories while sitting at home with their smartphone or laptop. The free App allows users to add and remove accessories to create their ultimate Yamaha Sport Scooter, and the finished result can be viewed in 3D from every angle.
MyGarage takes the guesswork out of choosing which accessories to fit, and to make things even easier the customer's final selection can be emailed to their chosen Yamaha dealer who will fit the selected Genuine Accessories to the new TMAX.
For full information on Yamaha Genuine Accessories and Clothing or MyGarage please visit www.yamaha-motor.eu/uk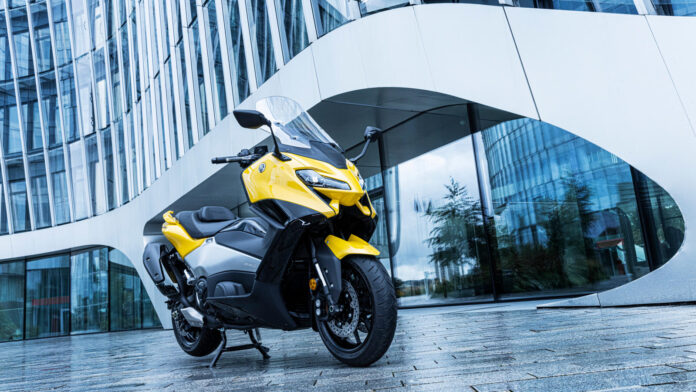 MyRide
Yamaha's free MyRide app gives TMAX riders the chance to get more enjoyment and information out of every ride. Available for iOS and Android devices, it tracks and stores every route covered, and enables users to create their own story and add pictures which can be shared on social media. MyRide also allows users to review all riding statistics including total distance, elevation, top speed, average speed, acceleration and lean angle to compare with fellow riders.
For more Yamaha Motorcycles UK news check out our dedicated page Yamaha Motorcycles UK
or head to the official Yamaha Motorcycles UK website yamaha-motor.eu/gb/en/