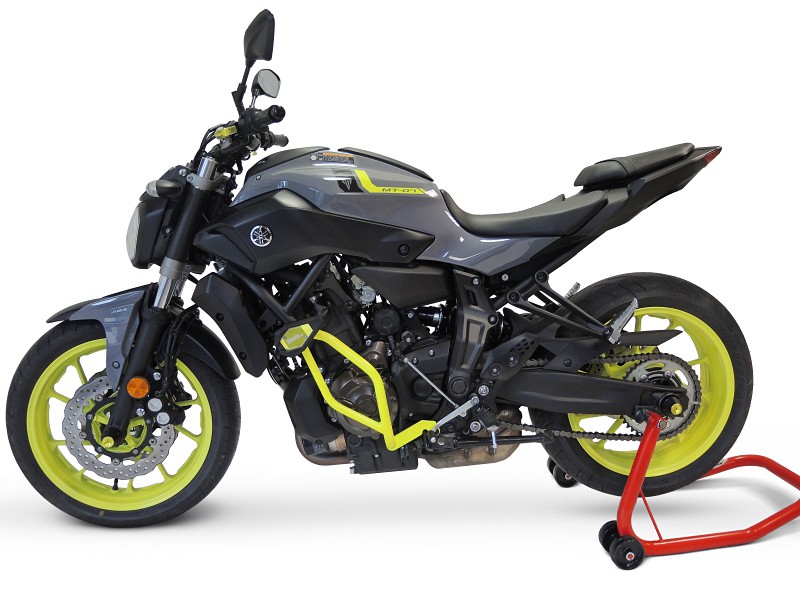 Light, easy to fit and unobtrusive, RDMOTO's range of crash protection for the Yamaha MT-07 is a cost-effective way of guarding against the damage and expense caused by dropping the bike – whether on road, on track or at the kerbside!
PH01 Protectors are the classic 'mushroom' shape and are made from hard-wearing black or white polyamide with a steel insert, to increase strength. They measure 50 x 60mm, attach to existing points on the MT-07 and come complete with fitting kit. They retail at £46.80 including VAT.
PHV1 Protectors are similar, but come with an anodized cap that's available in a choice of seven different colours, and retail at £68.40.
SL01 Crash Sliders feature a larger sliding surface – 119 x 72mm – for added protection during a slide or drop. They're also made from polyamide, can be adjusted to suit the bike's profile and come with a choice of seven anodized inserts and a fitting kit, selling for £88.80 including VAT.
Alternatively, SLD Diamond Sliders are made from POM-C, a strong and rigid resin, which offers very low friction during a slide. They can be rotated to follow the bike's lines and cost £109.20.
Matching Front and Rear Axle Protectors are available too – protecting the vulnerable axle ends and rear swingarm. They're manufactured from polyamide, measure 40 x 50mm and sell for £31.20 including VAT for each pair.
Alternatively MT-07 owners can opt for the more traditional Crash Frame, which shields the MT's lower and upper engine casings. Made from high quality tubular steel, the bars are powder coated in black and retail at £102.00 including VAT. They can be used in conjunction with the PH01 'mushroom' protectors for additional peace of mind. Special edition yellow versions (£125.00) can be fitted with SLD protectors.
Call RDMOTO's UK partners Skidmarx on 01305 780808 or visit www.skidmarx.co.uk for details.
SBN Directory - add your motorcycle related business here
Click here for more info on Arai Helmets
Click here for more info on Xena Security
Click here for more info and to buy Biker T-Shirts
Grid Girls UK
If you would like to receive our headlines daily to your email inbox then sign up to our newsletter: Here
Subscribe to our news channels: Here