It's time for the final round of 2021 as we get set to crown the HETC and Moto3™ Champions
After a break of a few weekends, the FIM CEV Repsol paddock is back in action this weekend and it's time to gear up for the 2021 season finale at Valencia's Circuit Ricardo Tormo, where we'll crown two more Champions. Grand Prix paddock bound Fermin Aldeguer (Boscoscuro Talent Team-Ciatti) has already wrapped up the Moto2™ European Championship title, but the FIM Moto3™ Junior World Championship and Hawkers European Talent Cup crowns are waiting to be won.
In the FIM Moto3™ JWCh title fight, Daniel Holgado (Aspar Junior Team) holds a 26-point advantage over David Muñoz (Avatel – Cardoso Racing) after Holgado suffered his first DNF of the season at Misano. Muñoz, in turn, finished P3 to close the gap. With two races to contest though, Holgado can wrap up the title if he wins Race 1 – or finishes more than 25 points clear of Muñoz. However, if Muñoz beats Holgado in the opening race on Sunday, then it all goes down to Race 2. Third place Ivan Ortola (Team MTA) is also mathematically in the title hunt, but he's 43 points down on Holgado with 50 points left on the table…
The HETC title race, meanwhile, is wide open. Maximo Martinez (Team Honda Laglisse), after his double 25-point haul in Jerez, leads the way on 136 points. Adrian Cruces (Cuna de Campeones) is second, eight points adrift, while fellow Cuna de Campeones rider Xabi Zurutuza sits P3 and 11 points shy of Martinez. Brian Uriarte (Team Estrella Galicia 0,0) is fourth in the standings after his two P2s in Jerez, and is another rider well in the title fight – 20 points separate the four Spaniards ahead of two races on Sunday. Who wins the battle is anyone's guess!
Having won the opening nine races of the season, Aldeguer's 100% win streak in the Moto2™ ECh was ended by teammate Alonso Lopez in a fantastic Jerez Race 2 encounter. This will be Aldeguer's final race in the Moto2™ ECh before embarking on a debut campaign in the Moto2™ World Championship, with the young Spaniard having raced in Valencia last weekend in Moto2™ – finishing P17, and already having scored points earlier in the season. Lopez will be aiming to make it two wins from the last two to sign off from the season in style, and Aldeguer will want to go out with a bang ahead of his first full World Championship campaign. Lukas Tulovic (Liqui Moly Intact SIC Racing Team) will be hoping to hold onto P3 in the overall standings too, and get back on the top step after MotoE™ glory earlier in the season.
Make sure you don't miss any of the action in Valencia on Sunday! Five races are coming your way in a bumper end to the season, as we await to see who will be crowned HETC and FIM Moto3™ JWCh winners.
Sunday schedule in local time (GMT+1):
11:00 – Moto3™ Race 1 (18 laps)
12:00 – HETC Race 1 (17 laps)
13:00 – Moto2™ Race 1 (19 laps)
14:00 – Moto3™ Race 2 (18 laps)
15:00 – HETC Race 2 (17 laps)
Television networks and media platforms, in Europe and across the world are showing ever-more interest in live broadcasts of FIM CEV Repsol events. You can enjoy the live races via: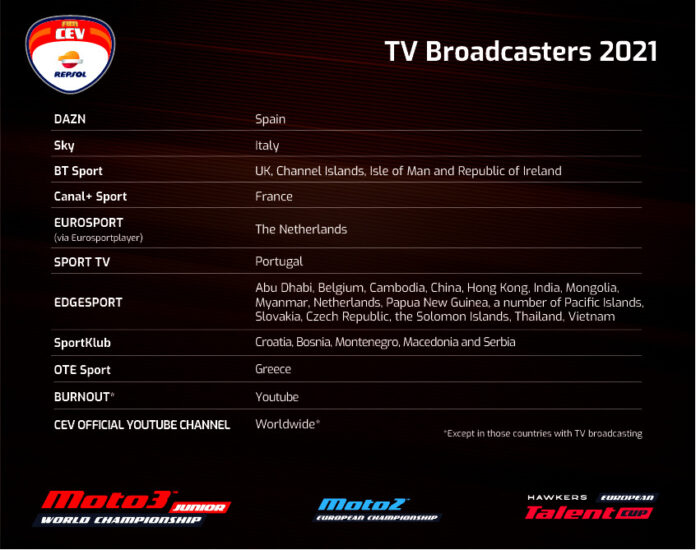 For more info checkout our dedicated FIM CEV Repsol news page superbike-news.co.uk/cev-repsol/
Or visit the official FIM CEV Repsol website fimcevrepsol.com/en