---
Click here for more info on Vitesse T-Shirts UK
---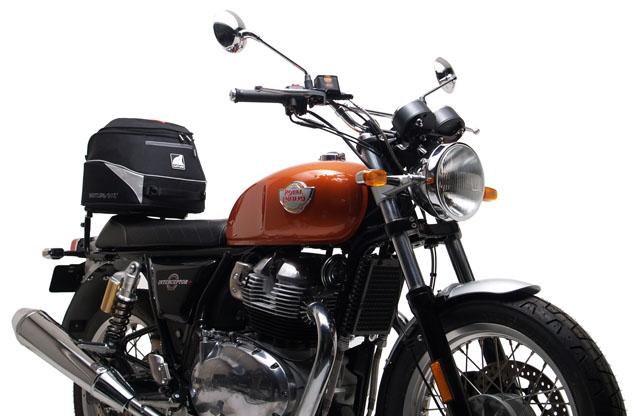 Ventura luggage systems are now available for the latest modern classics from Triumph and Royal Enfield, releasing their touring potential without ruining their looks.
Light, stable and versatile, Ventura's Evo Bike Pack System combines the best features of hard and soft luggage, to add serious carrying capability without excess weight, width or bulky and unsightly racking systems.
Ventura's system consists of just three elements:
Discreet L-Brackets, tailor made for each machine, that attach to existing mounting points on the sub-frame.
An Evo Rack, which slots into the L-Brackets, offering a stable and secure platform for the luggage.
The Evo Pack, that simply slides onto the Rack and clips into place.
This unique mounting system ensures the load won't shift, even during hard riding. Carried directly behind the rider, close to the bike's centre of gravity, when riding solo, it can be re-positioned behind the pillion seat when a passenger is onboard. Both options carry the pack well clear of exhausts and the rear wheel.
When luggage isn't needed, the Pack can be removed in seconds, leaving the neat Rack in place. There is also an option to replace the Rack with a Grab Handle, which takes seconds to swap over.
Packs come in three sizes, from the 10-litre Evo-10 day pack (£73.99) to the 22-litre Evo-22 for a weekend away (£129.99) and the 40-litre Evo-40, ideal for touring (£149.99). Evo racks sell for £77.99 and  the price of L-brackets depends on the make and model of motorcycle.
A typical system consisting of the L-Brackets, Evo Rack, and a Evo-22 Jet Stream Pack retails at £332.98 for the Royal Enfield interceptor and £338.98 for the Scrambler 1200, (all including VAT).
For further details, prices and a full list of pack options visit  www.ventura-bike.co.uk
---
Click here for more info on Vitesse T-Shirts UK
---
Follow us on social media:
Instagram: @superbikenews
Twitter: @sbknews>
Facebook: @superbikenews
---
Click here for more info on Arai Helmets
Click here for more info on Xena Security