Pecco, Zarco, Quartararo, Marini… the list of laptime heroes goes on as pre-season comes to a hectic close at Portimao.
Another day, another set of timesheets… and the last one before we go racing! The final day of pre-season is in the books and there's a new fastest ever lap of the Autodromo Internacional do Algarve, with reigning Champion Francesco Bagnaia (Ducati Lenovo Team) absolutely smashing his old lap record and bringing it down to a stunning 1:37.968. But he wasn't the only one under the old 1:38.725, with an incredible 12 riders ending 2023 pre-season with a quicker lap than that.
At the top, the first on Bagnaia's tail was Johann Zarco (Prima Pramac Racing) as he unleashed a time attack on Sunday, not into the 1:37s but seemingly taking a big step forward. Just 0.038 behind him came another rider who took a leap forward on the final day of pre-season, with 2021 Champion Fabio Quartararo (Monster Energy Yamaha MotoGP™) taking third and looking a whole lot happier by the end of play than he had 24 hours earlier.
Here's a rundown of the final day's action as we start to switch from test mode to race mode!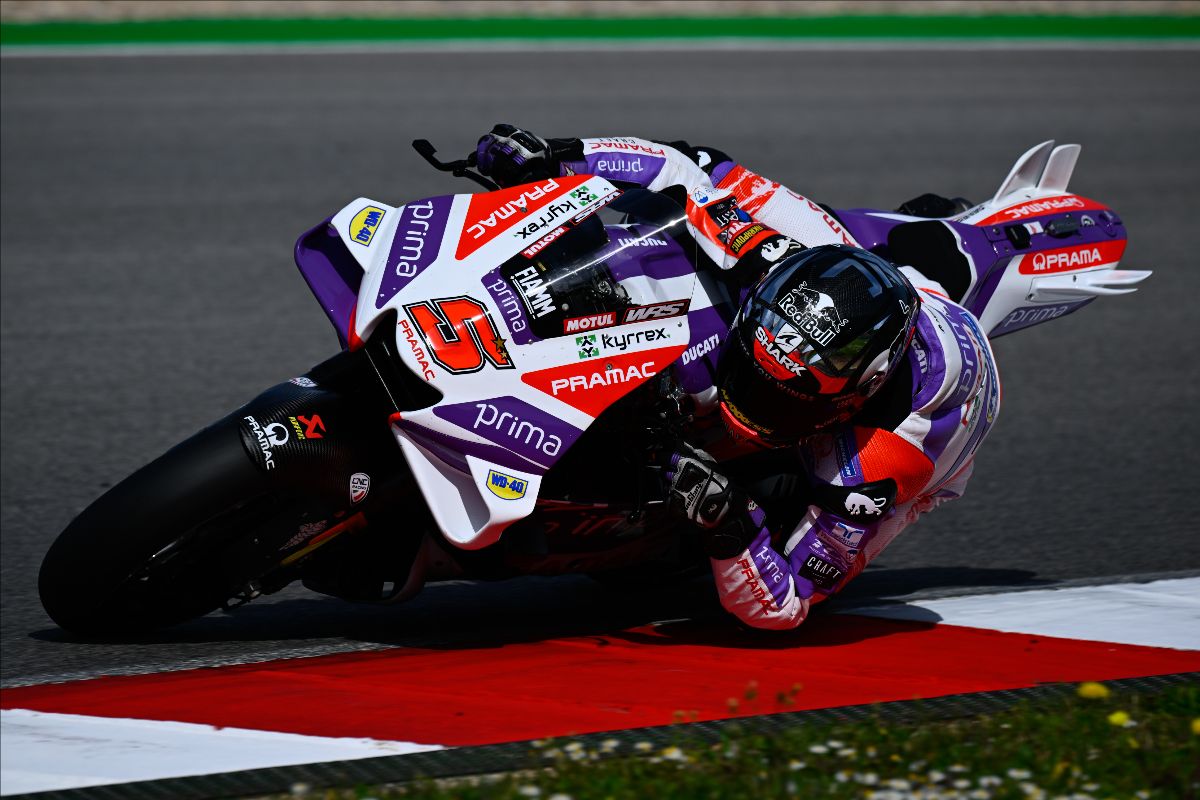 DUCATI, PRAMAC, VR46 & GRESINI
Bagnaia smashed his own all-time lap record and then put in a MotoGP™ Sprint simulation that raised eyebrows up and down pitlane, with most laps under the old best race lap. That was a Jaws music moment before Quartararo was able to get a lot closer, and then Zarco split the two 2022 Championship rivals.
Bastianini struck late to move up significantly compared to a lackluster showing on the timesheets on Saturday, having not put in a real hot lap before. He ends the test in sixth, but will most definitely want to reel his teammate further in once the Portuguese GP begins. There was little new to see at Ducati, with focus seemingly having shifted to really dialling in what they've tested… barring one small new lever spotted by our pitlane reporters, currently cause for curiosity.
Zarco was the closest challenger to reigning Champion Bagnaia, moving up later in the day to depose compatriot Quartararo from second. Zarco appears to have found some long run pace, and said he was back on fettling his own setup rather than running through any testing for the factory. Teammate Jorge Martin was also looking good, and he ends the test in P8 after again running the "ground effect" fairings as he did yesterday.
At Mooney VR46 Racing Team, it was a slightly damp squib end to testing for Luca Marini after the fastest rider in Valencia and Sepang suffered two technical issues that interrupted his final day, leaving him right down the timesheets until a final push at the end. It was a good push though, and he manages to end Sunday in P4 – just ahead of sophomore teammate Marco Bezzecchi. The two look more than ready to take on the battle for some serious positions when the season gets it gear.
At Gresini Racing MotoGP™, it was a final test of two halves. Fabio Di Giannantonio was ruled out after his crash on Day 1, with no injuries but ruled unfit to give him time to recover ahead of the first race weekend. Alex Marquez was sitting fourth for much of the day before a late attack for a few of his fellow Ducati riders, and the two-time World Champion was shuffled down to a still very interesting seventh – right behind Bastianini. He suffered two crashes but all ok, and even saw that as a positive to get it behind him as he starts a new adventure with a new machine.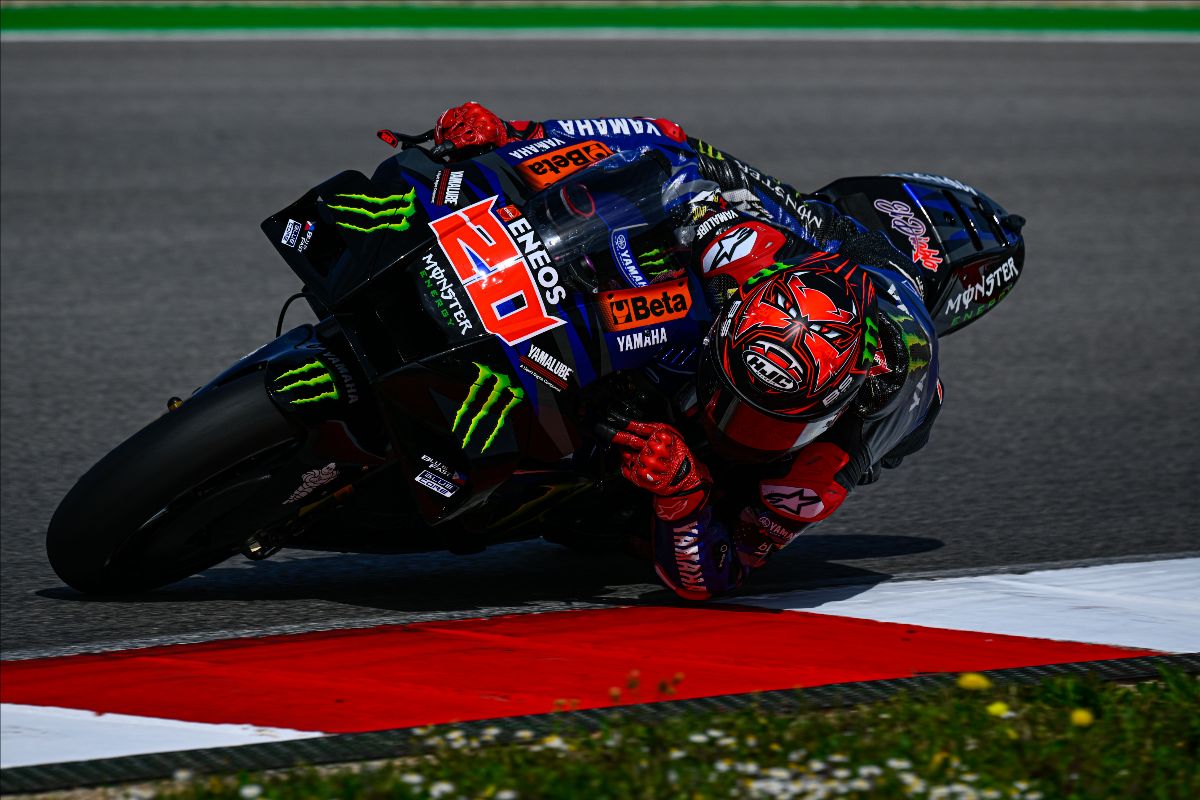 YAMAHA
The Portimao Test was looking worrying for Monster Energy Yamaha MotoGP™ on Day 1, and even during the morning hours of Day 2. Soft tyre woes continued to hinder both Fabio Quartararo and Franco Morbidelli, but with roughly three hours of pre-season testing to go, Quartararo pounced up to P2 on the timesheets – just 0.148s away from Bagnaia's new all-time lap record. A last minute sprint for glory.
Both riders were continuing to play around with different aero packages on the final day, with Morbidelli's the most striking on the front of the bike. The Italian was putting in some work on similar to a new upgrade we witnessed for the first time on Saturday, but this one the top set of wings, then a double sidepod design as well as the downwash duct at the bottom. But then came this…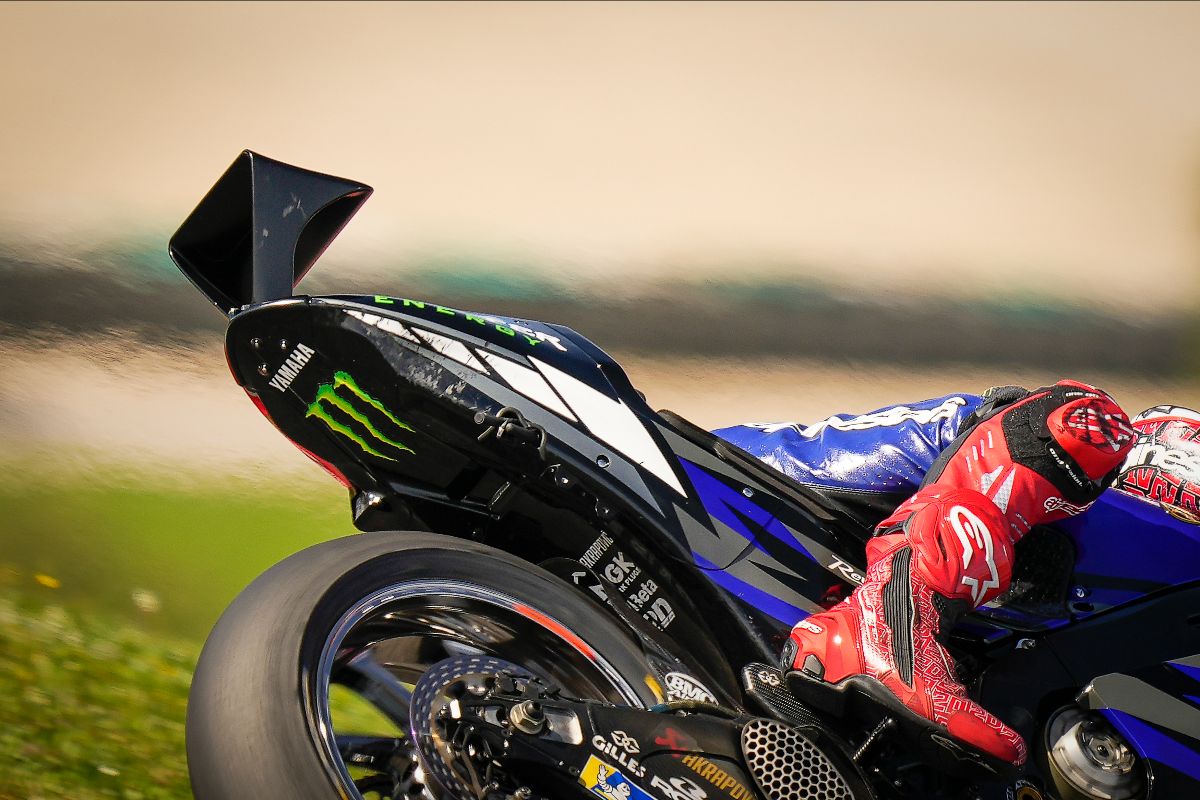 The huge addition, as seen when Quartararo headed out towards the close of play, was interesting to say the least. A rear wing but something never seen before: a much bigger, upside-down triangular-shaped design. The review from the Frenchman: "it wasn't worse". But he said data was needed to see if it was better.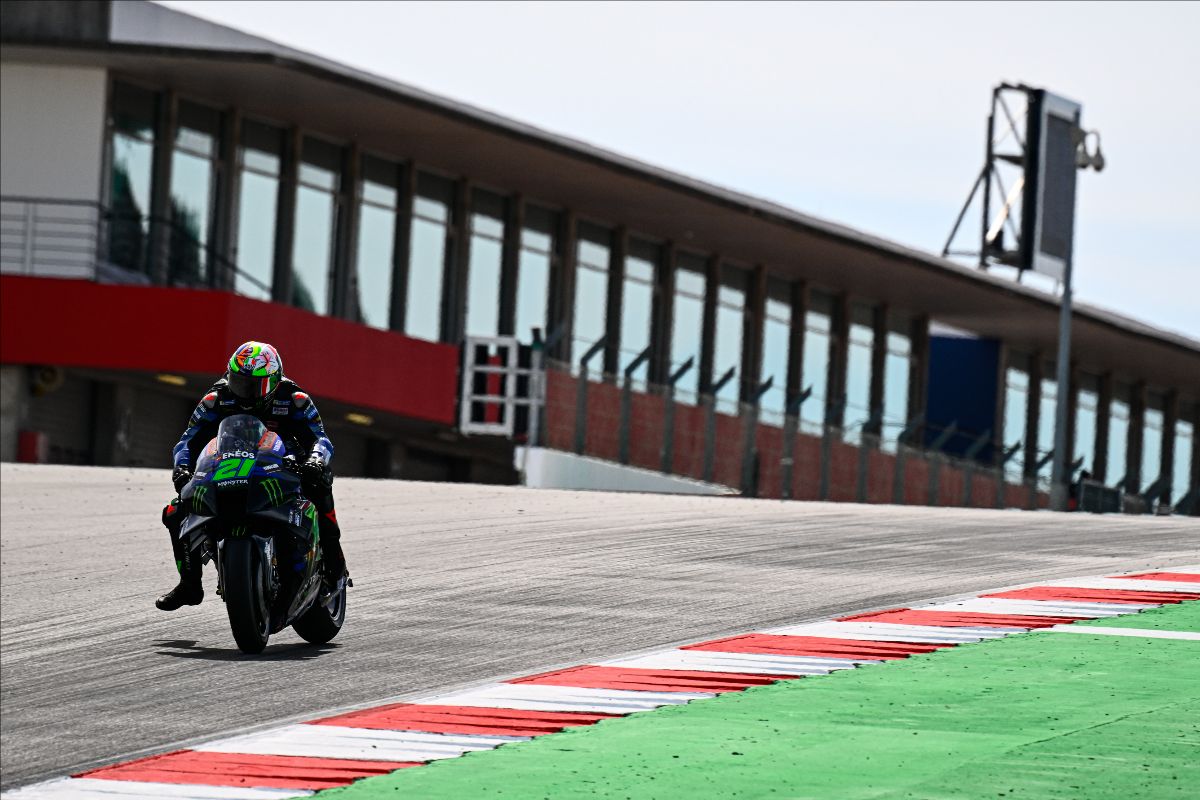 All in all, it was a busy day down in the Yamaha camp. Crucially though, a big step was made for Quartararo, who is feeling a lot happier than he was in Sepang and on Day 1. Going back to some old settings allowed the Frenchman to make critical strides forwards which will be a huge relief for Yamaha. The same sighs of relief won't be swimming through Morbidelli's side of the box, however, as the Italian ended the test in P19 after completing 89 laps.


KTM & GASGAS TECH3
At Red Bull KTM Factory Racing, the test was about analysing what they have rather than bringing in a slew of new parts, and a main point of focus remained the engine. That was heard from all machines – both KTM and GASGAS. Brad Binder was the lead RC16 on the timesheets as the South African ends the test in P9 and a good chunk under the old lap record, ahead of the three lead Aprilias.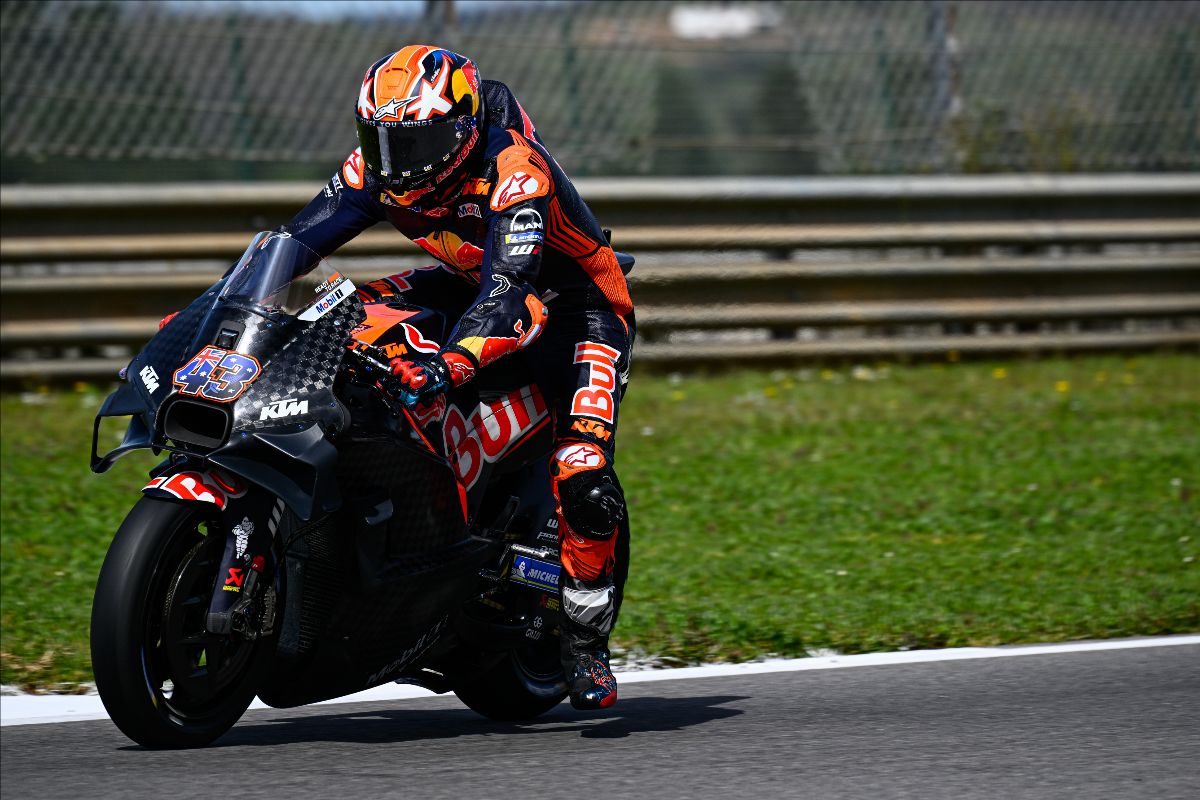 Jack Miller was P17 on the second Red Bull KTM Factory Racing machine as he looks to settle in. He was focusing on settings and gave a lot of feedback on the electronics, some of which was also reportedly of interest to his new teammate. He was upbeat and said they're really starting to get there, with a bit left to polish… but gave his adaptation a 7 or 8 out of 10 so far.
Red Bull KTM Factory Racing Team Manager Francesco Guidotti said Day 1 was tougher, Sunday morning remained a challenge but by the end of play, they'd started to see some light at the end of the tunnel. The main issue? They're missing a "few tenths" of grip and are working on mechanical solutions as well as on the electronics to take that step forward.
As GASGAS Factory Racing Tech 3, Pol Espargaro was just 0.065 off Miller just ahead of him as the gaps remain absolutely tiny down the field, with rookie Augusto Fernandez one of those a little further back, a few tenths behind Takaaki Nakagami (LCR Honda Idemitsu).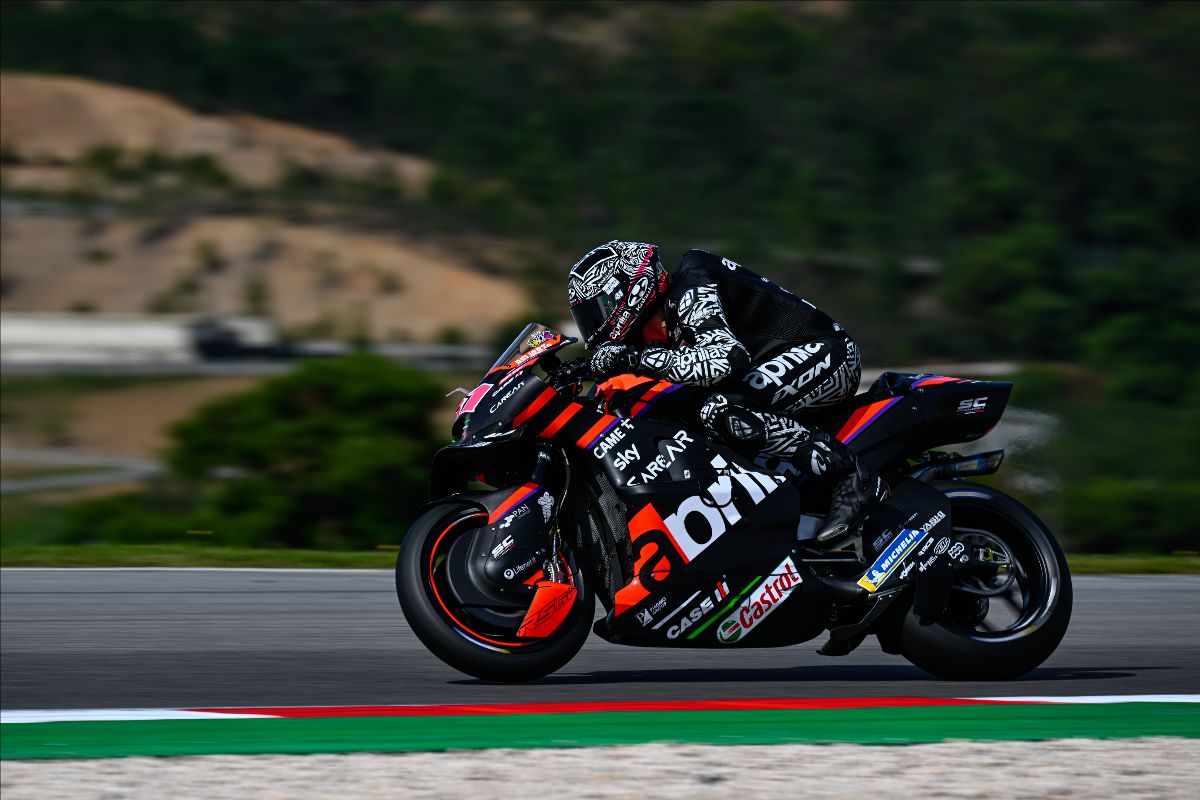 APRILIA & RNF
Aprilia Racing's Aleix Espargaro admitted that he struggled with arm pump on Day 1 of the Portimao Test, and those issues continued into Sunday. He put in 52 laps – the least of anyone – and says he will be getting his arm checked out ahead of Round 1 of the season, although the #41 said it wasn't a disaster. Pace-wise, Espargaro will be happy as he ends the test as the top Aprilia in P10.
On the other side of the factory box, Maverick Viñales ends pre-season testing with a beaming smile on his face despite experiencing a technical issue on one of his bikes. P12 definitely doesn't tell the full tale of his test. The vibes radiating from Top Gun are all positive after another 82 laps were pocketed on the final day, as all signs point towards him and Aprilia kicking off 2023 in fine form. Viñales was the final rider inside the old lap record.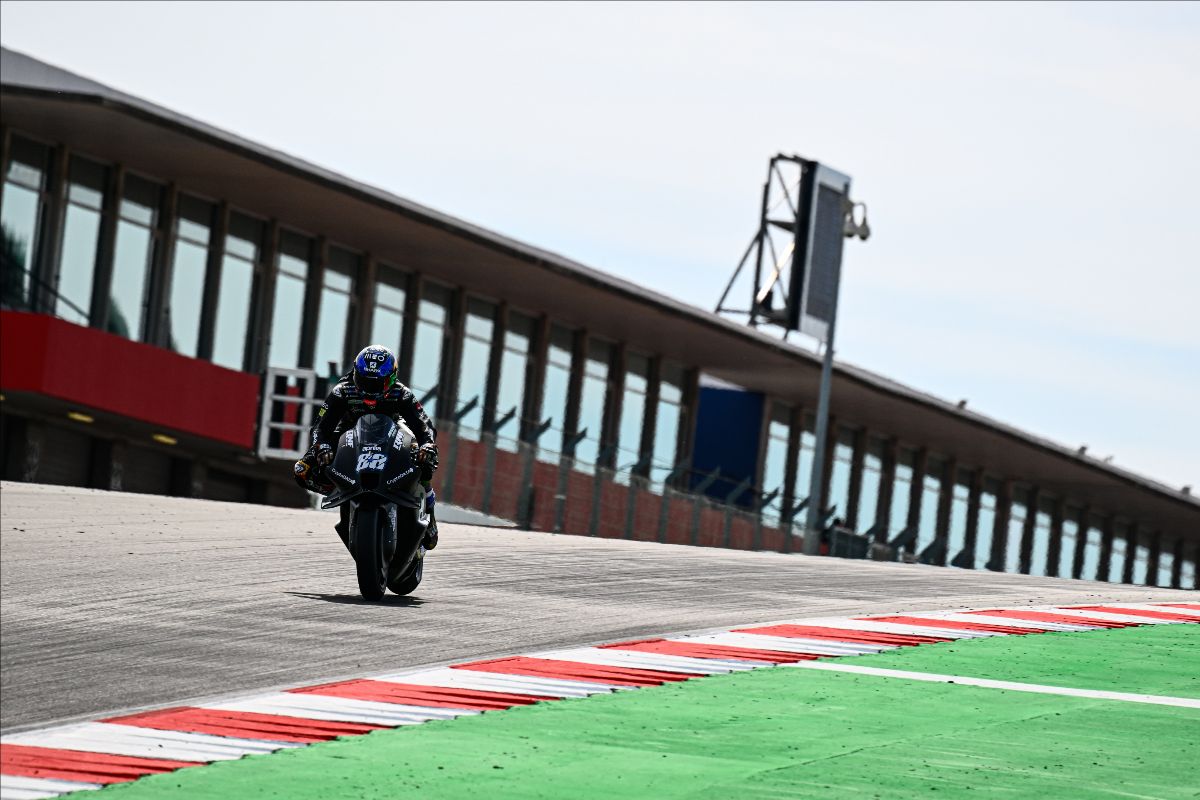 Fine form is one way of describing the performance of a pair of Aprilia newcomers: Miguel Oliveira and RNF MotoGP™ Team teammate Raul Fernandez. Both riders have been consistently up the sharp end of the timesheets in Portimao, but afternoon crashes for both – Oliveira at Turn 3, Fernandez at Turn 1 – put a slight dampener on their final day. But like Espargaro and Viñales, their positions on the timesheets don't necessarily portray the story of their pre-season… and they'll be ones to watch when the lights go out for sure.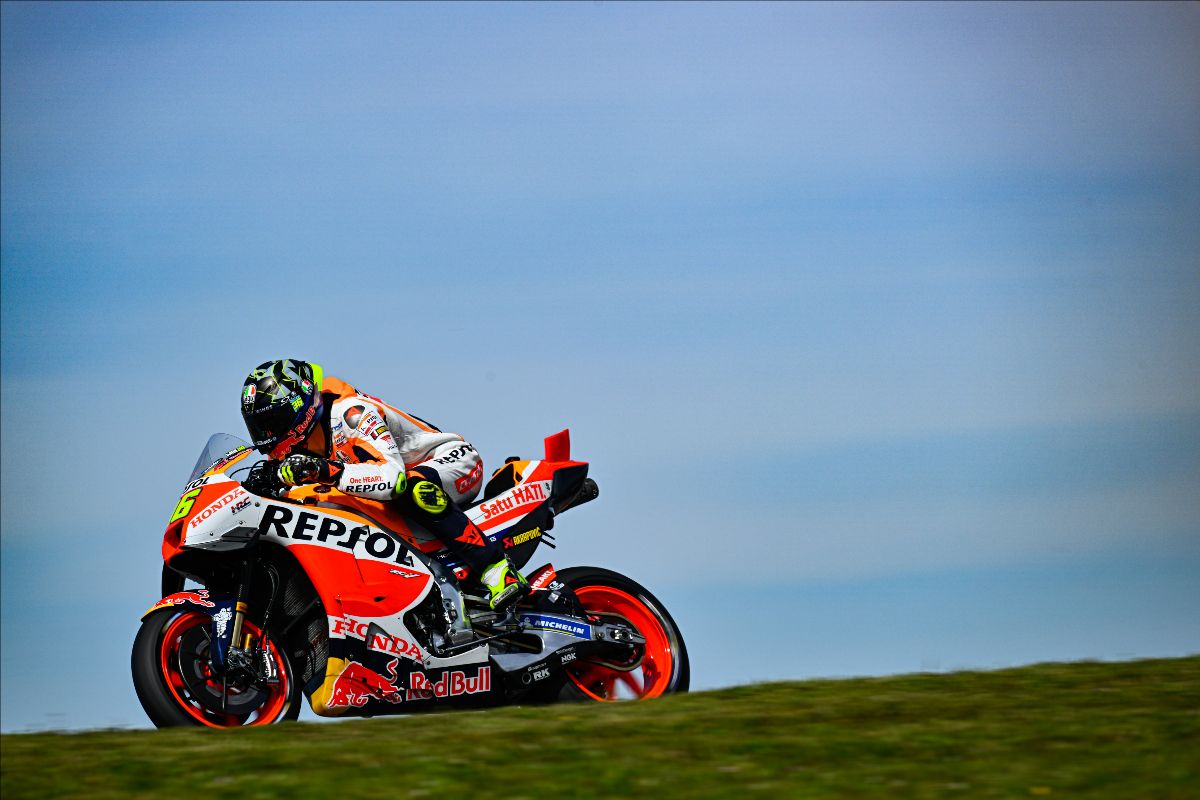 HONDA & LCR
"It's time to start working with what we have," expressed Marc Marquez (Repsol Honda Team) after Day 1 as the eight-time World Champion admitted that after testing big things in the afternoon, he and Honda lost their way a bit. It's no surprise we didn't see many new parts on the RC213Vs on Sunday then, but we did see Marquez continuing on Honda's updated air intake and aero package set-up.
Marquez confirmed that his final day on track was the best he'd felt all pre-season. A Sprint simulation suggested Honda aren't a million miles away, not where they want to be, but it's not a disaster. Marquez also confirmed he and teammate Joan Mir are pulling in the same direction, so there was plenty of promising noises coming from the HRC camp ahead of Round 1.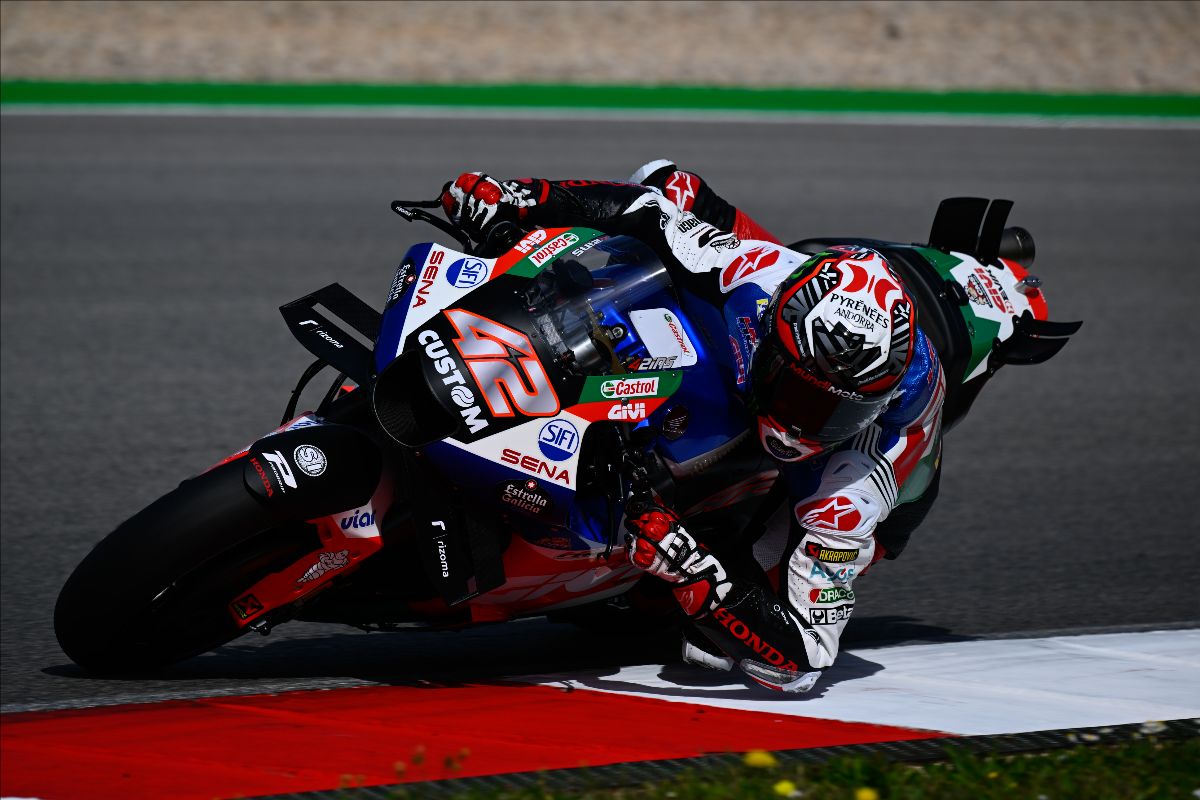 Alex Rins (LCR Honda Castrol) was given the 2021 Honda aero package and ground effect fairing to test on the final day, the latter was also seen using a very different set-up on the front suspension from all the other Hondas. In addition, both Rins and teammate Takaaki Nakagami (LCR Honda Idemitsu) have been using last year's clutch – not the new, carbon one that Nakagami has previously tested.
It's Mir who ends the Portimao Test as the quickest Honda in P13, 0.016s ahead of Marquez who in turn is 0.004s faster than Rins. They're all within a second of the all-time lap record, a sign Honda are heading down the correct path. Nakagami finishes the Test down in P20, 1.3s from top spot.
And then… all was quiet in pitlane. That's a wrap on pre-season for the premier class, and now all there's left to do is RACE! The first Grand Prix of the season is just around the corner, so make sure to join us then as the engines fire up in Portimao once more. The 24th to the 26th of March 2023: save the date as a new era begins!
For more MotoGP info checkout our dedicated MotoGP News page
Or visit the official MotoGP website www.motogp.com"