Wildcard Bruno Ieraci snatched his maiden WorldSSP300 in Race 1 for his first race in the category since Portimao 2022.
Mirko Gennai secured second place in Race 1 becoming the new Championship leader with an 8-point advantage over Svoboda. Humberto Maier took third place for his third podium in WorldSSP300. He stands in third place in the standings, 12 points behind Gennai.
The FIM Supersport 300 World Championship got racing action underway at the Pirelli Emilia-Romagna Round at the iconic Misano World Circuit "Marco Simoncelli" with a dramatic Race 1 as wildcard Bruno Ieraci (ProDina Kawasaki Racing) claimed a stunning home victory in his 49th WorldSSP300 race while Petr Svoboda (Fusport – RT Motorsport by SKM – Kawasaki) crashed out in the closing stages to relinquish his Championship lead.
The original race got underway but was quickly red flagged due to a technical issue with the race start, with the restarted race reduced to 10 laps with the original grid. The restarted race was ten laps of thrilling WorldSSP300 action as Ieraci held off a last lap, last corner move from Mirko Gennai (Team BrCorse) to claim his first win in the Championship and his second podium in WorldSSP300. Gennai's second place, coupled with Championship leader Petr Svoboda (Fusport – RT Motorsport by SKM – Kawasaki) crashing out of the race, means he now leads the Championship after taking his seventh podium and his third consecutive rostrum finish. Humberto Maier (Yamaha MS Racing/AD78 Latin America Team) battled his way up the order to claim third place, his third podium in WorldSSP300.
Jose Luis Perez Gonzalez (Accolade Smrz Racing BGR) claimed fourth place for the fourth time this season out of five races time in 2023, narrowly missing out on a podium by just 0.078s, although he did have a half-a-second margin over Kevin Sabatucci (Team Flembbo – PI Performances) as he returned from injury with a top-five finish. Matteo Vannucci (AG Motorsport Italia Yamaha) battled his way from 19th on the grid to sixth place although he did lead at several points during the shortened race, finishing only 0.069s behind Sabatucci.
WorldSSP300 action resumes on Sunday from 09:50 (Local Time) with the Warm-Up, followed by Race 2 at 15:15.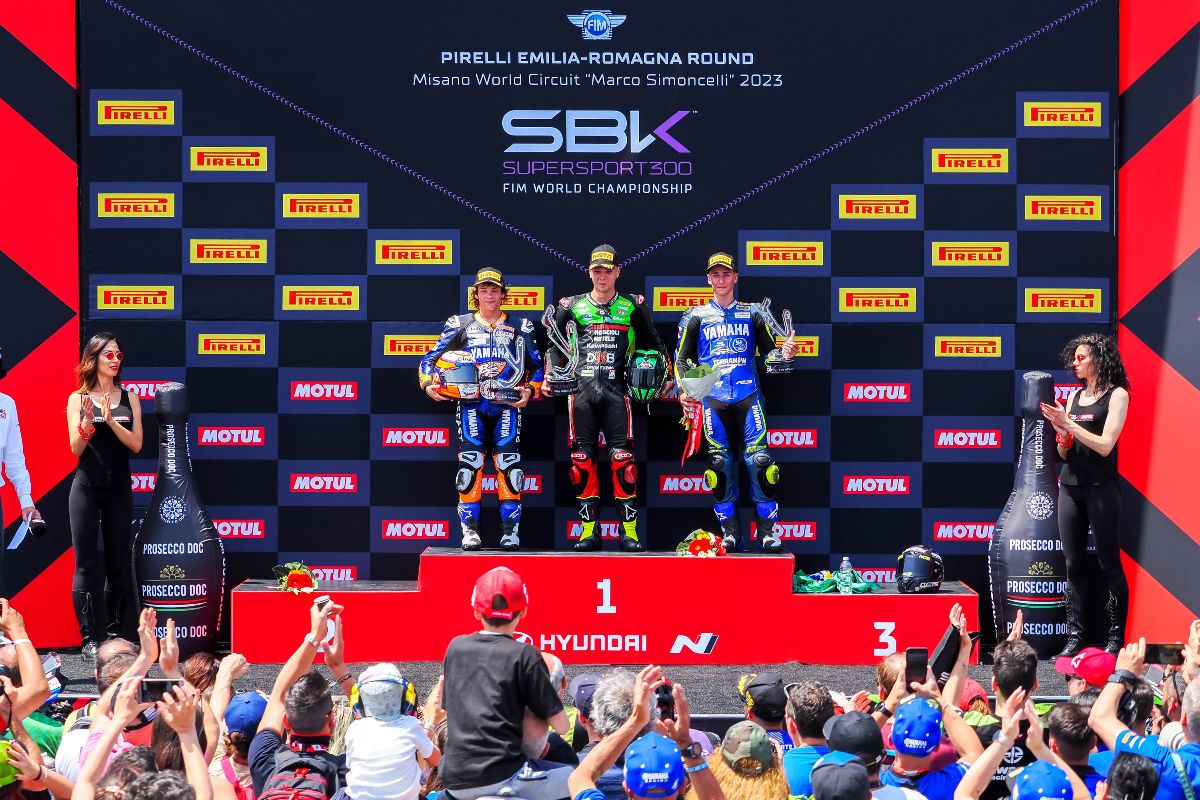 WorldSSP300 Race 1 Results
1. Bruno Ieraci (ProDina Kawasaki Racing)
2. Mirko Gennai (Team BrCorse) +0.149s
3. Humberto Maier (Yamaha MS Racing/AD78 Latin America Team) +0.818s
4. Jose Luis Perez Gonzalez (Accolade Smrz Racing BGR) +0.896s
5. Kevin Sabatucci (Team Flembbo-PI Performances) +1.322s
6. Matteo Vannucci (AG Motorsport Italia Yamaha) +1.391s
WorldSSP300 Championship standings
1. Mirko Gennai (Team BrCorse) 77 points
2. Petr Svoboda (Fusport-RT Motorsport by SKM-Kawasaki) 69 points
3. Humberto Maier (Yamaha MS Racing/AD78 Latin America Team) 65 points

WorldSSP300 Tissot Superpole Results
1. Jeffrey Buis | Kawasaki | 1'49.297
2. Alessandro Zanca | Kawasaki | +0.041s
3. Julio Garcia | Kawasaki | +0.276s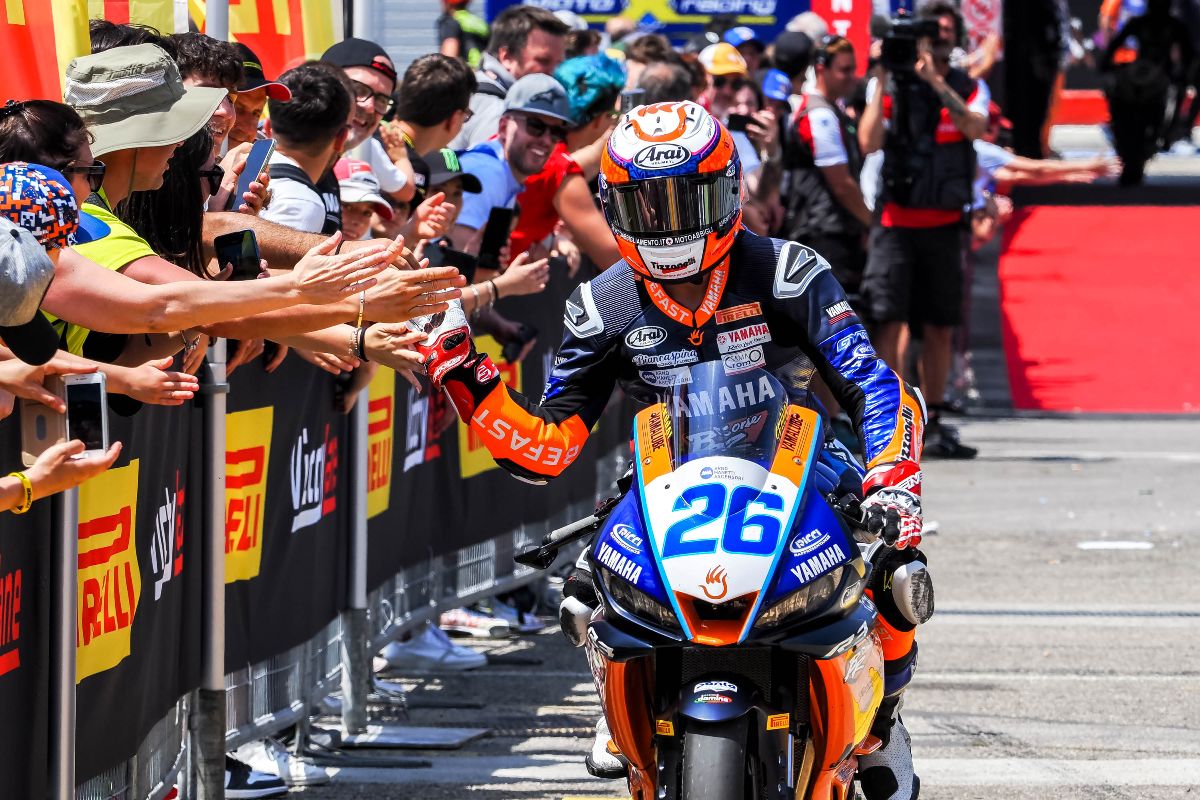 P1 | Bruno Ieraci ProDina Kawasaki Racing
"I am really happy. I have no words… I led the race several times, and in the last three laps, I was third, and I thought 'no, no.' So, I overtook some riders, including Mirko, with three corners to go, and I was able to win my first race. Tomorrow, I'll try to achieve another victory at home! This is my first win in the Championship… as a wildcard… Thanks to my team for their support! This victory is for my dad."
For more info checkout our dedicated World Supersport 300 News page superbike-news.co.uk/world-supersport-300/
Or visit the official World Superbike website worldsbk.com