New names vs established guard: stunning Saturday at Valencia for JuniorGP™ paddock.
The Finetwork FIM JuniorGP™ World Championship's second round is right on the horizon and with major milestones up for grabs, Saturday painted a picture of what to expect on Sunday.
A mighty Saturday in the 2023 Finetwork FIM JuniorGP™ World Championship is shaping up a super Sunday as the Ricardo Tormo Circuit readies for race day. Across all four classes, major headlines were made as late plot twists changed the complexion of some of tomorrow's races. In the JuniorGP™ class, it was a career-first pole for rookie Joel Esteban (Aspar Junior Team), whilst Senna Agius continued to show strength in the Moto2™ European Championship. In the European Talent Cup, honours went the way of Maximo Quiles (Aspar Junior Team) but he's got a penalty to serve in Race 1, whilst it was David Muñoz (SP57 Racing Team) in the Stock™ European Championship.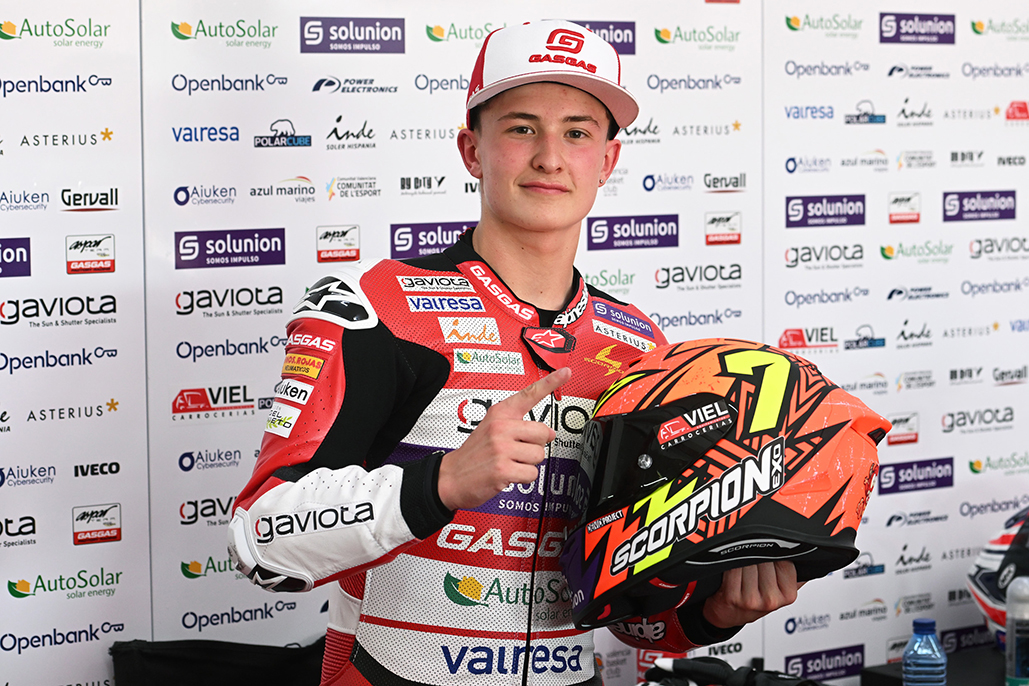 JuniorGP
A frenetic Saturday in the JuniorGP™ class saw Joel Esteban take a first pole in the class in just his second round, as a 1'39.177 put him on top by 0.573s, the biggest pole margin since Barcelona-Catalunya last year. Esteban won at the Ricardo Tormo Circuit last year in ETC and he'll hope to continue what is seemingly a dream adaptation in JuniorGP™. Second on the grid and hoping for a first win the class, Angel Piqueras (Team Estrella Galicia 0,0) will hope that his four podiums (consisting of two second places and two third places) will finally feature a win. A debut podium last year at the track, Piqueras is primed for a good chance from the middle of the front row. After pole at Estoril, it's back-to-back front rows for Luca Lunetta (AC Racing Team), who just fended off Championship leader Nico Carraro (Aspar Junior Team) for the final front row slot. Lunetta's strong pace at Valencia last year is something he aims to carry into round two of 2023.
Carraro heads the second row as he gets ready for a 40th start in Race 1 on his 21st birthday. The Italian had never previously qualified inside the top 20 in Valencia, so it's further confirmation of his massive step forward in performance for 2023. The most recent winner at Valencia, David Almansa (Finetwork Mir Racing Team) qualified in fifth place and hopes to repeat his 2022 success, whilst it is three Aspar Junior Team GASGAS bikes inside the top six as Jacob Roulstone takes a personal best qualifying result in sixth.
Moto2™ ECh
On the Moto2™ ECh grid, it's Championship leader Senna Agius (Liqui Moly Husqvarna Intact GP Junior Team) who seeks a third consecutive victory as he goes in search of extending his Championship lead. His lap time of a 1'34.986 stood from the first qualifying session earlier in the day, with a strong race run also banked. He's certainly one of the favourites for Sunday's sole race. Second on the grid is Carlos Tatay (Pertamina Mandalika SAG Team), and the Spaniard certainly knows the Ricardo Tormo Circuit well, having won in the JuniorGP™ class in 2019 and with a top eight in the Moto3™ World Championship in 2021. Completing the front row and making it two Australians on the front row in the history of the Moto2™ ECh, rookie Harrison Voight (Yamaha Philippines Stylobike Racing Team) clinched third but has a Long Lap Penalty for tomorrow's race. Second in the standings, Niccolò Antonelli (MMR) took fifth after suffering a mechanical issue in Q1.
European Talent Cup
In the European Talent Cup, pole position went to Maximo Quiles, with the 2021 titleholder taking a fourth pole position of his career and the first of his 2023 campaign. Storming to a 1'41.127, the 15-year-old aims to take a first win of the year, but a post-qualifying penalty means that for Race 1, he'll start from the back of grid and serve a Long Lap Penalty. Therefore, Brian Uriarte (Team Estrella Galicia 0,0) lines up on pole for Race 1 after qualifying second and topping the times in Group B. The Championship leader and double race winner from the opening round at Estoril, Uriarte took a career-first win in Valencia two years ago, whilst he was on the podium last year. Qualifying third is 2022 race winner from Jerez, Dodo Boggio (Aspar Junior Team), who takes second on the grid for Race 1. The Italian struggled in the opening round at Estoril with an 11th in Race 1 before fighting back in Race 2 to fourth. Can he take a first podium of the year? For Race 1, defending titleholder Guido Pini (AC Racing Team) will go from third.
Stock™ European Championship
David Muñoz was the rider to beat in the Stock™ European Championship, as the Spaniard continued to shine in the class he's looked good in so far in 2023. Fellow Spaniard Eric Fernandez (FAU55 Tey Racing) was 0.857s behind Muñoz at the head of the field, with both riders relying on their morning times. Dino Iozzo (IUM Motorsports) took third to complete the front row of the grid, his first front of the year.
For more info checkout our dedicated FIM JuniorGP™ news page superbike-news.co.uk/cev-repsol/
You can also find all the results, videos, photos and information regarding the championship on the official website: www.fimjuniorgp.com/en