Pol returns, some Legends saddle up and the first batch of bikes heads up The Hill.
The Goodwood Festival of Speed is go and MotoGP™ has already blasted up The Hill with some star-studded machinery both past and present. As part of an incredible batch of vehicles giving a tantalising taster of what's in store over the weekend, the first run saw some Legends and heroes of the now share the famous hillclimb.
On Thursday, one big highlight saw Pol Espargaro reunited with his RC16 as the GASGAS Factory Racing Tech3 rider got his first taste of a MotoGP™ machine for some time. And the smile was big as ever!
The MotoGP™ contingent was sizeable even on Day 1, with Espargaro joined by test rider and wildcard extraordinaire Michele Pirro out for Ducati Lenovo Team, Mika Kallio representing for Red Bull KTM Factory Racing and Lorenzo Savadori on the Aprilia Racing RS-GP, fresh from his own wildcard at the TT Circuit Assen.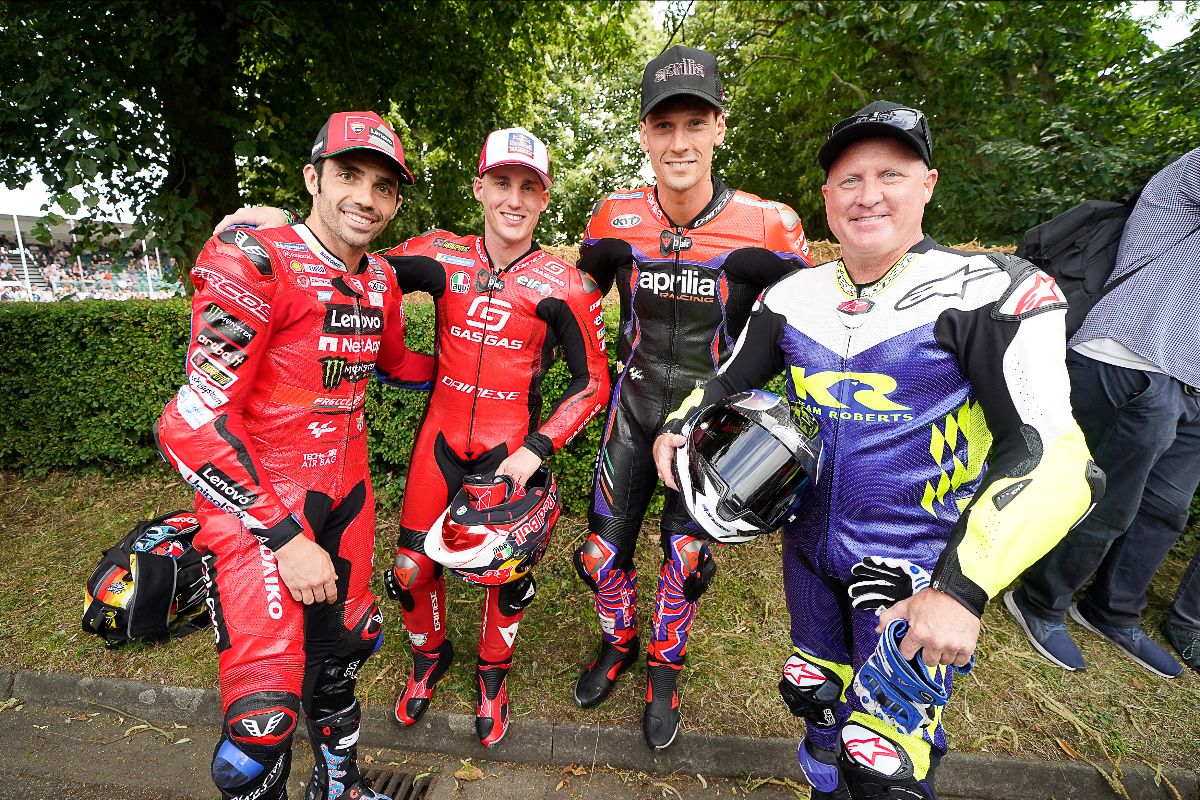 The Legends corner comprised two very familiar faces on Thursday too as Kenny Roberts Jr headed up The Hill, joined by compatriot and fellow MotoGP™ Legend Randy Mamola. The two finished the run side-by-side, or almost, as Mamola kept it pinned to just pip past the fellow Suzuki at the finish line. Dakota Mamola made it a family affair too, at the helm of an LCR Honda Castrol-liveried Honda.
And that's just the start! There's plenty more to come across the weekend, including Francesco Bagnaia (Ducati Lenovo Team), teammate Enea Bastianini, Red Bull KTM Factory Racing's Brad Binder, GASGAS Factory Racing Tech3's Augusto Fernandez, CryptoDATA RNF MotoGP™ Team's Miguel Oliveira & Raul Fernandez, and some huge Legends who are yet to saddle up: Giacomo Agostini, Mick Doohan, Freddie Spencer, Casey Stoner, Kevin Schwantz, Wayne Gardner and Alex Crivillé.
WHERE TO FIND US & HOW TO WATCH
On site, the MotoGP™ delegation is based in the Ballroom Paddock near the Drivers' Club – the perfect showcase to allow fans an awesome overview of the teams prepping the machines. And if you can't make it? We have incredible coverage of the event.
MotoGP™'s hillclimb action is live streamed on motogp.com, making sure fans around the world can get involved in this unique celebration of the sport. There's also a selection of photos and round-ups of the action each day of the festival, so make sure to come back for more tomorrow!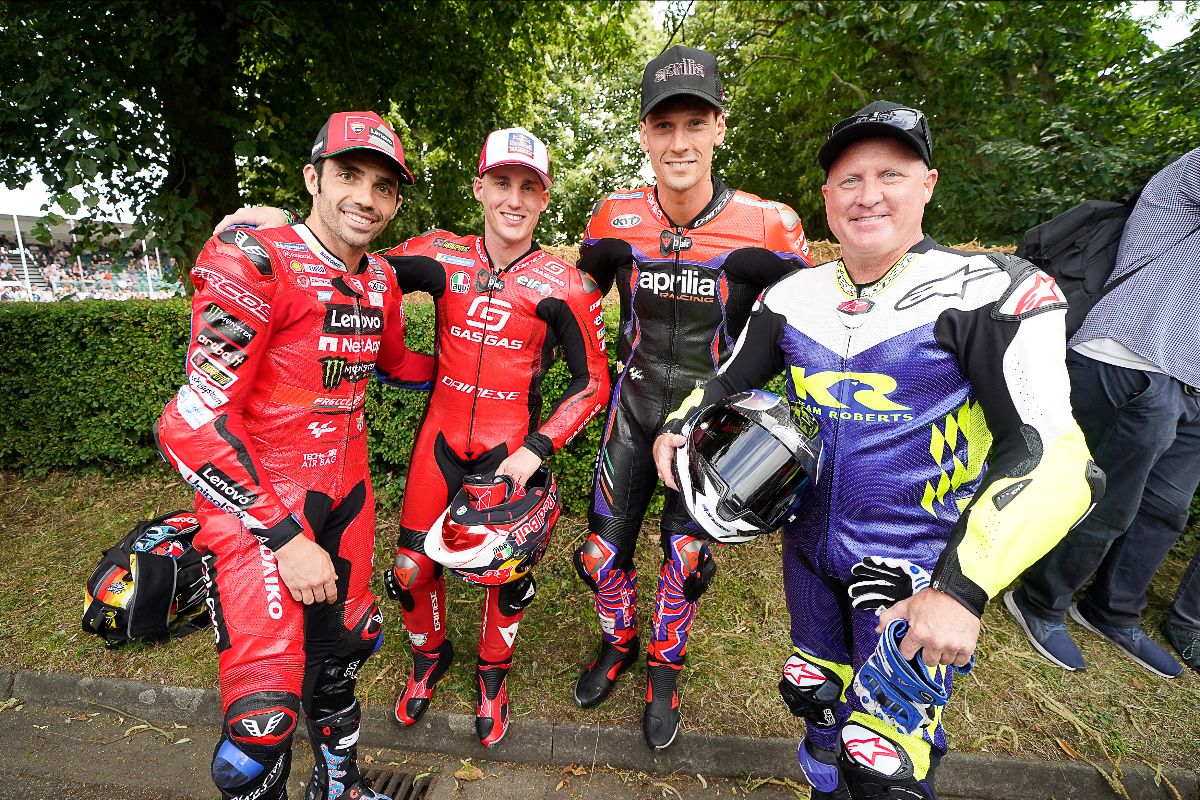 Quotes
POL ESPARGARO, GASGAS Factory Racing Tech3: "It's short! Going up it's short but it's so enjoyable to ride the bike, and see the technology of the moment and the oldest ones, the motorbikes and the cars, it's super nice.
"It's great to catch up with fans after those months at home, recovering from the injury from Portimao, but I want to be back to normality again! No more time talking about the injury, I understand people want to know when I'll be back, but I really want to come back, to get back to normality, start to work with the team, get the speed back and fight with these guys! I'm waiting for it.
"Just to hear the engine, open the throttle and feel… how strong is this engine! It's just insane. It's something where you lose this feeling when you're at home for so much time. I'm training on 1000cc bikes that everyone can buy, and the difference is huge. Massive! You understand how much when you've stopped for some months and you jump back on this kind of bike. It's something crazy. I'm looking forward to getting back up to speed and enjoying it again with my GASGAS guys in the box.
"The Circuit de Barcelona-Catalunya gave me a spot to ride and I really enjoyed it. It's not on the MotoGP, but it's a bike I can train on and more or less feel how I feel before I jump on the MotoGP bike, and really the feelings were good! For sure missing a lot of things, but as I said it will take a little bit of time when I come back but I'm really looking forward to getting back on the MotoGP bike."
KENNY ROBERTS Jr: "It's my first year here, me and my family arrived in England yesterday and drove down last night. It's my first time here today, and I didn't look at any videos or google it… so we arrived, and it's amazing! I couldn't have imagined how big it is, and how involved it is. I know, for my two kids and my wife to come with me is a lot, but I couldn't have imagined all this, to have to organise it!"
How's the family enjoying it?
"It's always a learning experience for the kids… so when I'm like, 'when I tell you this, it's cause we've done it'. So it's hard to say 'I want to go to London and go on a two storey bus', I'm like… 'that's eight hours!' But when they see this, it's a whole different side of life. We've done this for 15, 20 years, travelled all over the world… and when we had chance to stop, America is huge and we've been able to raise the kids and travel around the US. Now they get to see Europe for the first time. They've been to Japan, Palau, the 48 lower states. They like the way people speak proper English here! They're enjoying it and it's fun."
The run and the bike:
"I was trying to find neutral and first and second, we're going to make some changes. You know every rider, we have to make changes and blame everything on the bike! But the the gearing we're going to make a little shorter, and tomorrow I know the direction a bit so it'll be a little more fun! I just hope the weather's nice."
On talking to the current riders:
"It's the same language. The technology they have now, compared to us, limits them in ways we were limited from tyres, chassis, the feel from the bike. We weren't so precise with computers and understanding, but we knew there was limitations from the rider. They now can recognise the limitations and attack one area… so let's say now you concentrate on front tyre pressure, how do you get around that problem. We didn't know about a lot of that. When we had one day or one session from the next with conditions hotter that we didn't understand… now they can say 'this is why'. We had to just rely on the rider. So we were the computer back in the day! If we were given information we didn't quite understand, it was difficult to find out what was happening."
For more MotoGP info checkout our dedicated MotoGP News page
Or visit the official MotoGP website www.motogp.com