Hear from Bagnaia, Martin, Bezzecchi, Quartararo, Marc Marquez, Morbidelli, Pol Espargaro and Dixon
We're back! Hold on to your hats as we get ready to take on the awesome Silverstone Circuit, with two Press Conferences kicking us off and plenty to talk about on Thursday at the Monster Energy British Grand Prix.
The first comprised Francesco Bagnaia (Ducati Lenovo Team), Jorge Martin (Prima Pramac Racing) and Marco Bezzecchi (Mooney VR46 Racing Team), before the second saw Fabio Quartararo (Monster Energy Yamaha MotoGP), Franco Morbidelli (Monster Energy Yamaha MotoGP), Marc Marquez (Repsol Honda Team), Pol Espargaro (GASGAS Factory Racing Tech3) and Jake Dixon (Tensite GASGAS Aspar) take to the stage.
LINE UP 1: BAGNAIA – MARTIN – BEZZECCHI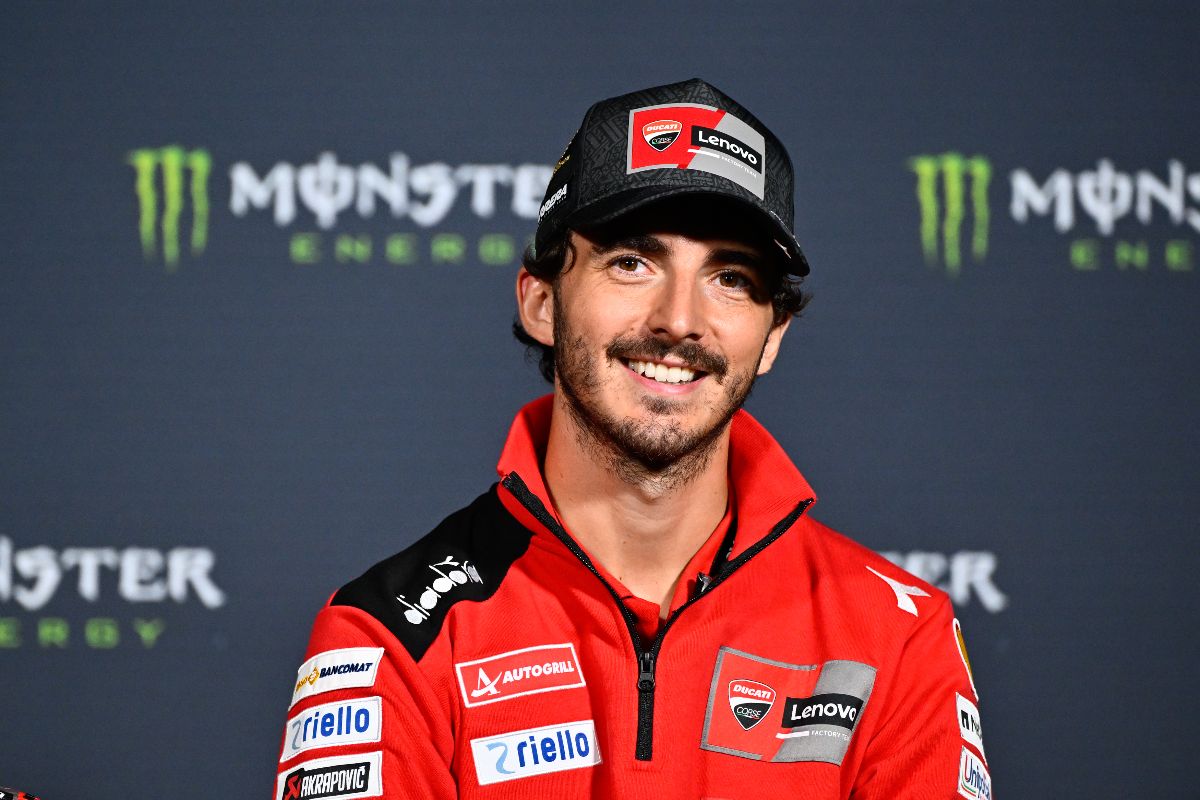 How was summer break?
FRANCESCO BAGNAIA: "It was great. I was fully focused on having a great feeling with the ankle and then I used the time to work a lot to prepare the second part of the season that will be very tough. I had three days holiday with my girlfriend – fiancé! – and my dog and I was at Goodwood, it was for sure, for a person who has a great passion for motorsport, cars and bikes, it was maybe the best event I've ever been to. We had some fun, a flute of champagne is always fun."
How confident are you of a repeat from 2022 here?
"I'm happy to start the second part here, it's a track that more or less all the riders like. I love the layout and love tracks with this kind of history. Last year wasn't the best weekend at the start but we managed to improve the situation and then in the race we were competitive so let's see this year. It looks like the weather isn't great at the moment but it's always like this in this place, so let's see. I hope to not have mixed conditions and just have dry or wet."
Are we seeing the best Pecco?
"I don't know but sincerely the last three races were great. We had a bit of unluckiness in Le Mans with the crash with Maverick and from that we improved because I was needing more consistency, we worked for it, and we made it because all the weekends – apart from Mugello – we struggled a bit on the first day in Assen and the Sachsenring, and we managed to improve and be competitive. For sure it's something we improved compared to past years and we have to continue like this. We have to be fully focused race by race to demonstrate that we're competitive."
Thoughts on session change:
For me, for my work it won't change anything because I wasn't considering FP1 like a session counting towards Q2. I was already working for the race without putting new tyres and it was my strategy so for me it will be the same, but it will be less pressure which is a big change."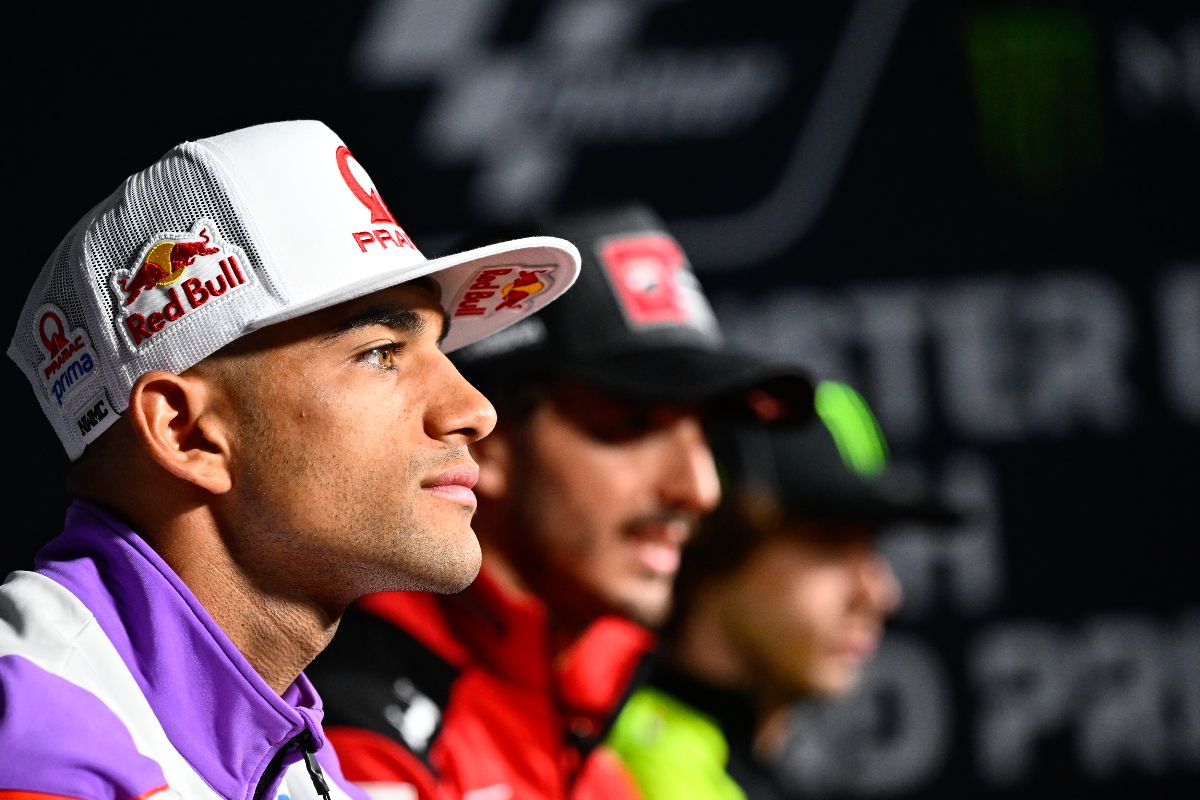 How was summer break?
JORGE MARTIN: "Yeah I really enjoyed. I had surgery at the beginning of the summer break on the muscle in my leg so I was in a wheelchair for two or three days, I had to rest for some days so I stayed at the beach for two or three days, trying to relax and get some colour and afterwards start training to get back to 100%!"
Is Silverstone a track you're strong at?
"There's a lot of tracks in the second half of the season that fit my style, Silverstone is one of them but it also fits the Ducati and the other riders so I will try. I feel comfortable and in a good moment, I need to see how my leg works, this is important, and yeah I feel confident I can be competitive."
It is already a three way fight?
"I don't think it is, we still haven't done half the season so there's plenty of time to change a lot of things. I will try look at myself, keep the consistency I have during a lot of races and yeah try to be competitive in all of them. I don't think about the other riders, I think I can do great results and focus on that."
Thoughts on session change:
"For sure it will change a bit. I normally did a different strategy, putting a new tyre in to be safe, but 95% of the time I was working in P2. In the end it won't change a lot."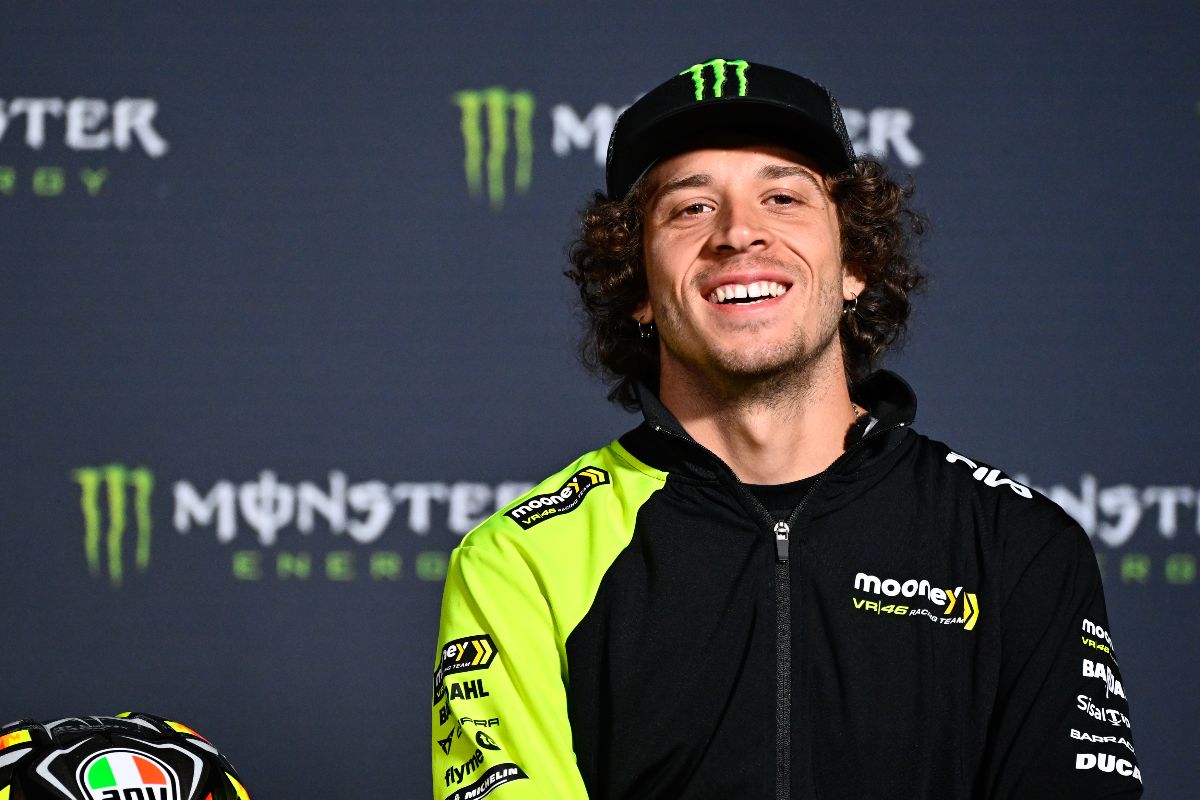 On summer break:
MARCO BEZZECCHI: "It was good, I enjoyed a lot. I had some time to rest at home with family and friends and also to have some parties that normally during the season we can't. It was a nice week and then I had to go back to training, a standard summer break. My dog was very happy, maybe he was already pissed off after two or three days but I enjoyed a lot."
Did you exceed expectations in first part?
"A little bit yes. I expected to go fast but not start the season like this. I think it's normal because you never expect to get wins and podiums when it's your second season in MotoGP, so I was surprised by this but also confident in myself that I could do some great results and fortunately I made it. Still we have plenty of races to do so it's time to work."
Excited for the title contender experience?
"It's good. First of all it's strange because life is a little bit different now, a lot of people recognise me more now and it's strange. It's fantastic because this is the top of two wheel motorsport so to be fast and competitive here is amazing. To be close to Pecco, Jorge and all the grid is fantastic so I hope to continue like this, continue to improve, work on myself like I have until now and to finish the season in the best way that I can."
Thoughts on session change:
"It's not a big difference for me but I don't agree too much about changing rules in the middle of the season. But anyway it's something that doesn't affect the way to work too much because at the end of P2 normally was always better, so for this I don't give too much attention."
The top three in the R&G British Talent Cup also got to ask their questions
LINE UP 2: QUARTARARO – MORBIDELLI – MARC MARQUEZ – POL ESPARGARO – DIXON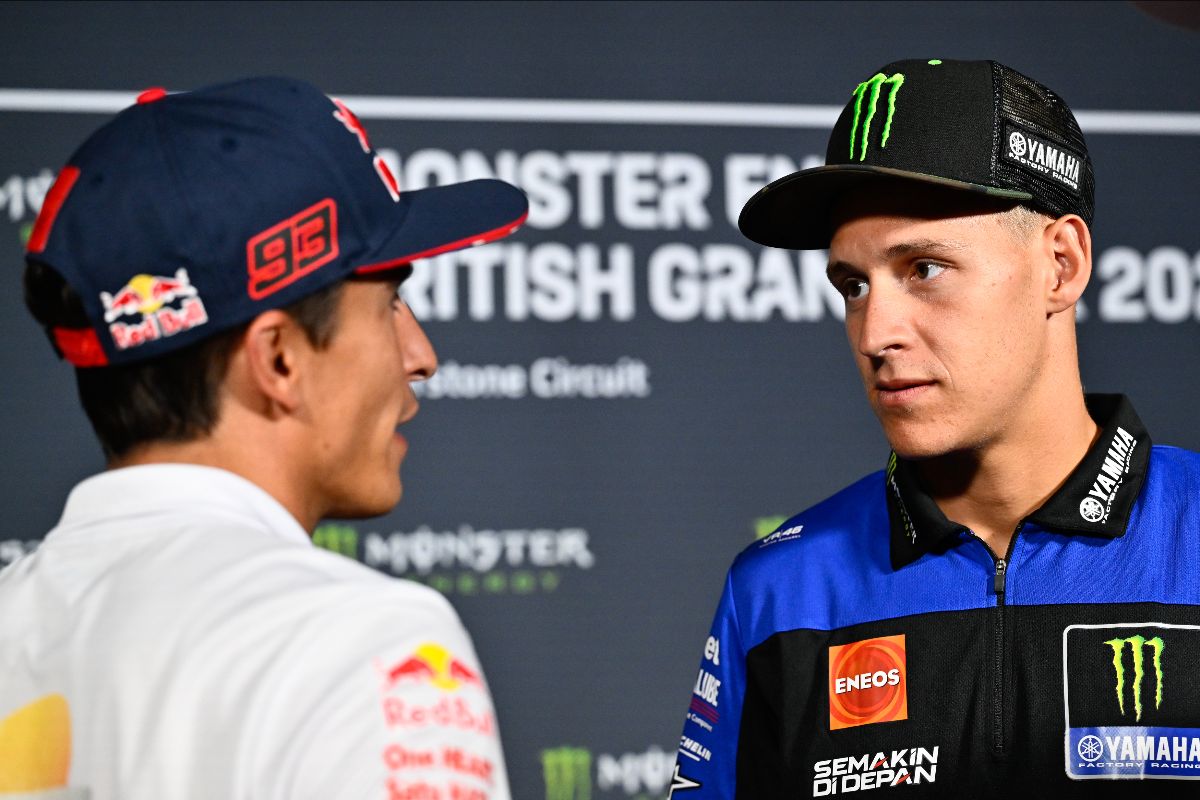 How was summer?
FABIO QUARTARARO: "Yeah, it was great. I had the surgery the next day after Assen on my toe.I went on holiday with friends, specially in the last two weeks training. I couldn't really run the first part of the break. So it was great also to disconnect from the first part of the season. That was not what we expected so just to restart."
How do you rate your chances this weekend?
"Well, even in the first eight races I always had great results in the past, but not this year. So I think it's totally a completely different way of approaching a race from this year and we're going to do our best, but I like every GP, I'm giving my 100% from day one and hopefully, it's going to work this weekend."
Crutchlow wildcard:
"Well, I mean, it's just a wild card. I don't think it's going to be a big turning point for us. Cal is doing a few tests I think, but I don't think a GP can really make a turning point. Hopefully, it's true. And it can be a turning point for us, but after Misano will have the tests so. This will be for me the moment where we will see if it's a turning point or not."
Rins vs Morbidelli as a teammate:
Yes, I think I've spent my whole MotoGP career with Franco, just the first part of 2021 with Maverick. So of course we've known each other for quite a long time and of course I wish him the best for the future. Concerning Alex I think it's a new challenge for him and for the team and also for me. So I think we have a lot of experience. He's been on the Suzuki in 22 and on the Honda this year and on the Yamaha next year, so he will have a lot of experience on totally different bikes."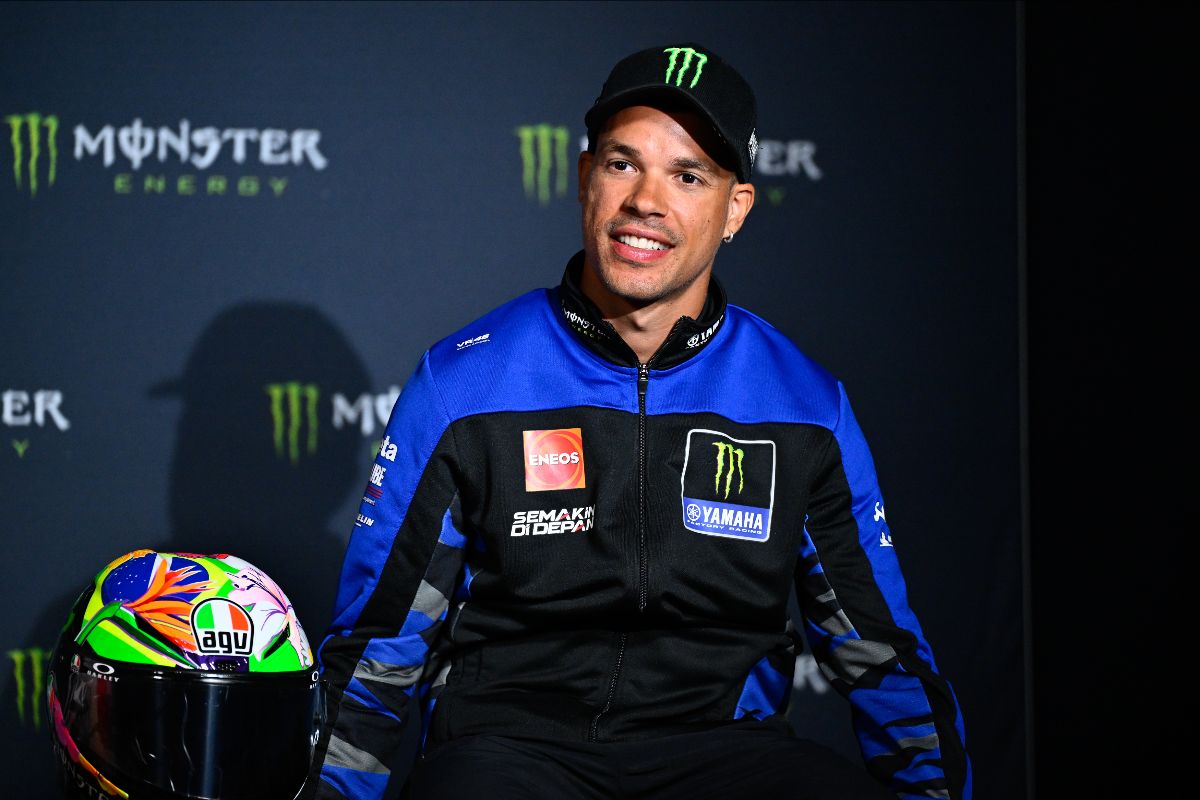 The news about leaving Yamaha:
FRANCO MORBIDELLI: "It's been quite a journey with Yamaha. We've been together basically my whole career in MotoGP and I've had some great results and some great seasons. Especially in the early parts the last two seasons haven't been great I would say, but anyway, I've met a lot of nice people. And I have a great relationship with a lot of people inside the team. And for sure I will stay close to them. Personally, even if technically we will be apart."
Was it your intention to stay?
"You know, of course, it's no secret that we are not performing well and the package is not on par to achieve great results at the moment. So it's no secret that that fact, plus the fact that the factory was speaking with other riders. That for sure reduced the magic. After I think it was Mugello or I don't remember which race, I asked do I want to stay with Yamaha? So I was questioning myself for sure, but I have to say that the team made it easy for me by not renewing it and to going with Alex, who is a great rider. That is happening right now, we know for sure I'm now in a bit of an uncomfortable position because I have no seat for next year at the moment. But that can be an extra motivation for this second-half of the season."
Will you be in this paddock next year?
"Yeah, that's my aim. I mean, I feel strong, I feel experienced and 28, so I'm relatively young. And I had some great emotions in this category and had a chance to fight for the championship without even releasing! Yeah, I would like to experience that again and I'm working towards that again, and I'm sure that VR46 (not the team, but the management) is going to help me in the best way they can to help me redeem myself and go back to fighting for interesting spots."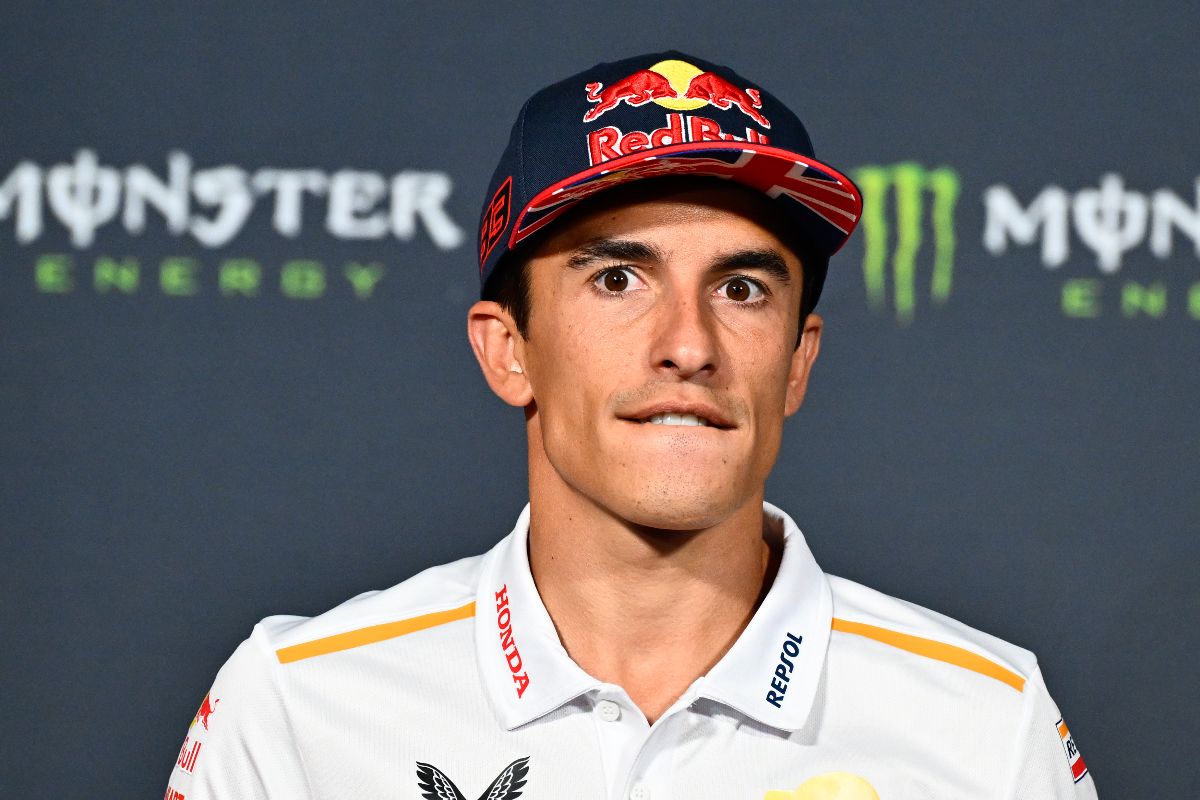 MARC MARQUEZ: "It's true that in Assen, just after the Sprint, I decided to stop and also the doctors said that it was also better because for the repair, they thought it was more just cracked, but it was actually a real fracture and I was moving a bit. So yeah, I had time to rebuild all these things during the summer break. It's true that the right ankle on the right leg is still not working as I want. But we have time. I'm in no rush. We're here in Silverstone so will be trying to again be in the rhythm and see if we can start in a good way, a different approach but in a different way this second-half of the season."
Any upgrades?
"Yeah, of course. Honda is working hard and they were testing with Stefan Bradl in Misano and Jerez. They've tried a few things but at the moment, the Japanese staff or start with the same bike Assen, because nothing is clear then we have a small upgrade in the electronics to try to see if it's a bit better or not. But apart from that it's a new aero package that at the moment will not homologate because I've decided like this because of technical reasons. But yeah, we will see we have a lot of work to do so yeah I'm here to work together with them and try our best for the future."
Staying with HRC?
"During the summer break, I had plenty of time to think about it a lot. And yeah, my conclusion is that our approach in the first part of the season was not the correct one because we approached it in a way where we were trying to win races and win the title, but we weren't ready. So yeah, we need to work together to be ready in the future and yeah, the second part of the season we should approach it in a different way. And yeah, try to be more realistic about our performance now and work together to improve the project. The project means the rider the bike and the team. If we improve everyone together, we will be better in the future."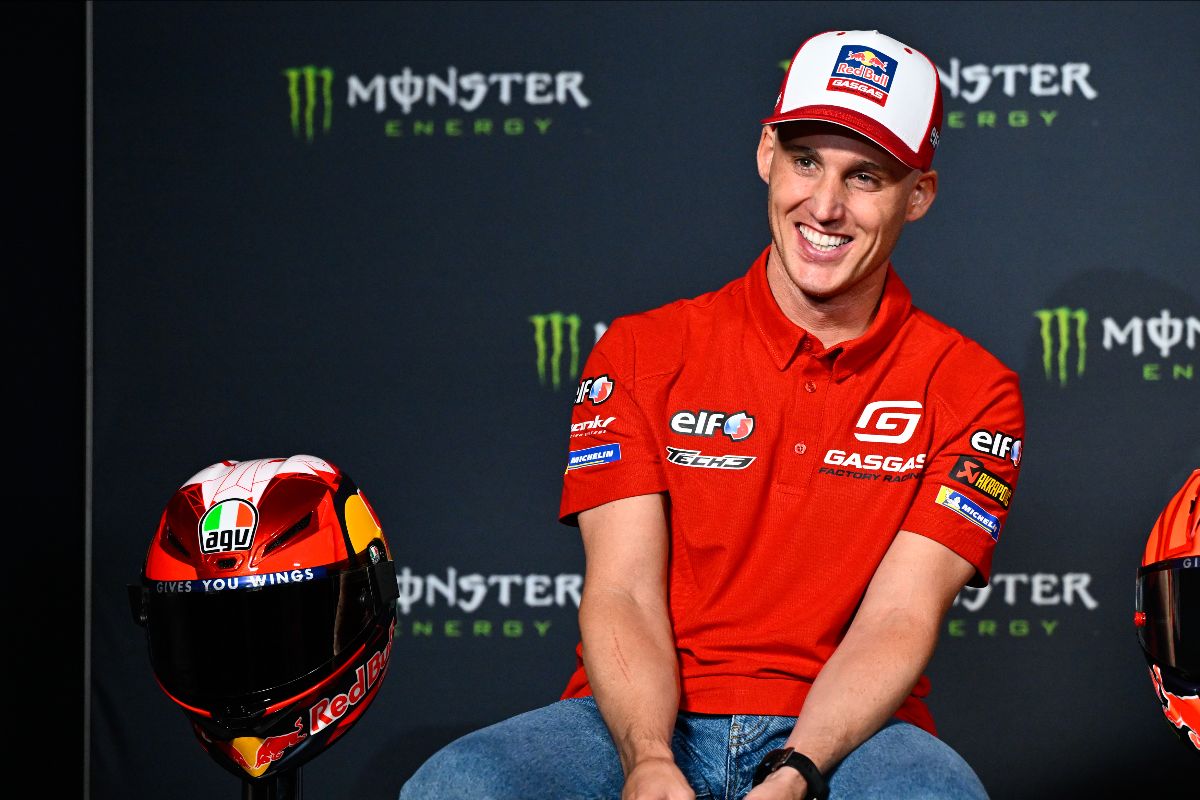 POL ESPARGARO: "It's a mix of emotions, you know, to come back here and to see, I would say friends and family, because you spend more time here than you do at home. So it's a part of my family that I've been away from since Portimao and I was really missing this adrenaline. This time in racing, has been my routine since I was 15 years old, you know, racing and travelling. I've been away for such a long time, which allows me to spend more time with my family, which is nice. But also, you know that was a scary crash that also makes you think about many things. You know, you sign a contract when you come here to race that these things and you think these things are very far away and you think they won't happen to you. But yeah, it definitely can. And when it happens, it's hard and it's tough, but it's a part of our life and it's a part of our sport. You sometimes have these moments and the outcome for the career at the end changes and can be built in these kinds of moments so I'll try to overcome it."
How did riding again feel?
"Yeah, first of all I have to say thank you to the circuit of Barcelona-Cataluña because they helped me quite a lot with my rehabilitation. I know for them to let a guy ride the track alone, a busy place like that, it's always difficult but they, you know, they are part of my recovery so I've been riding there a couple of times already, just trying to feel my body. Everything went quite good in a normal way I would say.I have recovered maybe not 100% of my power, but I'm close to it and my body is feeling. In some ways is not as before, but it's an adaptation. I need to come back and see how my body works and reacts with a MotoGP bike, which is super different to a production bike. The speed is unbelievable, the power and brakes and acceleration. It's not compatible to any kind of bikes that you can try at home. But yeah, anyway, I'm just looking forward to jumping back on a bike. I see how fast these guys have been in the first half of the season, which has been amazing."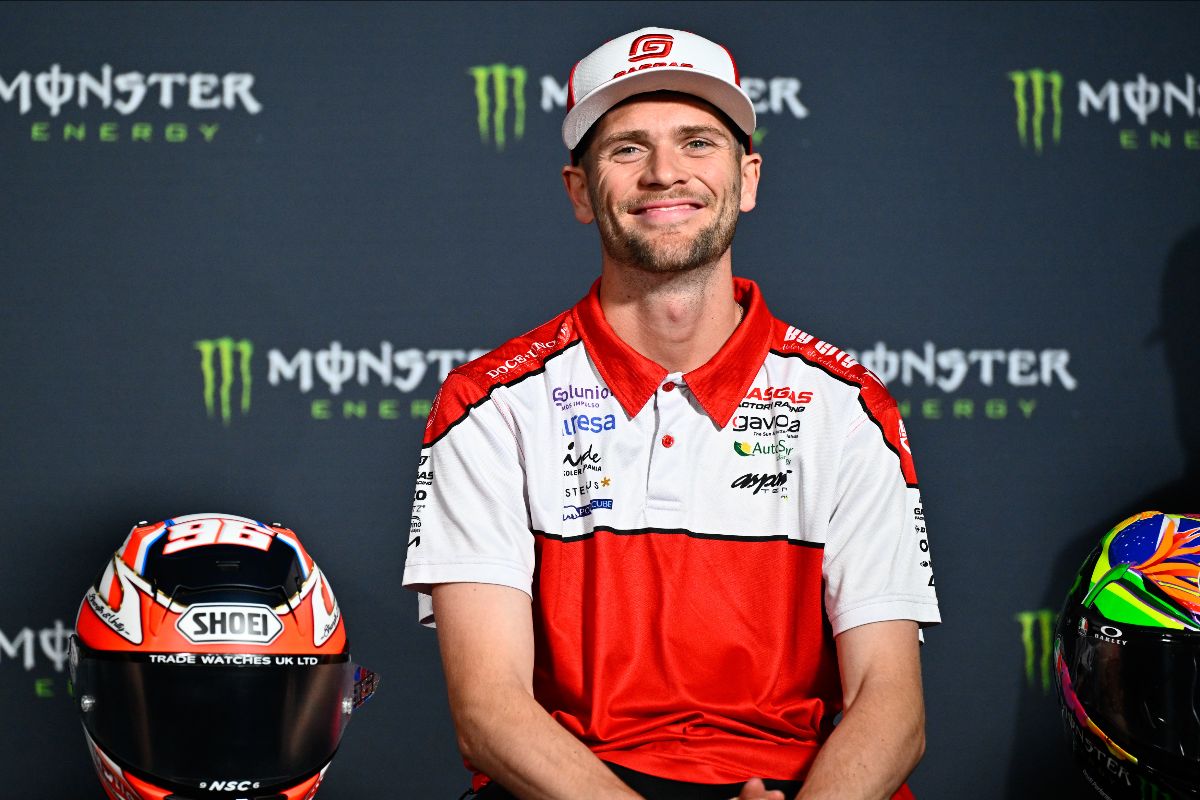 JAKE DIXON: "Obviously it's fantastic to finally get that elusive win that I feel like should have come earlier, but it didn't for whatever reason. Yeah, it was a fantastic feeling. I felt great. I've been feeling good the last year and a half now with the team. They've provided me all that I need, you know, in this class. And I had a rough 21 coming back from injury and that was obviously difficult, but we moved to Aspar and then yeah, all the work paid off. Last year I made far too many mistakes, crashing out the lead of races and whatnot, so that was my own doing. But finally this year I've tidied it up a little bit more and I'm able to be a lot more consistent and take what I can get on the days that I'm maybe not as fast as the others. Obviously coming to Assen it was a track that I know really well compared to all the others. And yeah, I was able to do a really good race and have a really good result. I thought I blew it. At one point where I hit a false neutral, I thought, you're an absolute idiot, you've done all that hard work and now you've blown it. So I had to get my arse in gear and get on with it. So yeah, it's good. I'm feeling good. I'm feeling ready to be here, back in front of the British crowd and yeah we'll try to continue where we left off."
You had to win because Fabio said if you didn't win in Assen you never would have won a GP…
"Yeah, I mean, at the end of the day, it's true, you know? Yeah, I've been in the class for five years, but I never took the route of riding Grand Prix bikes before I came here. I never did Moto3 or anything like that, so I've had to learn quickly and I also came in a lot older than most, starting at 14, whereas most start at four so I'm 10 years behind. But my mental age is still that so! Anyway, it is what it is and we've got to get on with it. Like I say, I'm ready. And Fabio, yeah, I can't really say much more than that."
What you up to next year?
"Obviously I want to be in the MotoGP class. I feel that I feel much more comfortable even compared to when I did the couple of races here, obviously in Silverstone and Aragon. But yeah, there's limited spaces and a lot of riders. Frankie, my manager is obviously talking to everyone he needs to talk to and that's available, and he'll do the best that he's going to do. There's no more that I can do. I remember him saying to me coming into Assen, well, what will help the situation is if you can win. So I went out and won. So if I can continue doing it in that way, it will obviously make the job a lot easier for him to do his job. So yeah, I've just got to perform, so let's see what happens."
For more MotoGP info checkout our dedicated MotoGP News page
Or visit the official MotoGP website www.motogp.com