Kawasaki have a characteristically "full gas" approach to the 2024 MX season with the much-anticipated announcement of the KX450.
Leading the 450 cm3 class charge is the awesome KX450 enjoying its first full-model change in five years. The 2024 KX450 benefits from a new frame and bodywork plus increased engine performance thanks to a symmetrically aligned intake and exhaust.
Handling performance is also improved, with greater front-end feel contributing to improved cornering performance to complement the KX450's acclaimed light, nimble handling and legendary straight-line ability. Aggressive new green bodywork offers improved ergonomics due to a slim, and smoother rider interface while upgrades for the coming season include premium Brembo brake components and ODI Lock-on grips (both firsts on a KX model).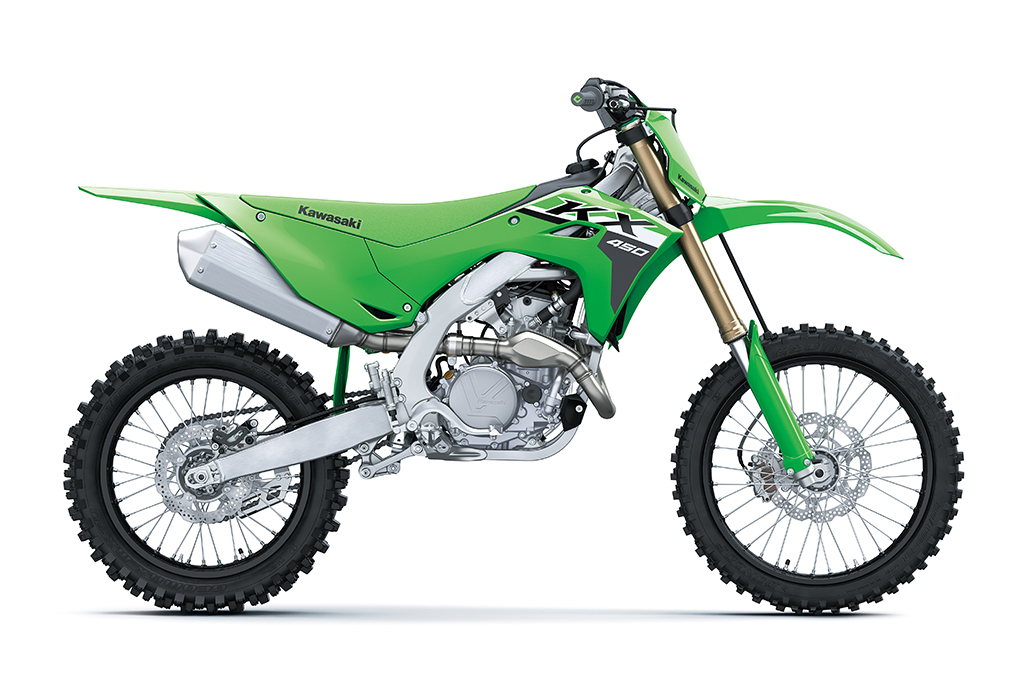 In terms of tech highlights, the 2024 KX450 features for the very first time Power Modes and Kawasaki Traction Control, both easily selectable from switches at the left handlebar.
Riders can quickly select from two levels (Weak, Strong) of traction control to suit conditions and preference. Riders may also elect to turn the system off. Using the Mode (M) button on the left handlebar, it is also possible to switch between two engine maps (Normal, Mild response) provided in the ECU.
Additionally, smartphone connectivity allows riders to connect with their machine to adjust engine mapping directly from their smartphones using the application "RIDEOLOGY THE APP KX" to adjust engine maps including fuel and ignition timing while maintenance logs are also available.
Adding new features, plus carefully selected electronic rider aids, has taken the KX450 to the next level and Kawasaki hopes that 2024 season riders will accelerate ahead of the chasing pack towards well deserved podium results.
The KX450 will be available from November, with pricing to be confirmed shortly.
Checkout our dedicated Kawasaki Motorcycles UK News page Kawasaki Motorcycles UK News/
or head to the official Kawasaki Motorcycles UK website kawasaki.co.uk