Prado and Geerts kickstart the MXGP of Patagonia-Argentina by topping the RAM Qualifying Race.
The first racing day of the season finished in Villa La Angostura for the MXGP of Patagonia-Argentina and it was Red Bull GasGas Factory Racing's Jorge Prado who claimed the MXGP RAM Qualifying Race win, while Monster Energy Yamaha Factory Racing's Jago Geerts came out victorious in MX2.
This first day was full of action with free and time practices in the morning  in MXGP, that saw Jorge Prado and Monster Energy Yamaha Factory Racing MXGP Team's Maxime Renaux topped the free and time while in MX2 Nestaan Husqvarna Factory racing's Kay De Wolf topped both free and time practices.
The day was also marked by the first Free/Qualifying practice session for the MXGP Wildcard riders. The MXGP of Patagonia-Argentina introduced the new Wildcard Qualifying process when more than 40 MXGP riders enter the event allowing the fastest Wildcard riders in their qualifying race to join the RAM MXGP Qualifying race.
On top of that, the amazing Argentinian crowd was very loud and cheerful today and can expect an even bigger crowd tomorrow which will only add to this exciting start of the season.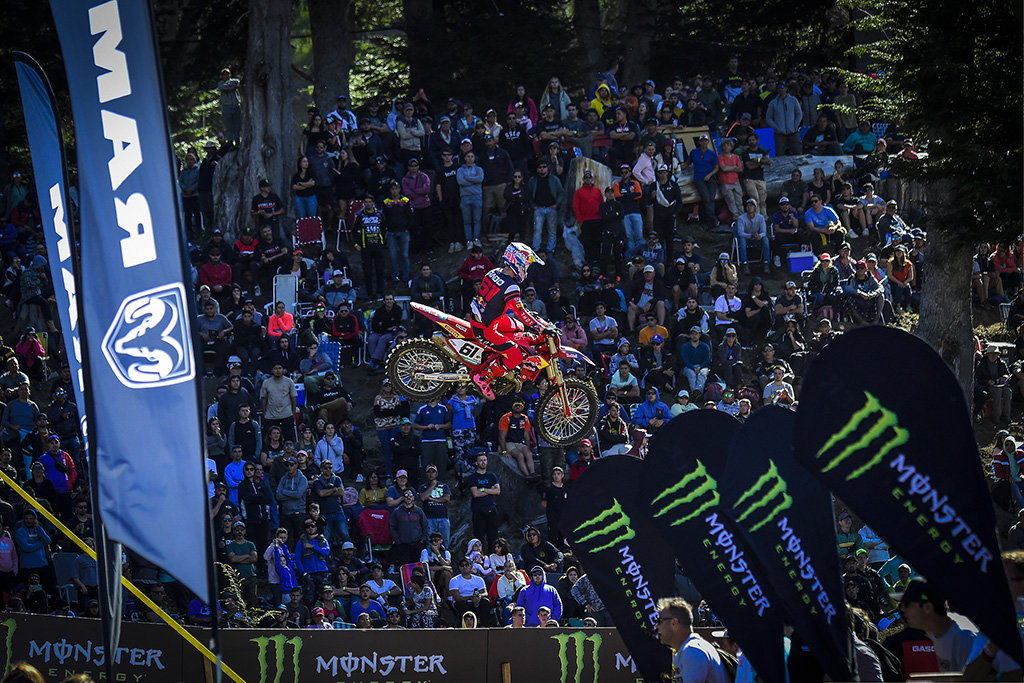 The RAM Qualifying Race in MXGP saw Jorge Prado leads from start to finish with a flying start in front of his teammate at RedBull GasGas Factory Racing, Mattia Guadagnini who made the 14th best time in time practice earlier in the day but produced an outstanding start to end on Jorge Prado's tail after the first turn and kept that position until the end. Monster Energy Yamaha Factory Racing MXGP Team's Maxime Renaux who didn't have the best start found himself in 8th position after a couple of laps, showed some classy move and overtakes to get himself to 3rd when he charged on Team HRC's Ruben Fernandez with two laps to go. Fernandez ultimately finished 4th.
This RAM Qualifying race show Red Bull KTM Factory Racing's Jeffrey Herlings struggling to start in the best way with finding himself 14th after the first lap although "the bullet" managed to climb regularly throughout the race to end up at a promising 10th place for tomorrow.
Monster Energy Yamaha Factory Racing MXGP Team's Jeremy Seewer is one rider who continuously fought for the top spots during the whole race with overtaking Standing Construct Honda's Pauls Jonass on lap 7 and get himself 4th having eyes on Ruben Fernandez for the top three finish but everything came to a halt as the Swiss rider got a scare when he lost the control of his bike in the air and fell. His bike would not restart despite his efforts and had to eventually stopped. After a solid start and great riding for 7 laps in 4thposition, Jonass got passed a few times to end up at a honourable 8th place.
Kawasaki Racing Team's Romain Febvre delivered a strong performance again after a great showing in the morning to finish 5th as he started in 8th position to climb his way up. Gebben Van Venrooy Yamaha's Calvin Vlaanderen started in 6th to finish at the same place which shows his consistency while Monster Energy Yamaha Factory Racing's Glenn Coldenhoff who started 11th, found himself behind his teammate Renaux between lap 5 and 6 but could not follow him and had to settle for a good 7th place.
Another steady performance was the one from Team Ship To Cycle Honda's Valentin Guillod who was consistently in the top 10 to end up 9th just ahead of Jeffrey Herlings. And was only passed by Glenn Coldenhoff. In the end Prado showed a great control throughout the race which is an interesting indicator for the races of tomorrow.
Jorge Prado: "It's so good, you know last year was rough even if I had few wins but starting the season like this is a massive energy boost for myself and my confidence. Hopefully, I can bring this momentum and this fitness into tomorrow. That's a great feeling to point leader too."
MXGP – RAM Qualifying Race – Top 10 Classification: 1. Jorge Prado (ESP, GASGAS), 24:48.237; 2. Mattia Guadagnini (ITA, GASGAS), +0:03.560; 3. Maxime Renaux (FRA, Yamaha), +0:06.119; 4. Ruben Fernandez (ESP, Honda), +0:08.260; 5. Romain Febvre (FRA, Kawasaki), +0:18.953; 6. Calvin Vlaanderen (NED, Yamaha), +0:23.466; 7. Glenn Coldenhoff (NED, Yamaha), +0:25.777; 8. Pauls Jonass (LAT, Honda), +0:28.282; 9. Valentin Guillod (SUI, Honda), +0:29.357; 10. Jeffrey Herlings (NED, KTM), +0:40.269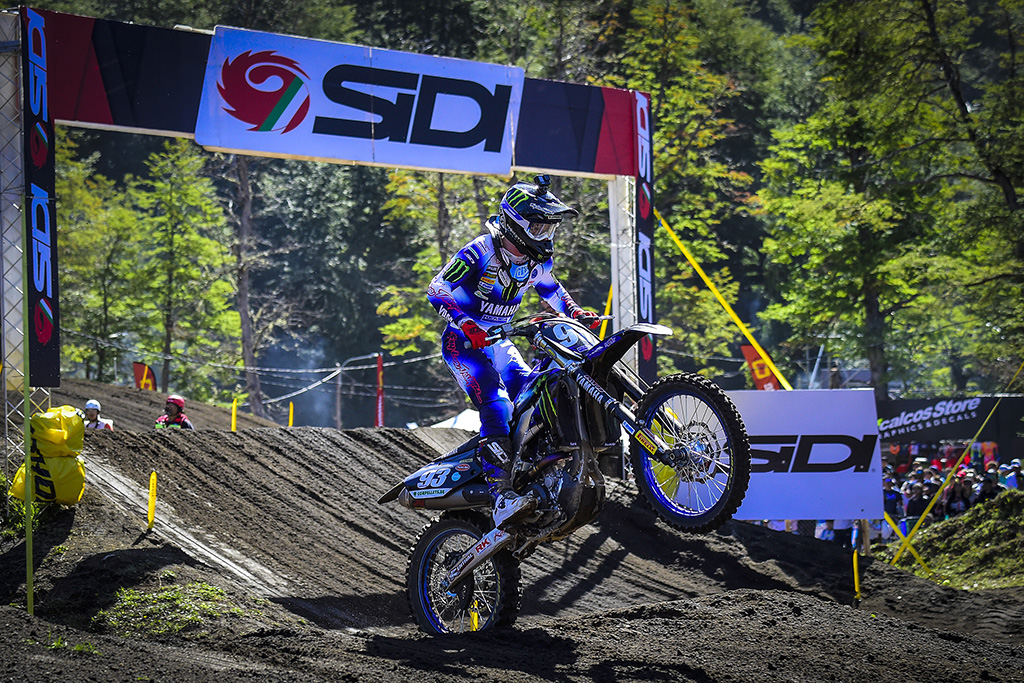 In MX2 RAM Qualifying Race it was a similar scenario with Jago Geerts getting off to an excellent start to see him dominating the race throughout ahead of a the RedBull KTM Factory Racing Factory's Andrea Adamowho mirrored the leader with a strong start finding himself in 2nd and never let it go. After ending the time practice in 8th position, Adamo had to first battle with Monster Energy Yamaha Factory Racing MX2 Team's Thibault Benistant for the first 4 laps to then have RedBull GasGas Factory Racing's Simon Laengenfelder charging and overtaking him.
Eventually, Benistant saw himself slipped again to 5th position on lap 6 after RedBull KTM Factory Racing Factory's Liam Everts made a confident pass. Benistant ended up 5th in the end while Laengenfelder and Everts would finish 3rd and 4th respectively.
After an amazing morning that saw Kay De Wolf topped the free and time practice, he found himself 8th during the first three laps. But the young Dutch showed that he is here to compete at the top when in the period of two laps he overtook his two teammates, Roan Van De Moosdijk and Lucas Coenen to keep the advantage in a three way battle that saw the Nestaan Husqvarn Factory Racing trio finished together with Kay De Wolf, Van De Moojsdijk and Coenen finishing 6th , 7th and 8th respectively.
Finally, F&H Kawasaki Racing Team's Kevin Horgmo and rookie from Monster Energy Yamaha Factory Racing MX2 Team's Rick Elzinga following each other on lap 3 to never change this order although Elzinga tried to pass Horgmo few times without success. Horgmo ended up at the 9th place while Elzinga on his first MX2 qualifying gasped a promising 10th place.
Jago Geerts: "It is an amazing feeling. If I am honest, I didn't expect it but while I missed some race rhythm, the speed of the bike is very good and if I can still get a good start like today I am confident for tomorrow."
Juan Ignacio Salgado, the local rider that participated in the his first MXGP of Patagonia-Argentina in the MX2 class: "It's a honor for me to be here next to these guys because I am also a fan of them. It's my first time in the MXGP Argentina and it´s my debut in a World Championship. Last year it was also my debut in the MX2 Argentine Championship and I got the title. I hope I can improve tomorrow."
MX2 – RAM Qualifying Race – Classification: 1. Jago Geerts (BEL, Yamaha), 24:50.267; 2. Andrea Adamo (ITA, KTM), +0:02.968; 3. Simon Laengenfelder (GER, GASGAS), +0:05.189; 4. Liam Everts (BEL, KTM), +0:09.742; 5. Thibault Benistant (FRA, Yamaha), +0:10.286; 6. Kay de Wolf (NED, Husqvarna), +0:14.063; 7. Roan Van De Moosdijk (NED, Husqvarna), +0:23.802; 8. Lucas Coenen (BEL, Husqvarna), +0:26.674; 9. Kevin Horgmo (NOR, Kawasaki), +0:29.233; 10. Rick Elzinga (NED, Yamaha), +0:41.495
TIMETABLE (Local Timing UTC-3)
SUNDAY: 10:25 MX2 Warm-up, 10:45 MXGP Warm-up, 12:15 MX2 Race 1, 13:15 MXGP Race 1, 15:10 MX2 Race 2, 16:10 MXGP Race 2.
For more news check out our dedicated MXGP/MX2 News page
Or visit the official MXGP website mxgp.com