Gus Rodio Takes First REV'IT! Twins Cup Win, O'Hara Wins Mission Super Hooligan
National Championship Race.
Seemingly everyone had some sort of issue to deal with in the opening round of the Mission King Of The Baggers series at Daytona International Speedway, but Vance & Hines Harley-Davidson's James Rispoli dealt with his better than the rest to take his first career victory in the class.
Rispoli was running second and giving chase to early leader Kyle Wyman when he made the save of his life and somehow stayed on board his Road Glide despite a seemingly endless and viscous tank slapper on the high banks. Once he got that under control, he was keeping the pressure on Wyman when the H-D Screamin' Eagle Road Glide expired with five laps to go. From there it was a battle to the finish with Rispoli and his teammate Hayden Gillim joined by the second factory Harley of Travis Wyman. The two Vance & Hines riders then got a scare when Travis Wyman's Road Glide suffered a mechanical failure on the banking. The fear of oil on the banking brought out the red flag and Rispoli had his first win in the bag with Gillim second.
Defending Mission King Of The Baggers Champion Tyler O'Hara finished third on his Indian Motorcycle/Progressive/Mission Foods Indian Challenger despite having to start from the back row when the team failed to get him and his teammate Jeremy McWilliams out of pit lane in time for the sighting lap.
The first of the Team Saddlemen Harley was ridden to fourth place by Cory West, who finished 13.1 seconds off the lead and well clear of McWilliams, who was just 1.4 seconds ahead of Baggers rookie and former Superbike racer Jake Lewis.
In addition to the two factory Harleys, Bobby Fong was another knocked out of the race with mechanical problems on his Sac Mile/SDI Racing/Roland Sands/Indian Challenger.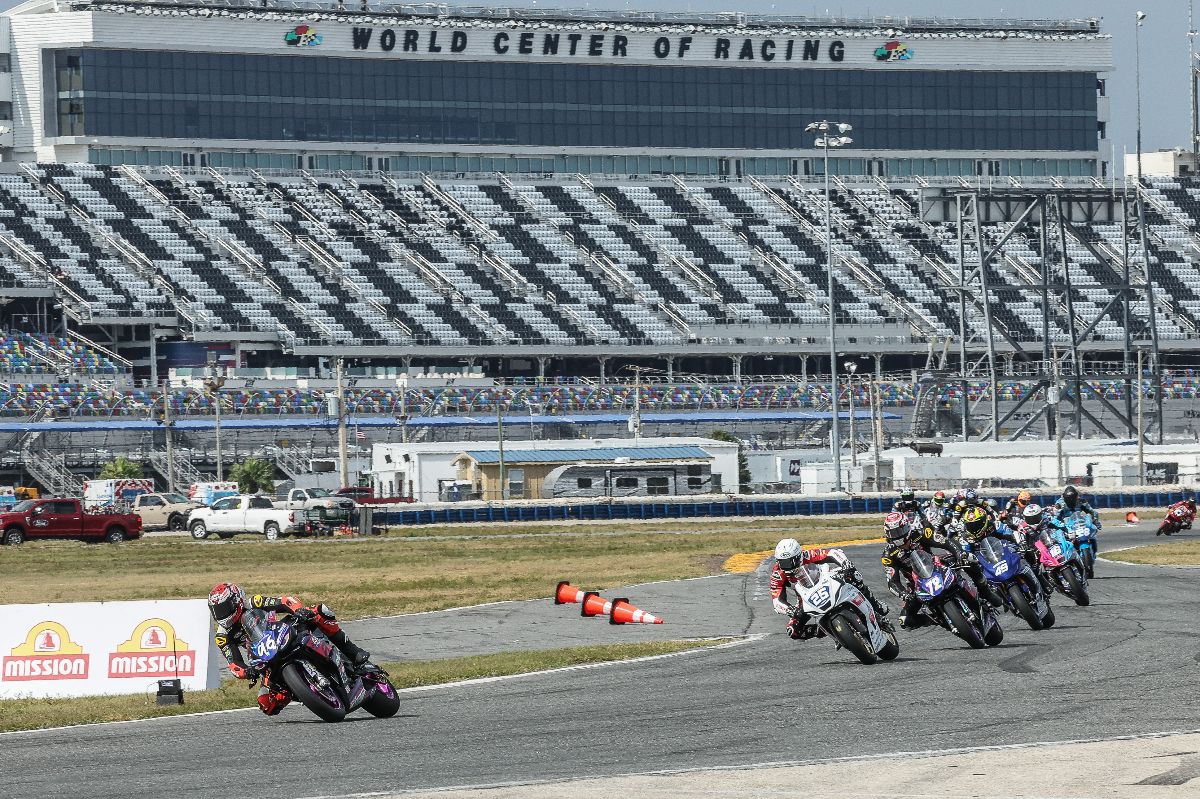 REV'IT! Twins Cup – All Rodio
MotoAmerica races at Daytona International Speedway are normally decided by less than a second. Rodio Racing – Powered By Robem Racing's Gus Rodio decided to flip that as he rode to his first career victory in the REV'IT! Twins Cup class by an unheard of 8.538 seconds.
Rodio was initially embroiled in a battle at the front with four others, though that was broken up when Dominic Doyle crashed and took Ben Gloddy with him. It also hindered Jackson Blackmon's progress as he had to take evasive action to avoid the carnage. That left Rodio to battle with defending REV'IT! Twins Cup Champion Blake Davis.
Trackday Winner/Blackmon Racing's Blackmon, in his first race back after a long rehabilitation of a badly broken ankle, didn't give up and he was rewarded with an eventual second place after he caught and passed the reeling Davis, who would end up fourth. Blackmon was hounded to the finish line by Cycle Tech's Hayden Schultz, but he barely beat Schultz to the line by just .060 of a second.
Fifth place went to Ed Sullivan, the Giaccmoto Yamaha Racing rider whose real job is crew chief for Mathew Scholtz's Westby Racing Yamaha YZF-R1 Superbike.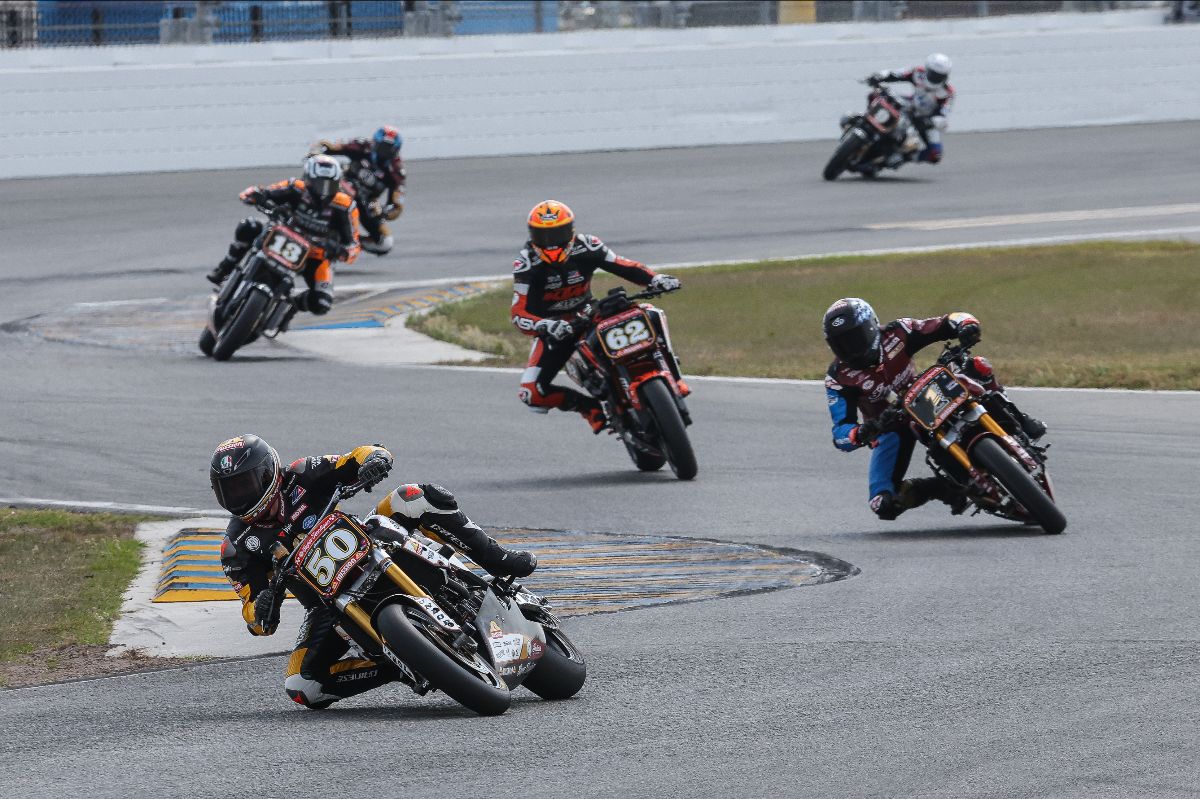 Mission Super Hooligan National Championship
If getting Daytona'd isn't a verb, it ought to be. The definition would be: Daytona'd (verb) to lead the entire race only to be beaten by a fraction of a second on the draft run from the final chicane at to the finish line on the tri-oval of Daytona International Speedway.
Many have suffered the fate of being Daytona'd and on Friday it was Bobby Fong's turn. Fong and his Roland Sands Design/Indian Motorcycle-backed FTR1200 led 99.9 percent of the six-lap Mission Super Hooligan National Championship race at the Speedway, but it was the .1 percent that hurt as Tyler O'Hara beat him to the line by .064 of a second on his Indian Motorcycle/Progressive/Mission Foods-sponsored FTR1200.
O'Hara's teammate Jeremy McWilliams completed the podium in third, the Northern Irelander 1.2 seconds behind O'Hara and .144 of a second ahead of Cory West and the Team Saddlemen Harley-Davidson Pan America.
Fong's teammate Kyle Ohnsorg finished a lonely fifth.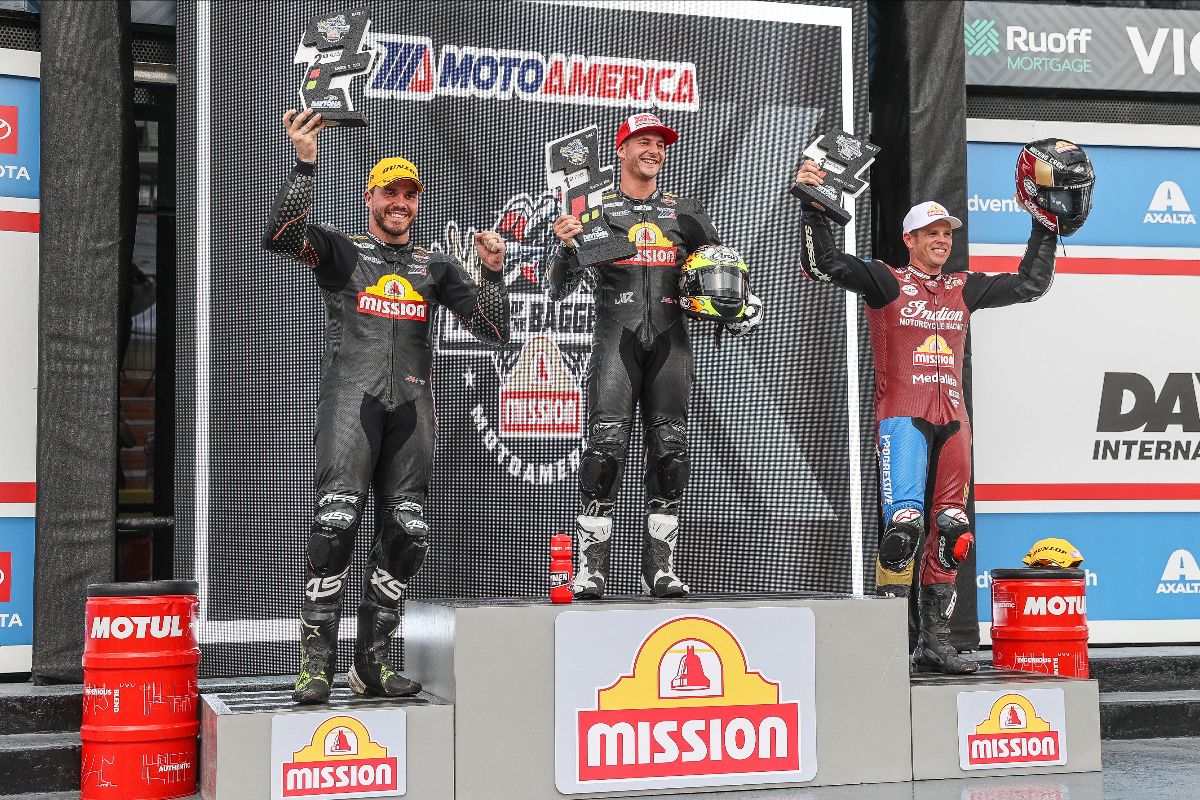 Notes…
Warhorse HSBK Racing Ducati NYC's Josh Herrin will start Saturday's Daytona 200, sponsored in part by Pirelli and Bridgestone, from pole position after leading the 15-minute Time Attack final qualifying session with his 1:48.741. He will be joined on the front row by Celtic/Tytlers Cycle/TSE Racing's PJ Jacobsen and Vision Wheel M4 ECSTAR Suzuki's Tyler Scott.
In addition to a solid effort that led to a front-row starting position, Scott and his Vision Wheel M4 ECSTAR Suzuki were victors in the second annual MotoAmerica Pit Stop Challenge that was held at the end of on-track action on Friday.
Quotes
Tyler O'Hara – Super Hooligan National Championship, Winner
"It was a good race. Bobby (Fong) had really good pace all weekend. That was the first time we got to ride together, and he had a really clean, open track. I was in the back learning and made a few mistakes myself and he gapped me. I was able to reel him back in, and then the lapper there through the chicane definitely played a big role. I don't know if I was going to be able to draft pass him on the finish. He basically broke the draft. It was a good race. Just to sweep the podium, Indian Motorcycle, that's huge for any motorcycle… all of our sponsors, Progressive have come on board this year, and Mission Foods. Everybody. Parts Unlimited. To win at Daytona is special. Just coming here it's an amazing feeling. Just really enjoying it. Having fun and really just continuing to develop these motorcycles. It's a lot of fun."
Gus Rodio – REV'IT! Twins Cup, Winner
"I didn't really know what to expect coming here. There as a lot of unknowns, of course. It's the first race of the year, my first race in the class since last year at Daytona. I've been training with Brandon (Paasch). He's like my big brother. It's really cool to have somebody like that that I can just go out and stay at the house, spin laps, and really learn something from him. I'm always chasing him. So, I'm really happy. I can't ask for anything more. My Rodio racing Aprilia feels incredible. I've never really felt a bike that I just clicked with, and I just feel like I'm one with this motorcycle right now. Obviously, that makes me happy so I'm having fun while I'm riding. I can put together clean laps and just stay consistent by myself and just stay focused throughout the race."
Mission King Of The Baggers – James Rispoli, Winner
"I saw my life flash twice and then it just kept going. I was like, 'maybe I'll get out of it.' It just kept going all the way up the banking. I don't know, man. I summoned all the energy from my ancestors to keep that one going straight. But at the end of the day, to be honest, it was a really fun race. Once we saw Tyler (O'Hara) and Jeremy (McWilliams) not on there (the grid), the game plan is always to race hard but a little different because the Harleys react the same way. So, me and Hayden (Gillim) were just clicking off laps, passing each other in good spots. I think we figured out where he was strong, where I was strong, and we just made it work. To be honest, it's a shame to see both factory Harleys go out, but I kind of feel like we were tracking them down a little bit in some areas. Maybe he was just blowing up. I don't know. I feel like me and Hayden did a phenomenal job of just working together. You got to do that here at Daytona. Then me and Hayden started making quite a bit of mistakes out there, running wide and stuff. I was just hoping nobody else would catch up. I saw some people coming. Travis (Wyman) got in there with us, and he had a little bit of a moment. Thankfully, he's super solid and got right off the line. But I'm just stoked. Vance & Hines have worked their butts off this off-season. We go out in FP1 and if we're slow a mile an hour, it's all forgotten, and it can't be. These guys work so hard. We're in the fight. Yeah, we might not have the mile an hour, but we lasted, and we got one and two. It's the first King Of The Baggers (round). I'm super proud of my team and my teammate. We'll just keep going. Terry (Vance) – just get the red numbers out because we're looking at the red plate, baby."
For more news check out our dedicated MotoAmerica News page MotoAmerica News
Or visit the official MotoAmerica website motoamerica.com/