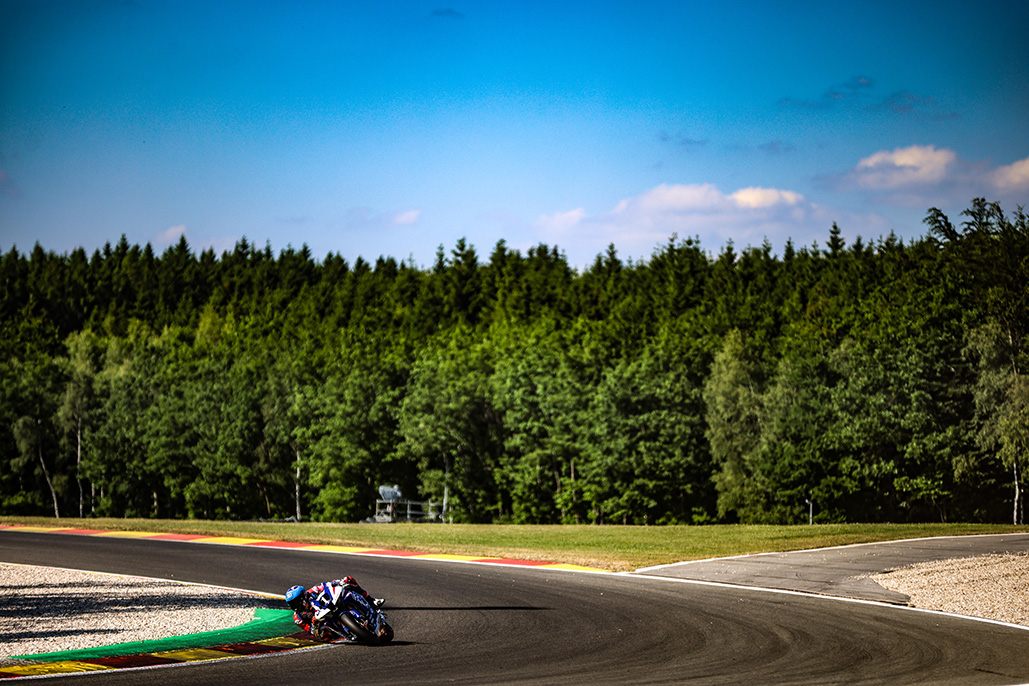 International motorcycle racing's ultimate rollercoaster contest is about to get under way with Belgium's legendary Circuit de Spa-Francorchamps gearing up to host round two of the FIM Endurance World Championship, the 24H SPA Motos, from tomorrow (Friday) until Sunday.
Reviving the spirit of the famous 24 Heures de Liège, which was part of the EWC up until 2001, the second edition of the 24H SPA EWC Motos is hotly anticipated following on from the action-packed season-opening 24 Heures Motos at Le Mans in April.
It's also an event with a formidable reputation as riders race flat out on the 6.985-kilometre undulating track by day and by night with the prospect of changeable weather conditions always a factor at the venue, which is also home to the Belgian Formula One Grand Prix.
Viewers in 196 countries will be treated to spectacular coverage from the 24H SPA EWC Motos, one of the most exciting races in two-wheel motorsport, with live action available in 75 countries. Fans travelling to Spa can also look forward to three days of epic entertainment both on and off the track.
THE EWC STARS ASSEMBLING IN THE ARDENNES HOPING FOR A SPA BREAK
The second edition of the 24H SPA EWC Motos will be contested by some of the best riders in the business. Thirty-seven teams have entered with world champions, national title winners, riders with MotoGP and World Superbike experience, plus young stars aiming for the top in the EWC all set to take part. Here's a summary of just some of the entry highlights.
Take two for BMW Motorrad World Endurance Team?
After winning the inaugural 24H SPA EWC Motos in June 2022, Belgian squad BMW Motorrad World Endurance Team is preparing to push for a victory double under the guidance of formidable ex-racer Werner Daemen. Riders Jérémy Guarnoni, Illya Mykhalchyk and Markus Reiterberger will be aiming to keep the #37 BMW at the top of the timesheets.
World champions on a roll
Having won the season-opening 24 Heures Motos at Le Mans, F.C.C. TSR Honda France is on a roll heading to Spa where it placed third in 2022 following a heroic final stint from Gino Rea. While the Briton won't be in action this year as he continues his recovery from serious injury, the combination of Mike Di Meglio, Josh Hook and Alan Techer provide a potent threat.
Leblanc brings podium pedigree to Team Kawasaki Webike Trickstar
Part of the TATI Team Beringer Racing line-up that finished second overall at Spa 12 months ago, Grégory Leblanc is a new addition to the Team Kawasaki Webike Trickstar attack, which also includes Randy de Puniet and Spa rookie Kazuki Watanabe. Meanwhile, Spaniard Román Ramos takes Leblanc's place on the #4 Kawasaki alongside Hugo Clere and Baptiste Guittet, part of the 2022 FIM Endurance World Cup-winning Team 18 Sapeurs Pompiers Motostoresquad.
Rivals eye Spa revenge
YART Yamaha and Yoshimura SERT Motul both have scores to settle at Spa. The Austrian YART team was leading in 2022 when engine failure spelt retirement on the final morning, while its Suzuki-powered rival lost out on a podium place during a thrilling late-race battle.
Home heroes on show
Belgium-based KM99 launched its EWC attack to the world ahead of last year's 24H SPA EWC Motos. Now it's preparing to put on a show for real with local rider Bastien Mackels finally getting the chance to compete at home in the EWC after injury ruled him out last season.
Inspired by past glories
Team Bolliger Switzerland's Kevin Bolliger "grew up in the Spa paddock" watching his father Hanspeter competing in the 24 Heures de Liège, Belgium's previous EWC fixture and the inspiration behind the 24H SPA EWC Motos. The Kawasaki squad is one of the leading privateer outfits preparing for action along with Yamaha-powered Moto Ain and Wójcik Racing Team, which welcomes back Sheridan Morais to its Formula EWC attack following injury. Honda Viltaïs Racing completed the 2022 EWC season with victory in the Bol d'Or and will look to Spa to build on its fine fourth place finish in April's 24 Heures Motos, where ERC Endurance Ducati, Maco Racing, Motobox Kremer Racing and Team LRP Poland also scored important points. They will all be targeting more success at Spa where Mana'au Compétition soutient la Ligue contre le cancer will be a new permanent EWC team.
Superstock superstars
Headed by Le Mans-winning Tecmas-MRP-BMW Racing Team, the Dunlop Superstock Trophy contingent also features ADSS 97, Chromeburner RAC41 Honda, Honda No Limits, National Motos Honda, Pitlane Endurance and Slider Endurance.
OG Motorsport World Endurance Team welcomes back Camille Hedelin to its ranks, while Gabriel Pons is returning to Team 33 Louit April Moto, which led in Spa last season.
Two-time Supermoto world champion Marc Reiner-Schmidt comes in for the injured Marco Fetz at Energie Endurance where Sander Claessen is a new recruit for Spa. An injury sustained in the Isle of Man TT Races recently has ruled out Matthieu Lagrive, leading to 3ART Best of Bike calling up Alex Plancassagne as his replacement.
Aviobike, Holland Motorstore Racing, JMA Racing Action Bike, Team 18 Sapeurs Pompiers Motostore, Team 202, TRT Bazar 2 la Bécane, Uniserv Moto82 Team and Wójcik Racing Team will also be in contention for Dunlop Superstock Trophy honours along with Team Racing 85.
PROVISIONAL TIMETABLE:
Key FIM EWC timings are as follows:
Friday 16 June:
10h00-11h00: Free Practice
12h00-14h00: First Qualifying
15h15-17h15: Second Qualifying
17h30-18h00: Post-qualifying press conference (Room 132)
19h45-20h45: Pitwalk and autograph session
21h30-23h00: Night Practice
Saturday 17 June:
11h30-12h30: Pitwalk and autograph session
13h00: Pitlane open
13h20: Pitlane closed
14h00: Start of 24H SPA EWC Motos
Sunday 18 June:
14h00: Finish of 24H SPA EWC Motos
14h10: Podium ceremony
14h30: Post-race press conference (Room 132)
LIVE TIMING: https://www.its-live.net/#/live/ewc/2023/24hspa
24H SPA EWC MOTOS IN 100 WORDS:
A track as legendary as it is demanding hosted international-level motorbike racing for the first time since 2001 when the 24H SPA EWC Motos revived the spirit of the 24 Heures de Liège, once an EWC calendar mainstay, in June 2022. The iconic circuit underwent extensive safety upgrades mandated by FIM and FMB specifically for the EWC's return with the 6.985-kilometre layout – the longest of the season – featuring expanded run-off areas, the repositioning of safety barriers, plus the realignment of Turn 9 for bike use only. Belgium-based BMW Motorrad World Endurance Team came out on top of a rain-hit race.
24H SPA EWC MOTOS FAST FACTS:
*The 24H SPA EWC Motos recreated the spirit of the famous 24 Heures de Liège, which counted as a round of the EWC up until 2001, when it ran for the first time in June 2022.
*It took place on a track upgraded specifically for the EWC as part of an investment programme costing 25 million euros.
*The return of the EWC to Circuit de Spa-Francorchamps was first discussed in 2015, shortly after Discovery Sports Events (formerly Eurosport Events) became championship promoter as part of a long-term agreement with governing body, FIM.
*At 6.985 kilometres, Circuit de Spa-Francorchamps is the longest on the EWC calendar.
*Appointed as the event coordination agency for the first 24H SPA EWC Motos in June 2022, PHA Claude Michy was named local event promoter for a nine-year period in September 2022, in addition to continuing its existing responsibilities associated with organising the event.
24H SPA EWC MOTOS ESSENTIALS:
WHERE: Circuit de Spa-Francorchamps, Belgium
LOCATION: Rte du Circuit 55, 4970 Stavelot, Belgium
WHEN: 16-18 June 2023
TRACK LENGTH: 6.985 kilometres
RACE DISTANCE: 24 hours
QUALIFYING LAP RECORD:
YART – Yamaha Official Team EWC – Karel Hanika, 2m18.845s, 2022
RACE LAP RECORD:
Yoshimura SERT Motul – Sylvain Guintoli, 2m21.056s, 2022
RECENT WINNERS:
2022: BMW Motorrad World Endurance Team (Markus Reiterberger, Illya Mykhalchyk, Jérémy Guarnoni), 508 laps
EXPERT VIEW BY BASTIEN MACKELS, KM99
"I know Spa really well but every time on the first day when you come back to Spa the circuit is so fast that you have to let one day for your brain to understand how fast is it, how faster is it compared to all the other tracks you have in Europe and even in the world. Of course we have to be patient and really concentrated on every corner, every lap of the track. We have to manage the speed on this track because it's so much more faster than, let's say, Le Mans. But it's still not enough because the track allows you to go even faster so you have to learn lap after lap and get focused. It looks not so physical but you spend so much time in the long corners, left, right that it asks a lot from your body. There's no question that Raidillon is the best corner in the world. Every rider who comes to Spa wants to try this corner. I can't wait to be in the first lap because the first lap in Spa when you go full in fifth, this corner is amazing, you cannot compare this feeling. The compression in the corner is really incredible, I love it so much and every lap you are waiting for this corner. Full in fifth gear it will be something like 265kph with the slowest point around 200kph, amazing. In Spa the weather is even more difficult because the track is so big. In the past I remember it being dry in the paddock but wet and rainy on the other side of the track so it's something you must be focused on. If you see a cloud coming you really have to take care about that because it's possible that it's raining on one side but not the other side. But in every endurance race you have to be really concentrated on the weather because it's easy to make a mistake. If I knew something special about the weather I would keep it for me but it's not really like that! I remember once we had hailstones and you could see these balls of ice jumping on the track, we were braking but we could see these balls of ice in the last chicane, it was really unbelievable. You really can have everything and maybe two weeks later it could be 35 degrees and you cannot breathe."
For more info check out our dedicated Endurance World Championship News page Endurance World Championship
or visit the official Endurance World Championship website fimewc.com