Triumph delivers more power for Moto2™ in 2023, and the Triumph Triple Trophy enters its fourth year.
More revs, more power…. and more points on offer in the Triumph Triple Trophy #PoweredByTriumph!
The Moto2™ World Championship has already set a scintillating pace this season, with new lap records falling during pre-season testing and in both of the Grands Prix run so far – Portugal and Argentina. Central to this are the developments made by Triumph to the 765cc triple powerplant which is powering every machine on the Moto2™ grid for a fifth season.
Triumph's 765cc triple engines are now producing more power right through the rev range, all the way to a higher 14,400rpm limit (increased by 400rpm), to deliver better performance and acceleration.
More power and engine speed required stronger engine components, so pistons have a higher-grade material and rods, crank valves and springs are all new. Higher flow inlet ports and revised cam profiles enable an increased mixture flow into the combustion chambers and cylinder pressure and compression have been increased.
All this gives the riders more when it comes to lines and race craft, leading to more opportunities for overtaking and even better racing. Pedro Acosta, winner of the opening round, summed it up: "It helps a lot because we have 400 more revs than last year so we are faster on the track and the engine is smoother when we accelerate." Argentina GP winner Tony Arbolino followed up: "The new Triumph engine is improved in every aspect; it's a good engine. You feel it in 5th and 6th gear, you feel the higher RPM, you feel more power, more speed, you're able to change gear in higher RPM and this is the most interesting thing."
The Triumph Triple Trophy continues for the 2023 season, awarding points to riders in the Moto2™ World Championship based upon three criteria:
7 points – Best race progression from start to finish: for the rider[s] making up the most positions from race start to chequered flag
6 points – Pole position
5 points – Fastest race lap: for the fastest rider[s]
Now entering its fourth year, the Triumph Triple Trophy awards the winner a custom-liveried Street Triple RS, powered by the 765cc triple engine from which the Moto2™ powerplant is derived. Past winners are Marco Bezzecchi in 2020, Raul Fernandez in 2021 and Jeremy Alcoba in 2022.
The 2023 Street Triple RS that will be awarded to this year's winner will be presented during the 2023 Moto2™ season.
After the second round of the 2023 season in Argentina, it's Alonso Lopez who currently leads the way after his dominant turn of pace (pole position and new lap record) at Termas de Rio Hondo, followed by Jake Dixon and Sergio Garcia.
The Triumph Moto2™ 765cc race engine is a development of the class-leading Street Triple RS 765cc road motorcycle and for 2023 produces increased power with the same visceral soundtrack. The top-spec Street Triple RS variant is as perfectly suited to the track as it is the road.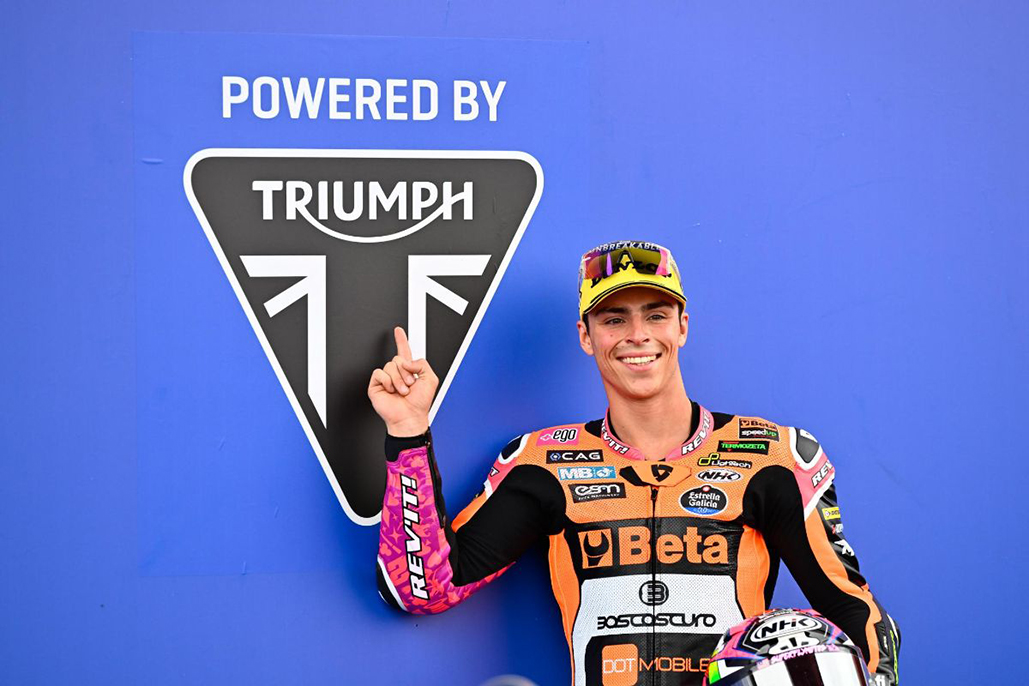 Steve Sargent, Triumph's Chief Product Officer: "We're delighted to be able to give all the Moto2™ teams and riders more power and performance this season and very satisfied to see a brace of lap records broken already in pre-season testing and at both of the opening Grands Prix run so far this year. We're also happy to see how this extra power and revs helps make the racing even closer this year for the fans, aiding slipstreaming and giving the riders greater options for overtaking. We've worked hard on refining these performance improvements in our 765cc engine and it's great to see that the rider feedback is so positive. Our commitment to powering Moto2™ has always been to improving the racing and closing the gap to MotoGP, and in our fifth season I am very happy that we are continuing to redefine the series and provide a platform to help develop the next generation of Grand Prix stars."
Carlos Ezpeleta, Dorna Sports' Chief Sporting Officer: "When we began this new era, our first priority was reliability and parity in performance across the grid, enabling close and fair competition from day one. Triumph delivered from the outset and they keep delivering year on year. We're truly impressed with the quality, and with every new season of our partnership, they always bring something more. That's great news for the Championship and a truly valuable level of commitment to have from a partner. Moto2 is now the perfect step between Moto3 and MotoGP, which is exactly what we are aiming for on a sporting and technical level. And it's only getting better.
"It's great to see further progress this season, and to see that the updates already have great reviews from the riders. After two very different weekends so far, we're looking forward to enjoying another close, exciting Championship and seeing who'll take home the Triumph Triple Trophy this year."
For more Moto2 info checkout our dedicated Moto2 News page
Or visit the official MotoGP website motogp.com