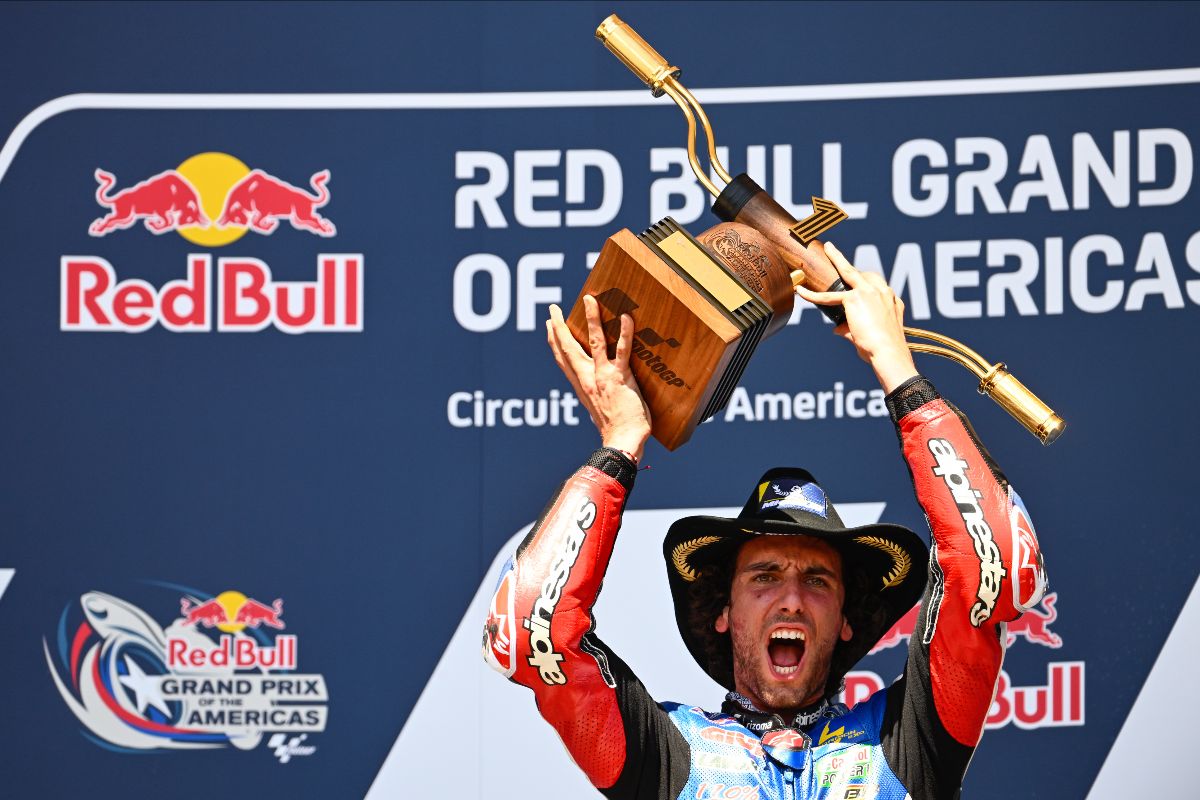 Rins wins, Pecco crashes, Marini takes a debut podium and Quartararo returns to parc ferme after another shake up on Sunday.
539 days and 24 Grands Prix have passed since Honda were last on top, and Alex Rins (LCR Honda Castrol) has brought that long wait to an end with a truly impressive ride to glory at the Red Bull Grand Prix of the Americas. The number 42 was pressuring Francesco Bagnaia (Ducati Lenovo Team) at the front of the field until the number 1 slid out, and from there on out Rins was on a mission to just keep. that. gap. And that he did, getting the hammer down once Luca Marini (Mooney VR46 Racing Team) had made it past Fabio Quartararo (Monster Energy Yamaha MotoGP™) and taking the flag with time in hand to celebrate. That brings Honda's longest winless streak since they returned to the premier class in 1982 to an end, it's the first LCR victory since 2018 and the team's 100th podium in the Grand Prix paddock. It also means Rins has won a staggering 50% of the last six MotoGP™ races… and on two different bikes. How's that for a one-man stat pack?
Behind Rins' headline-grabber, Marini made his own as he held station in second once he was past Quartararo, and the Italian takes his first Grand Prix podium to follow up a first Tissot Sprint podium last weekend. For Quartararo, meanwhile, it's a return to the rostrum for the first time since Malaysia last year as he turned the page following a tougher opening stint to 2023.
As the lights went out, it was the perfect start for Pecco as the Italian took the holeshot, with Rins in hot pursuit. There was drama on Lap 1 for others though as the Ducatis of Alex Marquez (Gresini Racing MotoGP™) and Jorge Martin (Prima Pramac Racing) crashed out, the latter losing the front and then collecting a hapless number 73. Then more drama as Aprilia Captain Aleix Espargaro (Aprilia Racing) also fell victim to an issue, reportedly after an issue with his holeshot device.
In the meantime, Jack Miller (Red Bull KTM Factory Racing) has come flying through the field to put himself in third place from 10th on the grid. Quartararo was hot on the tail of the Aussie too as Marini sat just inside the top five.
Bagnaia was putting on the pressure early on as he attempted to stretch out the field, but Rins wasn't having any of it as the Spaniard latched himself onto the back of the factory Ducati. Rins, in return, piled the pressure on the number 1… and Bagnaia did, indeed, slide out of the lead. Now Rins was in a race against himself and the couple of seconds he had in hand, with some history on the line just waiting to be made.
Meanwhile, with 14 laps to go Miller had crashed out, rider ok, and that put fast-starting Quartararo up into second once Rins was the lone star in the lead. Marini was shadowing Quartararo's every move though, and with 3.5s to the battle for 4th behind, the duo were putting the hammer down in hopes of catching the LCR Honda man out front.
With the laps ticking away and the gap not coming down, Marini decided it was time to make a move on the flying Frenchman and got past, then able to stay ahead and solely start to edge away.. With five to go, the Italian had just under a second in his back pocket and that second place was his barring any drama.
He couldn't catch Rins, however, and the LCR rider had time to celebrate over the line as he took yet another impressive win. He doesn't always win – although lately he has done half of the time – but when he does, it's usually a highly notable day at the office and deserves a chapeau, this time cowboy-styled.
Marini brought home his Ducati for second and a first Grand Prix podium in the MotoGP™ class, with Quartararo snatching his first podium of 2023 in third as his focus switched to fending off fourth in the latter stages.
That fight was won by Maverick Viñales (Aprilia Racing) as he stretched away from Miguel Oliveira (CryptoDATA RNF MotoGP Team) despite plummeting down the order at the start, with Championship leader Marco Bezzecchi (Mooney VR46 Racing Team) taking sixth. Brad Binder (Red Bull KTM Factory Racing) crashed out of that fight, rider ok and rejoining but taking three points at the back.
Johann Zarco (Prima Pramac Racing), Franco Morbidelli (Monster Energy Yamaha MotoGP™) and Fabio Di Giannantonio (Gresini Racing MotoGP™) were next up, with Augusto Fernandez (GASGAS Factory Racing Tech3) completing the top ten and taking his first rookie top ten in the process.
The Red Bull Grand Prix of the Americas did not disappoint as MotoGP™ leaves the USA after another shuffle, but it remains Bezzecchi in the points lead and Bagnaia second. Now get ready for more action at the Gran Premio MotoGP™ Guru by Gryfyn de España in two weeks!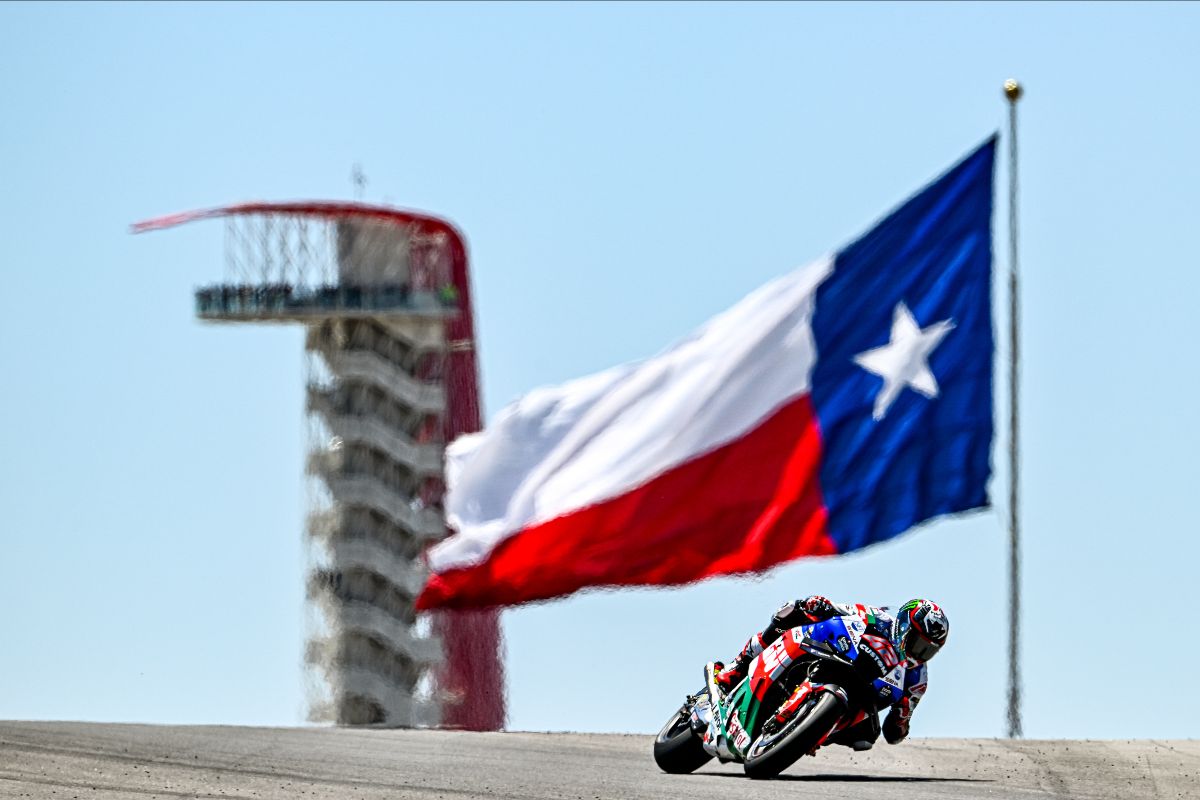 ALEX RINS: "It was amazing, when I was in the LCR workshop this winter, Lucio put a video on in the museum and said we have 99 podiums in our team, and I said, 'thanks for the pressure!' We did it. I'm so happy for the win, and also happy about the weekend, a really good weekend and we worked from Friday. Direct to 2, qualifying second, second in the Sprint and then the victory… honestly Pecco showed us really strong pace, I was struggling a bit in the third and fourth sectors, and in Sector 1 and 2 I was pushing, a bit on the limit in the chicanes to reduce the gap, but I'm so happy.
"After the crash, I saw I was in front and I lost concentration a bit for a lap, a lap and half, they reduced the gap to me but then I tried to leave and not make any mistakes, ride alone as I know how to do, so I'm happy because it wasn't easy.
"My fiancee, when I woke up this morning, I had a message saying if I shave my head, she'll change the locks. We have our wedding in a couple of months and it's a day to remember so better not! But for sure a couple of guys from the team will do it!"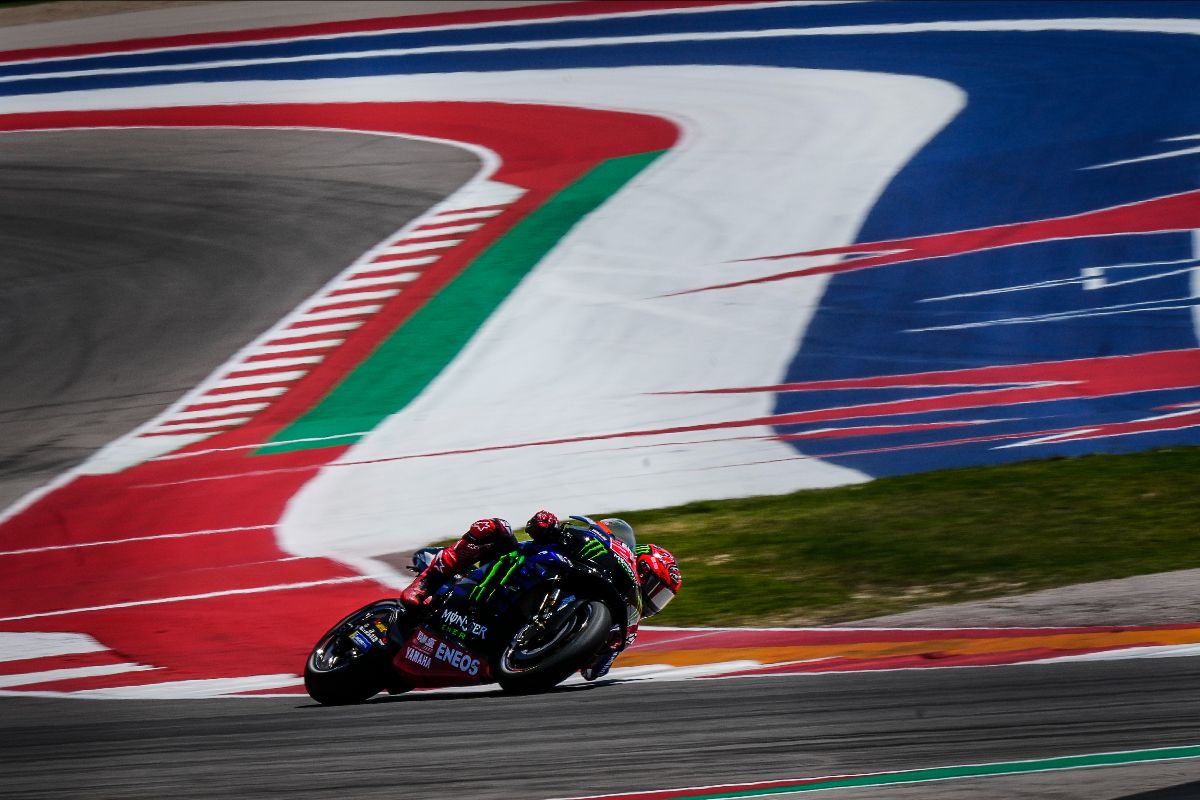 LUCA MARINI: "A fantastic weekend. I enjoyed it a lot every lap here in COTA because the feeling with the bike has been very good since FP1. Yesterday I made a mistake. Yes, I made a mistake in braking of the first corner after the start. So today I tried to be calm at the beginning because I knew that my pace was really strong here. And that's it. But I just lost too much time in the beginning and with Alex. It was impossible to catch him. Even if I tried because I saw that he saw he made some mistakes. So I started to think about the victory as well. But he was very fast and strong here and he deserved it.
"I think that also yesterday I had an important lesson because in just six laps I finished the front tyre. I don't know why, we don't know what happened, but maybe because I tried to push a lot because with the comeback I was 18th. If you push maybe too much you overheat the tyre and the tyres start to work in a bad way. So today I tried to manage the front and the rear a lot during all the race and in fact I arrived at the end of the race with no problems and in fact it for me it was really easy to race today. Maybe also this track is very difficult on the physical side. But about myself, I'm very happy about my situation now and I felt very good and had no problems for this race and which is the most difficult one of the calendar. So I'm really happy and looking for the next race."
Where you thinking of family revenge today?
"Yeah, I remember that in one moment in one lap on the exit of turn one I had this image in my mind, and I saw that it was maybe possible to take revenge today, but Alex is very strong at this track so we will try next time.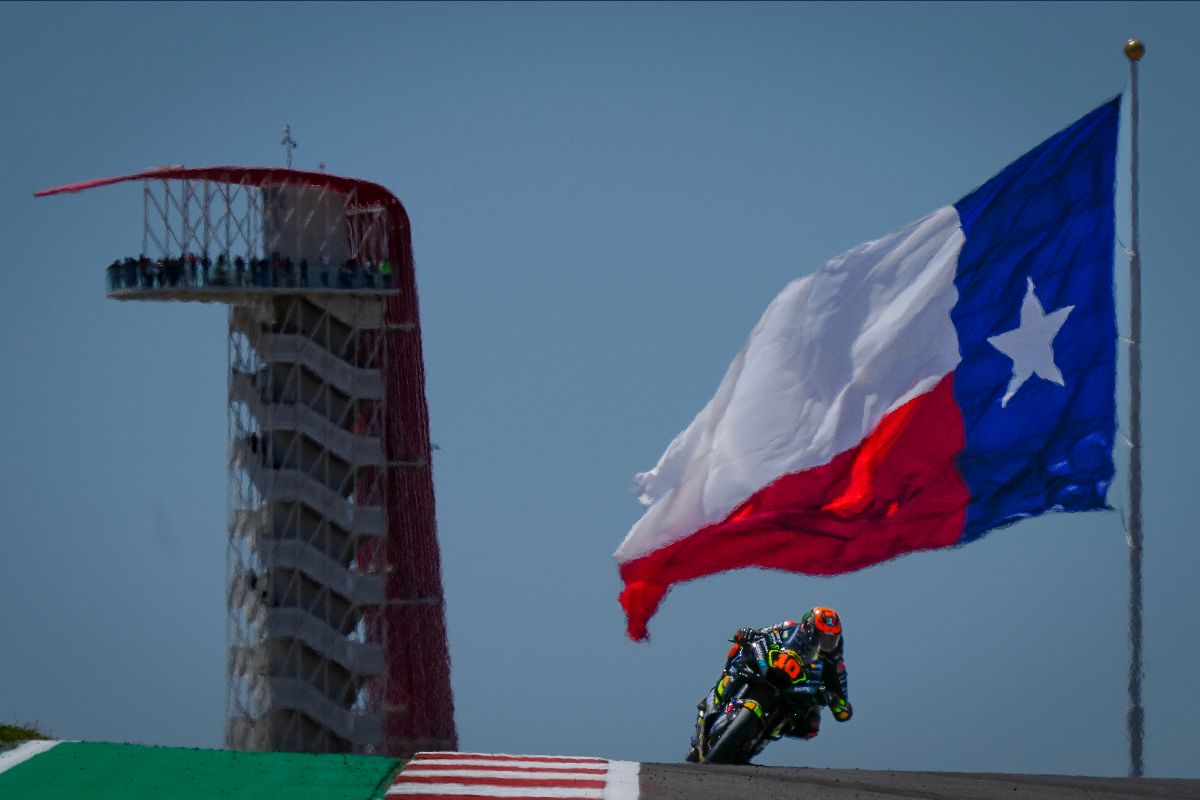 FABIO QUARTARARO: "It was great to be honest, you know, the first two races our weak point was the first lap, and to be aggressive, and today and yesterday it was pretty good. I was talking with Luca about how on the first lap I tried to make overtakes, and this is the only way for us to have a hope of a podium and a great result. It's important for us to be at the front during the first laps and then our race is much more calm and easy so that was clever from our side."
It must be mentally tough racing Ducatis?
"I mean also on the image, you know, when Luca past me on the straight, I found it very difficult to stay calm because it's really easy to get nervous. I expected to stay a little bit more with him, but he had a really strong pace at the end and you know, I was already on the limit from turn one until the end. So I said OK, let's keep the gap to Maverick who was fourth and achieve a podium."
How important was the podium to give you momentum?
"Luckily in Jerez, the straight is a lot smaller! But I mean, it's okay, you don't need to say that. it's only the Ducati, they need to have a good rider on it and today Luca was really strong. So I arrive to Jerez, I mean, every year I've been there, I've been fast since, since my first year in MotoGP. In qualifying I've always been in the first row, so hopefully we can be on the first row and it'll be a really great qualifying and yeah, then we'll go to the French GP, which will be good."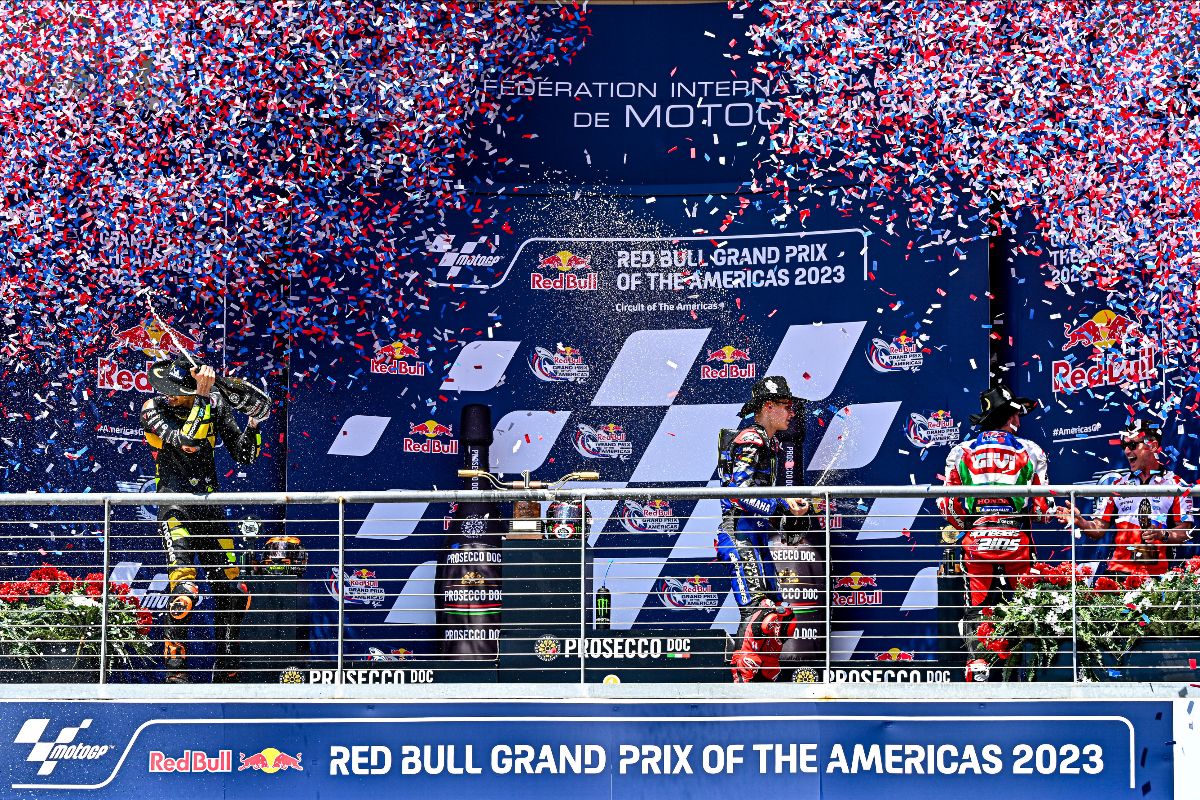 MotoGP Top 4 Championship Points after Main Race – Americas GP
1. Marco BEZZECCHI – ITA – Mooney VR46 Racing – 64pts
2. Francesco BAGNAIA – ITA – Ducati Lenovo Team – 53pts
3. Alex RINS – SPA – LCR Honda CASTROL – 47pts
4. Maverick VIÑALES – SPA – Aprilia Racing – 45pts
MotoGP Top 4 – Main Race Result – Americas GP
1. Alex RINS – SPA – LCR Honda CASTROL – 41:14.649
2. Luca MARINI – ITA – Mooney VR46 Team – +3.498
3. Fabio QUARTARARO – FRA – Monster Energy Yamaha – +4.936
4. Maverick VIÑALES – SPA – Aprilia Racing – +8.318
For more MotoGP info checkout our dedicated MotoGP News page
Or visit the official MotoGP website www.motogp.com