The Italian firm adds three new versions to the 60.1 helmet, bringing the number of colour variants to 13 which will suit the tastes of all bikers.
GIVI'S first off-road helmet, the 60.1, was born less than a year ago. It was the result of countless hours of research, laboratory tests and various competition tests carried out by Simone Cristini, a World Enduro rider who worked with the transalpine firm on the helmet's design. The multitude of graphics and variants available on this model mean it is sure to match with any of the best-selling enduro bikes currently on the market. Two new versions of its already well-known Invert graphics as well as the Gloom, a completely new design which features an innovative and rogue aesthetic, are new for 2023.
GIVI is a benchmark in the motorbike and motorcyclist accessories sector, partly due to its highly developed R&D department. Throughout the design process at its Brescia factory, GIVI believes it's essential to listen to its users' needs. For this reason, they have expanded their helmet catalogue to a total of 17 different models in recent years, with a multitude of graphics to adapt to the official colours of the main brands on the market, and to cater to the tastes of all two-wheeled enthusiasts. This is the case with the 60.1, of which there are three new versions in 2023.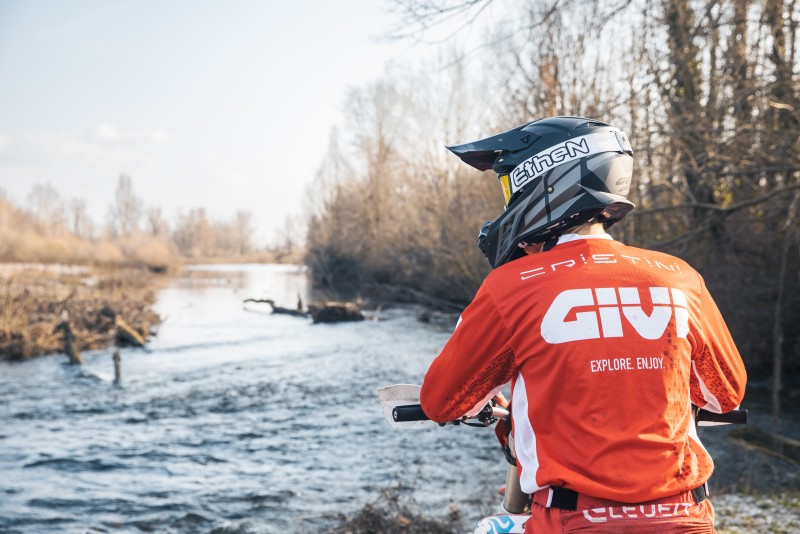 This full-face helmet has more than 13 multicolour variations that are in line with current trends. They are divided into three graphics. The latest and most daring is the Gloom, a mix of black and red details imitating a skull, as well as a design with a splash effect. The selection doesn't end there. The Invert, with straight and aggressive lines and a sportier style, also adds two new colours to its range this year: one in red, white and black, which is a perfect match for the GasGas EC 350, and another which boasts a more restrained design, which comes in different shades of black for the more discreet bikers. These new models, together with all its previous variants, allow the 60.1 to perfectly match the official colours of the best-selling off-road bikes.
The 60.1 has been thoroughly developed with the latest technology, the best materials and under the new European ECE 22R06 homologation. This means the tests it has passed include impact tests at different speeds – on screens, rotational, on inclined surfaces or by particles at high speed – and are more comprehensive and demanding. What's more, all its accessories, such as the visors, also have this certification.
Its shell is made from technopolymer and features hypoallergenic fabric on the inside, designed with an attractive camouflage finish, which is detachable, removable and washable. It also includes an adjustable visor, a "Double D" strap closure for greater safety, and front, upper and chin guard air intakes, together with a rear extractor. It's available in sizes XS to XXL at £145.90.
Click here to see Simone Cristini put the GIVI 60.1 to the test.
And click here if you want to know more about the 60.1 from a host of GIVI specialists.
These, and many more GIVI items, provide a boost for motorcycle trips and make any journey on two wheels a more comfortable experience. 
For more GIVI UK News check out our new dedicated page GIVI UK News
For more information about these products or any other accessories for your motorcycle visit www.givi.co.uk or call 01327 706220