The FIM Motocross World Championship is coming to Latvia for the eight Grand Prix of the of the 2023 season. The circuit of Kegums will be hosting the MXGP of Latvia which will mark the 18th MXGP event since its first appearance in the MXGP calendar in 2005.
The hard sand of the Zelta Zirgs track in Kegums has seen many thrilling racings in the past on this technical circuit. The most successful rider on this track is Red Bull KTM Factory Racing's Jeffrey Herlings who won 6 times in Kegums in 2017,2018 and 2020 in MXGP and 3 wins in MX2 in 2010, 2013 and 2016 while Monster Energy Yamaha Factory MXGP Team's Glenn Coldenhoff is another rider who found success in Latvia with two wins in 2015 and 2020 which will surely give them some added confidence this weekend.
The MXGP of Latvia will also host the 5th round of the EMX250 and EMX125 presented by FMF Racing with Hutten Metaal Yamaha Racing Team's Andrea Bonacorsi leading in EMX250 while MJC Yamaha Official EMX125's Janis Martin Reisulis leads the EMX125.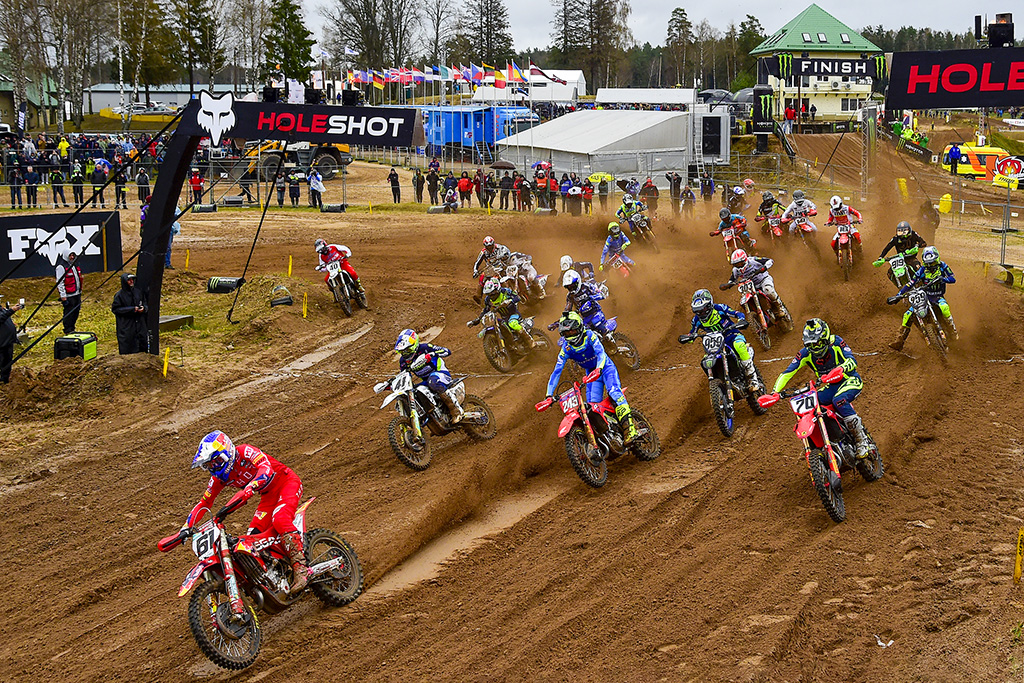 The MXGP of Latvia marked the 6th stop of the season in 2022 and it was Team HRC's Tim Gajser who dominated the Grand Prix in front of home hero Standing Construct Honda MXGP's Pauls Jonass and Team HRC's Rubén Fernández in the MXGP class.
In 2023, Red Bull GASGAS Factory Racing's Jorge Prado lands in Latvia with his full confidence back following a podium in France and a win in the RAM Qualifying Race. The Red Plate has extended his lead in the Championship with a solid 4-3 in France and third overall. After his first non-podium GP in Spain, the Spaniard shows that he is mentally ready for the battle this season with getting straight back at it in France. He also has won once in MX2 in 2019 which shows that he can win in Latvia.
24 points behind in the Championship is Jeffrey Herlings who had a nightmare of a Grand Prix in France with a rare streak of misfortunes. The 'bullet' started the GP by some strong ridings going 3rd in the RAM Qualifying Races and 2nd in race 1. Race 2 was not destined to Herlings as his goggle strap broke early in the race to then unlikely break his foot peg on a landing which ruled him out of the race. Herlings will take the opportunity of the MXGP of Latvia to get back on top, mainly as he is the most successful rider in Kegums with 3 wins in MXGP (2017,2018,2020) and 3 wins in MX2 (2010,2013,2016). The MXGP of Latvia could be the ideal event for Herlings to get back to winning ways.
Kawasaki Racing Team's Romain Febvre is back to 3rd place in the Championship following an impressive display in his home GP in France with a 2nd place on the podium and his first race win of the season. This win was overdue considering the strong performances the Frenchman showed so far in the season. A confident Febvre is one to be feared by his rivals and the MXGP of Latvia may show that he will push and put pressure on the front two rider in the Championship.
Levelled in points with Febvre, Rubén Fernández is continuing to show impressive control and maturity. With another solid Grand Prix in France, going 5-4 for 4th overall the Team HRC's rider shows that he found the way to be consistent which is the key for a successful season. Latvia could be a positive weekend with an expected podium for Fernández who was already on the podium here last year.
The rider that is on the high at the moment is Monster Energy Yamaha Factory MXGP Team's JeremySeewer, 5th in Championship. The Swiss comes to Latvia on the back of a formidable Grand Prix of France that saw him impressively winning with a 1-2. Seewer is going from strength to strength after inconsistent first few GPs. It looks like the 5-time Vice Motocross World Champion has found something recently and it shows with his impressive consistent top performances. Seewer is also on a hot streak of 5 FOX Holeshot in a row which is a good indicator of his form at the moment.
Team Gebben Van Venroy Yamaha Racing's Calvin Vlaanderen who sits in 6th place, continues on his constancy as he went 5-8 for 5th overall in France. The Dutch rider is simply one of the riders that is always in the mix for big points. He has never been out of the top 10 so far in the season which shows his remarkable skills. 7th in the Championship is Monster Energy Yamaha Factory MXGP Team's Glenn Coldenhoff who could be using his experience of his past successes in Latvia to get back on the podium this weekend. Coldenhoff won twice in Latvia in MXGP demonstrating that he suits the hard sand track of Kegums. Interestingly his last podium was in Sardinia which was another sand track.
Unfortunately, the 8th and 9th in the Championship, Red Bull GASGAS Factory Racing's Mattia Guadagnini and Monster Energy Yamaha Factory MXGP Team's Maxime Renaux are out with injuries and will not be competing in Latvia. Making his way into the top 10 is Ship to Cycle Honda SR Motoblouz's Valentin Guillod who has been a strong performer this season with 4 top 10s and a good 6th overall in the last GP of France. The Swiss is growing in confidence and has been a rider to watch so far.
Another notable rider to mention is SM Action Racing Team Yuasa Battery MXGP's Alberto Forato who is 11th came out 4th of the RAM Qualifying Race in France battling with Herlings for a while and showed incredible speed during the weekend. Unfortunately, the Italian crashed in race 1 which hindered his chances to get more points. Latvia will be a good opportunity to get back and fighting for another top 10.
The Home hero Pauls Jonass started the season strongly with a 5th overall in Patagonia-Argentina but unfortunately got a few issues with injuries and will not be competing at home this weekend. The Latvian made his country proud when he clinched the 2nd place last year in Latvia, in one of the highlights of his season. The 2017 MX2 World Champion who is 18th in the Championship after competing in only 3 Grand Prix showed that he can fight for top 10s when competing.
Championship Standings Top 10
1. Jorge Prado (ESP, GAS), 342 points;
2. Jeffrey Herlings (NED, KTM), 318 p.;
3. Romain Febvre (FRA, KAW), 263 p.;
4. Ruben Fernandez (ESP, HON), 263 p.;
5. Jeremy Seewer (SUI, YAM), 243 p.;
6. Calvin Vlaanderen (NED, YAM), 226 p.;
7. Glenn Coldenhoff (NED, YAM), 217 p.;
8. Mattia Guadagnini (ITA, GAS), 203 p.;
9. Maxime Renaux (FRA, YAM), 202 p.;
10. Valentin Guillod (SUI, HON), 162 p.;
2022 MXGP of Latvia – MXGP Top 3:
Tom Gajser
Pauls Jonass
Rubén Fernández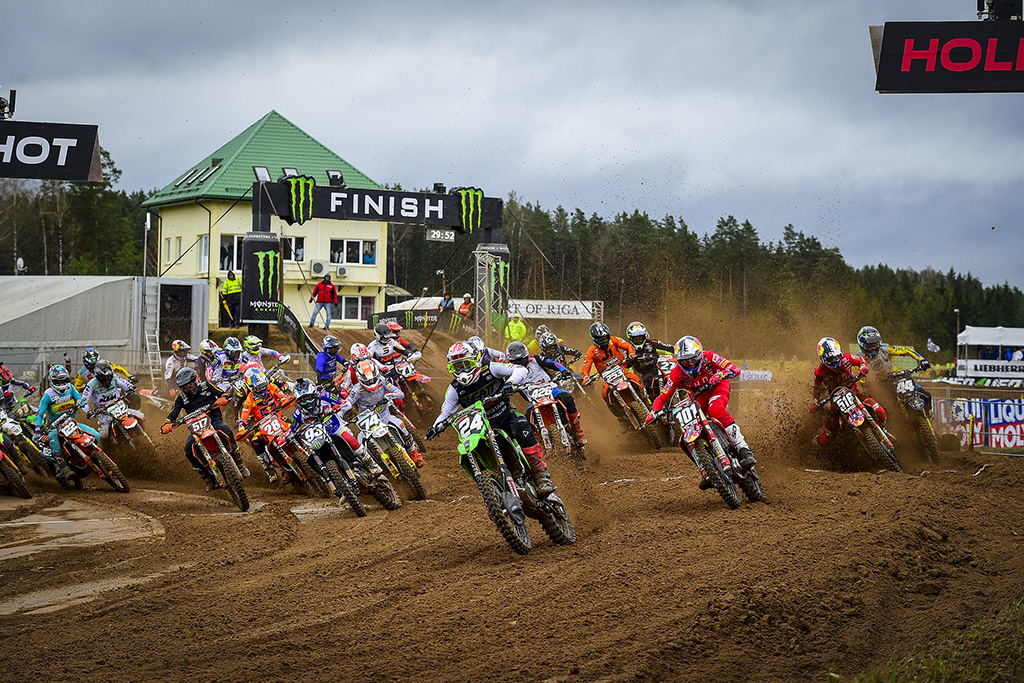 In MX2 last year, Monster Energy Yamaha Factory MX2 Team's Jago Geerts came out victorious in Latvia in front of F&H Kawasaki Racing Team's Kevin Horgmo, second and Tom Vialle third.
Red Plate Jago Geerts is unfortunately out after sustaining an injury in France and will not compete in Latvia.
His misfortune may mean that we will see a change of Red Plate this weekend for the first time this season. Red Bull KTM Factory Racing's Andrea Adamo is well positioned to be claiming his first Red Plate of his career as he sits 2nd only point behind Geerts. Adamo went 3-3 for a 2nd overall in France as the young Italian continue to show an outstanding level of ridings in all is outings so far in the season. He only missed two podiums this season and 1 GP win and will be a strong favourite coming into Latvia.
Nestaan Husqvarna Factory Racing's Kay de Wolf will be another threat this weekend as the 3rd in the Championship. The Dutch rider is consistent and the hard sand of Kegums will be a golden opportunity for the sand specialist to clinch his first GP win of the season. Following a 5th overall in France, de Wolf will want to be back on top in Latvia and edge closer to the lead of the Championship.
Monster Energy Yamaha Factory MX2 Team's Thibault Benistant was on top of the world at the MXGP of France with a dominant win. The Frenchman is the only MX2 rider in Latvia to have won more than one Grand Prix this season. He comes in Kegums full of confidence and with a chance to get the Red Plate for the first time. The Latvian Grand Prix will be very competitive and Benistant showed that he his back on his best form.
5th in the Championship, Red Bull GASGAS Factory Racing's Simon Laengenfelder will not be competing due to an injury. Nestaan Husqvarna Factory Racing's Roan Van de Moosdijk who is currently 6th is getting back to his best and is finding good speed as he went 7-5 in France for 6th overall. Van De Moosdijk is getting into his rhythm as the season goes and has shown already that he is podium worthy with his 3rd place in Portugal.
Red Bull KTM Factory Racing's Liam Everts is also stepping up with his second podium of the season in France. The 7th in the Championship looks comfortable on his bike and ready to fight for the top places. We saw in France that he is not shying away from the battles as he gains in confidence and asserting his qualities GPs after GPs.
Kevin Horgmo who sits 8th in the Championship is a rider to watch this weekend as the Norwegian has tasted victories in Latvia in EMX250 in 2021 and got on the MX2 podium last year. This track seems to suits his abilities and Horgmo which will be an added advantage to get his first podium of the season. He has also always finished in the top 10, so far this season which is a testament to his skills.
The recent race winner in France, Nestaan Husqvarna Factory Racing's Lucas Coenen has certainly demonstrated that he can win and that he will be one to watch following his striking speed in France. The 9th in the Championship is on the rise and is ready to fight for his first podium in Latvia.
Championship Standings Top 10
1. Jago Geerts (BEL, YAM), 319 points;
2. Andrea Adamo (ITA, KTM), 318 p.;
3. Kay de Wolf (NED, HUS), 307 p.;
4. Thibault Benistant (FRA, YAM), 303 p.;
5. Simon Laengenfelder (GER, GAS), 259 p.;
6. Roan Van De Moosdijk (NED, HUS), 254 p.;
7. Liam Everts (BEL, KTM), 235 p.;
8. Kevin Horgmo (NOR, KAW), 201 p.;
9. Lucas Coenen (BEL, HUS), 196 p.;
10. Jan Pancar (SLO, KTM), 149 p.;
2022 MXGP of Latvia – MX2 Top 3:
Jago Geerts
Kevin Horgmo
Tom Vialle
TIMETABLE (Local Time/ GMT+3)
SATURDAY: 09:00 EMX125 Group 1 Free Practice, 09:30 EMX125 Group 2 Free Practice, 10:00 EMX250 Free Practice, 10:30 MX2 Free Practice, 11:00 MXGP Free Practice, 11:55 EMX125 Group 1 Qualifying practice, 12:30 EMX125 Group 2 Qualifying practice, 13:05 EMX250 Qualifying Practice, 13:45 MX2 Time Practice, 14:20 MXGP Time Practice, 15:05 EMX125 Race 1, 15:50 EMX250 Race 1, 16:35 MX2 RAM Qualifying Race, 17:20 MXGP RAM Qualifying Race.
SUNDAY: 09:40 EMX125 Race 2, 10:25 MX2 Warm-up, 10:45 MXGP Warm-up, 11:30 EMX250 Race 2, 13:15 MX2 Race 1, 14:15 MXGP Race 1, 16:10 MX2 Race 2, 17:10 MXGP Race 2.
For more news check out our dedicated MXGP/MX2 News page
Or visit the official MXGP website mxgp.com