Pedro Acosta (Red Bull KTM Ajo) put on a dominant display to reel in the points on Championship leader Tony Arbolino (Elf Marc VDS Racing Team) in the Gran Premio d'Italia Oakley, taking an impressive victory at the Italian's home circuit.
Arbolino finished the race at some distance in second, but the number 14 put in some good damage limitation after a tougher weekend before the lights went out. Jake Dixon (Autosolar GASGAS Aspar Team) snatched the final podium place on the final lap from polesitter Aron Canet (Pons Wegow Lons40).
It was a good start from Canet from pole, but the Spaniard lost out into Turn 1, dropping down the order to P4. Acosta led the pack on the first lap with Sam Lowes (Elf Marc VDS Racing Team) right on his rear wheel, and Alonso Lopez (MB Conveyors SpeedUp) shooting up into third. There was a big crash at Turn 1 just behind involving Fermin Aldeguer (MB Conveyors SpeedUp), Jeremy Alcoba (QJMOTOR Gresini Moto2™), and Darryn Binder (Liqui Moly Husqvarna Intact GP), that ruling the trio out of the Grand Prix but riders all ok.
There was even more drama on Lap 1 as Lopez shoved his Boscocuro machine up the inside of Lowes, making contact with the Brit and sending him into the Mugello gravel. Lowes wasn't best pleased and Lopez was immediately handed a Long Lap penalty just as he was glued to the rear wheel of Acosta. So two laps in it was Acosta leading from Lopez, who still had his penalty to serve, and at 0.7s back Arbolino had fought his way into P3 past Canet.
One lap later and the time came for Lopez to take his penalty, but the Spaniard was far from perfecting the loop as he found himself riding through the gravel on the outside of the Long Lap, dropping him to P13. As the Spaniard failed to correctly serve the penalty, that meant he was still due a trip through the long lap loop.
That left a two-second lead for Acosta, with Championship leader Arbolino sat in P2. Meanwhile Filip Salač (QJMOTOR Gresini Moto2™) had found his way to the front as he slotted into P3, pushing Canet back to P4. Whilst that race settled at the front, Lopez successfully retook his penalty on take two, rejoining the race in P10.
Back at the front, Salač had broken away from Canet, leaving the Spaniard heading into the clutches of Dixon as the Czech rider flew his way onto the rear wheel of Arbolino up ahead. Arbolino then put the hammer down though and stretched out some breathing space, keeping himself in a lonely but valuable second place with Acosta 2.5s up the road.
Salač himself then began to drop back, first fading back to Canet and then behind Dixon, who demoted the Czech rider to P5 with five laps remaining. Dixon didn't want to stop at P4, however, as he edged closer and closer to Canet. As Acosta took that impressive win and Arbolino followed him home, Dixon struck against Canet on the final lap at Turn 1, getting the job done and stayed ahead to get back on the podium.
Canet took fourth and Celestino Vietti (Fantic Racing) sliced up to fifth, with Lopez putting in an impressive recovery to move through to sixth following his early transgressions.
Salač ultimately crossed the line in seventh, ahead of Manuel Gonzalez (Correos Prepago Yamaha VR46 Master Camp), Somkiat Chantra (Idemitsu Honda Team Asia) and rookie Sergio Garcia (Pons Wegwow Los40).
The Championship story continues to run its rollercoaster course in the 2023 Moto2™ season. There are still plenty of points available as the attention now turns to the Liqui Moly Motorrad Grand Prix Deutschland in just one week's time!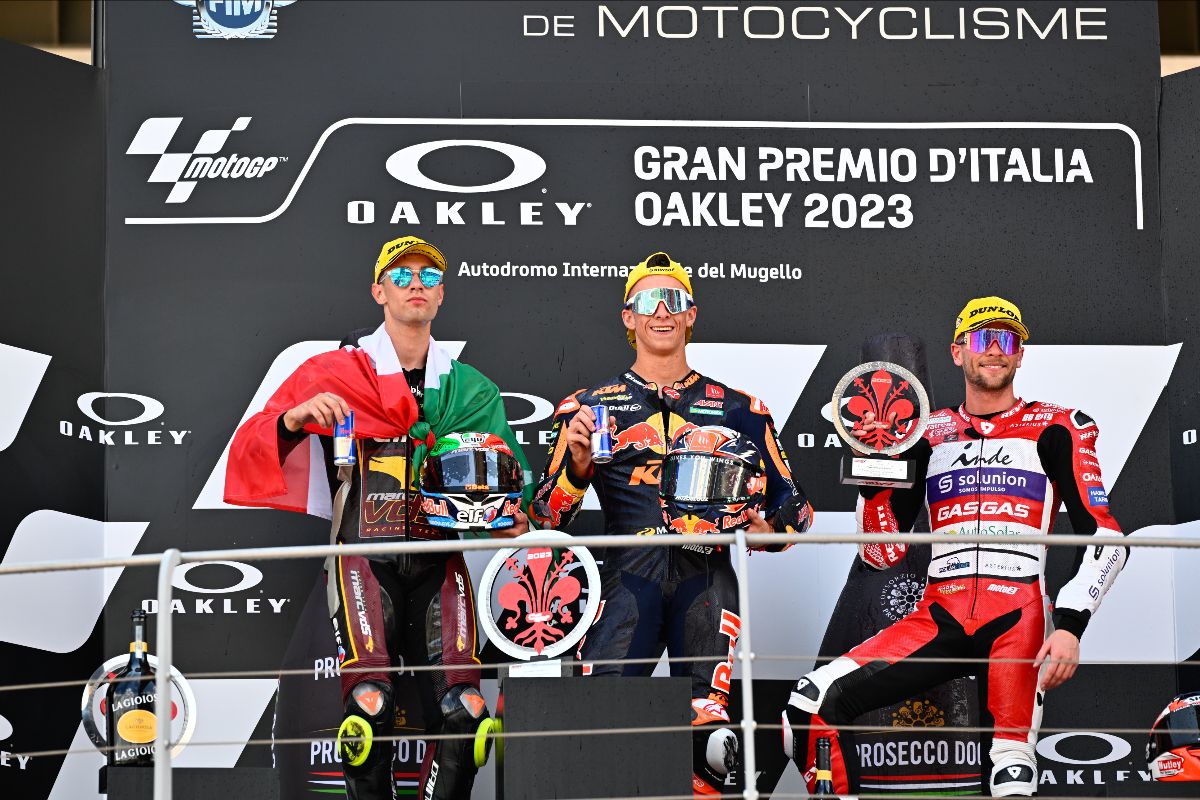 Moto2 Top 4 – Race Result – Italian GP
1. Pedro ACOSTA – SPA – Red Bull KTM Ajo – 35'38.328
2. Tony ARBOLINO – ITA – Elf Marc VDS Racing – +6.194
3. Jake DIXON – GBR – Inde GASGAS Aspar M2 – +8.582
4. Aron CANET – SPA – Pons Wegow Los40 – +8.847
DNF. Sam LOWES – GBR – Elf Marc VDS Racing –
DNS. Rory SKINNER – GBR – American Racing –
Moto2 Top 4 – Championship Points after – Italian GP
1. Tony ARBOLINO – ITA – Elf Marc VDS Racing – 119pts
2. Pedro ACOSTA – SPA – Red Bull KTM Ajo – 99pts
3. Alonso LOPEZ – SPA – CAG SpeedUp – 71pts
4. Filip SALAC – CZE – QJMOTOR Gresini Moto2 – 69pts
6. Jake DIXON – GBR – Inde GASGAS Aspar M2 – 63pts
8. Sam LOWES – GBR – Elf Marc VDS Racing – 44pts
31. Rory SKINNER – GBR – American Racing – 0pts
For more Moto2 info checkout our dedicated Moto2 News page
Or visit the official MotoGP website motogp.com