Alpinestars 2024 Motorcycling Collection: Engineered for precision performance, premium protection, and superior climate management.
The new 2024 Motorcycling Collection is designed to meet the demands of motorcycle riders from a variety of types of riding, allowing them to live their passions with confidence and in premium comfort. Innovative and protective motorcycling technology and materials including
GORE-TEX,
Alpinestars' DRYSTAR®XF
, and
DRYSTAR®
membranes play key roles in the Collection. Significant advancements in footwear for the Touring, Urban, and Racing Sport categories also position Alpinestars as an industry leader when it comes to technically advanced riding shoes that provide the ultimate protection, waterproofness, and premium all-day walking comfort.

ADVENTURE TOURING
The new 2024 Alpinestars Touring Line is designed to offer ultra-ruggedness and performance in the most extreme weather conditions and on the toughest terrains. The new introductions to the 2024 Adventure Touring line-up set new standards in climate management, with the incorporation of laminated GORE-TEX technology that provides 100% guaranteed waterproof and breathable performance. The new line of touring footwear and gloves offers a vast selection of fully waterproof and breathable, laminated GORE-TEX main constructions, all designed to keep riders dry and protected in adverse climate conditions. In addition, Alpinestars' exclusive Drystar®XF and Drystar® technologies are used throughout the line of new jackets, pants, and gloves. Engineered for motorcycling adventurists, the Alpinestars 2024 Adventure Touring Collection is created to endure the elements, keeping riders comfortable, and above all, protected.
ST-7 2L GORE-TEX Jacket and Pants
Women's Stella ST-7 2L GORE-TEX Jacket and Pants
Boulder 3L GORE-TEX Pants
XT-8 GORE-TEX Boots
CR-8 GORE-TEX Riding Shoes
XT-5 GORE-TEX Gloves
WR-X GORE-TEX Gloves
Hyde XT Stretch Drystar®XF Jacket
Stella RT-7 Drystar® Touring Boots
Tourer W-7 V2 Drystar® Gloves
Women's Stella Tourer W-7 V2 Drystar® Gloves

CONTEMPORARY URBAN STYLE
When it comes to contemporary style, the introduction of the Motorcycling Streetwear Equipment (MO.ST.EQ) Collection encapsulates a genuine connection to the current styles and designs of modern streetwear fashion, blending urban style with motorcycling practicality and protection.
• MO.ST.EQ Field WP PrimaLoft® Jacket: A highly functional multi-season jacket with great climate adaptability.
• MO.ST.EQ Hybrid Hooded Jacket: A mid-season padded hoodie engineered to enhance rider comfort.
• MO.ST.EQ Tartan Shirt: Featuring a short-sleeved look with a full inner hoodie.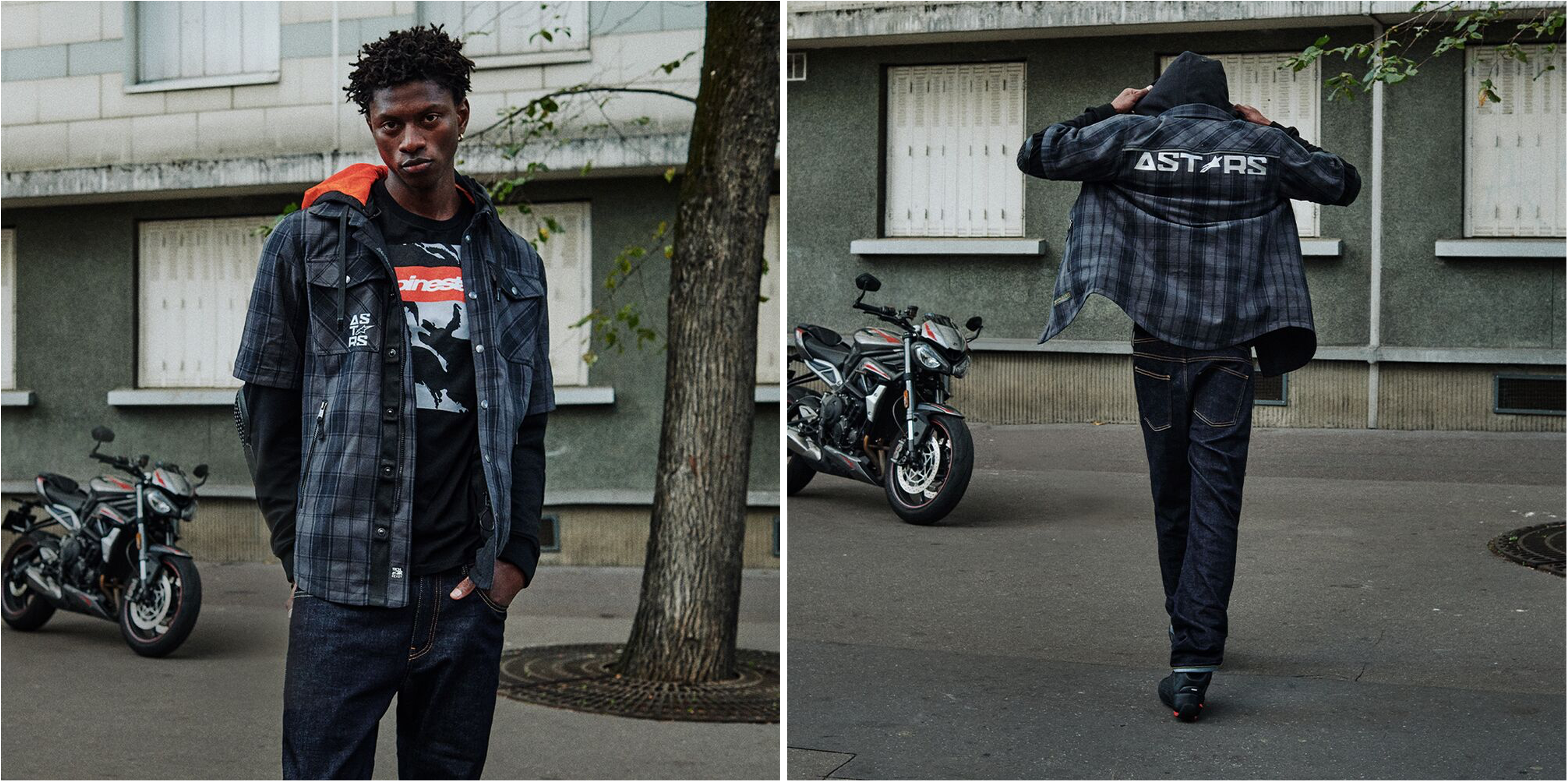 The new Tech Denim range introduces 3 new styles including the AA-rated Radium V2 Pants. The all-new Radium V2 Pants provide a high level of protection for daily commuters, featuring a refined modern cut with a regular tapered leg and elevated finishing details. The regular comfort fit Copper V3 are designed with a straight leg and high-quality finishing, while the Cult-8 Stretch are a relaxed denim pant with a fit dedicated to premium comfort.

Inspired by some of today's most popular trends, the Speedflight Performance Riding Shoes take street sport-styled sneakers and infuse engineered riding protection – the perfect shoes for short rides and commuting with great breathability and all-day walking comfort. Highlights of the new 2024 Urban line include:
MO.ST.EQ Field WP PrimaLoft® Jacket
MO.ST.EQ Hybrid Hooded Jacket
MO.ST.EQ Tartan Shirt
Radium V2 Denim Pants
Copper V3 Denim Pants
Cult-8 Stretch Denim Pants
Speedflight Shoes

RACING SPORT
The 2024 Racing Sport Collection offers a range of sport performance, all-weather leather and textile jackets, pants, and gloves. The new GP Plus V4 and several of the new jackets in the range incorporate Alpinestars Composite Stretch Technology (A-CSTM Tech).  A-CSTM in the jackets' large side panels offers increased stretch, high abrasion resistance, and higher tear resistance than leather, maximizing comfort and overall performance. In addition, The GP Plus V4 Jackets also have long direct airflow vents for rider cooling and climate management.  With the introduction of the waterproof Drystar® jackets, and pants, sports riders will be able to ride in great style, premium comfort, and superior freedom of movement.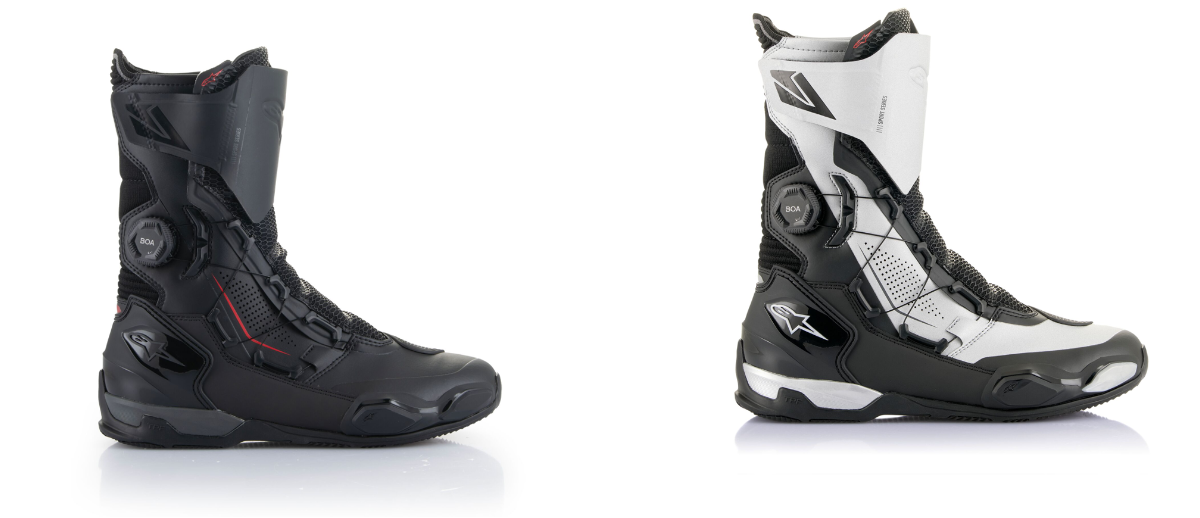 Footwear for the sports rider has never been more exciting with the introduction of the new, sleek SP-X BOA Boots. These mid-height boots have been engineered for the sport and sport touring rider to offer premium levels of protection and superior walking comfort. In addition, the new Superfaster Tech Riding Shoes incorporate Rideknit® technology and are designed to blend shoe-like, all-day comfort with boot-like protection.
GP Plus V4 Leather Jacket
Stella GP Plus V4 Leather Jacket
T-GP R V3 Drystar® Jacket
T-SP 1 V2 Waterproof Jacket
T-SP R Drystar® Pants
SP-X BOA Boots
Superfaster Tech Riding Shoes with Rideknit®