Five-Time Superbike Champion Cameron Beaubier Beats Defending Champion Jake Gagne In Thrilling Series Opener.
Cameron Beaubier picked up where he left off three years ago today at Michelin Raceway Road Atlanta with the five-time MotoAmerica Superbike Champion winning the first race of his comeback season in a straight fight with two-time and defending champion Jake Gagne.
Beaubier's .340-of-a-second victory over Gagne marked the 55th AMA Superbike win of his career and his first on the Tytlers Cycle Racing BMW M 1000 RR. It was Beaubier's first MotoAmerica race since his championship-winning 2020 season and his two years of competing in the Moto2 World Championship. Beaubier's win was also the first in the Superbike class for the Tytlers team and the first AMA Superbike win for BMW in 45 years, dating back to Harry Klinzmann's victory in 1978 at Bryar Motorsports Park in New Hampshire.
When Fresh N Lean Progressive Yamaha's Gagne threw down his usual blindingly fast opening two laps and pulled a gap on the pack, which was led by Beaubier, it looked to be a case of déjà vu from the past two years: Gagne gets great start, Gagne pulls away, Gagne wins. But Beaubier had other ideas and he put his head down and went after his former teammate, closing the gap until catching and passing Gagne on the seventh of 19 laps.
From there the two ran in formation with Beaubier leading and Gagne tucked in behind and the battle went to the finish with five-time champ Beaubier beating two-time champ Gagne to the finish line by a scant .340 of a second.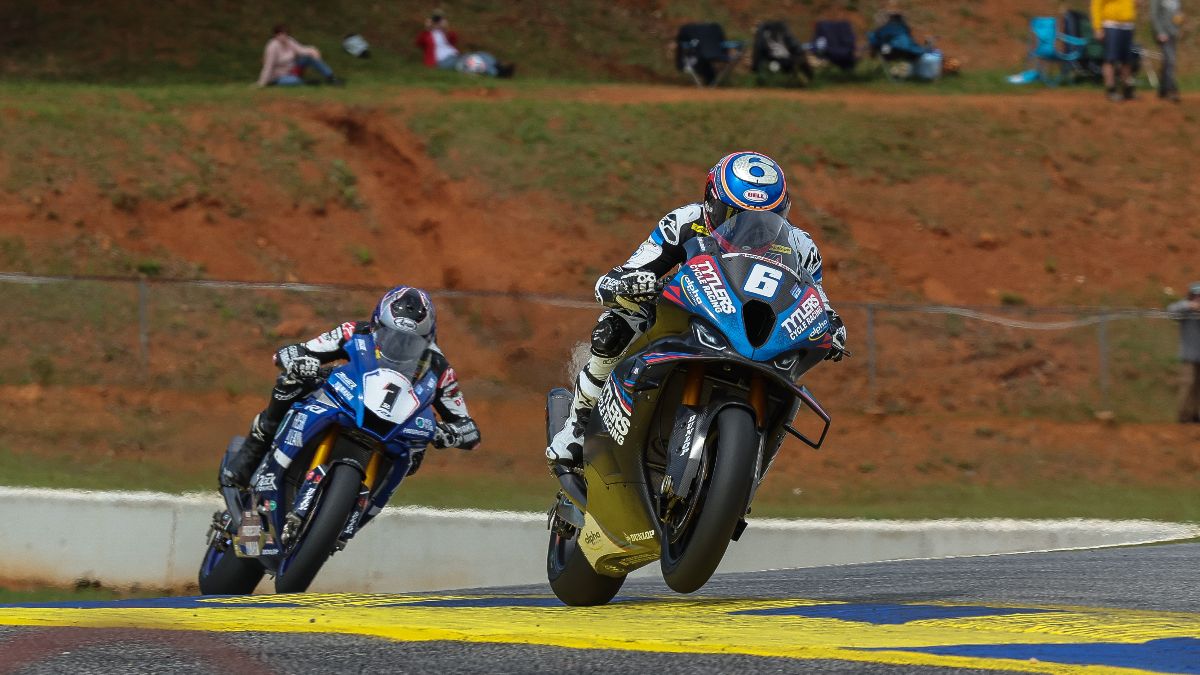 Behind them came a race-long battle between Warhorse HSBK Racing Ducati's Josh Herrin, in his Superbike debut for the team, and Gagne's teammate Cameron Petersen – the South African returning to action after his horrific qualifying crash from Friday afternoon. Westby Racing's Mathew Scholtz was also in the fight early on before eventually finishing fifth, 1.7 seconds behind Petersen, who was beaten to the line by Herrin by .206 of a second. The pair fighting for third actually closed in on the Beaubier/Gagne duel in the final laps with Herrin just 1.9 seconds behind Beaubier at the end of 19 laps.
Vision Wheel M4 ECSTAR Suzuki's Richie Escalante was sixth, some nine seconds ahead of his teammate Toni Elias in what was the Spaniard's first race in over a year.
Tytlers Cycle Racing's Corey Alexander was eighth with Wrench Motorcycles' David Anthony and Disrupt Racing's Hayden Gillim rounding out the top 10 finishers.
Three riders failed to finish the race, including Tytlers Cycle Racing's PJ Jacobsen who crashed early in the race. Aftercare Scheibe Racing's Ashton Yates, meanwhile, failed to start the race after encountering mechanical problems with the team's BMW.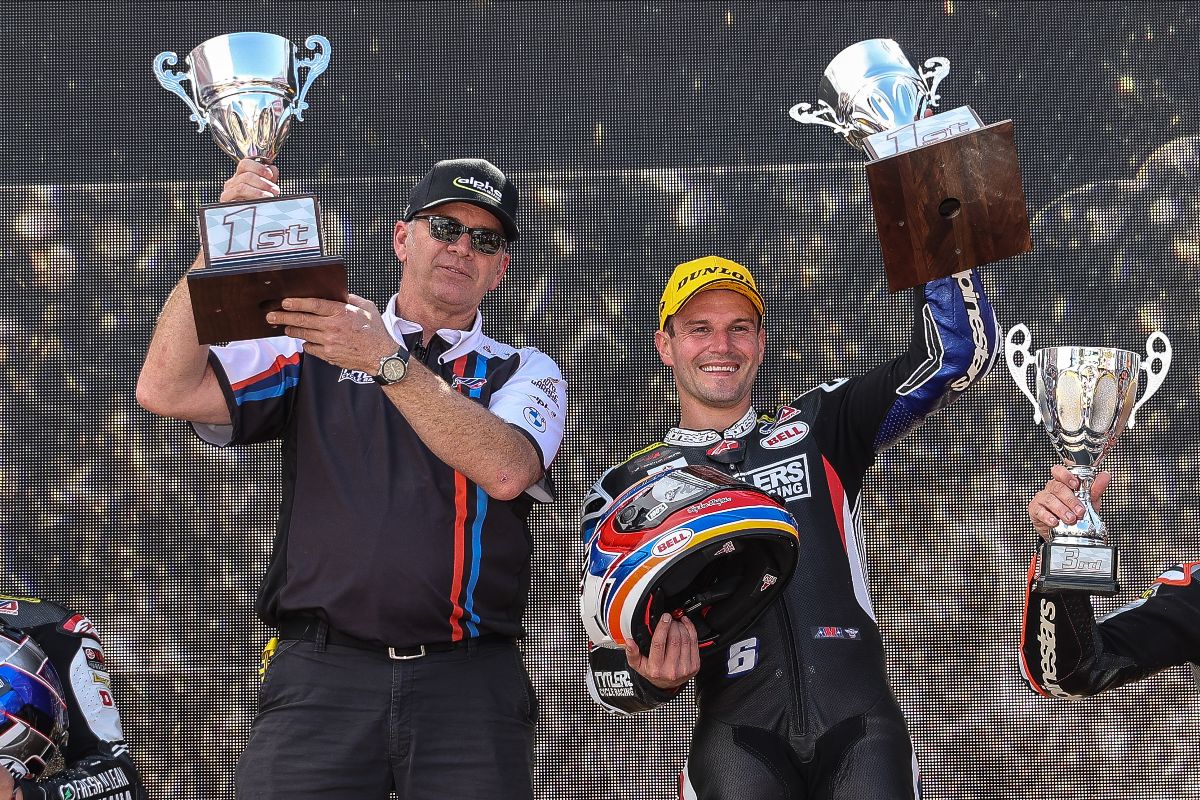 Superbike Race One
Cameron Beaubier (BMW)
Jake Gagne (Yamaha)
Josh Herrin (Ducati)
Cameron Petersen (Yamaha)
Mathew Scholtz (Yamaha)
Richie Escalante (Suzuki)
Toni Elias (Suzuki)
Corey Alexander (BMW)
David Anthony (Yamaha)
Hayden Gillim (Suzuki)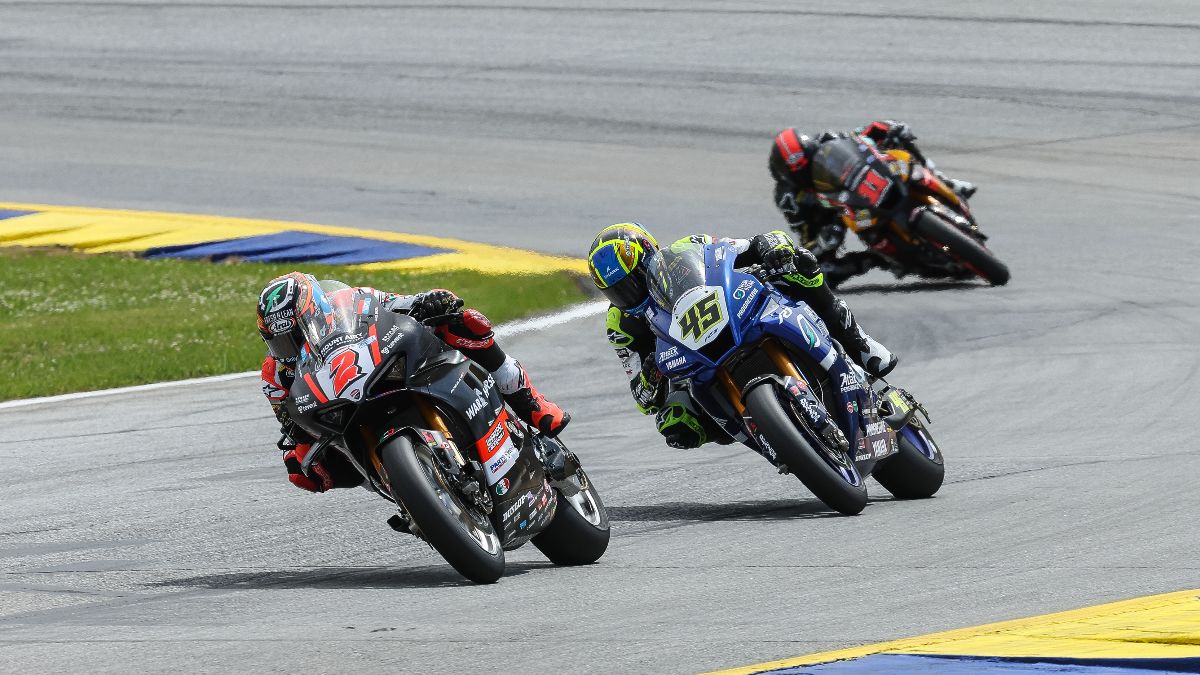 Superbike Quotes…
Cameron Beaubier – Winner
"When I saw Jake (Gagne) riding away at the beginning, I was like, 'Oh, man. It's going to be a long race.' I knew the guys behind us weren't far off in practice and qualifying. Then I just kept my head down, kept pushing, kept pushing. Jake started coming back to me slowly. Honestly, the Tytlers' BMW works really, really good on fresh rubber. I was just trying to utilize the strengths of the bike once I was able to get by Jake. That's the power down the straightaway, and it brakes really good. It's stable on the brakes. I was trying to do my best, but I was struggling so bad with grip there the second half of the race. I was doing everything I could just to keep Jake behind me. I was coming down the front straightaway and I was looking at Jake's board and I saw the gap shrinking. I was like, 'Man.' I didn't have anything left. I was riding as hard as I could. Same thing with me. I was pumping up a little bit in the first section. This place is a freaking handful on a big bike. But it feels so good to get this first win for Tytlers BMW. All those guys have been working so hard, sunup to sundown in Florida building the bikes, getting us ready to race for the season. Like I said, we didn't know what to expect coming in, but at the same time, we've got to keep our feet on the ground. I know how good this guy is (Gagne). He's incredible. He's been stomping everyone the last couple years, and us all weekend until it came race time. I know his level. Just going to keep doing our thing. Hopefully, get some more grip out of this thing over race distance and just keep our heads down."
Jake Gagne – Second
"No doubt. It was different," Gagne said. "My first couple laps were hot. I saw my gap growing a bit, and then I knew it wasn't going to last long. It was just fun. I don't know Cam (Beaubier), maybe six or seven laps in, I think he came by me. Then I was like, 'All right, I'll sit here and chill out and see what he's doing.' Right then, I saw my gap and it was like four seconds and then all of a sudden it was dropping and dropping and dropping. Hats off to Josh (Herrin). I wasn't sure who was behind me. I thought maybe it was my teammate or Matty (Scholtz). So, he stepped it up big. Just goes to show, you never know what's going to happen come race time. But this Yamaha was really, really working good. I was struggling big time after a few of those laps. But I'm happy. We got some points and finished the first race, which hasn't happened in these last two years. We got to take the positives. The bike is good. I've just got to figure some of my stuff out."
Josh Herrin – Third
"I'm ecstatic. Like I said on the podium, we got this bike a week and a half ago. It's not like it's a completely different motorcycle than last year, but there's a lot of different things and I only got to ride that bike one day before we got this bike. I came into this race with the mindset of let's set some goals, let's try to get the podium, then let's try to get a second and then we'll worry about getting wins, just because Jake (Gagne) is so fast. I think that really changed my attitude going into the race. Roger Hayden is somebody I've been working with this year, and we talked about it a lot yesterday. I think it was a good move, and I feel good. So right now, I'm happy to be here, especially because at the end of the race, we were able to close the gap by I don't know how many seconds, but what I was seeing was them go through the kink on the back straight as I was coming over the hill in the back. Then by the end of the race they were maybe two seconds ahead of me. So, I'm pumped on that. The Ducati is like the V2 was last year. It just maintained the pace the entire race and didn't drop off. Obviously, there's faster laps being done at the beginning of the race than I was doing, so I need to take that into consideration, but I'm happy to at least know that the bike is consistent on tires, like the one last year was. Just got to put our heads down and keep working and hopefully we can get closer to these guys. If you had asked me yesterday, when I talked to you, I was really nervous about even getting a top five. So, that was not a gimme race. We earned it. Just got to give a big hats off to the entire team. Hats off to all of Ducati Corse for all the support that they give us. Huge thanks to Paolo Ciabatti and everybody for believing in us and believing in me and allowing me to race this bike this year. Thank you to all the DeNaples family and Bobby (Shek) for believing in me also. Hats off to Jake and Cam on his first one back. I know it probably feels good to get it, especially on a bike that hasn't won. I'm happy and motivated for tomorrow."
For more news check out our dedicated MotoAmerica News page MotoAmerica News
Or visit the official MotoAmerica website motoamerica.com/