Four-Rider Fight For Victory Goes To Jake Gagne In Race Two Of The Superbike Opening Round At Michelin Raceway Road Atlanta.
Four riders battled to the bitter end on Sunday at Michelin Raceway Road Atlanta in what was the most exciting Medallia Superbike race in recent memory. And when the smoke cleared after 15 intense laps it was defending two-time Superbike Champion Jake Gagne crossing the finish line first on his Fresh N Lean Progressive Yamaha YZF-R1, just half a second ahead of yesterday's winner Cameron Beaubier on the Tytlers Cycle Racing BMW M 1000 RR.
Just prior to the finish, it was anybody's race when the four ran together down the backstraight and through the 180-mph kink when Beaubier's line pushed him wide and nearly forced Josh Herrin off the track. That left a giant hole between Beaubier and Herrin to go through, and Gagne went through it. Herrin recovered but couldn't get his Warhorse HSBK Racing Ducati stopped for the chicane and his off-track excursion allowed Westby Racing's Mathew Scholtz to pass him, putting Scholtz third and Herrin fourth at the finish line. Scholtz was .850 of a second behind Gagne with Herrin some two seconds behind after getting his Panigale V4 R back on track.
The win was Gagne's first of the season and the 30th MotoAmerica Superbike victory of his career and it put him into a tie with Beaubier at the top of the championship standings after one round and two races. The pair both have 45 points with the series heading to Barber Motorsports Park in Birmingham, Alabama, May 19-21.
Scholtz and the Westby Racing crew worked hard over the course of the weekend and the South African said they'd made huge progress over the course of the three days. He was rewarded with a podium finish on Sunday.
Herrin was also happy on Sunday afternoon, despite missing out on the podium. The two races were just his second and third outings on the new Ducati Panigale V4 R and he landed on the podium in Saturday's race.
Vision Wheel M4 ECSTAR Suzuki's Richie Escalante was fifth on Sunday, some three seconds ahead of Tytlers Cycle Racing's PJ Jacobsen and his teammate Corey Alexander.
The returning Toni Elias was eighth on the second Vision Wheel M4 ECSTAR Suzuki GSX-R1000 with Aftercare Scheibe Racing's Ashton Yates and Disrupt Racing's Hayden Gillim rounding out the top 10.
Notably missing from the results was Gagne's Fresh N Lean Progressive Yamaha teammate Cameron Petersen. The South African's difficult weekend ended early when his Yamaha YZF-R1 caught fire just a few laps into the race.
With Gagne and Beaubier tied atop the standings with 45 points, Herrin is third with 29 points, two ahead of Scholtz and eight ahead of Escalante.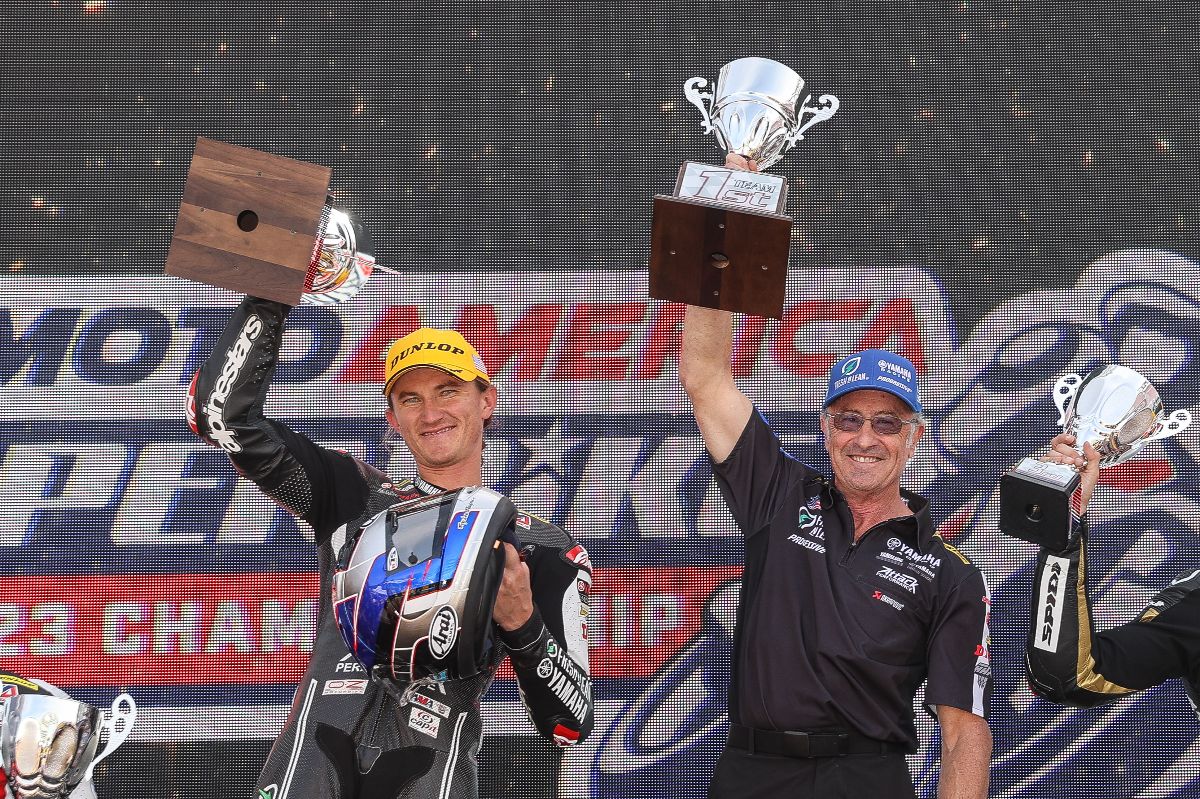 Superbike Race 2
Jake Gagne (Yamaha)
Cameron Beaubier (BMW)
Mathew Scholtz (Yamaha)
Josh Herrin (Ducati)
Richie Escalante (Suzuki)
PJ Jacobsen (BMW)
Corey Alexander (BMW)
Toni Elias (Suzuki)
Ashton Yates (BMW)
Hayden Gillim (Suzuki)
MotoAmerica – Championship Points after race 2 – Road Atlanta
1. Jake Gagne – Fresh N Lean Yamaha – 45pts
2. Cameron Beaubier – Tytlers Cycle Racing – 45pts
3. Josh Herrin – Warhorse HSBK Ducati NYC – 29pts
4. Mathew Scholtz – Westby Racing LLC – 27pts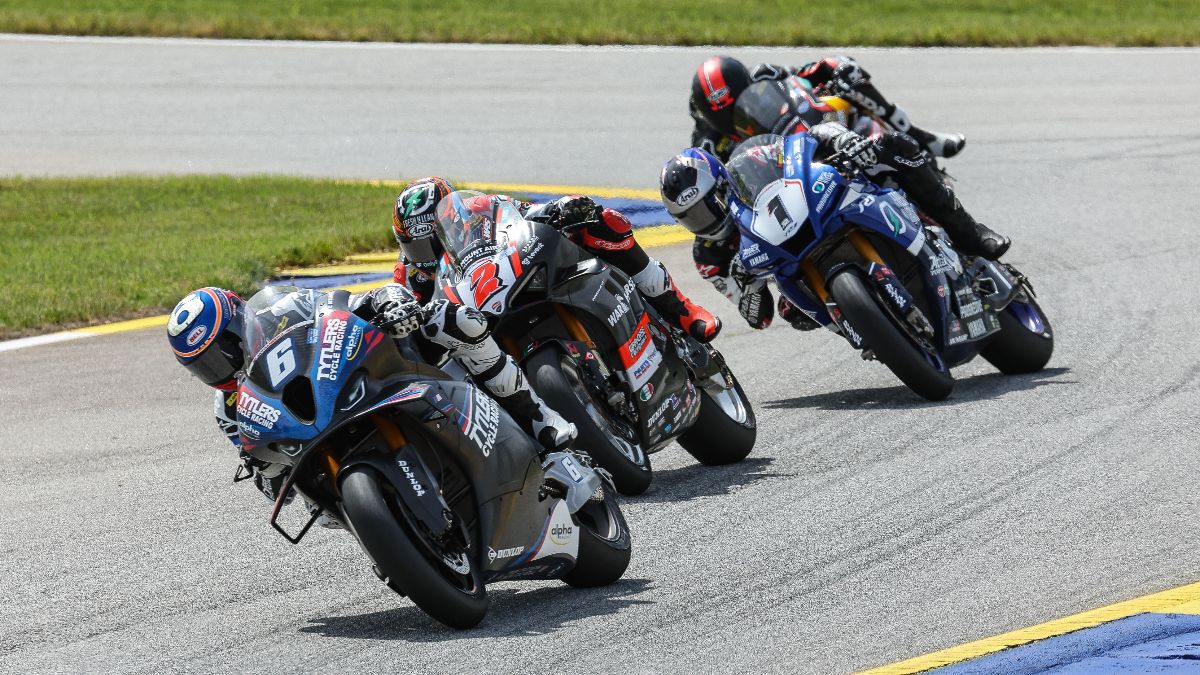 Quotes…
Jake Gagne – Winner
"Got off to another good start, and me and Cam (Beaubier)… those first couple laps, five or six laps, Cam knew I wanted to push the pace. Any opportunity Cam could to shove it in me and he was great going into (turn) 10A. I was struggling big time down into there, so he passed me a bunch of times there. We were side by side through one, through 10A, 10B a couple times. So, it was fun battling. I haven't had that close of racing in a while. Those first couple laps, I kind of forgot about everybody else. I wasn't even looking at my pit board. I thought it was just kind of me and Cam. Then all of a sudden, midway through, Herrin comes by, and I still see plus zero. So, I didn't know if it was (Mathew) Scholtz behind us, but somebody was. So, I'm like, 'We've got a whole pack here.' The bike was awesome. My drives are awesome. I was still struggling on the brakes, but I think that was just because of me and after a couple laps, I was really pumped up. So, I kind of tried to just chill and relax and tried to just breathe and watch what those guys were doing a little differently and watch them battle each other. For the last lap, it was hard to really have a plan. Obviously, both of those bikes were really fast and really strong down into 10 through the kink. So, I was kind of just hoping for the best. I figured maybe they both would have a little braking battle in there and I could drive up under the bridge, but it was nuts. Like Cam said, with the wind, I didn't really know what happened. I just saw them kind of hit and then they parted. The seas parted and I just shot down the center of them, and from then on out, I led into 10A. Like I said, my bike was really good driving up over the hill and just protected the inside line. It was fun. That was really fun racing, close racing. I haven't had stuff like that in a lot of years, actually. Racing with guys like this that I've spent my whole career racing with all these guys, so it was fun. I'm sure we put on a good show. Again, I think luck was on my side a little bit with those guys coming together, for sure. But I'm glad everybody stayed on track because that's scary. 180 miles an hour something scary could happen there. So, I'm just glad we all brought it home. Good start to the year. We scored points in the first two races, so I can't complain."
Cameron Beaubier – Second
"At the beginning, I was doing everything I possibly could to hang onto Jake (Gagne). He just had some pace. Luckily, my bike was fast and every time I would get close to him, I just went for a pass. He made me look dumb. Rode around the outside of me a couple times. That didn't feel good, but I'm sure it looked good on TV. That was a wild race. Then I settled down, and tried to control the race because I knew my bike was fast and I was good on the brakes. I was struggling in some other spots, but I was doing the best I could with what we have right now. My bike was super-fast. I was trying to get to those last three laps and then put my head down and be good on the brakes and try to hold them off. Then (Josh) Herrin came by me and got in another pretty good battle with us. Man, that last lap was so hairy. I'm just super happy everyone's safe after that one. He ran me a little wide on the straightaway, and then I went into the fast right-hander pretty tight. I went to lean in, and he was on the outside of me. I just didn't turn. I pushed the front a little bit. It was terrifying. He was right on the outside of me, and I ran him wide. I was afraid I ran him off the track. You're doing 180 miles an hour through that corner. So, I glanced over my shoulder. Saw he was good, and then Jake and him blew by me on the brakes. There was nothing I could do to fight Jake going through the last section. Glad everyone is safe. Super stoked to get out of here with a one-two. Didn't really even know what to expect coming into this round. Just massive thank you to the Tytlers BMW guys. It was an interesting off-season riding at a different track than I've ever ridden at doing some testing and stuff, other than Buttonwillow. So, just looking forward to the rest of the season."
Mathew Scholtz – Third
"To be honest, the first couple laps I was just hanging on. We made quite a few changes from the first race. I was just still feeling out what the bike was kind of doing. I felt like the strong parts of the track for me, I was really, really quick, but the weaker parts I was losing a lot of time. So, I was just literally going backwards and forwards. I really didn't have a spot that I could kind of pass in, unless something happened, which it did, and I managed to capitalize on that. But otherwise, starting from where we were on Friday to where we ended up now, I think we made huge strides forward on the motorcycle. So, I just have to give a big shout out to the Westby Racing team. Of course, after the pre-season testing, we thought we were dialed in. Then we came here, and we were struggling. There were a few bits that we tried to change, and we didn't manage to figure that out until the second restart of this race now. So, at least now we're confident heading into the rest of the season. I'm just happy to be up here on the podium now. I know it was pretty awesome watching these guys battle it out. Hopefully from the next race on, I'll be part of that. Just thank you to the Westby Racing team. Hopefully we'll be challenging these boys next race."
For more news check out our dedicated MotoAmerica News page MotoAmerica News
Or visit the official MotoAmerica website motoamerica.com/