Saturday's Winners Win Again On Sunday At Michelin Raceway Road Atlanta.
There were three first-time winners in MotoAmerica racing on Saturday at Michelin Raceway Road Atlanta. On Sunday, those three became two-time victors as Xavi Fores, Avery Dreher and Ezra Beaubier showed that their first wins definitely weren't flukes.
Also doubling up was Kyle Wyman with the H-D Screamin' Eagle-backed New Yorker winning a second Mission King Of The Baggers race on Sunday to go with his Saturday victory.
Supersport – Fores Times Two
Warhorse HSBK Racing Ducati's Xavi Fores followed up his debut Supersport win on Saturday with another flawless performance on Sunday. The Spaniard started slower than in yesterday's race but finished with a bit more comfort as he topped Tytlers Cycle Racing's Stefano Mesa by 1.4 seconds after 18 laps of Road Atlanta.
Mesa, meanwhile, had worked his way past Squid Hunter's Josh Hayes for second place on the final lap with Hayes ending up third for a second time on the weekend. Vision Wheel M4 ECSTAR Suzuki's Tyler Scott was fourth after finishing second on Saturday.
Michael Gilbert Racing's Michael Gilbert was fifth, matching his effort from race one.
Fores leads the title chase with 50 points, 17 ahead of Mesa and Scott, who are tied for second, and 18 ahead of Hayes.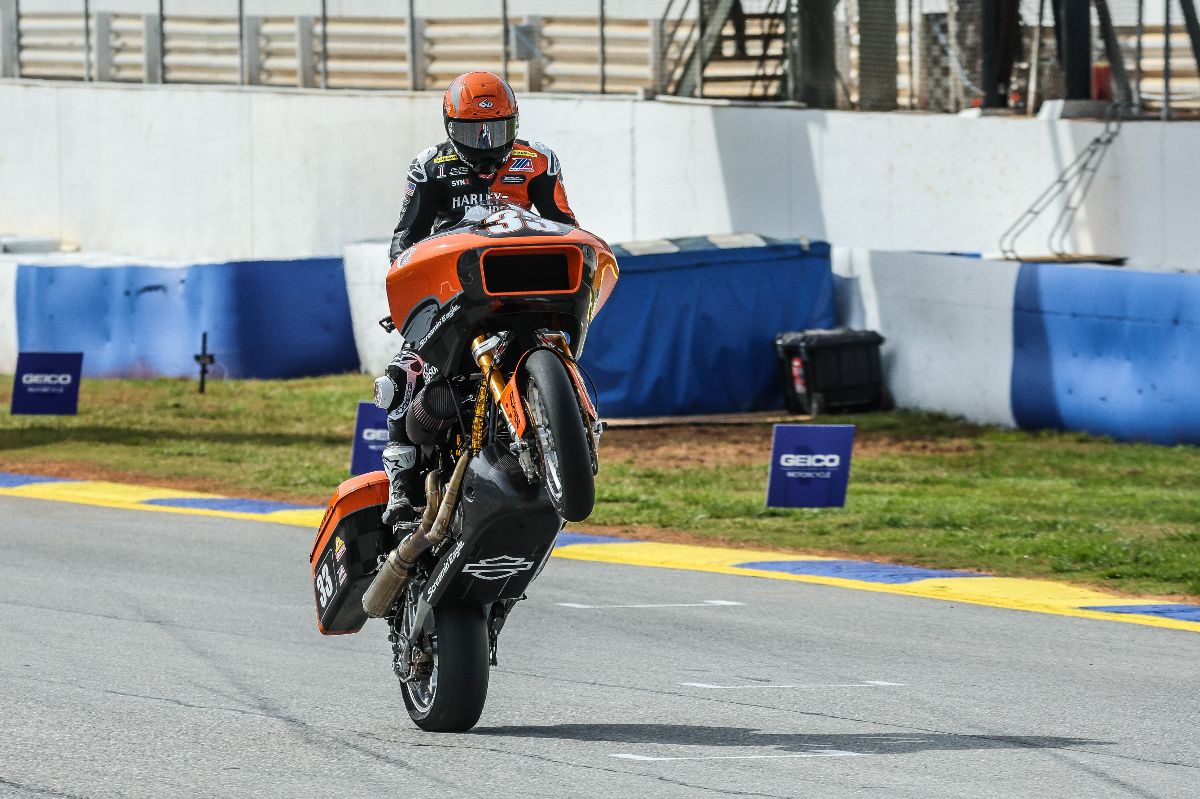 Mission King Of The Baggers – Wyman Again
H-D Screamin' Eagle's Kyle Wyman rode his Harley-Davidson Road Glide to victory after passing Indian Motorcycle/Progressive/Mission Foods' Tyler O'Hara on the opening lap and sped to his second successive Mission King Of The Baggers victory at Road Atlanta.
O'Hara finished 1.830 seconds behind Wyman with Sac Mile/SDI Racing/Roland Sands/Indian's Bobby Fong third. Vance & Hines Harley-Davidson teamsters Hayden Gillim and James Rispoli finished fourth and fifth, respectively.
With his third straight victory, Wyman now leads the championship point standings with 75 points, eight points clear of Rispoli and 10 points ahead of Gillim. Defending Mission King Of The Baggers Champion O'Hara is 14 points behind in fourth place.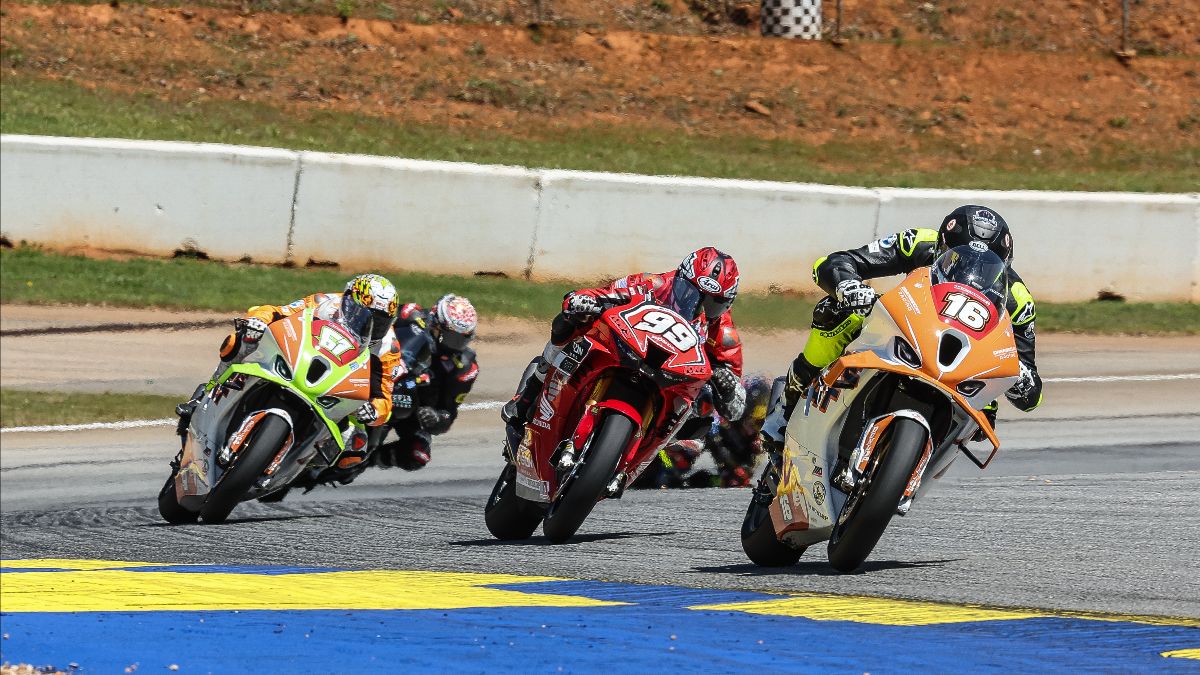 Stock 1000 – Beaubier Is Double Trouble
Ezra Beaubier admitted surprise that he won his first career Stock 1000 race on Saturday. On Sunday, the youngest of the two Beaubier brothers came back to Road Atlanta filled with the confidence of a race winner. And he turned all of that into a second win in a row on his Orange Cat Racing BMW M 1000 RR, this time over Geoff May Racing's Geoff May by six seconds with the 25-year veteran of the sport announcing his retirement from racing this weekend.
Taylor Knapp Racing's Taylor Knapp put his BMW on the podium with an impressive ride to third, 6.2 seconds behind Beaubier and two seconds ahead of fifth-placed Kaleb De Keyrel. De Keyrel was running second and right behind his Orange Cat Racing teammate Beaubier when he got into turn 12 too hot on the final lap and ran straight, losing three places to May, Knapp and fourth-placed Travis Wyman.
Beaubier's perfect 50 points puts him 14 points ahead of May and 17 clear of Travis Wyman.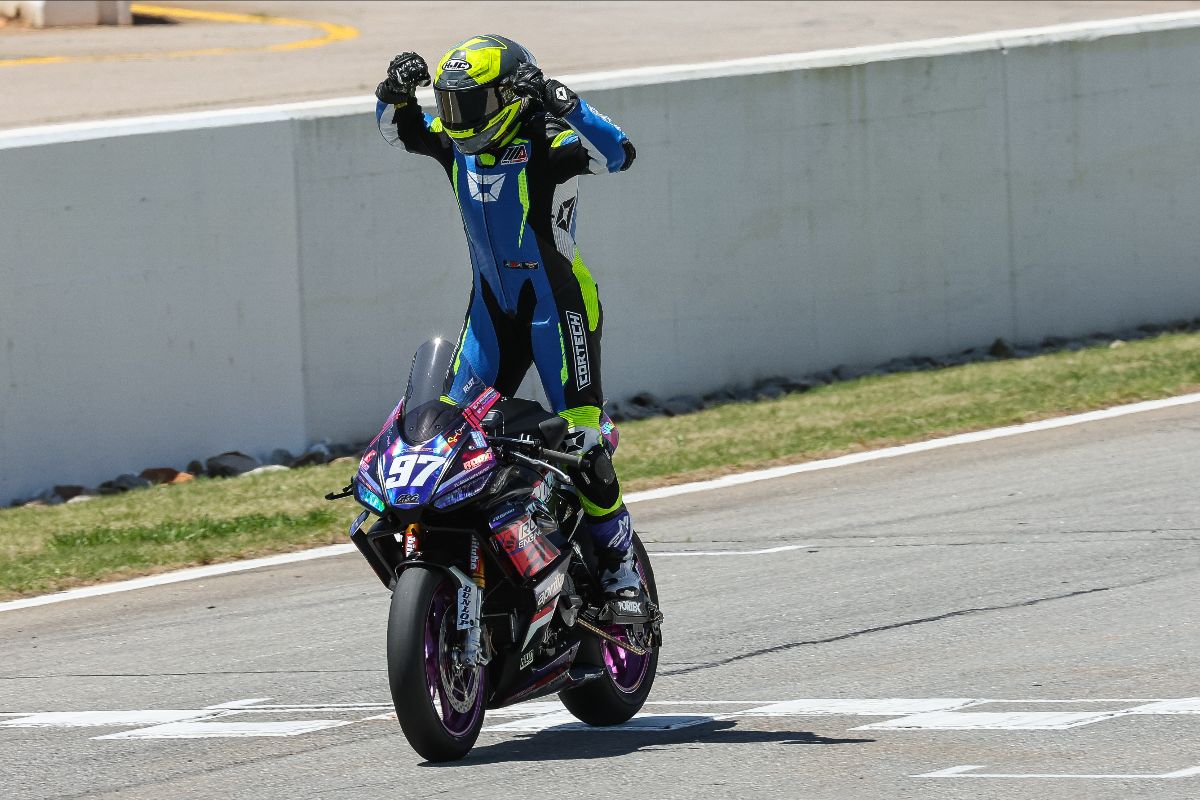 REV'IT! Twins Cup – Landers Rebounds
Rodio Racing – Powered By Robem Engineering's Rocco Landers suffered an engine failure while leading Saturday's REV'IT Twins Cup race. On Sunday, he came out with guns blazing and completely dominated the race, beating his teammate Gus Rodio by 4.166 seconds. Third place, for the second straight day, went to Cycle Tech's Hayden Schultz, who was 8.31 seconds behind championship leader Rodio at the end of the 12-lap race.
Defending class champion and Saturday's race winner Blake Davis crashed early in the race but was able to remount his N2 Racing/BobbleHeadMoto Yamaha YZF-R7 to finish 11th.
After four races, Rodio leads the title chase with 85 points – 26 more than Schultz and 29 ahead of Davis.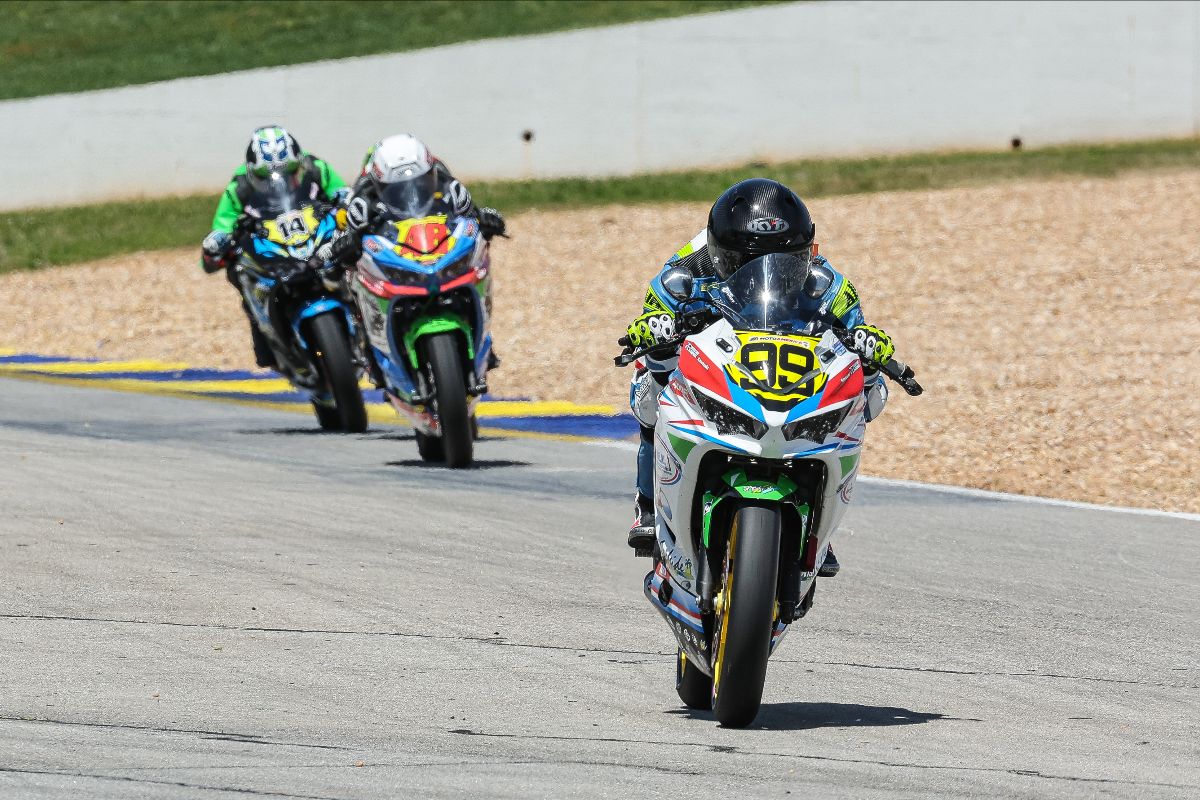 Junior Cup – Dreher X Two
Turns out that Avery Dreher liked winning so much he decided to do it again with the Bad Boys Racing rider earning his second straight Junior Cup win on Sunday with a .949-second victory over Max Van, who was second for the second straight day.
Bicknese Racing's Hayden Bicknese was third for the second day in a row, just 1.080 seconds from victory.
With his two wins, Dreher leads Van by 10 points heading to Barber in a month's time.
Quotes…
Ezra Beaubier – Stock 1000 Winner
"Well, I hope it becomes a habit. Honestly I woke up today just with a completely different feeling. I finally had the confidence. I can do this now. I can run with these guys. I just felt really good. We found some stuff with the bike last night and it was really positive. In warmup, I basically matched my fastest lap of the race yesterday in warmup. I wasn't really pushing super hard, so I felt super good going into the race, super confident. I felt like I could rip off a bunch of the 1:26s in the race, and I was able to execute that. In the beginning, I tried to pull out and see if I could get a gap, and I really wasn't able to, so I just kind of backed it down and sat there. Then towards the end of the race, tried to pick it back up again. I saw on my pit board that Kaleb was right there on me. On the last lap on the back straight, I felt him in my draft and started almost panicking a little bit. I tried to run a defensive line. Then he ended up running off in the last turn, which is a huge bummer not to go one and two as the Orange Cat BMW's. But it was a great race and a great weekend for me. I hope to have many more of these."
Avery Dreher – Junior Cup Winner
Honestly, I went into the race with the same mindset, the same strategy as yesterday. I tried to fall in line at the beginning of the race, but they caught us towards the middle, so it was the same pack as yesterday. I'm glad we were going a lot faster than yesterday. Towards the end of the race, I felt like I had some pace to break away, so I made the move into 10A. I looked back once or twice. Saw that I had a gap and just put my head down. Happy with the result. Good job to Max and Hayden. Looking forward to Barber."
Rocco Landers – REV'IT! Twins Cup Winner
"Yesterday, I knew I was kind of screwed on lap one. I felt the thing starting to lose power off the start and then again on turn seven, but those days happen. It's infuriating sometimes, but you got to bounce back. You have a good day after this. It kind of polishes it off and makes everything feel a whole lot better. But you lose 25 points and end up having a DNF. It's not the end of the world, but it's a bummer, and a day like today actually makes that feel a whole lot better. I didn't even know I was racing until I think last weekend. I was literally hanging insulation and my dad comes in and goes, 'Hey, Matt called and he wants to know if you want to fill in for Ben Gloddy for the week.' I was like, 'Definitely!' I didn't know if I was going to be racing. It's an incredible opportunity. I feel very grateful towards Matt for giving me that opportunity. My mechanic Chad worked super hard along with Matt all weekend to give me the best bike they could. We've made very positive changes every time I've got on the bike. Every time I've ridden it, it's felt better and better and better. My dad actually flew in Friday afternoon, and I didn't know he was going to be there, so that helped out and made it a whole lot more fun. Days like this are what you always want, so let's hope we can have some more of these, depending on how long I'm filling in here."
Xavi Fores – Supersport Winner
"Today was slightly worse on my start. I did a mistake releasing the clutch and I couldn't get any positions. I was fourth at the end of the first part of the circuit. Then on the back straight, I felt strong on the brake like yesterday, so I couldn't pass Josh (Hayes) and stay fighting for the podium at the beginning. It was not that easy to pass Stefano (Mesa) and Tyler (Scott), especially on the back straight, because Stefano is quite fast on the straight. He is quite aerodynamic. I was trying to stay there, there, there. He did a small mistake shifting on the exit of turn seven, so I got a chance to pass him on the braking. Then I was so focused to pass Tyler because he was riding fast, but he was a little bit like aggressive all the time. I said, okay, if I pass him, I can push hard and I can make him go to the limit. So, that was my target for today. I don't know why, from one lap to the other I got some gap to the second one. I don't know if we got a slow rider, and I got that benefit. But, after that, I start to keep my pace all the time. I didn't do any mistakes. It was a nice victory. It wasn't easy because I was pushing really, really hard. Today was much faster than yesterday – 29 low all the time. We did a couple of 28s, maybe. Credit to the guys fighting for the podium with me because we set a fast pace all the weekend, and especially today on the second race. It's nice to fight with them. It's nice to have a group of four or five riders fighting for the podium, because everyone can learn from each other. This is the important. This gives spectacle to the class, gives some show to the class. This is something that we need for the crowd. So, thank you so much to all the team. They did an amazing work. Ducati, HSBK Warhorse, and especially thanks to Paolo Ciabatti, who sent me a guy from Ducati for this weekend in order to set up my bike. Especially after Daytona I didn't feel so much comfortable on the bike. So, we changed completely the bike from there and I felt straightaway quite fast. Now time to go back home and see my baby and my family."
Kyle Wyman – Mission King Of The Baggers Winner
"That's how you want to do it, aside from the challenge was a little bit of a throwaway, but we won every session and won both races. That's kind of how you want to do it. I kind of wheelied on the start and had to roll out of it. Didn't quite get the launch I wanted. Went to the brakes a little bit sheepishly, I would say, for turn one and Tyler got the wheel underneath me. I haven't ridden behind Tyler in what feels like a long time. I don't think at all this year and maybe even towards the end of last year not so much. So, just to see that thing. There were a couple places where I felt like our strength in that first sector really showed. Even on the warmup lap, I felt like if I wanted to get a run over turn five, I needed to give myself a little bit of space actually because we've got pretty tall gearing through there. So, I kind of gave myself a little bit of space. Gave myself an opportunity to see where the strengths and weaknesses were between the two of us. I had a pretty good run on the back straightaway. He touched the rev limiter in one of his gears and kind of got me a little bit of a run down the back straight, it seemed like. I hit my shifts pretty good, but he might have missed one and it got me alongside of him going through nine. We were kind of side-by-side going through ten. We were both fighting for the position a little bit. He ended up taking the extra bite that put him off the track but kept it on two wheels and ended up second. But from there, I had about a second gap and then built it up to two, or 2.6. Then just kind of managed the pace from there. Went a little bit quicker today than yesterday, as did everybody I think went quicker today. I had a side quess of a 29 and didn't quite get it this weekend, but it's no big deal if we got the W."
For more info checkout our dedicated MotoAmerica Support Series News page motoamerica-support-series-latest-news/
Or visit the official MotoAmerica website motoamerica.com/