Gagne Victorious, Beaubier Crashes Out And Gagne Now Leads Herrin In Title Chase.
The MotoAmerica Medallia Superbike Championship pendulum took a big swing towards two-time defending champion Jake Gagne on Saturday at Brainerd International Raceway with Cameron Beaubier, his main rival for the title coming into the Minnesota round, crashing out of the race early.
And just like that, Fresh N Lean Progressive Yamaha Racing's Gagne is close to having a two-race points lead on new second-place man, Josh Herrin. Gagne leads the title chase by 48 points, 242-194, over Warhorse HSBK Ducati Racing's Herrin.
Tytlers Cycle Racing's Beaubier slips to third in the standings, 59 points behind Gagne.
Despite not having Beaubier to deal with, Gagne still didn't have it easy as Beaubier's teammate PJ Jacobsen flew the team's flag and hounded the Yamaha man to the finish, ending up with a gap of just .195 of a second in the race that saw a complete restart after a melee on the opening lap.
Third place went to Herrin, 3.48 seconds behind Gagne and 1.2 seconds ahead of four-time AMA Superbike Champion Josh Hayes, who was competing in his first Superbike race since 2017 (a span of 108 Superbike races). Hayes, who was riding in place of the injured Cameron Petersen on the Fresh N Lean Progressive Yamaha Racing YZF-R1, got faster as the race wore on – apparently not overly fatigued even though he had raced to victory in the Supersport race 20 minutes earlier. Not to mention the emotions of a man who with that Supersport win became the all-time leader in AMA victories across all classes with his 87th win.
Vision Wheel M4 ECSTAR Suzuki's Richie Escalante was fifth, 1.2 seconds behind Hayes and some six seconds clear of Wrench Motorcycles' Bobby Fong, who had his best finish since returning to the class.
Seventh place went to Disrupt Racing's Hayden Gillim, who was doing triple duty on the day with races in Superbike, Mission King Of The Baggers (he won) and Steel Commander Stock 1000 (he also won that).
Escalante's new teammate Brandon Paasch started fast but faded, eventually finishing eighth in his third race on the Vision Wheel M4 ECSTAR Suzuki GSX-R1000 R.
Aftercare Scheibe Racing's Ashton Yates and Thrashed Bike Racing's Max Flinders rounded out the top 10.
The first attempt at a race was stopped after the opening lap when Beaubier clipped the back of Gagne's Yamaha in turn two and then veered off track, taking Westby Racing's Mathew Scholtz with him. With the race featuring a complete restart, Beaubier was able to take his spot on pole for the second go. Scholtz wasn't as lucky as his radiator was torn open in the melee, causing the motor to expire.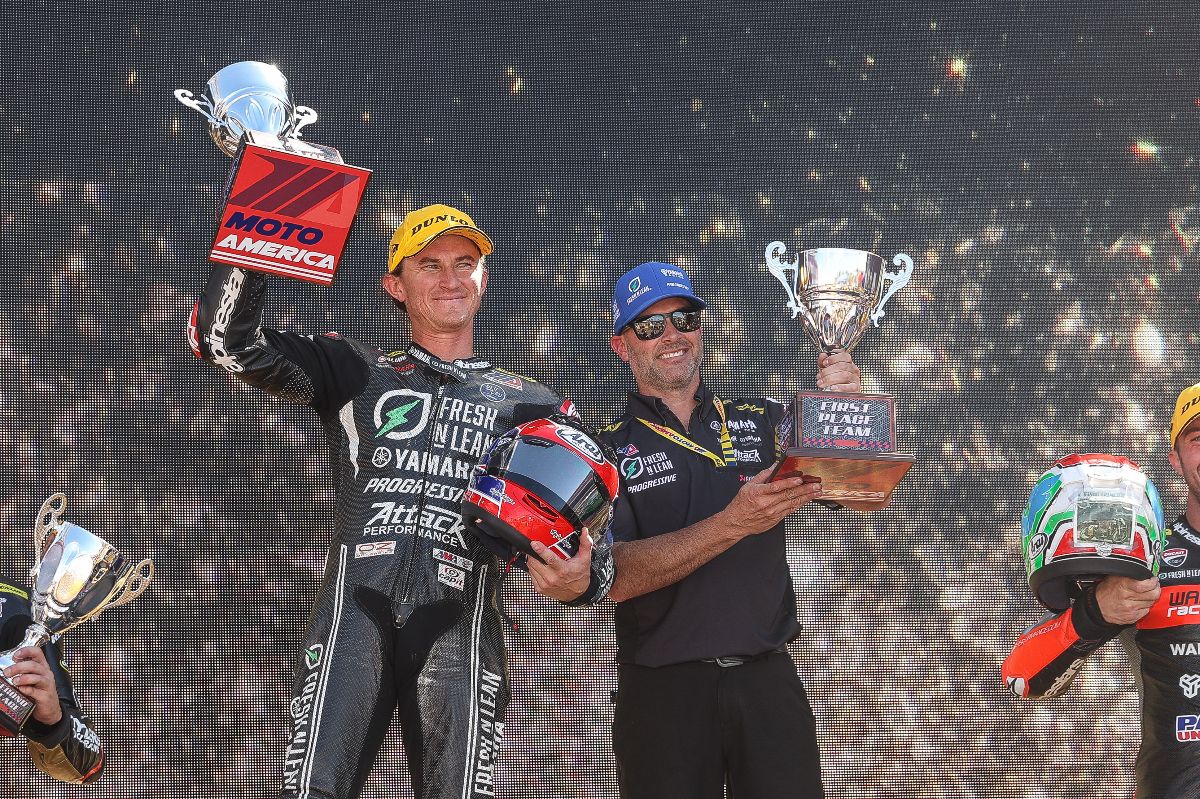 Superbike Race 1
Jake Gagne (Yamaha)
PJ Jacobsen (BMW)
Josh Herrin (Ducati)
Josh Hayes (Yamaha)
Richie Escalante (Suzuki)
Bobby Fong (Yamaha)
Hayden Gillim (Suzuki)
Brandon Paasch (Suzuki)
Ashton Yates (BMW)
Max Flinders (Yamaha)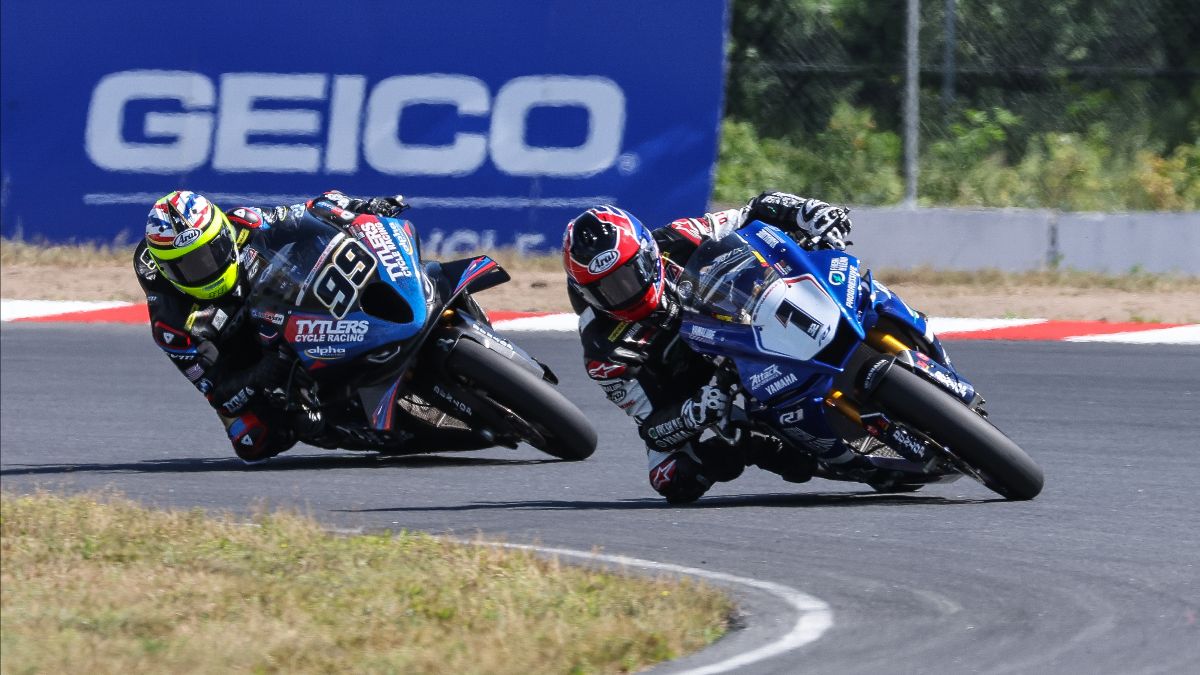 Quotes
Jake Gagne – Winner
"After a couple of laps, I could see PJ's (Jacobsen) pit board come out. Then there was one point after maybe five or six laps, I saw a Beemer on the side of the track, and I think I saw Cameron (Beaubier). I recognized the helmet. I didn't know what happened. It was tough. It was really greasier and slicker than I think most of us expected, so right from the get-go I was just trying to hit my marks and not make any mistakes. It seemed like it would have been really easy to throw it away today. PJ was there. I knew Josh (Herrin) was in third. There were a couple laps I could see PJ's pit board and I could see that Josh was maybe getting a couple tenths back. So, hats off to the team. I think we're lucky. We got a little lucky today. It sucks to see Beaubier go down that big. I just saw it on the camera. I hope that he's all good. I think he was kind of the guy setting the pace this weekend. So, I think we're in for a good show tomorrow. We'll go back and see if we can improve a couple little things. Just hats off to the team. Always helping me and trying to make me a better rider and understand what we need to go forward. I miss Cam P (Petersen), but it's been good having (Josh) Hayes out here helping us out and having his input, because the guy has been around a long time and he's super wise. So hopefully we can put our heads together later, get a little better, a little faster. He's the all-time American-winning machine now."
PJ Jacobsen – Second Place
"It was a pretty crazy race, especially everything that happened at the start of the race with Cam (Beaubier) and then I moved over a little bit to avoid him because I was going to get cleaned out. And then (Mathew) Scholtz really smashed into the back of me. I think I got a whole bunch of oil all over my tire because I went into the next corner and I almost highsided, and the same with the right. So, it was kind of freaking me out. I thought I bent my swingarm or something happened, or the tire spun or something. So, I was yelling to Scotty (his crew chief, Jensen) when we got in there like, 'what are we going to do?' Because something's wrong. We were going over it with Dunlop and stuff, but I just went back out there with the same tire I guess oiled up or whatever and tried to clean it off. It was a pretty crazy race. Then I was mad because they were going to put me back on row seven or something for no reason. I was like flipping out, cursing in my helmet. I had a whole bunch of adrenaline going. I was bummed that I got a great start the first time, so I just wanted to kind of do that again the second time. I just felt like I could have made a pass on Jake (Gagne) in the beginning of the race when I had more grip and stuff. I was seeing some spots, but I just didn't go for it. I was sitting there behind him. Then he pulled a small bit of a gap, and it seemed like it stayed the same. I'd catch him in some spots, and he'd pull away in others. I tried to do what he was doing. I was picking the bike up as much as I could and it seemed like it was helping, but obviously it just wouldn't bring me closer to him. But it was a good race. It was really greasy and hot. The lap times, I thought, were not really that great, to be honest. I think it was just the lack of grip that we had out there today. So, it kind of set us back a little bit and staying in the 31s. But it was a good race. Good job. I saw on the pit board with plus 1.9 or 2 or whatever to Josh (Herrin), so I was trying to maintain that as well because you know he'll be coming on as well in that race. It was a hard race. I tried to get the win, but I just didn't have enough there at the end. So, congrats to Josh and Jake on being on the podium. We'll try to figure out some things tonight to improve and try to move one more spot forward, but it's hard with the talent out there."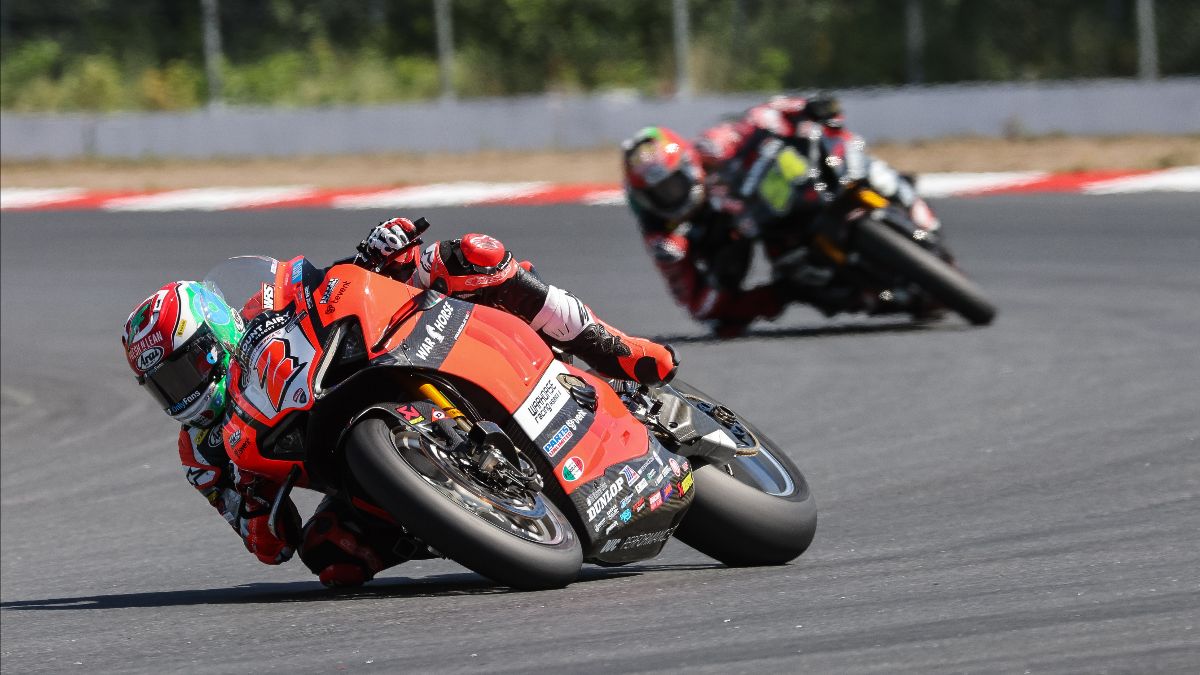 Josh Herrin – Third Place
"I just wasn't feeling myself this weekend. I came into here maybe trying to be too confident because I don't like this track layout. I love the facility. I love the event, but the track layout I'm just not good at. So naturally whatever tracks we don't do good at, we don't like them. It's not because it's a bad layout, but if I don't do good here, I'm not a big fan. So, I came into it trying to think of it the opposite way, think we're going to have a great weekend. Then I think when I didn't start really good it made it even worse in my head. I've just been struggling. We got a good setup at the very end of the day yesterday. Threw down a good time but everybody is so close that it didn't look that good. But we were within six or seven tenths. Then tried a big change this morning thinking it would help us even more, but it was worse. So, then we really only got two laps at the end to feel comfortable. So, I knew that we could be battling. I figured we might be battling for second or third, but the race actually ended up I felt a lot better than I thought I was going to. I think just with the restart, I'm not sure but the front was just really greasy. When Cam (Beaubier) went down I lost maybe two seconds or something and I kind of clawed back up, but I didn't feel like with me gaining as many points as I was going to gain on Cam, I didn't push that extra two percent that I needed to do try to catch him. I don't know if it would have been possible, but I had a chance. I clawed them back a little bit and then when the front started moving around a little bit, I just wanted to make sure that I was playing it safe and getting another podium finish here this weekend and leave here today honestly pumped, because qualifying seventh is not fun. To come away from here with a third and be second in points is good. But now we've got fifty points to make up on Jake, so that's going to be really hard. Hats off to my guys. Like I said on the podium, I'm bummed Eraldo (Ferracci) isn't here because this helmet was extra special. We've been planning it all year. So, I'm bummed that he didn't make it, but this will be going in his house whenever we're done with this weekend. So, hopefully, tomorrow we can be closer to the front for him. Congrats to Josh Hayes on his all-time win record today. I know that's a huge deal for him. Being teammates with him for a long time and looking up to him since I started racing when I was 16, 18 years ago, I know it's a huge deal. It's cool to see him. I'm still looking up to him and hoping that when I'm 48 years old that I can be that fast. So, hats off to him and I'm sure there's going to be more to come."
For more news check out our dedicated MotoAmerica News page MotoAmerica News
Or visit the official MotoAmerica website motoamerica.com/