Drama. Clashes. Glory. And a title twist! #GP1000 had it all as Bezzecchi takes stunning second win.
Bezzecchi bounces back, Bagnaia clashes with Viñales, Marquez slides out and there's a home hero on the podium as Le Mans served up a day packed with headlines
Take a minute to catch your breath after what was an incredible SHARK Grand Prix de France! Marco Bezzecchi (Mooney VR46 Racing Team) takes a special place in history as the race winner at the 1000th FIM Grand Prix after a stunning break for glory in front of a record crowd at Le Mans, and there was drama, drama, drama throughout the field.
First, Bezzecchi is now just one point behind Championship leader Francesco Bagnaia (Ducati Lenovo Team) after the Italian crashed out of the race in a dramatic clash with Aprilia Racing's Maverick Viñales… gravel trap shouting match included, but both riders ok. Then, Jorge Martin (Prima Pramac Racing) vs Marc Marquez (Repsol Honda Team) lit up the fight for second in a tough but fair tussle, but that then ended in late race heartbreak for the number 93 as he slid out. However, for the French fans it did mean Johann Zarco (Prima Pramac Racing) was then promoted to a glorious home podium after some impressive Sunday pace, giving the 278,805 record crowd even more to cheer about.
The grid formed in front of the biggest crowd MotoGP™ has ever seen and it was Marc Marquez who shot into the lead as Bagnaia dropped down the order to P5. Jack Miller (Red Bull KTM Factory Racing) slotted himself into P2 with Bezzecchi putting his VR46 Ducati into P3. Bagnaia then quickly snapped back at Martin as the Ducati riders duked it out on lap 1.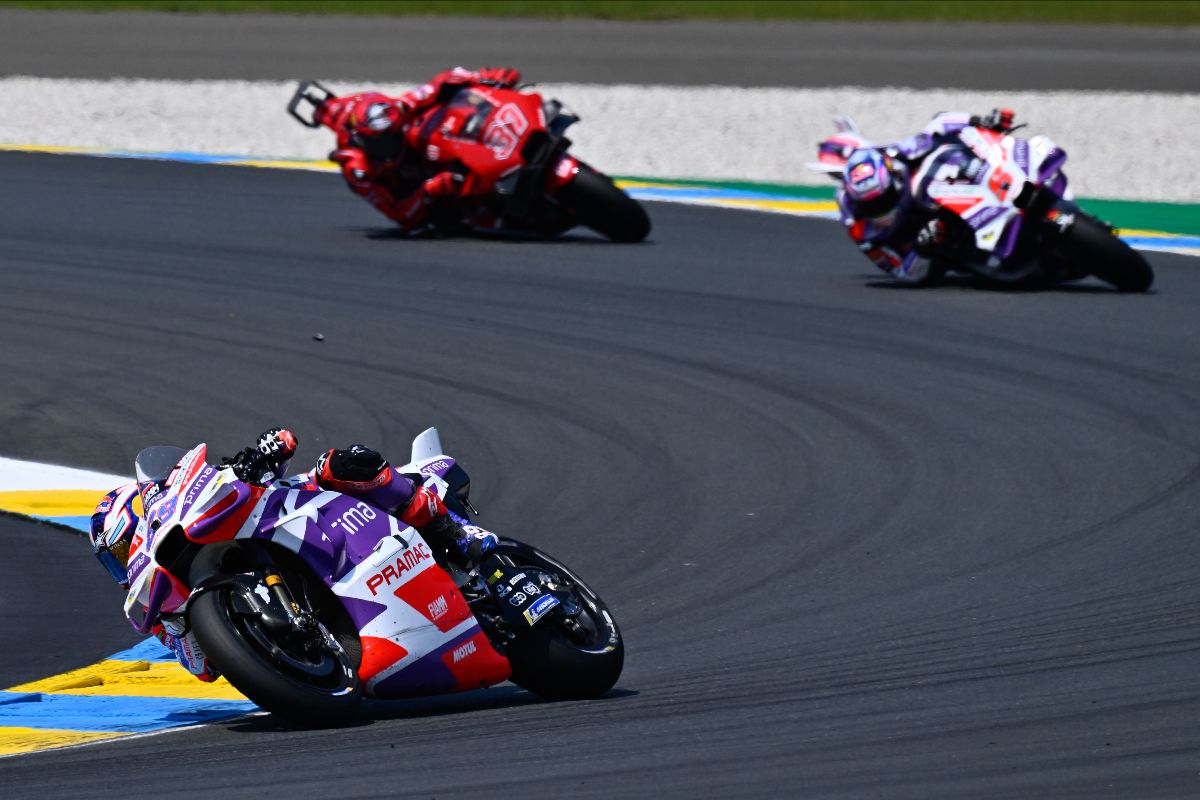 It was Marquez, Miller, Luca Marini (Mooney VR46 Racing Team), Bagnaia, and then Martin as they came across the line for the first time, and we had a race on our hands in MotoGP™. Miller wasn't intimated by the eight-time World Champion by any means as the Aussie tried to force his way through on Marquez, but the Spaniard wouldn't give in and hit straight back in true Marquez fashion.
Miller hit the front at the Dunlop chicane, meanwhile, the reigning World Champion was on the move as Bagnaia had now climbed his way back up into a podium position with 25 laps remaining.
The laps ticked away as a seven-bike battle for victory formed with Viñales carving his way into the 3rd place, the Aprilia seriously on the move. But then came the drama: the Spaniard collided with Bagnaia as both riders competed for the same piece of tarmac, both careening off into the gravel. Riders ok and to their feet… and then a fair few yells exchanged.
Half a lap later, there was more drama in the Le Mans gravel traps as Marini suffered a big crash coming out of the Dunlop chicane, just cutting the kerb. Alex Marquez (Gresini Racing MotoGP™) then got caught in the Italian's crash as the field behind avoided the incident, riders again ok but another huge moment of adrenaline shaking the race up.
As the chaos subsided, we had a race on our hands. A four-rider battle for victory had formed as Miller now found himself with Marquez, Bezzecchi, and Martin for company, before Bezzecchi pushed his way through on Marc Marquez – and dropped the Spaniard from 2nd to 4th. The number 93 was sent into another postcode although no harm done, with both regrouping and Bezzecchi then told to drop a position for the move: a penalty he expected, and a penalty he also served wisely as he chose his moment to let Martin back through. And then took it back, with Marquez following suit too.
Bezzecchi now had an open goal to make huge gains in the title fight as Bagnaia sat in the garage, and the VR46 rider took the lead from Miller as they barrelled into the Dunlop chicane once again. Marquez quickly followed him through half a lap later too, with Bezzecchi already stretching out half a second at the front.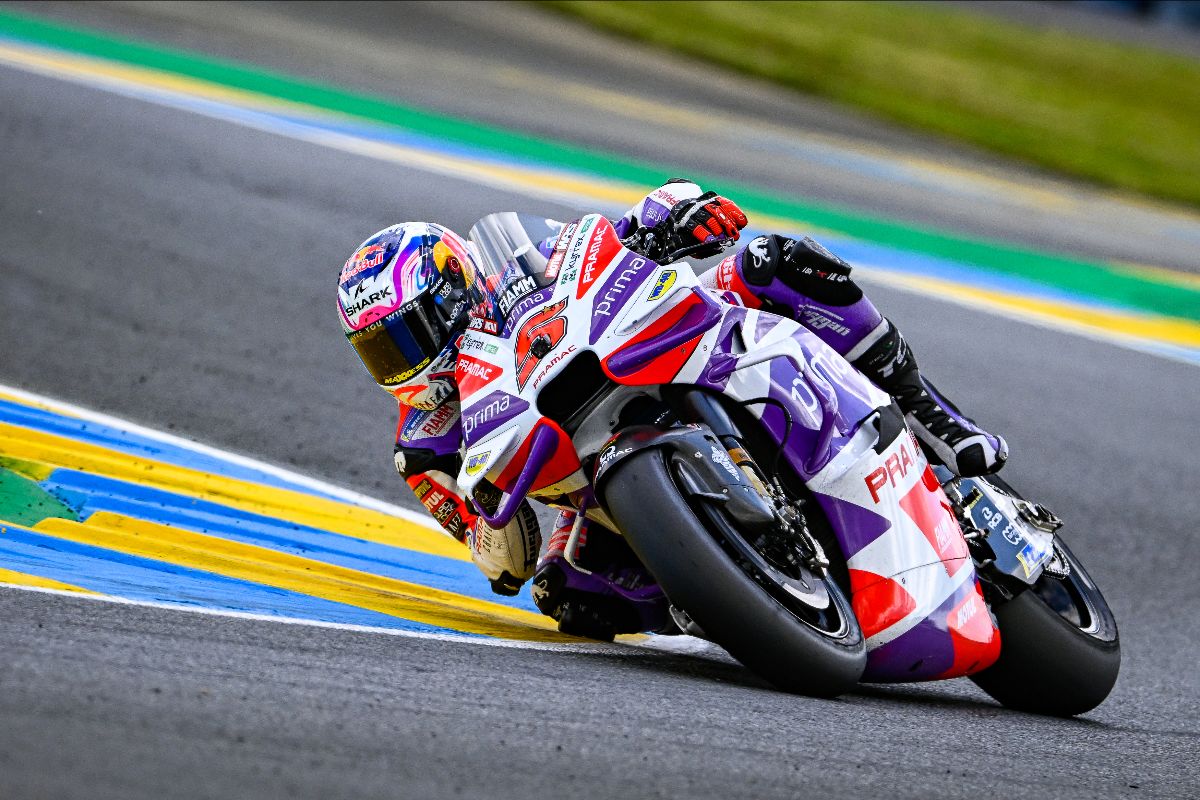 With 15 laps to go, Bezzecchi had 1.2s in his pocket to Marquez behind, who was 0.5s up the road from Martin, who had found his way through on Miller. The Aussie was starting to fall into the clutches of Zarco and Augusto Fernandez (GASGAS Factory Racing Tech3). It didn't take long for Zarco to push his way through either as the Frenchman moved up into P4 and Fernandez followed, leaving Miller in sixth.
With six to go, Martin thought it was time to pounce on Marc Marquez. The Spaniard tried to push his way through on the eight-time World Champion, but the Repsol Honda man was not giving in easy and bit back at the Prima Pramac Racing rider at every opportunity. That allowed Zarco to edge closer and closer… and the crowd had definitely noticed.
Martin finally pushed his way through with one and a half laps remaining, and this time the drama was for the number 93. Trying to hang in there, the returning Repsol Honda rider tucked the front and ended his French Grand Prix in the gravel trap, but after quite a return to the upper echelons of the timesheets.
That meant one thing to a partisan crown: Zarco was on the podium. The grandstands erupted around the French circuit as Bezzecchi crossed the line for a first dry weather win, Martin ensured he's the top scorer at Le Mans this year, and then the home hero reached the flag. The noise made for an impressive welcome.
Fourth place was also something to shout about as Tech3's Fernandez took an impressive result after an impressive weekend. First time in Q2, the GASGAS rider had had the speed all weekend and made it pay to perfection on Sunday to bounce back.
Aleix Espargaro (Aprilia Racing) rounded out the top five as Brad Binder (Red Bull KTM Factory Racing) recovered from being battered down the order on the first lap to fight his way back through the pack, take a long penalty for a shortcut, and still manage to take sixth.
Fabio Quartararo (Monster Energy Yamaha MotoGP™) had a tougher home Grand Prix but took a chunk of points on Sunday as the 2021 World Champion ended his weekend in Le Mans with a P7, with Fabio Di Giannantonio (Gresini Racing MotoGP™), Takaaki Nakagami (IDEMITSU Honda Team Asia), and Franco Morbidelli taking 8th, 9th, and 10th – just ahead of Danilo Petrucci (Ducati Lenovo Team) on his MotoGP™ return deputising for the injured Enea Bastianini.
Early race leader Miller crashed out with three laps remaining after the Aussie had been dropping down the order on his KTM machine, making it a weekend to forget in terms of results but one to remember for speed. Can he bounce back at Mugello? Many will be looking to join him in doing so…
With the championship plot ever-changing in MotoGP™, there's no telling what the chapter holds as the paddock moves to the Gran Premio d'Italia Oakley on the 9th to 11th of June. Make sure to keep up to date with all of the action as it unfolds on motogp.com!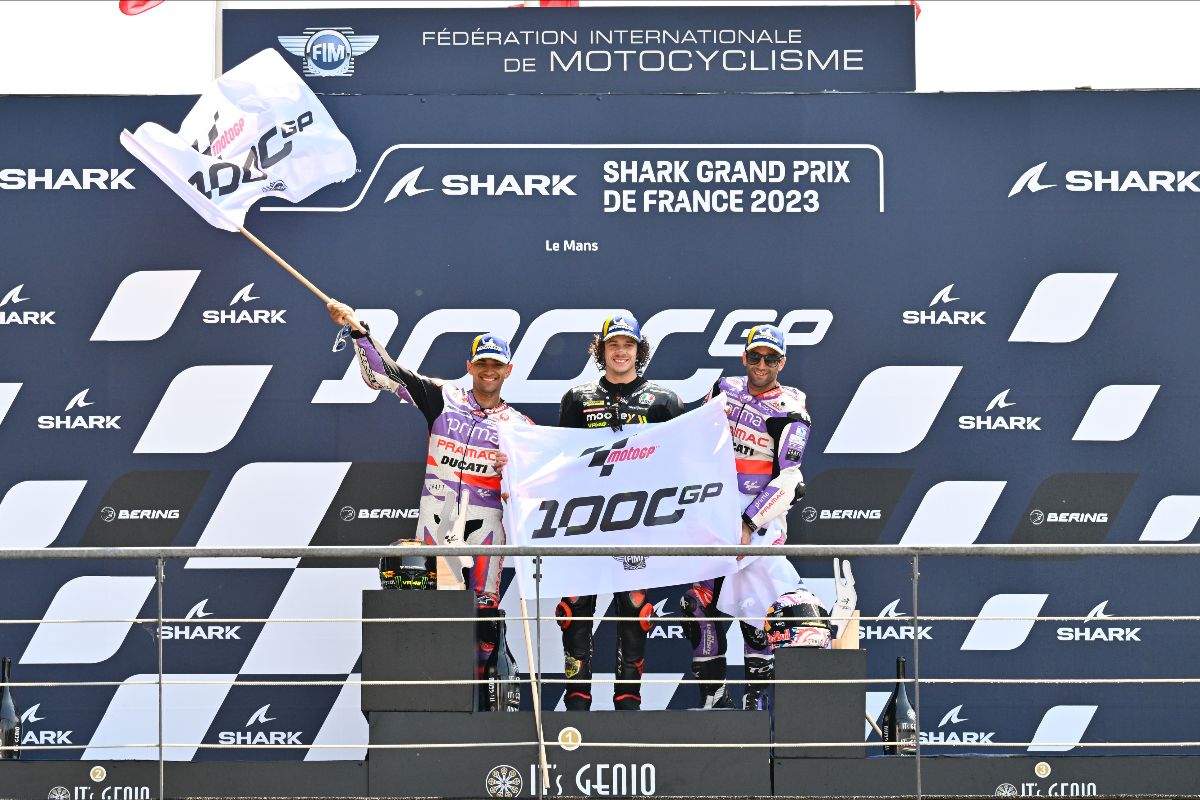 MotoGP Top 4 – Main Race Result – French GP
1. Marco BEZZECCHI – ITA – Mooney VR46 Team – 41'37.970
2. Jorge MARTIN – SPA – Prima Pramac Racing – +4.256
3. Johann ZARCO – FRA – Prima Pramac Racing – +4.795
4. Augusto FERNANDEZ – SPA – GASGAS Factory Racing Tech3 – +6.281
MotoGP Top 4 Championship Points after Main Race – French GP
1. Francesco BAGNAIA – ITA – Ducati Lenovo Team – 94pts
2. Marco BEZZECCHI – ITA – Mooney VR46 Team – 93pts
3. Brad BINDER – RSA – Red Bull KTM Factory – 81pts
4. Jorge MARTIN – SPA – Prima Pramac Racing – 80pts
MARCO BEZZECCHI: "I expected the penalty. I didn't want to pass but I braked a bit too late and when I realized I was getting closer and closer, I tried to go to the inside to not hit him. Unfortunately I pushed him wide so I thought for sure they give me a drop position. I was ready for it and I agree, also. It was a bit too much. It's difficult to pass but I didn't really want to pass, but it's ok. Fortunately I kept myself calm about the penalty I knew was coming, tried to find the right place to give up the position and then fight back.
How was that winning feeling?
"It was fantastic. I saw I was fast, at the beginning I didn't want to use the front tyre too much or put too much temperature in it. When I was behind someone, I was trying to pass quite quick and when I found myself at the front I thought, 'now I have fresh air'. I tried to push and see how it is. On Friday I had good pace so I tried to make the same but it was even better! I was able to ride 31.9, 31.8 and it was fantastic. I saw I was escaping so I tried to stay calm and concentrate, at one with my bike, and it was an incredible emotion crossing the line in the dry. In the wet was good but in the dry even better!"
And on that bet to not shave their moustaches until he won again…
"This is the thing I'm most happy about. I made this bet first in December before Christmas with my team, we were having dinner together and to break their balls a little bit I said 'ok, you all have a long beard but if I win, you have to make it moustache and we won't shave it until I win again. But then when I did win I said, 'No! Now I have to really have a moustache!' I was so nervous because it wasn't coming anymore, so fortunately today when I saw the feeling was good, I said 'today's the day!"
For more MotoGP info checkout our dedicated MotoGP News page
Or visit the official MotoGP website www.motogp.com