12 laps, 22 riders, and one incredible debut for the Tissot Sprint: seven names fight it out for the podium and the win gets decided on the final lap.
The first Tissot Sprint was a stunner. 12 laps, 22 riders and a last lap finish! Francesco Bagnaia (Ducati Lenovo Team) came out on top as the final push came down to a duel, piling the pressure on Jorge Martin (Prima Pramac Racing) in the last few laps and finding a way through as the Spaniard headed ever so slightly wide. The fight for third was a mammoth battle from the off, too, with seven riders fighting for the top three throughout and ultimately, the rider on pole taking his first medal of the season: Marc Marquez (Repsol Honda Team).
Marc Marquez got the holeshot despite a spectacular attack from a fast-starting Enea Bastianini (Ducati Lenovo Team), but Bagnaia took over in second early on as a red duel let Martin also pickpocket into third. Marquez, Bagnaia, Martin and Bastianini was the initial leading quartet, with Marquez defending the lead until the final few metres of Lap 1.
Bagnaia and Martin then struck for the front and got past the number 93, with the leading trio enjoying a little breathing space for a few corners. Miguel Oliveira (CryptoData RNF MotoGP™ Team) had struck back into fourth too, and soon Jack Miller (Red Bull KTM Factory Racing) was also past Bastianini.
Drama then hit for the number 23, with Luca Marini (Mooney VR46 Racing Team) losing the front on the inside and rider and machine sliding into the factory Ducati, leaving the Beast nowhere to go. Meanwhile, further contact a little further back had also seen Joan Mir (Repsol Honda Team) overcook it against Fabio Quartararo (Monster Energy Yamaha MotoGP™), with the Spaniard making contact and crashing out, and the Frenchman losing time.
Back at the front, Bagnaia led Martin led Marquez, with Miller moving up into fourth past Oliveira. Then came Aleix Espargaro (Aprilia Racing) vs Marco Bezzecchi (Mooney VR46 Racing Team) vs Alex Marquez (Gresini Racing MotoGP™), but Maverick Viñales (Aprilia Racing) was also intent on joining that party. So he did, and Bezzecchi crashed out of it not long after.
With nine to go, Martin slipped past Bagnaia for the lead as Marquez dug in ahead of Miller and Oliveira. Soon enough, the battle was truly on. Miller and Oliveira passed Marquez, and then the Australian picked Bagnaia's pocket for second. By six to go, Miller hit the front, but Martin hit back. The chopping and changing let the Aprilia Racing pair also catch up, and it all bubbled up to one duel and one serious fight for third.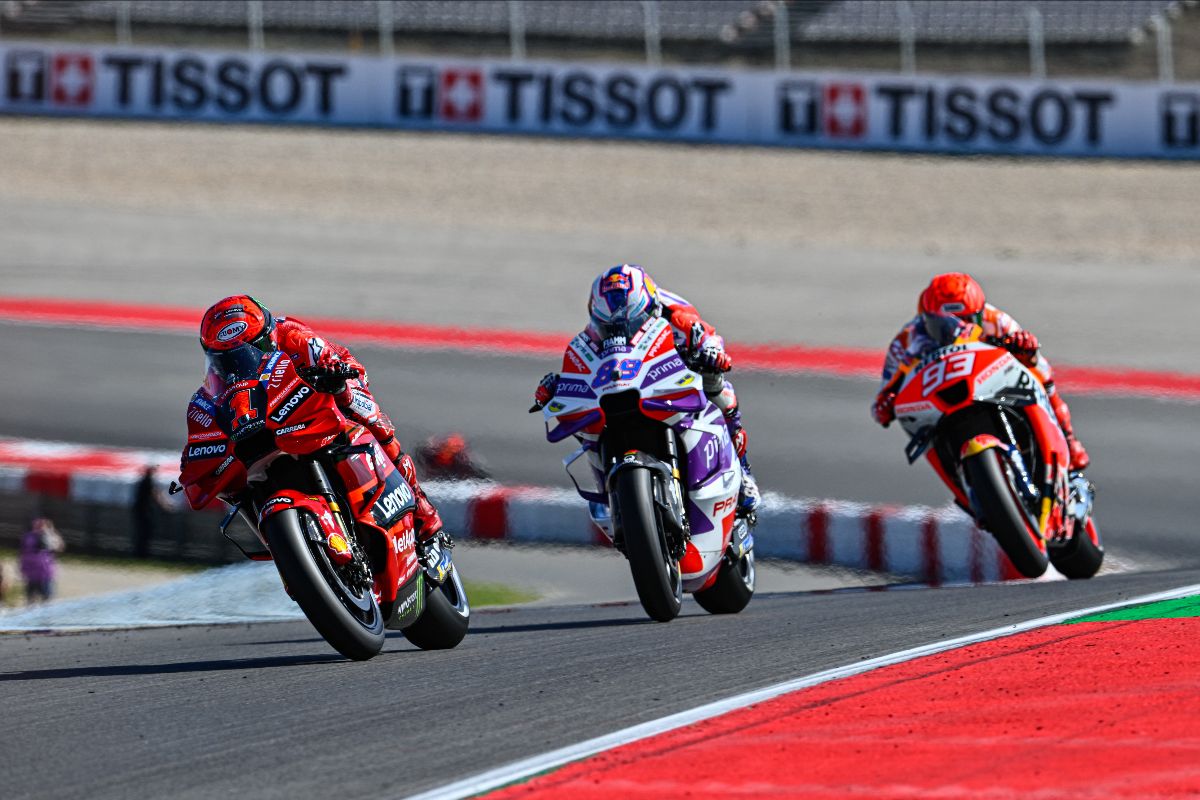 As Martin and Bagnaia started to inch away, the two-man decider for Tissot Sprint glory was set. The reigning Champion was gaining and gaining, and finally the door opened ever so slightly on the final lap – with Martin wide and Pecco through. It remained close to the line but the #1 remained so on track, taking that coveted first Sprint win as Martin was forced to settle for second.
Meanwhile, Miller vs Oliveira vs Marquez, plus two factory Aprilias intent on beating each other, set up a stunning grandstand finish in the fight to join Bagnaia and Martin's date with Prosecco. Marquez had even enjoyed a two for one as the Australian and Portuguese rider went head to head at Turn 1, and once the number 93 was through, there was no looking back. The eight-time World Champion took the spoils.
Heartbreak for Oliveira later in the lap saw him overcook it and drop back in that fight, with Miller suffering no such bad luck and taking a hard fought fourth. Fifth went to Viñales as he won the factory Aprilia war, with Aleix Espargaro sixth and Oliveira crossing the line seventh. Johann Zarco (Prima Pramac Racing) pipped Alex Marquez (Gresini Racing MotoGP™) to P8, with that leaving Quartararo just outside the points in the first Sprint. El Diablo made progress after the early drama with Mir, taking P10 and just off the number 73 ahead.
That's it: history is made and it's Bagnaia who takes the biggest spoils on Saturday. But tomorrow, the grid is reset and Marc Marquez returns to pole position, with another 25 laps to be raced. Join us at 14:00 (GMT+1) for more!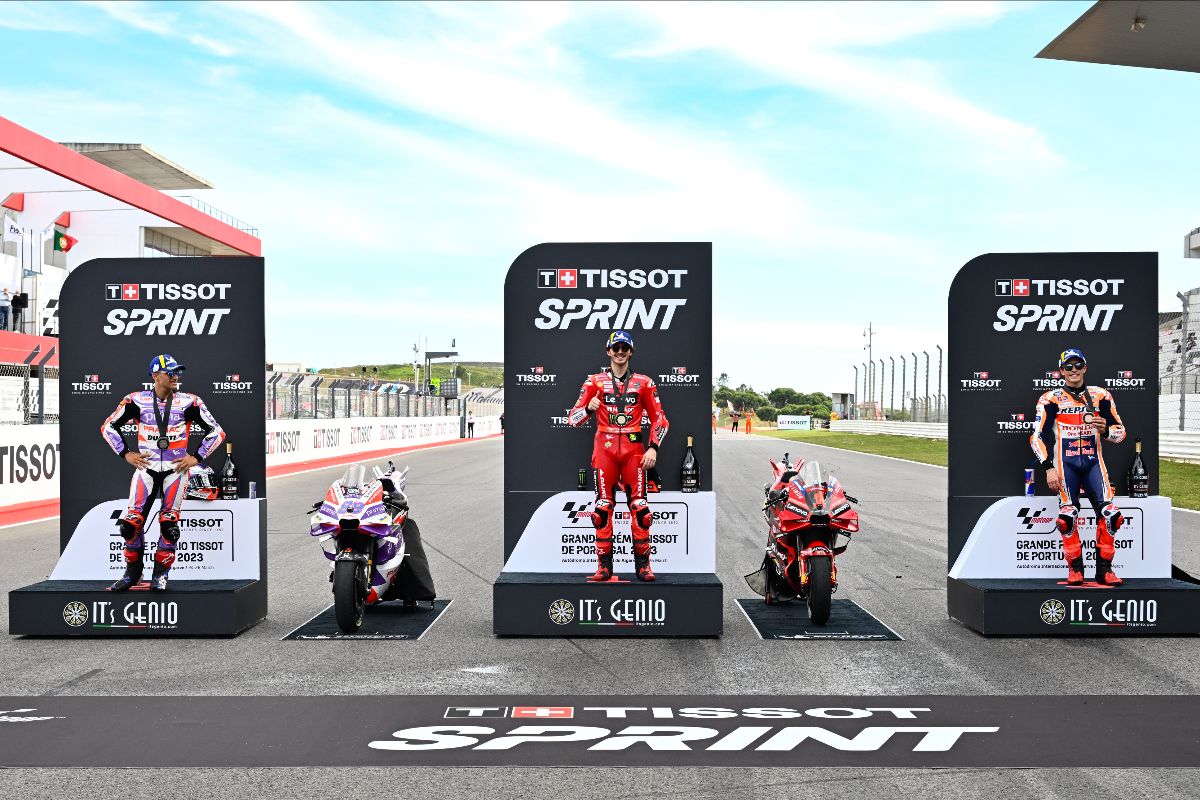 QUOTES: TOP 3
FRANCESCO BAGNAIA: "I enjoyed it, sincerely. It was fun, it was very fun! It was difficult with the wind because it was the first time we had the wind going in the opposite direction, compared to the test and yesterday. But I had fun, I enjoyed it a lot and I had in mind that the race was long so I took my time in the first part of the race. Then in the last part I just tried to push and I saw that Jorge had better traction but had more problems than me with the front end. So I just used this kind of the things I was better at to overtake. I was thinking it was shorter, but finally it took a long time, but I enjoyed it a lot!"
JORGE MARTIN: "For sure I'm happy with the 2nd place. But for sure, I would like to have that first position! I made a mistake on the last lap and Pecco overtook me but he was super fast in the last two laps. I have been struggling all weekend with the soft rear so I hope tomorrow we have a little bit more. But yeah I'm confident, I led for many laps so I'm gaining some confidence back and think we are ready for tomorrow!"
MARC MARQUEZ: "It was physical. I used all my physical side to compensate, especially in the braking points and especially to go into the corners sliding, because in the Sprint you can do this. It's only twelve laps, and then I used a lot of energy but I need to recover the time somewhere. Where I can recover time is in the braking points, and there I am taking a lot of risks. But yeah today we did an amazing job. I want to congratulate the team because yesterday we were late at night, checking the small details. They even said to me 'OK the bike is like this but you can improve this and this in your riding style.' Sometimes to say this to a guy who has won many races and many championships is difficult, but we have the confidence in each other and this helps me a lot. This morning I was concentrated. It's not a bad way to start the season, but tomorrow is the most important race which will be a bit more difficult, but in a short time we can do it."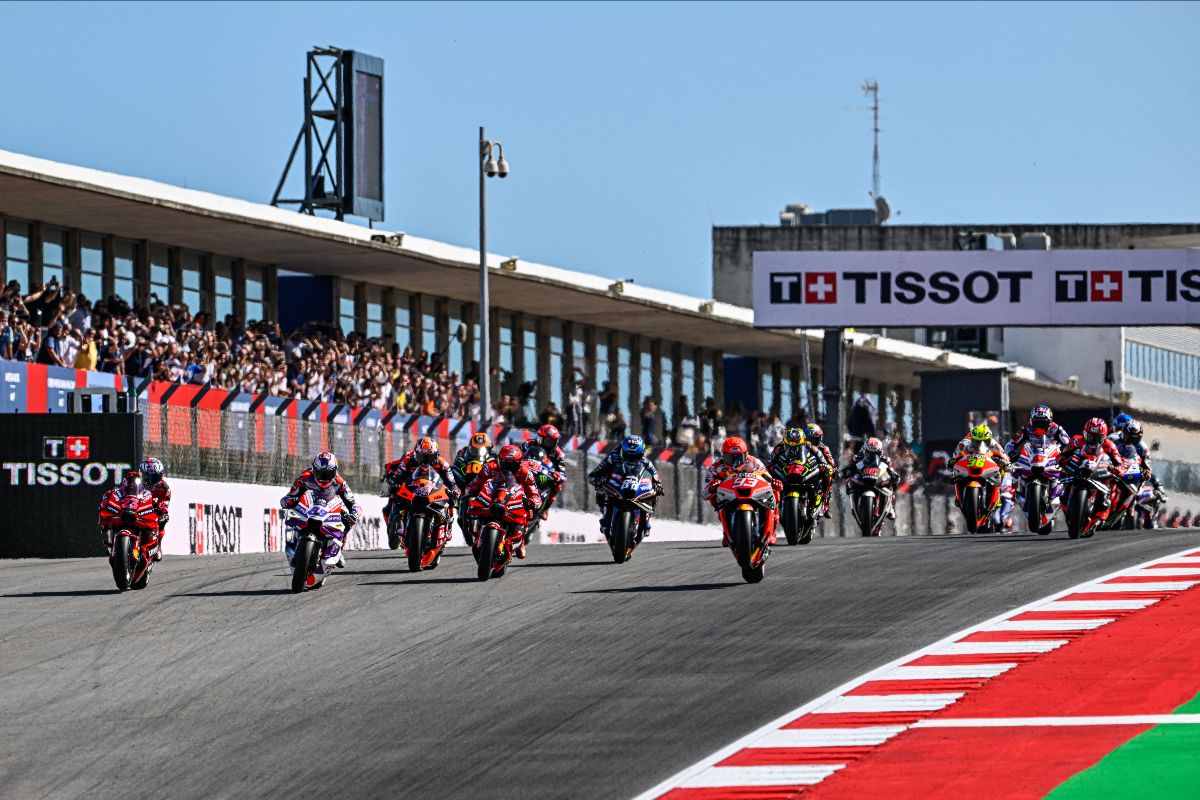 MotoGP Top 3 – Sprint Race – Portimao
1. Francesco BAGNAIA – ITA – Ducati Lenovo Team – 19'52.862
2. Jorge MARTIN – SPA – Prima Pramac Racing – 19'53.169
3. Marc MARQUEZ – SPA – Repsol Honda Team – 19'54.379
MotoGP Top 3 Championship Points after – Sprint Race – Portimao
1. Francesco BAGNAIA – ITA – Ducati Lenovo Team – 12
2. Jorge MARTIN – SPA – Prima Pramac Racing – 9
3. Marc MARQUEZ – SPA – Repsol Honda Team – 7
For more MotoGP info checkout our dedicated MotoGP News page
Or visit the official MotoGP website www.motogp.com