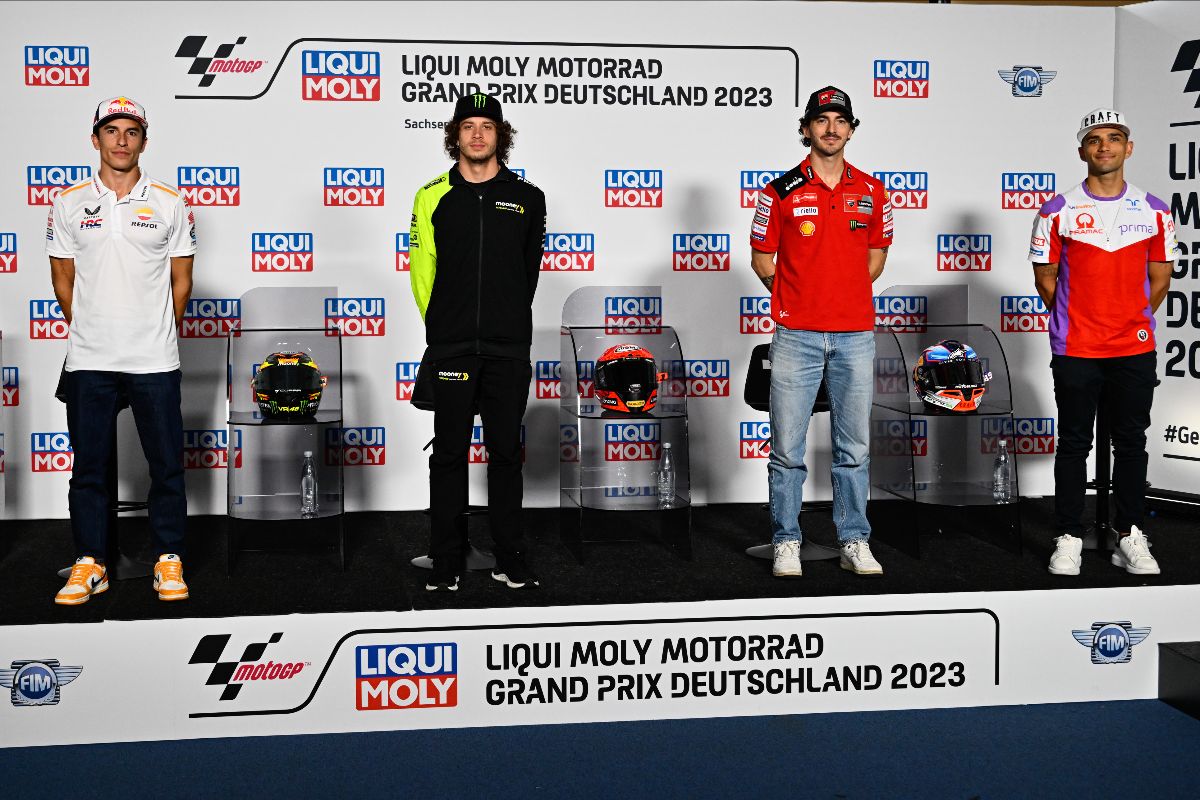 Hear from Bagnaia, Bezzecchi, Martin, Marc Marquez, Binder, Zarco and Quartararo!
And we're BACK! The Liqui Moly Motorrad Grand Prix Deutschland is our second stop on the triple header as we keep it pinned, and ahead of track action, two press conferences covered some key talking points with some key faces:
The first comprised Francesco Bagnaia (Ducati Lenovo Team), Marco Bezzecchi (Mooney VR46 Racing Team), Jorge Martin (Prima Pramac Racing) and Marc Marquez (Repsol Honda Team), before the second saw Brad Binder (Red Bull KTM Factory Racing) joined by Fabio Quartararo (Monster Energy Yamaha MotoGP™) and Johann Zarco (Prima Pramac Racing).
Here are some key quotes!
LINE UP 1: BAGNAIA – BEZZECCHI – MARTIN – MARQUEZ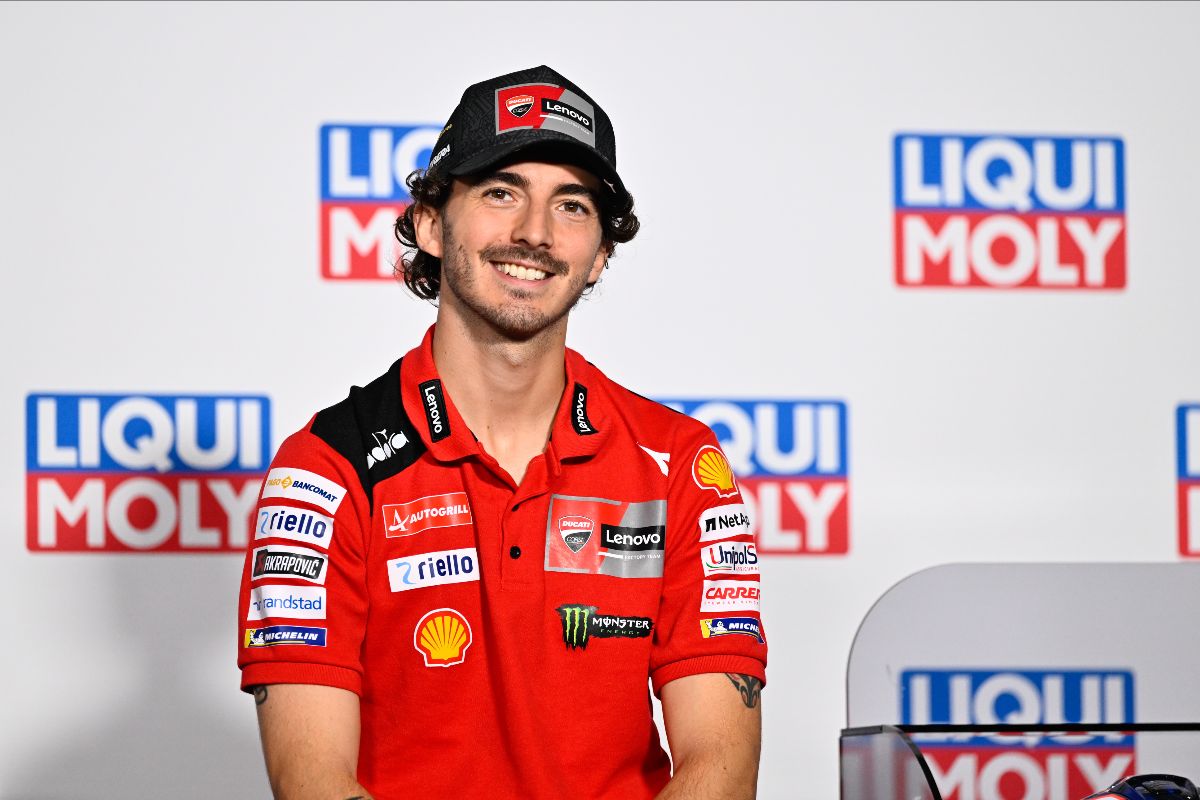 FRANCESCO BAGNAIA: "It's a track where last year the performance was there. Friday we were competitive, pole position and in the race we know what happened, I crashed. The important thing is to start how we finished in Mugello and the same way I had the feeling last year so let's try. It won't be easy, it looks like the conditions can change quickly like today so let's see. I am confident the performance is there, and we can be competitive against the top riders."
Last years' experience and taking that for 2023?
"To believe always. It was a difficult moment. It wasn't the first time I was competitive and then I lost everything I just tried to understand what happened, I just tried to understand our potential. The meeting after the race was very important for the team and for me. From that moment, everything changed from Assen. At the front, we were always competitive and fighting for the win and it was a great comeback. My feeling was incredible with the bike and sometimes I still think about the Sachsenring from last year where we had to be more focused."
On the Miller Mugello start onboard?
"I saw him at that moment when he was raising his arm. I thought he started from the second row and closed the line on someone and thought he was saying sorry! In MX when you do the holsehot, they are happy so they raise the arm like that. It was fun to see!"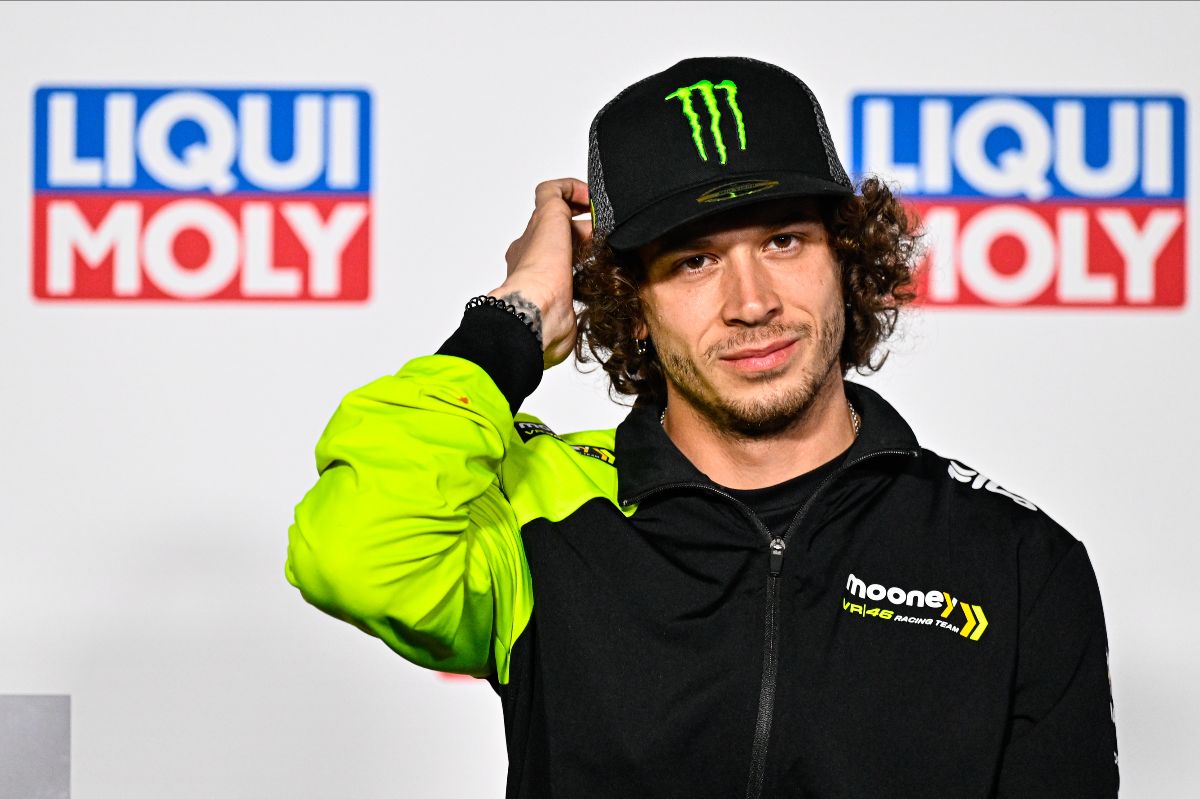 MARCO BEZZECCHI: "Sunday at Mugello was a bit frustrating because I was expecting a bit more, of course beating Pecco was very difficult as I saw in the Sprint because he was very quick, but I thought there was the possibility to stay with Jorge or Johann to fight for the top five at least. But immediately when I started the race I felt really bad with the front end of the bike and I couldn't really understand why, so we took some days to forget this day but when I got here I immediately started to look at the data and trying to understand, we saw what the problem was and fortunately it wasn't because of my riding. I was a bit nervous for this but fortunately it wasn't this. Now we can concentrate on this round and try to do a little bit better."
Can you tell us what the problem was?
"I think no, haha."
Is this a good track to bounce back at?
"Yeah it's a track I like, it's very particular because it's very small with a MotoGP bike but in the past years I've been able to get a podium in Moto2 and Moto3, so it will be nice to ride it again on a MotoGP bike. Last year I was not so bad but it will be difficult for me to be close to the top riders like Marc or Pecco who are really quick here, but I will try my best to make the best performance I can to try to get a good result and continue in this positive few races that I'm making."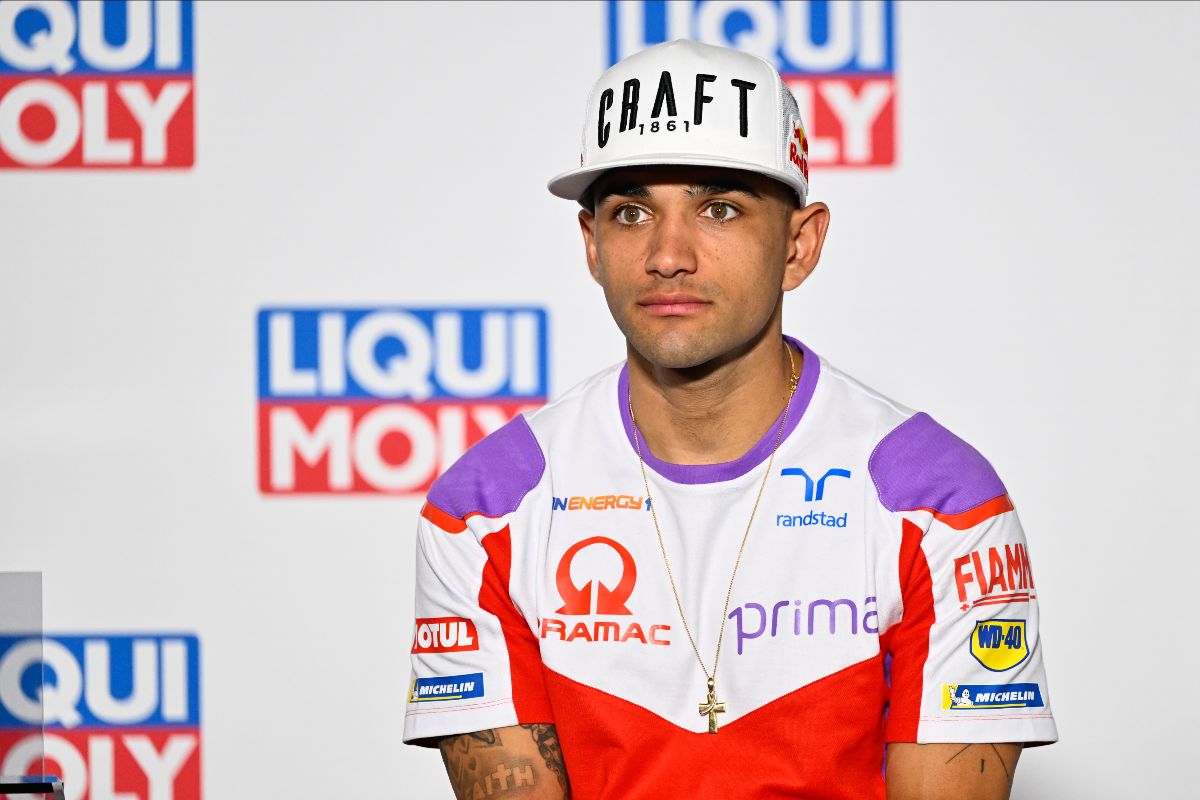 JORGE MARTIN: "I feel great with the bike. I know the bike really well and I know where the limit is more or less, for sure Pecco knows it a bit better but I feel I'm closing the gap, every time I am stronger and finishing races is one of the keys so I hope to keep this progress."
Chances of victory?
"Yeah, the Sunday win is still missing and hopefully it comes soon. I'm not in a rush, I want to always finish close to the podium, that would be amazing. My time will come for sure. Sachsenring is a nice track, I always enjoy riding here. I won in Moto3 here, the last seasons haven't been so bad, so I hope to be competitive."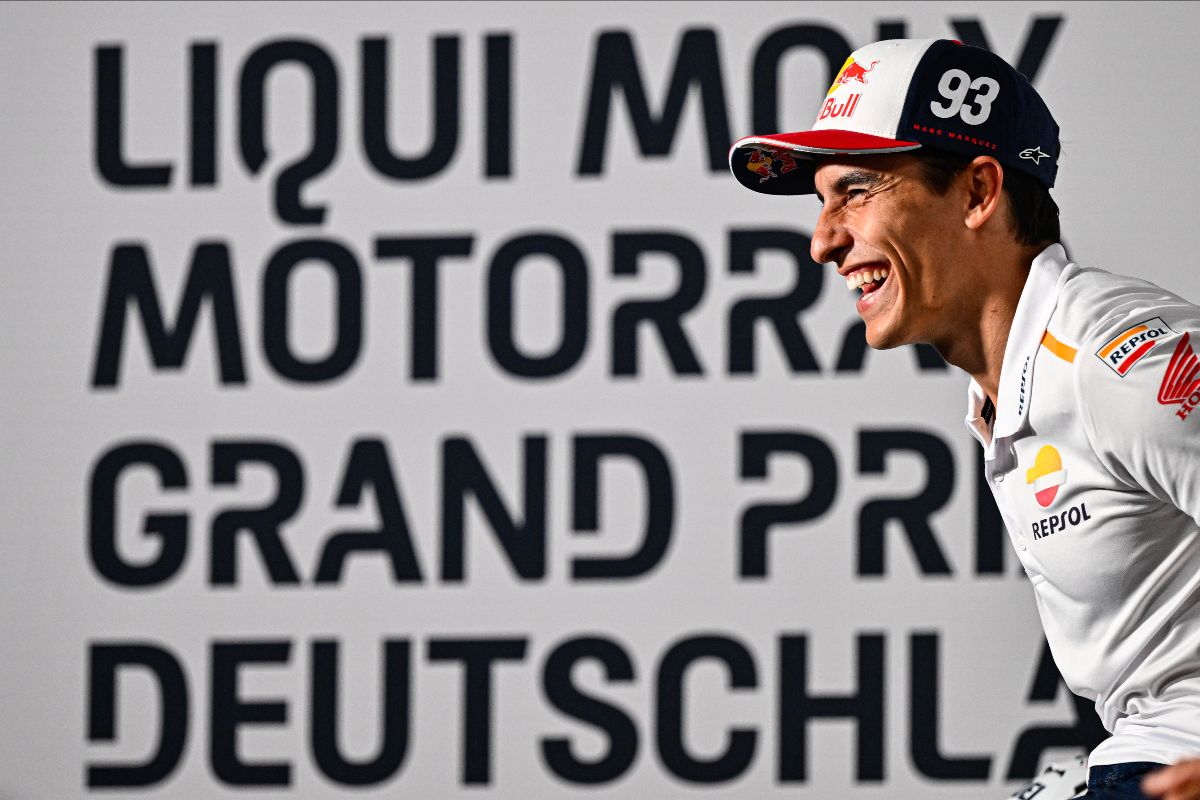 MARC MARQUEZ: "I'm interested to see how it is here at the Sachsenring, especially because I couldn't race two good circuits for my riding style, Argentina and Americas, so this is the first circuit I'll race this season where normally I feel comfortable from P1 on. But it will be difficult, I'm not coming from my best moment, I'm coming from two crashes in a row on Sunday, so of course your confidence gets lower, but anyway I'm arriving with a good mentality and I'd like to be on the podium on Sunday.
On injury worries, and Honda riders riding on the limit:
"I'm not worried about another injury, if you do you're not fast on the racetrack. But it's true the way we're riding now, I feel ready. Last year I wasn't ready to attack but now I'm ready to attack, I'm riding well and I feel ready to be there. But it's true I override sometimes. In Le Mans it was normal because I was pushing for the podium, and I was pushing too much. But in Mugello I was very comfortable, I mean I was controlling myself, because I chose the soft rear, I was controlling the gas and the situation to finish in the top six or top seven because that was possible. But I crashed, went wide and I didn't expect it but I lost the front. We'll see, but I'll keep going and keep pushing to change the situation for the future."
On a meeting at Mugello with Honda senior management:
"It wasn't the first meeting I've had with HRC, but an important one because Aoyama-san and Watanabe-san, big bosses. It was important. The feeling was good in the meeting and, in the future but not far way and soon, we need some reaction there. We have very good riders in Honda and we need something more to fight for the top positions."
On Jorge Lorenzo's statement he believes Marc could go to KTM:
"Next race he'll say Aprilia, no? Jokes aside, now in MotoGP the level is super high. All manufacturers. It looks like Honda and Yamaha are struggling a bit more, but the European manufacturers are pushing a lot and they are going very aggressive mode to develop the bike. And it's there we're trying to react, together with Honda, to improve this year and especially the Misano test looking to 2024… we're working together to try and be there. But of course… I appreciate Jorge haha."
LINE UP 2: BINDER – ZARCO – QUARTARARO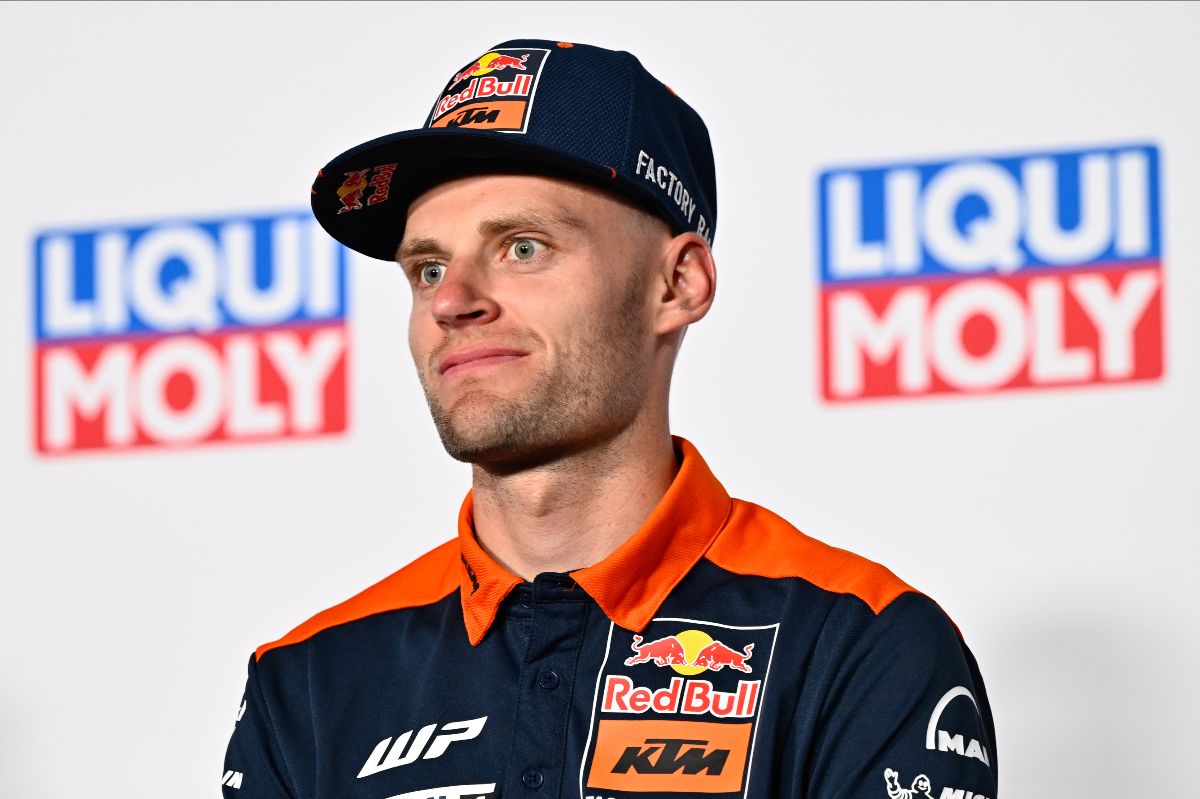 What's needed this weekend to bring you closer to the front?
BRAD BINDER: "Looking back at last week it was incredible to walk away with the 366km/h, it's quite crazy to think about it but in general I'm quite excited to get started here at the Sachsenring, it's a track I have a lot of great memories at, I got my first World Championship podium here, my first win in Moto2 and in GP I've always had quite good races, not quite so good last year but other than that I've always had a good feeling here so I'm excited to get started, the way our bike is working this season I think we can be incredibly competitive here and I'm looking forward to see where we really pan out."
Turning a key weapon here this weekend?
"Definitely. It's clear we struggled a bit more in Mugello where things were a lot more flowing but where we have to brake and really stop the bike and use our acceleration to get out, we are much stronger than last season. I see things being a lot better for us here and yeah we have some small things to try to try and improve in the rolling long corners, and if we can do so I'm sure we'll be in for a good weekend."
Setting or new parts?
"Just simply playing with the settings."
Does the nature of the track add to the pressure of qualifying?
"I think if we look back at previous seasons here it can be less than 0.3 from first to tenth. So with it being such a short track things are extremely tight, extremely close, and yeah it's going to be important to try get a strong lap in to try get a spot in Q2."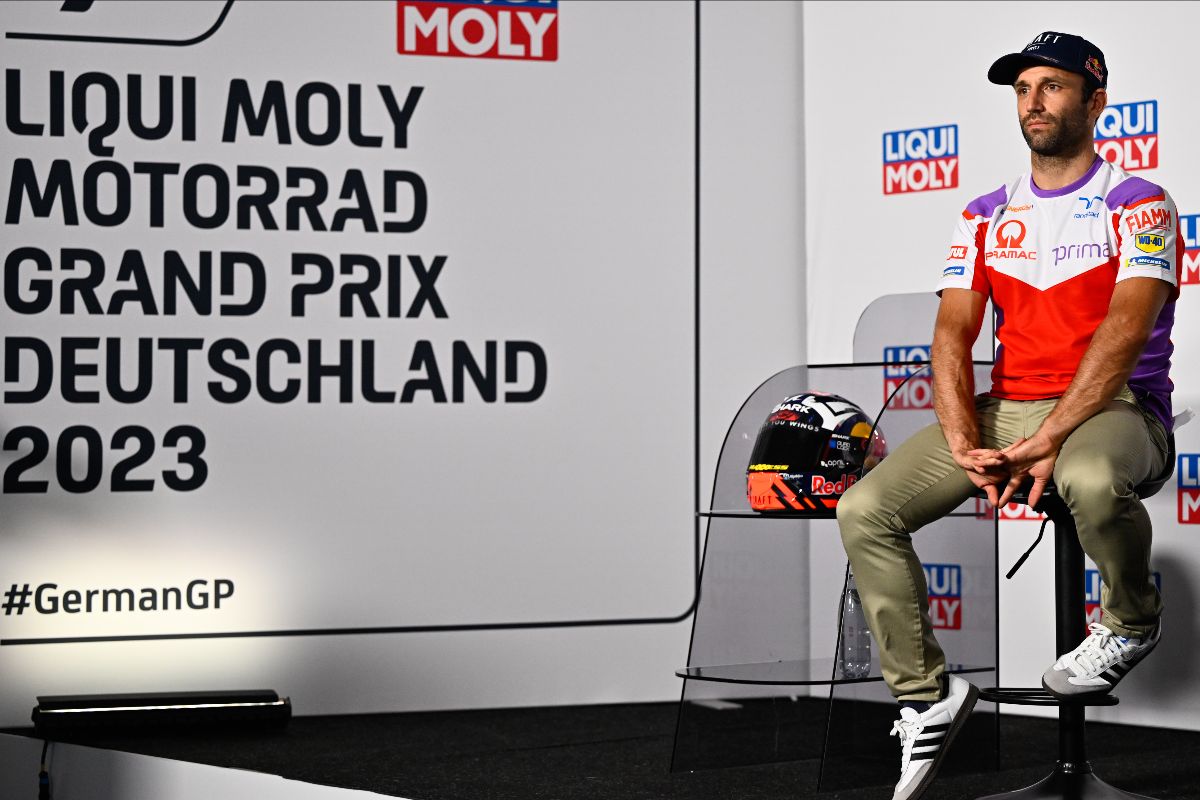 Are you a contender this weekend?
JOHANN ZARCO: "I'm sure I have the package, with the bike and the team we are competitive and we enjoy the Ducati a lot at the moment. I'm not the only one, we have other fast riders. The package is ready but we have to choose the tyres well as it is a particular track. I don't say the tyre makes a real difference, but the way you use it can make a difference. Let's see how we begin on Friday. The weather conditions also – to adapt as well as possible. Last year I had a fantastic race trying to catch Fabio. I had the harder tyre he had the medium, but I couldn't catch him. He didn't give up and I could not catch him. It would be nice to repeat these kind of moments but with an even better feeling."
Ducati transfer rumours… what's plan A for Zarco?
"I hope (to stay). Clearly, it's the best place to be. The way I can perform now and enjoy with the team. With Jorge we are three years together. He was not so consistent the last two years, since the beginning of the year, it's only the first race he really missed out, now he is there. We are together here now, why not continue going like this!?"
Does the nature of the track add to the pressure of qualifying?
"Different circuit to Mugello but same challenge. With the Sprint we are learning QP is getting more and more important. I would love to be on the front row, even the first two rows because the last few races I've been on the third. Even if I did a good race in Mugello, it's not making the work easier, so it would be good to be in the top three guys to push for the podium on Saturday and Sunday."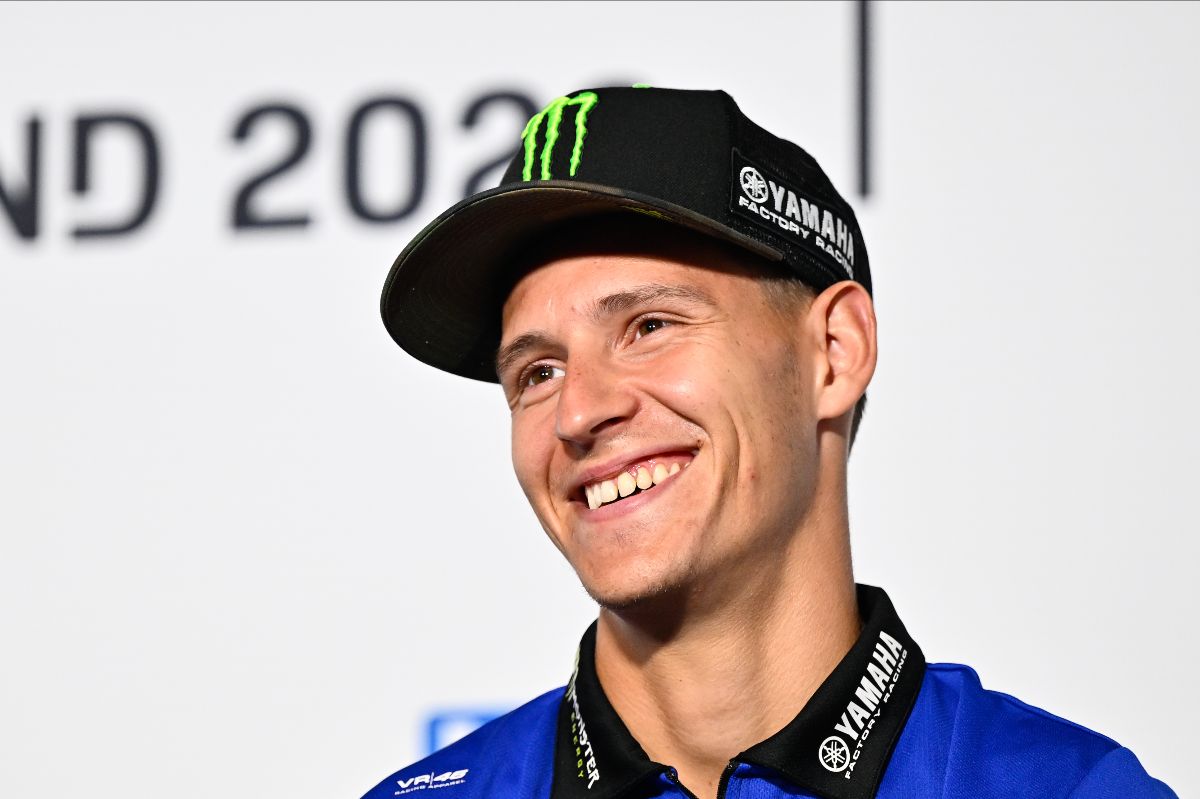 Optimistic about being at the front this weekend?
FABIO QUARTARARO: "To be at the front, I don't know. To be honest, the main goal for me this weekend is trying to be in the top ten from tomorrow to at least help in qualifying to secure a good place, because you know the last few qualifyings were terrible for us. Hopefully we can make a step, especially in qualifying. Then the races is a different thing."
Is this the toughest moment of your career?
"Of my career no, in MotoGP, yes. I'm struggling to understand it because we didn't make big changes but it totally changed the way of riding my bike, and especially we're missing a lot from last year, from 2021, but this year I'm struggling especially with new tyres to do one lap. So we have to find a solution and take the best from ourselves."
Thoughts on Morbidelli's 'who says I want another year with Yamaha?'
"I loved it quite a lot when I saw the video, but it's not my job to evaluate what he's saying, so… it's something that made me laugh but I don't really care."
Do you hope Franco is your teammate in 2024?
"I don't go into these things. I think he and Yamaha know exactly what they're doing, so it's all in their hands."
Does the Sachsenring make it even more crucial to get a good grid spot?
"I think first of all for us, it's to go straight into Q2 and then we'll see. But the goal is to start on the first two rows, even the third I'll accept."
For more MotoGP info checkout our dedicated MotoGP News page
Or visit the official MotoGP website www.motogp.com