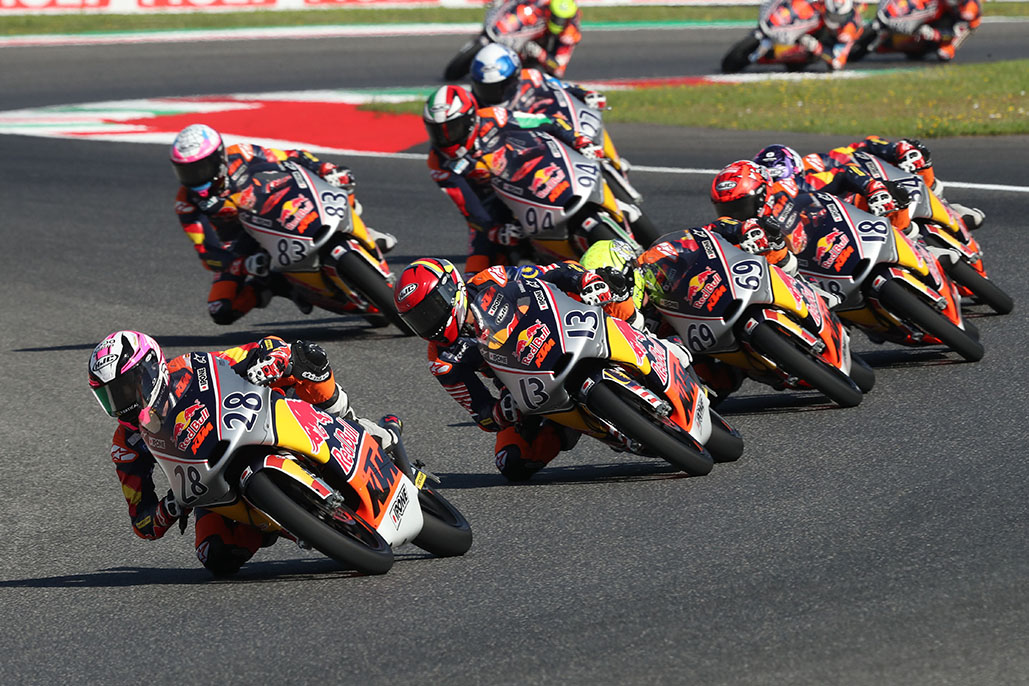 Màximo Quiles fought for every incredible corner of the 13-lap Red Bull MotoGP Rookies Cup at Mugello.
The 15-year-old Spaniard had crashed out of the lead in the soaking wet on Saturday but mastered a cold track and avoided the damp patches on a beautiful Sunday morning to take his second victory of the season.
Crucially, Cup points leader and fellow countryman Angel Piqueras rode another perfect race to take 2nd ahead of local hero Guido Pini. Just 0.749 seconds covered Quiles to the 10th placed KTM of Jakob Rosenthaler at the flag.
Cup leader Piqueras has more points than the following 2 riders put together but there are still 150 to be won in the remaining 6 races.

Màximo Quiles did the work, takes the win
"I pushed hard all race. For the first half I saw that there were a lot of people, I thought that I should try and break the group because I was confident I was fast. Then I saw it was just 8 or so, much better."
"In the last 3 or 4 laps I was 1st most of the time, I was comfortable in the lead. In the last lap, others were overtaking. I was 3rd and I didn't want to be there because it is a bit complicated, you can be overtaken while you are finding a place to overtake."
"Then in the Arrabbiata I overtook Piqueras, then I went for the lead and through the last sector just closed all the gaps, gave no one the chance to get past me. I'm happy."
Angel Piqueras perfectly judged 2nd
"At the beginning of the race I was careful, the track was cold, there were damp patches, it was difficult to manage," explained the 16-year-old points leader.
"In the last five laps, the track was better and I was more confident I could push a bit more. It was still a big group and when it is like that you cannot really plan your last lap, you just do what you can at every corner, if you are 5th you might finish 2nd or you might finish 10th.
Guido Pini takes 3rd on the line
"I am happy for another podium after Le Mans," stated the 15-year-old Italian. "The bike was very good, but in the beginning, we had to be careful, the track was cold, there were some damp patches. After about 5 laps we started to go faster."
"I tried always to stay in the lead positions but it was very difficult, it was a big group, all pushing very hard and a lot of slipstreaming."
"At the end of the race I was behind a bit and I tried to pass a lot of riders in the Arrabbiata but Carpe tried to pass me and in the Correntaio I lost the front and Danish passed me. In the last corner I just went for it, I said, 'OK' and opened the throttle."
Rico Salmela travel limited to 4th
"It was pretty difficult at the start of the race," stated the 15-year-old Finn. "I tried to stay in the front, I was being careful with the wet patches but I could manage it."
"Late in the race, I dropped back because I was having trouble with my front setup. After Qualifying we stiffened the front suspension but we weren't using the travel and I couldn't get the bike turned."
"So I just relaxed, thought about it, didn't take any big risks I just wanted to finish the race. Then in the final straight, I was well placed and could see I had the chance to make some good passes with the slipstream. So I was quite happy to finish P4. I was expecting a bit more but it was difficult with this setting and I will try for more in Assen."
Alberto Ferrandez 5th after 1st
"I felt very good at the start of the race on the new tyres, so I pushed hard to get in front," explained Saturday's winner, the 15-year-old Spaniard. "After laps 6 or 7 I felt the tyre performance dropped a bit and I didn't feel so confident."
"In the last laps, I pushed a lot, I passed a lot of people but could only make it 5th at the finish. Still, I am happy with the weekend, my first win and 5th today."
Marcos Ruda leading but unlucky
"It was an amazing race and I am so happy to be able to battle at the front and lead," explained the 18-year-old Spaniard who finished 7th. "On the last lap, I was in front but into the last corner Piqueras passed me and touched and bumped me offline so I lost everything on the run to the flag."
"Still it was a much better race than yesterday, I did not enjoy it in the wet. In the dry, I know I can battle for the win and I will do it again in Assen."
Álvaro Carpe faster than 8th
"I am happy with the race but not the result," explained the 16-year-old Spaniard who started the day 2nd in the points table but slipped to 4th. "I don't know where I am in the championship right now but I am going to continue fighting at every race."
"Today I was in the lead group for most of the race, Everyone was pushing hard, aggressive. Ok so I finished 8th today but I will do better in Assen."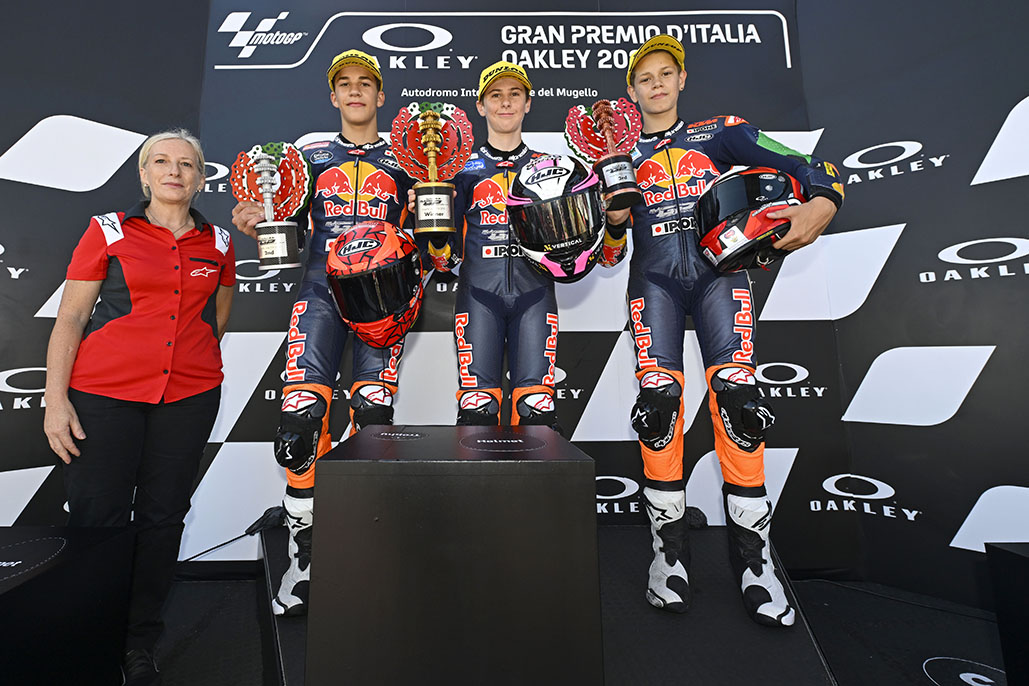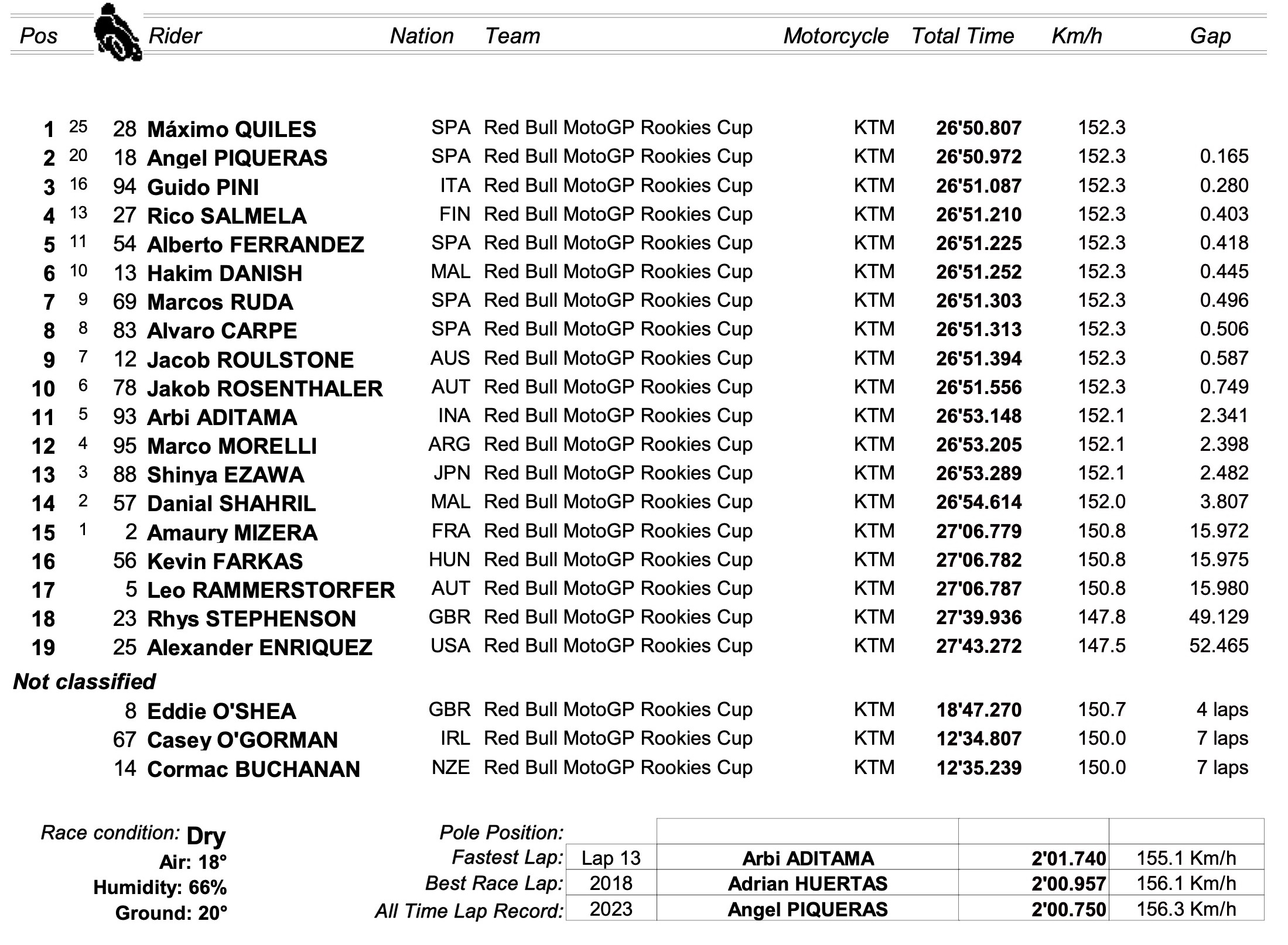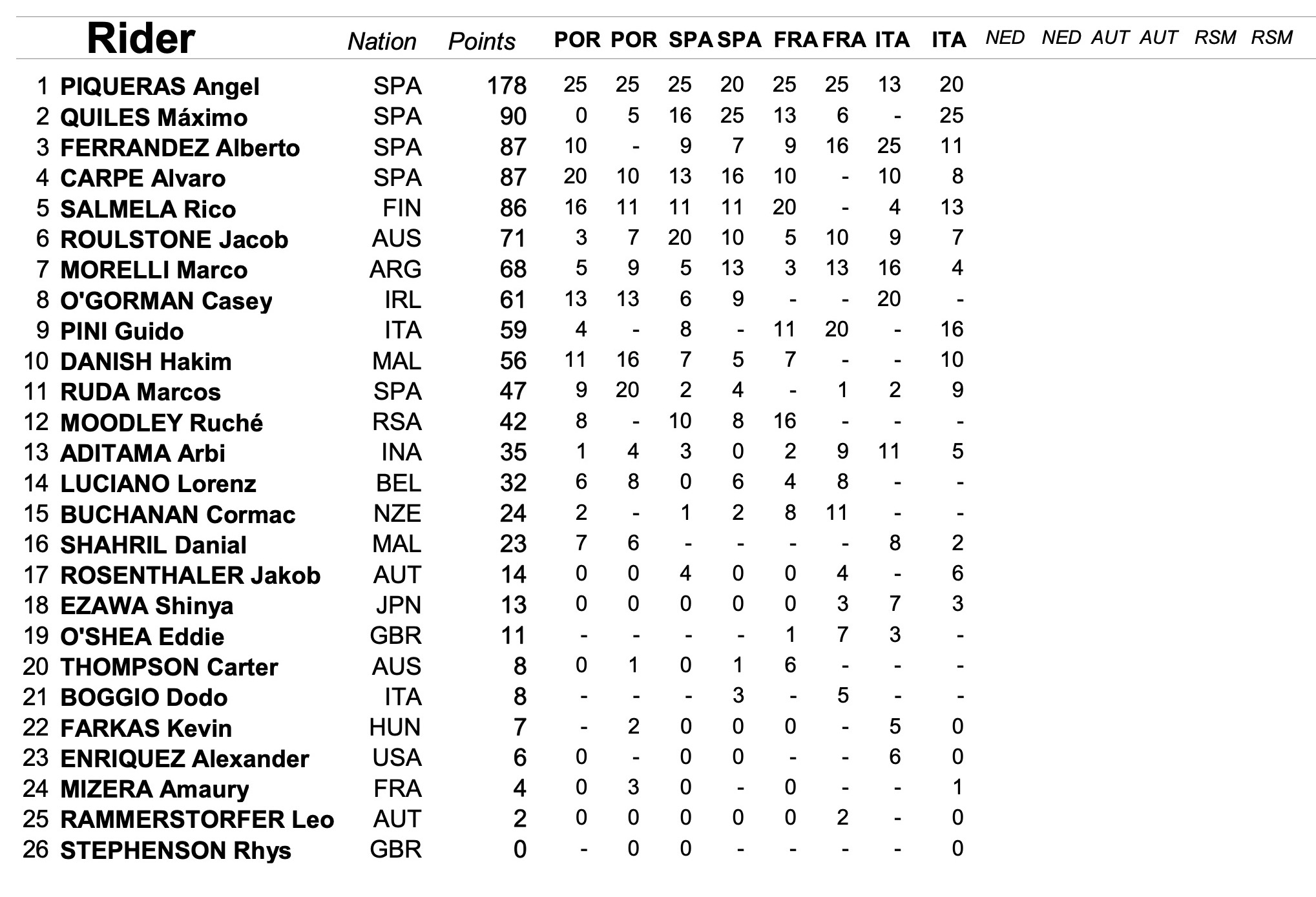 For more info checkout our dedicated Red Bull MotoGP Rookies Cup News page Rookies Cup News
Or visit the official Red Bull MotoGP Rookies Cup website rookiescup.redbull.com/