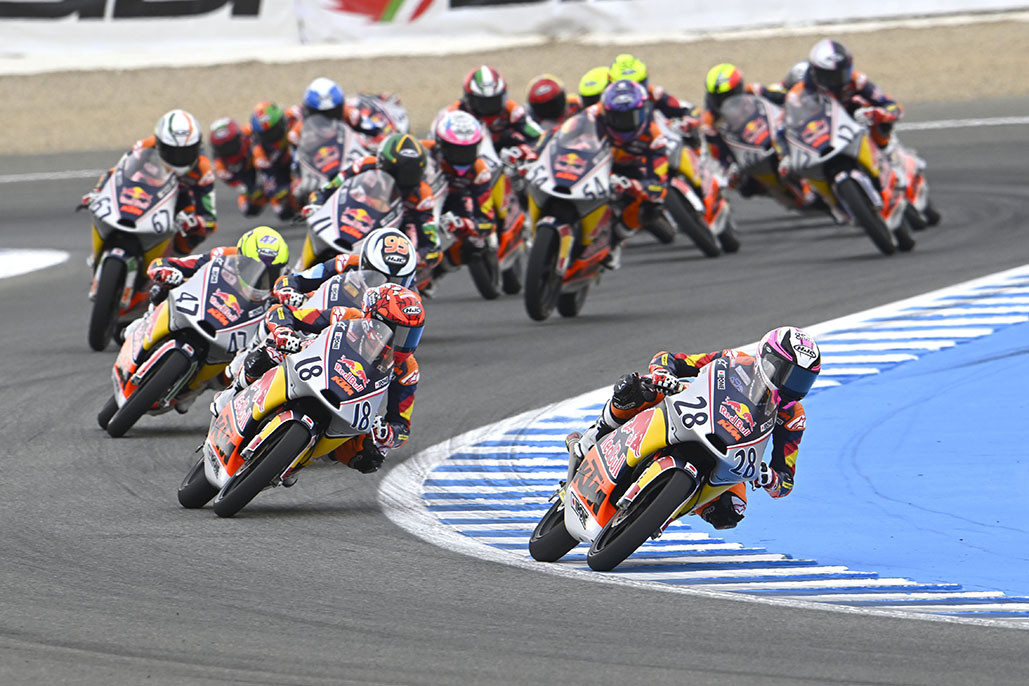 Le Mans is a famous name, a classic venue and 2 Red Bull MotoGP Rookies Cup races will now add to that history. The 4 contests so far have been typically fabulous thrillers and while Angel Piqueras has taken 3 wins, the 4th went to Màximo Quiles and their obvious rivalry is well and truly ablaze.
15-year-old Spaniard Quiles had started the season with disaster in Portugal but put a stop to his fellow countryman's perfect run in a sensational Race 2 in Jerez. The 16-year-old points leader Piqueras still exhibited incredible cool under extreme pressure and extended his advantage slightly over the weekend with 1st and 2nd to the 3rd and 1st recorded by Quiles.
Another Spaniard, the slightly less cool-under-pressure Álvaro Carpe, stands 2nd in the points table and the 15-year-old is 36 behind Piqueras. He was outraged by a last-corner clash in Jerez Race 1 and just missed the podium. Finnish 15-year-old Rico Salmela is 3rd, 46 off the lead and just 3 ahead of Quiles.
5th, a further 5 points adrift, is 15-year-old Casey O'Gorman but the Irishman injured his wrist last weekend and will have to pass a fitness test to compete on his KTM in France.
A wealth of challengers
There is still no shortage of super fast teens ready to take on the Spanish though, especially now that they are away from their home track advantage.
Australian 18-year-old Jacob Roulstone is very much on form after his 2nd in Jerez Race 1. It was he who triggered that Carpe outrage. Malaysian 15-year-old Hakim Danish already showed his capabilities in Portimão.
Argentine Marco Morelli demonstrated his pace when he qualified 2nd in Jerez but the 15-year-old is desperately short of race experience, having sat out last season. Track time should see him soon battling at the front.
Plenty more will feature in those incredible Rookies lead squabbles through the remaining 10 races this season.
History being made
Le Mans is a great place to see some new podium names, they will certainly be stepping on a French Rookies Podium for the first time as we have not had an event in the country since 2008 when we had a single race.
That was won by Luis Salom ahead of JD Beach and Nelson Major but that was when many of the current Rookies were not even walking. Since then ex Rookies have done a lot of winning and this year the top 5 in the Moto3 points table are all graduates.
2020 Cup winner and 2021 Moto3 World Champion Pedro Acosta heads the Moto2 table and Brad Binder, Moto3 World Champion in 2016, has been thrilling everyone on the Red Bull KTM in MotoGP.
24-Hour stars
Ex Rookies have already scored success at Le Mans this year with graduates in all of the top 5 teams in April's 24-hour endurance race including Josh Hook and Alan Techer who were on the winning machine.
Broadcast
This weekend's Rookies Cup races can be seen live on www.redbull.tv and on TV stations around the world.
Race 1 is at 17:00 CEST on Saturday and Race 2 is on Sunday at 08:50, the show starts 10 minutes before the race.
For more info checkout our dedicated Red Bull MotoGP Rookies Cup News page Rookies Cup News
Or visit the official Red Bull MotoGP Rookies Cup website rookiescup.redbull.com/