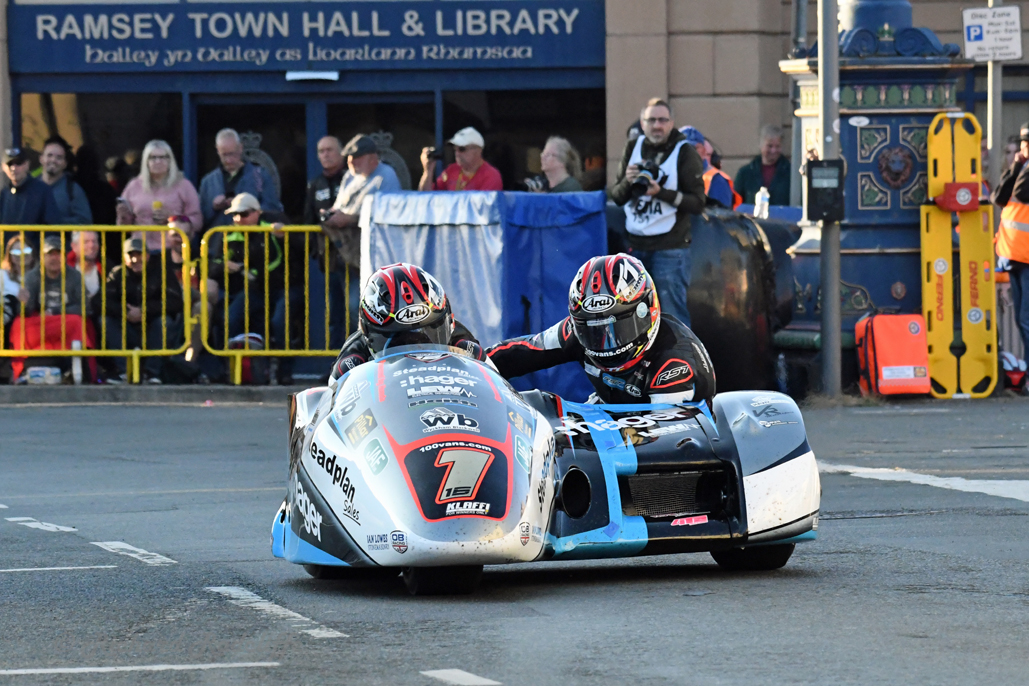 Thursday evening was sunny; the roads were dry, but the temperature was lower due a cooling easterly breeze. On track the temperature continued to rise with Dean Harrison, Peter Hickman and Michael Dunlop all lapping at over 133mph. Not to be outdone the Birchall brothers set the fastest sidecar lap ever seen on the 37.73 miles of the Mountain Course.
James Hillier; OMG Yamaha Superstock, was the first away to face Bray Hill followed by Peter Hickman on his FHO Racing BMW Superbike. Hickman was first on the road at Parliament Square, Ramsey; where a fairly large crowd had gathered to watch as the fastest ever standing start laps unfolded. Hillier was second; quickly followed by Davey Todd, Milenco Padgetts Honda Superbike; Michael Dunlop on his Hawk Racing Honda Superbike; then Dean Harrison on his DAO Racing Kawasaki Superstock bike. The notable absentee from the session was Conor Cummins; he was feeling unwell. Jamie Coward parked his KTS Honda at Sarah's, whilst Rob Hodson was forced to retire his SMT Honda at the White House, Kirk Michael.
The speeds were impressive as the riders blasted away from us towards Cruickshank's Corner and the start of the mountain climb. David Datzer missed his breaking point and took a slight detour around the back of the marshal's area before re-joining the course. Hickman was first to complete a lap; and what a lap; the fastest ever standing start practice lap; at 113.797mph. Michael Dunlop was not far behind with his speed being 133.191mph. Davey Todd's lap was 131.561mph. The Australians are getting right back into the swing of things after their absence; Josh Brookes FHO BMW produced 129.833mph, whilst Davo Johnson managed 128.392mph on his Jackson Honda. Mike Browne continues to impress in his second TT, his best lap was 129.104mph; a top six looks to be on for him.
Hickman continued on his Superbike and put it around at 133.553mph; Harrison remained on his Superstock and produced a lap at 132.700mph. Hillier stayed on his Superstock at put it around at 130.195mph. Michael switched to his Superstock and set the best time of the night in the class with a lap at 132.728mph; he is the man to beat in this class. After another lap on this; he jumped back onto his Superbike and scorched around the track to post 133.775mph; just 0.162s slower than Hickman's class leading lap.
Amongst the locals, Michael Evans continues to impress; he lapped at over 125mph on his Superstock and at over 121mph on his Superstock. Newcomer and local, Ryan Cringle broke the 120mph barrier with 121.480mph.
Michael Dunlop, MD Racing Yamaha, had a very bust night; he completed 3 laps on his Supersport and duly headed the speed chart at 127.557mph. Jamie Coward, KTS Yamaha, found his way back to the Grandstand to put in a lap of 124.675mph that put him second for the session. James Hind, Bass Tyre Services Yamaha, has so far gone about his work under the radar; but his best lap of 124.553mph put him third on the night and brought his name to the fore. James Hillier; Dean Harrison and Craig Neve completed the top 6 for the session.
The Sidecars were, as usual, last on track. Ben and Tom Birchall, Wyckham Blackwell Honda, had just one lap; but what a lap; they produced the fastest lap ever seen at 119.414mph. Their outfit was an absolute missile through the square and sounded sweet. They were 17.67s faster than Peter Founds / Jevan Walmsley's best lap of the session at 117.587mph on the FHO Honda. Ryan and Callum were third on the night with a best lap at 116.142mph. The top was 6 was completed by Tim Reeves / Mark Wilkes; John Holden / Maxime Vasseur and Gary Bryan / Philip Hyde. First time driver Daryl Gibson and passenger Tom Christie were close to breaking the 110mph barrier with a lap at 109.795mph.
Action for all classes is scheduled to begin at 1pm on Friday. Early morning cloud should clear to give another sunny day.