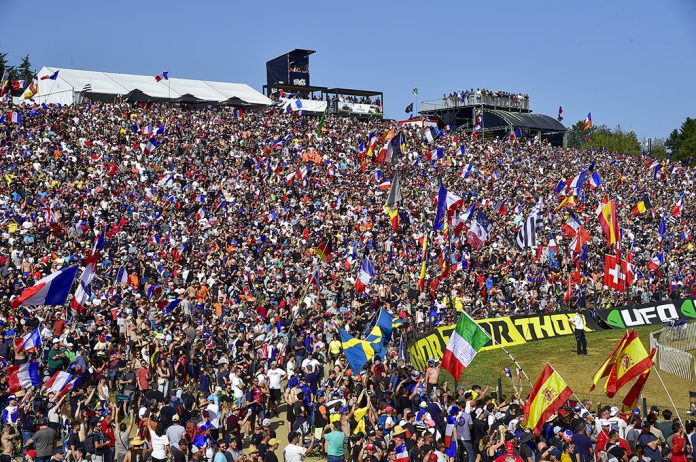 The RAM Qualifying Races of the 76th edition of the Monster Energy FIM Motocross of Nations took place today, as the 37 nations that hope to compete for the Chamberlain Trophy, took to the historic circuit of Ernée in a resounding atmosphere.
The qualifying races today decided the 19 teams that will head straight into tomorrow's races, while the rest will battle it out for the final spot in the B final tomorrow morning – Team Iceland were the winners of the C-Final to be admitted in the B-Final. For teams who have their eyes set on the podium, the qualifying heats were crucial to decide the best gate pick for the main action.
While it was Team France who qualified best as a nation with three strong performances, the individual RAM Qualifying race wins went to Team Spain's Jorge Prado (MXGP), Team France's Tom Vialle (MX2) and Maxime Renaux (Open).
Following this great spectacle that put the crowd in a frenetic state during all the races, the Paddock Show concluded this day of festivities with Team France invited as the winning team of the day along with Team Spain's Jorge Prado who dominated the MXGP race. The French public were also treated to special guests and all previous MXoN winners with Team France, Steven Frossar, Marvin Musquin and Benoit Paturel. The atmosphere became electric with a unique kind of communion between motocross fans and the riders.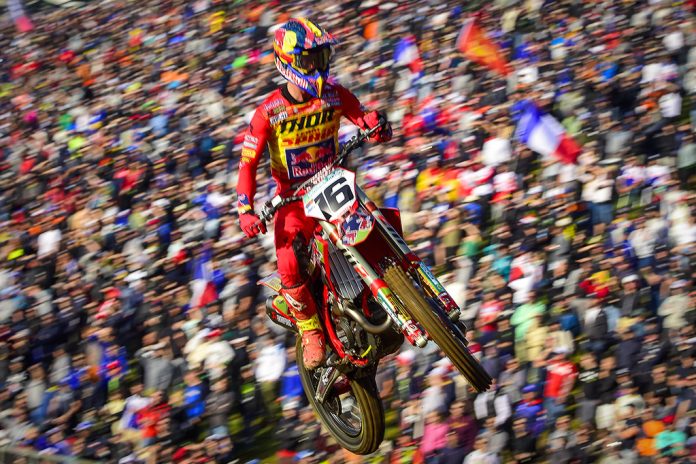 In the MXGP RAM Qualifying Race, Team Spain's Jorge Prado reminded to his rivals why he was the new MXGP World Champion. The Spaniard did what he does best; a thunderous start and a great pace. In the lead going into the first corner, the rider wearing #16, gave Team Slovenia's Tim Gajser – who was second at the start of the race – little chance of catching him. The Slovenian, already very busy with Team Switzerland' Jeremy Seewer hot on his heels, had to work hard to defend his position, which he finally lost after to the Swiss rider on lap 2. The German Ken Roczen, in the meantime also took the opportunity to sneak into the Top 3 as he overtook Gajser.
The 2022 MXGP World Champion's woes weren't over yet, because you can always count on Romain Febvre to perform home soil. Halfway through the race, the Frenchman turned on the turbo and got away from the #118 in a corner, leaving "Tiga" at the mercy of Team Australia's Jett Lawrence. The Australian let Gajser know it in two stages, with the Slovenian responding to the first attack from the #7, but unable to do anything about the second one. Feeling like he had wings, Lawrence then attacked Romain Febvre and managed to overtake him on the inside of a corner. Ken Roczen was only a few meters behind and, with two laps to go, Jett kept going with his incessant pace by taking out the German and Jeremy Seewer in a hard-fought elbow-to-elbow battle.
But it was Jorge Prado who crossed the finish line first, four seconds ahead of his closest rival, Jett Lawrence. Jeremy Seewer finished 3rd. Ken Roczen was 4th and Romain Febvre got the 5th position.
Jorge Prado: "It was a good race and i got a good start. Then the guys behind started to close on me but I then pulled away to win race. That's what I have been doing all year so we'll keep going like this for tomorrow."
RAM Qualifying Race MXGP – Top 10 Classification:  1. Jorge Prado (ESP, GASGAS), 23:58.100; 2. Jett Lawrence (AUS, Honda), +0:04.376; 3. Jeremy Seewer (SUI, Yamaha), +0:06.438; 4. Ken Roczen (GER, Suzuki), +0:08.476; 5. Romain Febvre (FRA, Kawasaki), +0:15.670; 6. Tim Gajser (SLO, Honda), +0:23.761; 7. Jago Geerts (BEL, Yamaha), +0:32.181; 8. Aaron Plessinger (USA, KTM), +0:45.364; 9. Pauls Jonass (LAT, Honda), +0:46.219; 10. Ben Watson (GBR, Beta), +0:49.578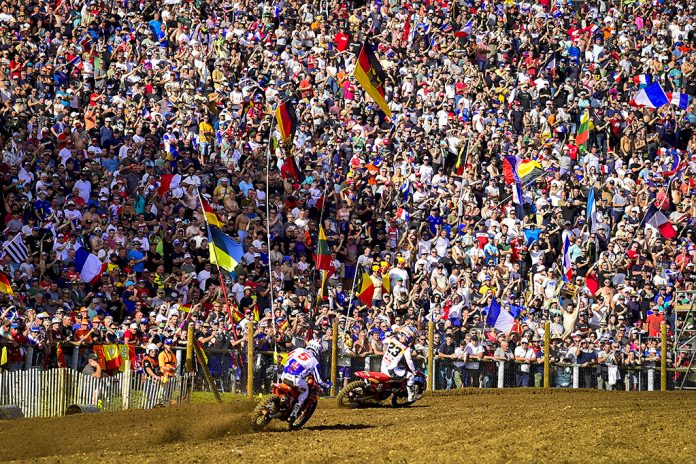 In the MX2 class, the reunion between Team France's Tom Vialle and the French public was bound to live up to the hype. And the KTM rider did not disappoint the thousands of fans present at Ernée on Saturday. Starting in second place, behind Tam USA's RJ Hampshire, Vialle initially saw Team's Germany Simon Laengenfelder pass him, but soon found his rhythm and the 2nd place when Hampshire crashed early on. From then on, the Frenchman stayed in close observation behind Laengenfelder, waiting to find a gap to take the lead. His chasing work was made easier by the distance he put between himself and Team Australia's Hunter Lawrence in 3rd place. More than five seconds separated the two riders.
Meanwhile, the battle for the 4th and 5th place was fierce. 7th in the first two laps, Team Netherlands' Kay de Wolf managed to overtake Puerto Rican Jack Chambers on lap 2. Then, on lap 4, the Dutchman took on Team South Africa's Camden Mc Lellan for 5th place, after the South African had conceded a few seconds earlier under pressure from Hampshire. Behind them, Slovenia's Jan Pancar and Spain's Oriol Oliver were battling it out to get as close as possible to the Top 5, but eventually finished 7th and 8th.
It wasn't until the final moments of the race – the last lap to be precise – that Tom Vialle put into practice a long-considered attack on Simon Laengenfelder. The Frenchman took the inside of a corner with authority, in front of a stunned Laengenfelder and a jubilant crowd. It was impossible for the German to do anything in response. The rider gave Team France a precvious victory that was hoped for by his fans, ahead of Simon Laengenfelder 2nd, and Hunter Lawrence, 3rd. Kay de Wolf 4th, also created a late charge on Hampshire, who completed the Top 5.
Tom Vialle: "It was amazing and the fans were great I had a good start and was behind Simon (Laengenfelder). The pace was not that fast but I struggle to pass but i was checking Hunter (Lawrence) behind as he was catching us a bit. I feel confident and i was really happy to pass him on the last lap amd win the MX2 Race"
RAM Qualifying Race MX2 – Top 10 Classification: 1. Tom Vialle (FRA, KTM), 24:26.806; 2. Simon Laengenfelder (GER, GASGAS), +0:01.856; 3. Hunter Lawrence (AUS, Honda), +0:05.737; 4. Kay de Wolf (NED, Husqvarna), +0:13.429; 5. RJ Hampshire (USA, Husqvarna), +0:14.139; 6. Camden Mc Lellan (RSA, Honda), +0:44.115; 7. Jan Pancar (SLO, KTM), +0:58.045; 8. Oriol Oliver (ESP, KTM), +0:58.564; 9. Jack Chambers (PUR, Kawasaki), +1:02.945; 10. Andrea Adamo (ITA, KTM), +1:04.701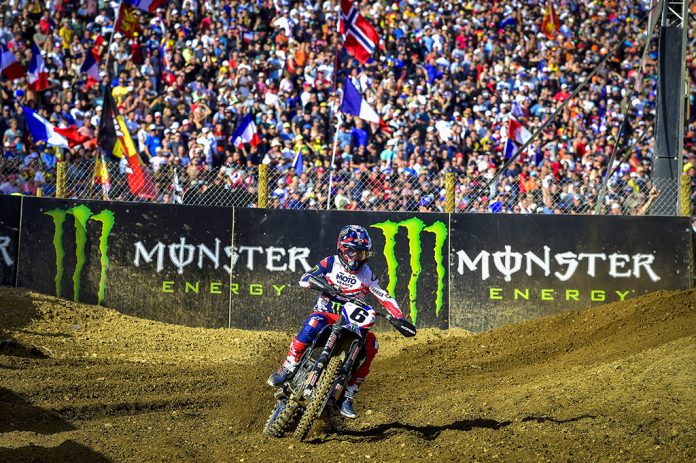 After Tom Vialle's 1st place in MX2, the French fans could only hope for the same performance from Maxime Renaux. The crowd favourite knew he was expected to do well, and he coped marvelously with the pressure of the event by getting off to a flying start. First over the first corner, ahead of Cristian Craig, Harri Kullas, Jere Haavisto and Fabio Santos, the Frenchman showed off his speed. The #6 also set the fastest time of the race, in 1'51'896.
Behind, Team USA's Craig, Estonian Harri Kullas and Australian Dean Ferris battled it out for 2nd and 3rdplace, but it was Team's Spain Ruben Fernandez, in 5th place, who was the man to watch. Ferris was the Spaniard's first victim, at the end of the first lap, when he was caught out on the exit of the corner. A lap later, it was Craig who found himself overtaken by the speed of the #18, who closed the door on 3rd place in a with a strong move. The American lost another place after an individual error that benefited Team Belgium's Liam Everts. In any case, Fernandez didn't stop at the last step of the podium and on lap 6, he played with Kullas downhill and took 2nd position before the corner. He could have lost the benefit of his hard work with two laps to go, after a crash of his own making, but he got up quickly and finished the race in 2nd place despite pressure from Kullas. The Estonian gave up his 3rd place a few moments later to Liam Everts. The Belgian was delighted to finish behind Fernandez in 2nd and Maxime Renaux in 1st. Harri Kullas and Christian Craig completed the Top 5 in 4th and 5th respectively.
Maxime Renaux: " It was amazing, I managed to make a gap and hopefully tomorrow it will be the same, as easy at it was today for me. I had a great race with a really good start and managed well all race long. I'm also super happy for team France that qualified first in front of our home crowd so we are ready and in shape for tomorrow"
RAM Qualifying Race Open – Top 10 Classification: 1. Maxime Renaux (FRA, Yamaha), 24:36.875; 2. Ruben Fernandez (ESP, Honda), +0:11.139; 3. Liam Everts (BEL, KTM), +0:14.659; 4. Harri Kullas (EST, Yamaha), +0:21.036; 5. Christian Craig (USA, Husqvarna), +0:29.938; 6. Valentin Guillod (SUI, Honda), +0:34.351; 7. Andrea Bonacorsi (ITA, Yamaha), +0:36.304; 8. Tom Koch (GER, KTM), +0:50.560; 9. Fabio Santos (BRA, Yamaha), +0:55.992; 10. Hamish Harwood (NZL, KTM), +0:57.441
Nations Qualification – Top 10 Classification: 1. France 2pts, 2. Spain 3pts, 3. Australia 5pts, 4. Germany 6pts, 5. Switzerland 9pts, 6. USA 10 pts, 7. Belgium 10pts, 8. Slovenia 13pts, 9. The Netherlands 15pts, 10. Italy 17pts.

WEEKEND TIMETABLE (CEST)
SUNDAY: 08:35 B-Final Warm-up, 09:20 bLU cRU 125 Race, 10:00 MXoN Group 1 Warm-up, 10:20 MXoN Group 2 Warm-up, 11:00 B-Final, 13:10 MXGP & MX2 (MXoN Race 1), 14:40 MX2 & Open (MXoN Race 2), 16:08 Open & MXGP (MXoN Race 3).
For more news check out our dedicated MXGP/MX2 News page
Or visit the official MXGP website mxgp.com