The festival hosts a final star-studded run as Bagnaia, Stoner, Binder, Ago and more join the Legends before an iconic balcony moment for MotoGP™
Come Sunday, the sun was back out and the heroes of the past and present were back out in force at Goodwood Festival of Speed. The final day of action made some serious memories and curated more than a couple of iconic moments, from reigning MotoGP™ World Champion Francesco Bagnaia (Ducati Lenovo Team) heading up The Hill side-by-side with first Ducati MotoGP™ World Champion Casey Stoner to the appearance of fellow Legend Mick Doohan and plenty in between, it all culminated in a star-studded photo on the balcony. And all in front of a packed house of truly passionate fans!
Sunday was the big one at Goodwood, with Bagnaia heading the heroes of the now, joined by teammate Enea Bastianini, Red Bull KTM Factory Racing's Brad Binder, GASGAS Factory Racing Tech3's Augusto Fernandez and Raul Fernandez, who was out with Aprilia Racing and grinning from ear-to-ear soaking in the atmosphere. Something that also was true of all his fellow first timers at the Festival too.
Then came the Legends. Stoner was back out on his 2008 machine and took to the Hill alongside Bagnaia in a truly seminal moment. And with them, as well as the full flotilla of 2023 riders, came something special: Giacomo Agostini, Kevin Schwantz, Wayne Gardner, Randy Mamola out for LCR Honda Castrol, Kenny Roberts Jr, Alex Crivillé, Freddie Spencer… altogether, it must be one of the most spine-tinglingly exciting groups of riders ever to have headed up The Hill at once. And that wasn't even the full group!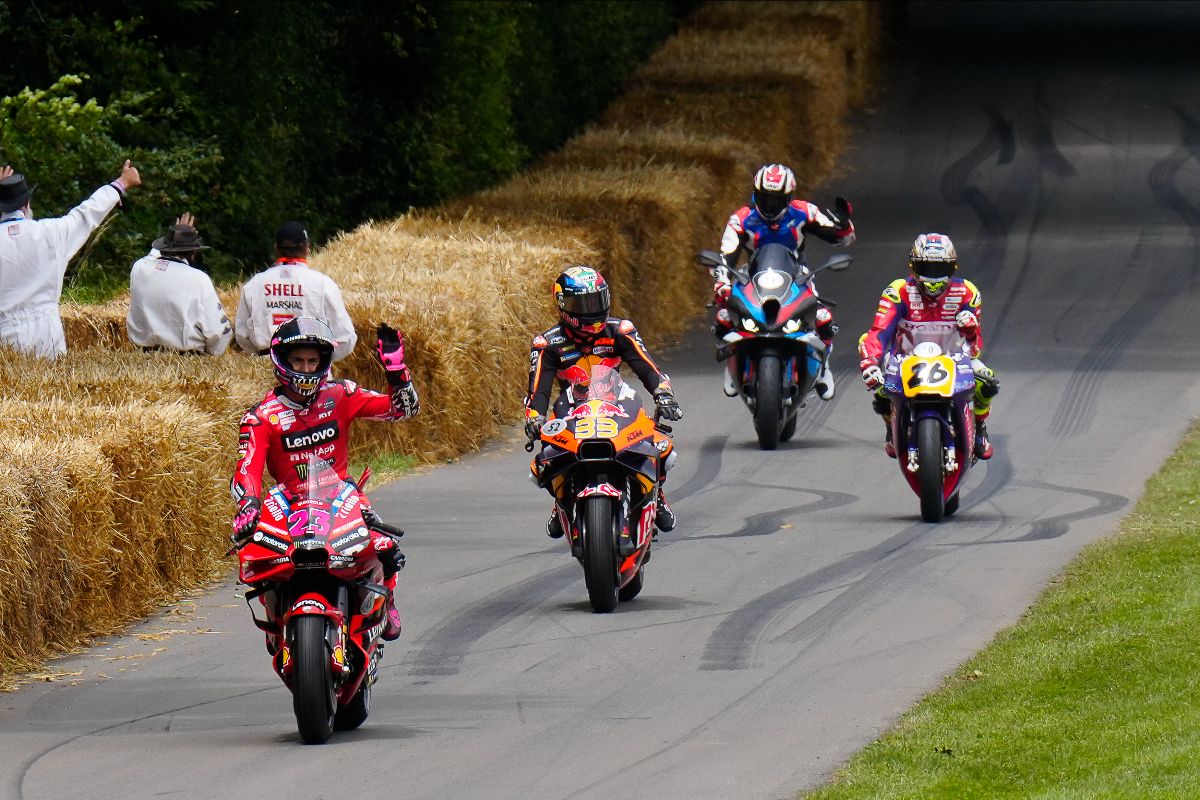 The batch also shared the Assembly Area with the likes of F1 icon Sebastian Vettel, driving his own Williams-Renault FW14B taken to the 1992 crown by Nigel Mansell. Four-time Champion Vettel also did the demo using sustainable fuel as he joins the ranks in advocating for sustainability in motorsport, something high on the agenda for MotoGP™ as the sport switches to minimum 40% non-fossil origin fuel from next season, rising to 100% by 2027.
After that instantly iconic run in the morning that saw some of the cream of the two and four-wheeled worlds assemble, the final action of the day headed in a different direction for MotoGP™ as the 2023 riders and the Legends all gathered in the Assembly Area once more. This time, the destination was Goodwood House and the iconic balcony moment, and Doohan was suited and booted for the occasion too.
Parking their machinery out front and backed by the MotoGP™ theme music for an extra flourish, the riders all headed inside the house and up to the balcony for a few interviews and to wave to the crowd. Stoner, Spencer, Roberts Jr and Augusto Fernandez all took to the mic to address the fans waiting below, and with that our action at the festival came to a close with a deserved round of applause and cheers.
Or so we thought. Stoner then decided he'd have one more ride up, taking the reins of the 500cc Pepsi-liveried Suzuki and sealing the event as a truly unique mix of motorsport, machinery, athletes, icons, championships and champions.
If that doesn't whet appetites for more, we're not sure what will! After an incredible weekend with a difference at Goodwood, it's time for the world's most exciting motorsport to remind everyone how fast we are at full gas as we saddle up from an exhibition event to one of the fastest and fiercest Grand Prix venues in the world: Silverstone. Make sure to tune in for the Monster Energy British Grand Prix in just a few weeks as the classic track hosts MotoGP™ from the 4th to the 6th of August!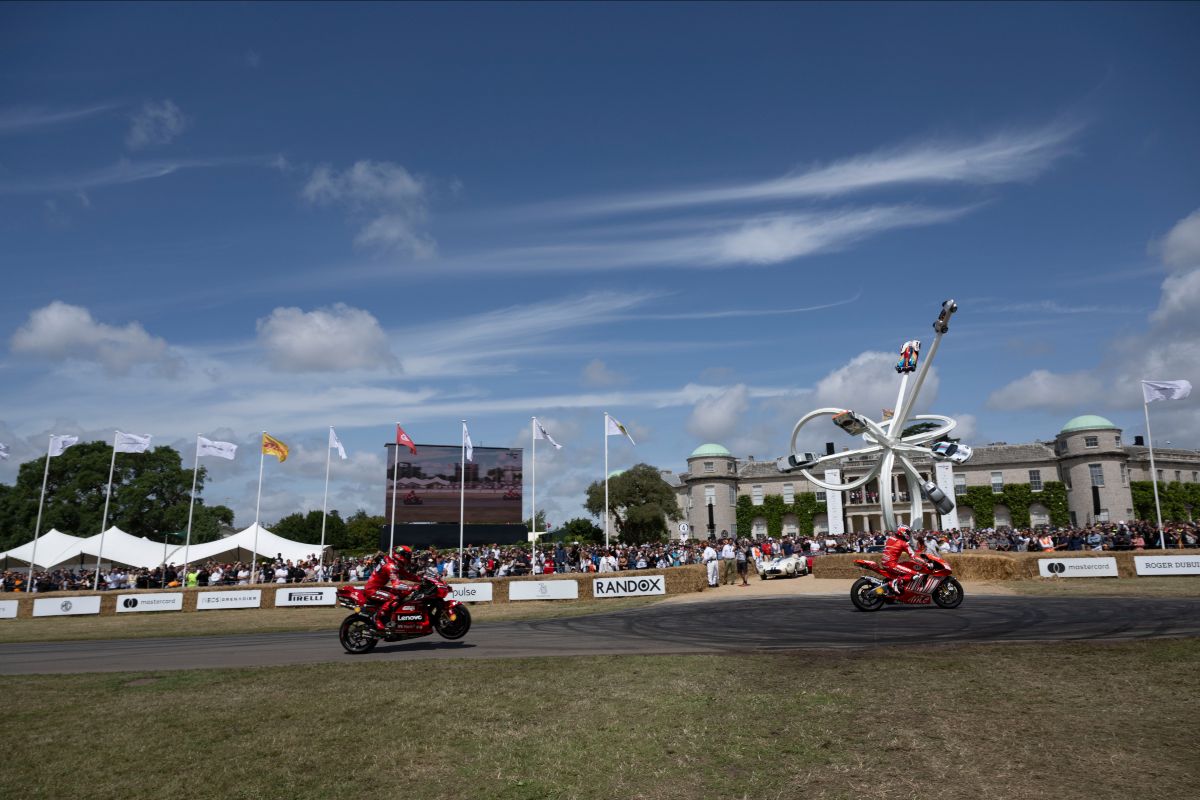 QUOTES
PECCO BAGNAIA: "It was great, it's maybe the greatest event I've ever been to in terms of passion for motorsport. So very happy to see so many people around the hillclimb, I really enjoyed seeing the cars and bikes from all the years, so very happy.
"I'd like to see many of them come to Silverstone to see us, and when we're full gas in reality it'll be even more fun!"
GIACOMO AGOSTINI: "I'm really happy to be here again after 25 years I've been coming. It's nice, many people, and many riders, cars and motorbikes… the exhibition is fantastic because people want to come here. It's incredible. And it's nice to meet the young riders, and with all the older riders, it's like a big party!"
ENEA BASTIANINI: "It's more than my expectations, it's fantastic and I've seen a lot of cars and bikes, and a lot of legends. It's so cool. The asphalt doesn't have a lot of grip but we haven't got to push, it's so nice to be here for the first time and we enjoyed it!
"The fans here, the British fans are so cool. Silverstone is really close, the first weekend of August, and I'm really excited for the race. Let's see as well because I'll be at 100%, which is so important."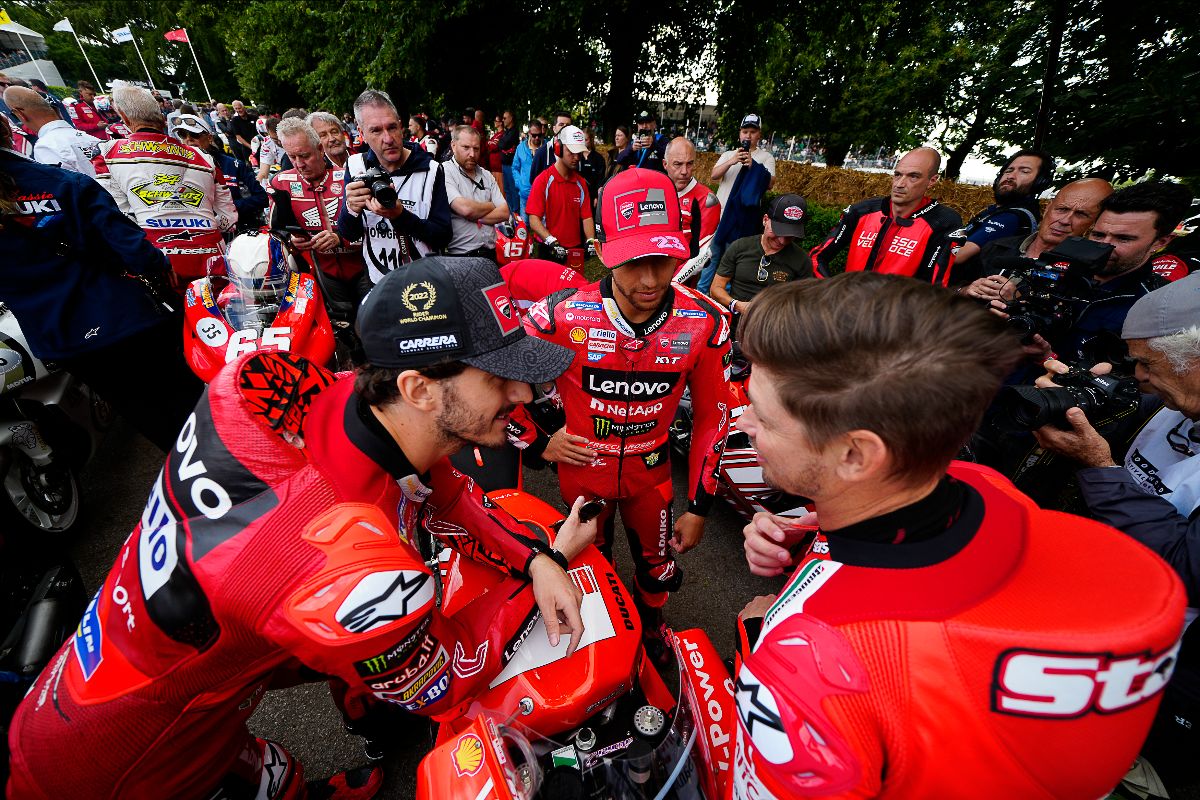 MICK DOOHAN: "It's always a spectacular place here, it's great for everyone to come here. It's great to reunite with a bunch of the older guys, like myself, and then also the younger generation, see some of the new bikes and the old bikes.
"There are a lot of people, very knowledgeable motorsport enthusiasts here from all walks of life. From team bosses in F1 to the hierarchy in the manufacturers, and a bunch people who love all motorsport, be it MotoGP or F1 or other types of racing. It's great to be here, I was here last year with Wayne Rainey, Kevin Schwantz, Kenny Roberts… and to come back now. But I think it'll be awhile before I come back again and it'll make it worthwhile!"
BRAD BINDER: "It's been really cool, I've thoroughly enjoyed my time here the last few days, it's been so cool to see the new bikes and cars, the present and past, an incredible experience. I'm just so stoked to be here!
"The amount of people here is incredible, and they put on a fantastic event. It's so cool to have the opportunity to see F1, MotoGP, Le Mans, everything all in one place. It's awesome. I've met a lot of different people since I got here."
FREDDIE SPENCER: "It was really good, especially considering yesterday we couldn't run. These kinds of events are so important, I was talking to Pecco and the riders about this yesterday… it's an opportunity for us to get in front of an entire motorsports crowd, as equals, with the other Championships and that's so critical and important. To come here and be here, today it's incredible. I've been coming here off and on since 1997!
"Getting back on the 500 is like going home for me. Three cylinders! It's great and the collectors of the bikes are amazing, the fans are amazing. It's so nice, I'm in my gear and to see the different generations here is really cool."

RAUL FERNANDEZ: "It's amazing, what an event! It's the first time I've seen a lot of cars like this, bikes like this, I'm in love seeing the Doohan bike, Schwantz' bike, for me it's like a dream. And the cars, so many I've seen on TV when I was younger. It's amazing. I've enjoyed it like a kid, it's a great experience and being here with Aprilia is even nicer. Sometimes when I see Doohan, Criville, or Casey, it's like a dream!"

AUGUSTO FERNANDEZ: "It's my first time here, I've watched on TV but couldn't imagine how it was live. And I'm enjoying a lot, lots of fans.
"They're all looking forward the Silverstone race, I'm forward looking to this race, it'll be important and I can't wait to race there after a long wait over summer. I can't wait for Silverstone!"
For more MotoGP info checkout our dedicated MotoGP News page
Or visit the official MotoGP website www.motogp.com