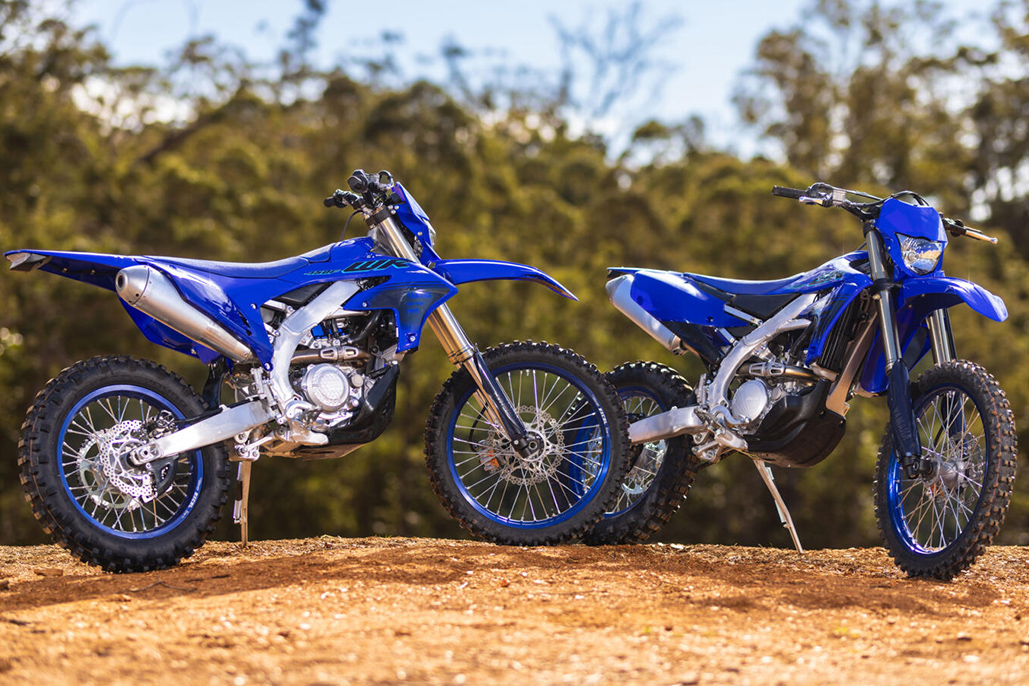 All new WR450F: Highly controllable power, next level agility
Master of all trades  
The new 2024 WR450F is the lightest, slimmest and fastest 450cc enduro bike that Yamaha has ever built. Based closely on the new-generation YZ450F motocross machine that has shown its winning potential in MXGP and AMA Supercross, the next generation WR450F delivers highly controllable performance, easily tuneable power and next level agility.
Styling is radically updated on this new enduro bike, with the super compact bodywork coming from the latest YZ450F which has already received widespread acclaim for its high levels of agility. The 2024 WR450F benefits from many design changes and enduro-specific settings – including a revised ECU with refined FI mapping, revised chassis rigidity and WR suspension settings with a lower ride height – as well as a larger fuel tank and full enduro-ready specification.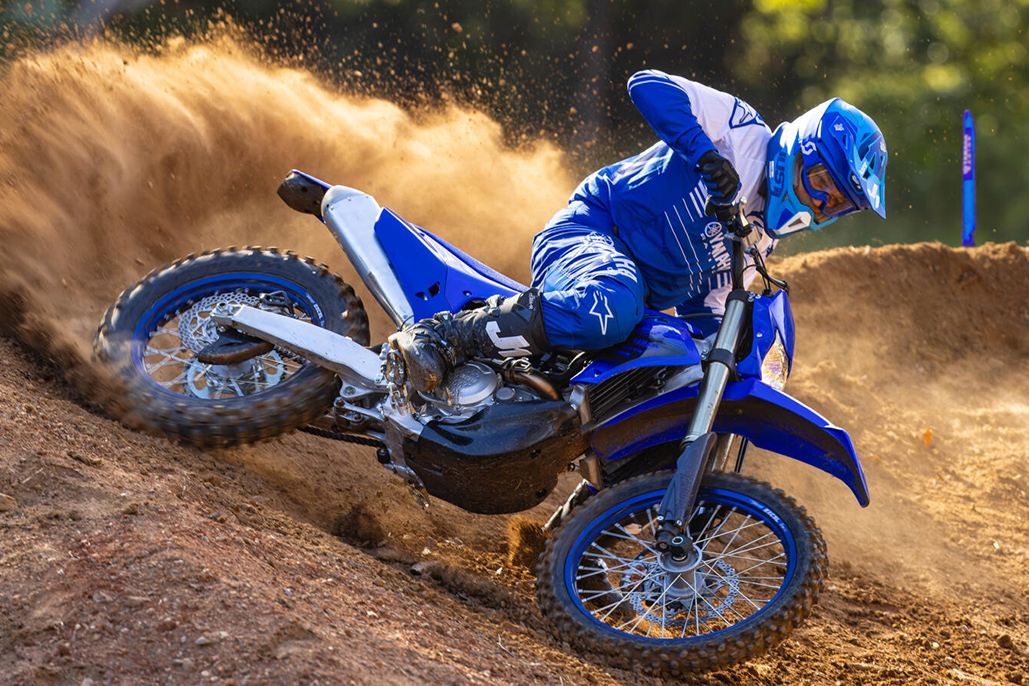 All new stronger and lighter YZ450F-type engine
Developed from the winning YZ450F powerplant, the WR450F's latest generation reverse-head engine develops increased power thanks to the new high-efficiency intake port which benefits from a redesigned inlet tract giving a straighter path to the larger 39mm titanium intake valves.
As well as being lighter and slimmer than the previous model, this high-tech dry sump 450cc engine also features a new forged piston, lightweight cylinder body, plain big end bearing and a new cam chain that are designed to handle the increased performance.
Increased performance by efficient air management and FI setting
The air-management system on the 2024 WR450F has been completely redesigned, and the airbox draws in air from the rear of the machine via ducts in the new sidepanels, frame and tank. There's also a newly designed short-style muffler that improves mass centralization and underlines the WR450F's compact feel. A revised ECU is also featured, and its WR-specific FI settings are designed to deliver more controllable power at lower rpm with strong, linear torque and outstanding medium to high speed performance.
New disc spring clutch with lighter feel
For reduced weight and a lighter, more connected feel the 2024 WR450F is fitted with a newly designed disc spring clutch with eight optimized WR-specific friction plates. The primary gear and housing are integrated, and the previous model's 6 springs are replaced by a single disc spring that gives better controllability when pulling away and slipping the clutch out of slow corners.
Lightweight wide-ratio 5-speed transmission
The newly designed wide ratio 5-speed transmission features a larger spacing between the main shaft and drive shaft, and the main shaft's gears are wider for increased durability with reduced weight. The wide ratios give the rider the ability to achieve optimum performance in everything from slow technical terrain through to fast and open riding.
Compact new aluminium chassis
The WR450F's new chassis is the same overall design as the latest generation YZ450F and features a number of dedicated technical changes to ensure its suitability for enduro racing and cross country riding. The key change on the new frame is the repositioned head pipe that is 15mm lower than previously – and together with the modified tank rails that incorporate a new U-shaped profile at the rear, the 2024 aluminium bilateral frame gives a lower centre of gravity for more agile cornering.
Compared to the design used on the successful YZ450F motocross machine, the WR450F enduro bike's frame benefits from revised frame flex characteristics that have been adjusted to give improved bump absorption. By allowing a slight lateral flex when absorbing shocks from uneven terrain, the WR450F's frame gives a more forgiving ride that helps to reduce rider fatigue and offers greater surface feedback. Other new enduro-specific features include special engine mounts with an added degree of flexibility.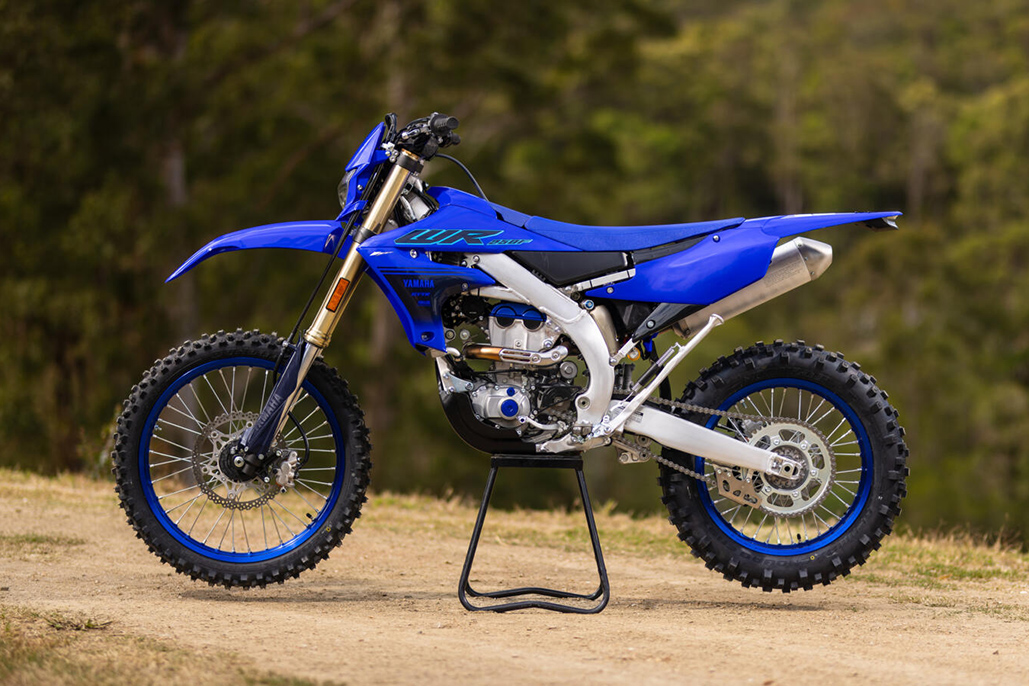 Slimmer and more compact bodywork for easier rider mobility
The WR450F's all-new bodywork features super slim shrouds that are 50mm narrower than previously – as well as a much slimmer mid-section and a flatter seat profile that make it easier for the rider to shift their body position during braking, acceleration and cornering.
Compact sidepanels form part of the highly efficient new rear duct air intake, and the smaller front and rear fenders underline the WR450F's slimmer looks that make this the most agile 450cc Yamaha enduro model. The new front fender also gives improved  airflow to the radiators for more effective cooling, and the new shape rear fender incorporates a contoured underside making it easier for the rider to grip when physically handling the bike.
Shorter stroke KYB suspension for lower seat height
The WR450F's best-in-class KYB front and rear suspension is renowned for its excellent performance over a range of different speeds and a variety of terrain, and, compared to the latest YZ450F the 2024 WR450F runs with 10mm less travel at the front and rear to give a lower seat height and a lower centre of gravity. The combined effect of the machine and rider sitting 10mm lower makes a significant difference to the bike's handling – especially in low speed turns on technical terrain.
As well as its lower ride height the 2024 WR450F's riding position is revised by relocating the footrests lower to give a 10mm increase in distance between the rider's hips and feet – and the handlebars are now moved slightly closer to the rider. This new rider triangle gives a more natural riding position for a greater feeling of rider/machine unity and a higher degree of chassis control.
The KYB forks incorporate a new hand adjustable compression damping adjuster for tool-less suspension tuning – and the combination of strengthened fork seals and redesigned fork guards giving the tubes more protection from dirt and debris helps to ensure prolonged seal life.
Simplified Power Tuner App for total controllability
Yamaha pioneered wireless tuning on its 4-stroke Off Road Competition models, and the WR450F's improved Power Tuner App is designed to take tuneability to the next level. The renewed app now features a 'Quick Tuning' function that enables the rider to easily select any engine setting from 'Smooth' through to 'Aggressive' by tapping on a single scrollbar on their smartphone. It's a simple and intuitive function that allows the rider to select different engine power character settings to match the conditions – and the new Lap Timer function enables riders and teams to see which settings are achieving the best performance.
The Power Tuner App also retains the previously available 4×4 (16 value) matrix that gives riders the opportunity to make more detailed changes to fuelling and ignition timing values.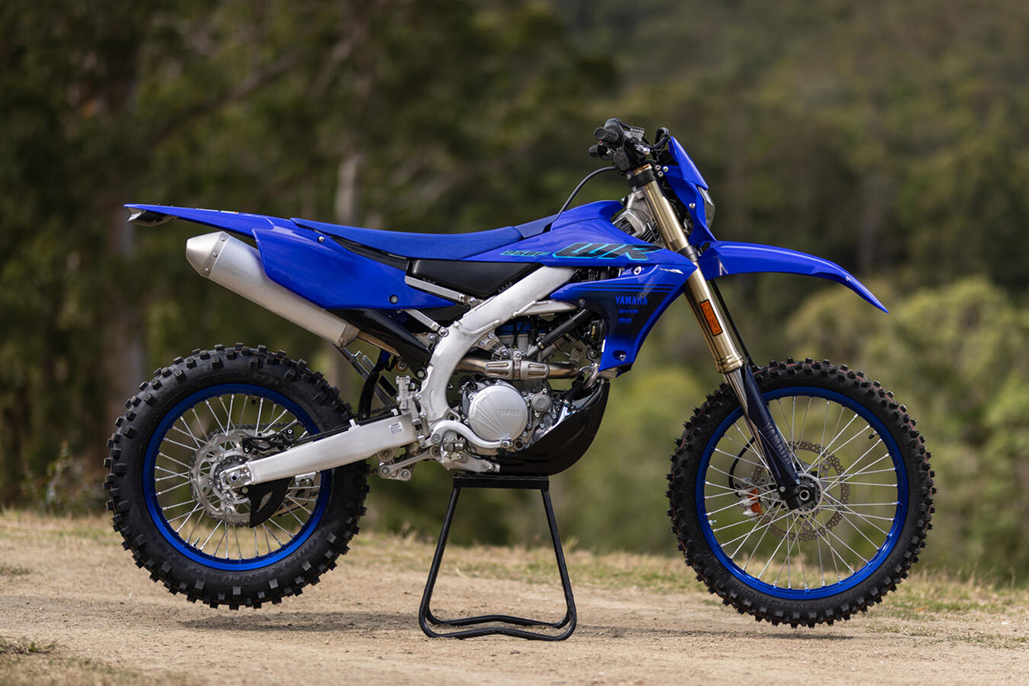 New traction control system
Every aspect of the new WR450F is designed to give the rider a greater degree of controllability in varying conditions, and the new traction control system is another example of how this high-tech enduro machine has been designed to enable riders of all experience levels to achieve their full potential. Featuring two levels of assistance as well as an OFF function, this electronic control technology temporarily suppresses power using ignition control when rear wheel slip is detected.
Multifunction handlebar switch
Riders can easily select different engine mapping and traction control settings using the multifunction handlebar switch on the left handlebar. Personal mappings can be uploaded to the bike using the Power Tuner App, and the best settings can be selected 'on the fly' to achieve the best performance in changing riding conditions.
Full enduro-ready specification
The WR450F comes fully prepared for enduro, and features a lightweight 18-inch rear wheel, enduro tyres, lighting, instruments, sidestand and a radiator fan. Fuel tank capacity is higher than the YZ450F at 7,4 litres, and there's tool-less access to the airbox – while an engine guard and enduro muffler complete the enduro specification.
Technical Highlights
All new stronger and lighter YZ450F-type engine
Higher efficiency air intake New disc spring clutch with lighter feel
Lightweight wide-ratio 5-speed transmission
Compact new aluminium chassis
Shorter stroke KYB suspension for lowered mass
Slimmer and more compact bodywork for easier rider mobility
Optimised ergonomics
Simplified Power Tuner App for total controllability
New traction control system
Full enduro-ready specification

WR250F: Motocross speed with all-terrain performance
With its reverse-head engine and lightweight aluminium chassis, the WR250F provides an ideal blend of useable power combined with easy agility. Developed using Yamaha's MX2 race winning technology, the WR250F is equipped with enduro-specific features such as a wide-ratio gearbox, revised intake and exhaust systems, special mapping and a high capacity cooling system.
Producing strong and useable torque that gives every rider the ability to achieve their personal best in different  conditions, the WR250F delivers motocross speed with all-terrain performance.
Technical Highlights
Powerful YZ250F-type engine
Yamaha's innovative reverse-head technology
Lightweight aluminium frame
Best-in-class KYB suspension
Power Tuner App
Wide ratio 6-speed transmission
Mass centralized design
2-mode engine mapping switch
Lightweight multi-function display
Developed using Yamaha's MX2 race winning technology
Availability and colour options
The 2024 WR450F is available from November 2023 and will be offered in Icon Blue. The WR250F is available from October 2023 and will be offered in Icon Blue with new graphics.
Yamaha Genuine Accessories
Yamaha Genuine Accessories features premium off road riding gear and a wide selection of leisure clothing for adults and kids.
There is also a range of high quality GYTR® performance parts and kits for increased race performance. Every GYTR® item has been thoroughly tested and evaluated by Yamaha factory riders before being made available to the public.
Yamaha also offers a full range of Yamalube lubricants and machine care products that have been developed and blended in-house to ensure consistently high standards, and you can be sure that every item in the Yamaha Genuine Accessories line has been designed to offer the best performance with premium quality and the perfect fit.
Riding gear
Developed by Yamaha in collaboration with Alpinestars, the latest MX riding gear collection includes the full outfit from jerseys, MX pants, gloves and off road body armour. Manufactured from premium materials and featuring exclusive factory designs, the range is available in official Yamaha dealers and in the Yamaha Motor webshop.