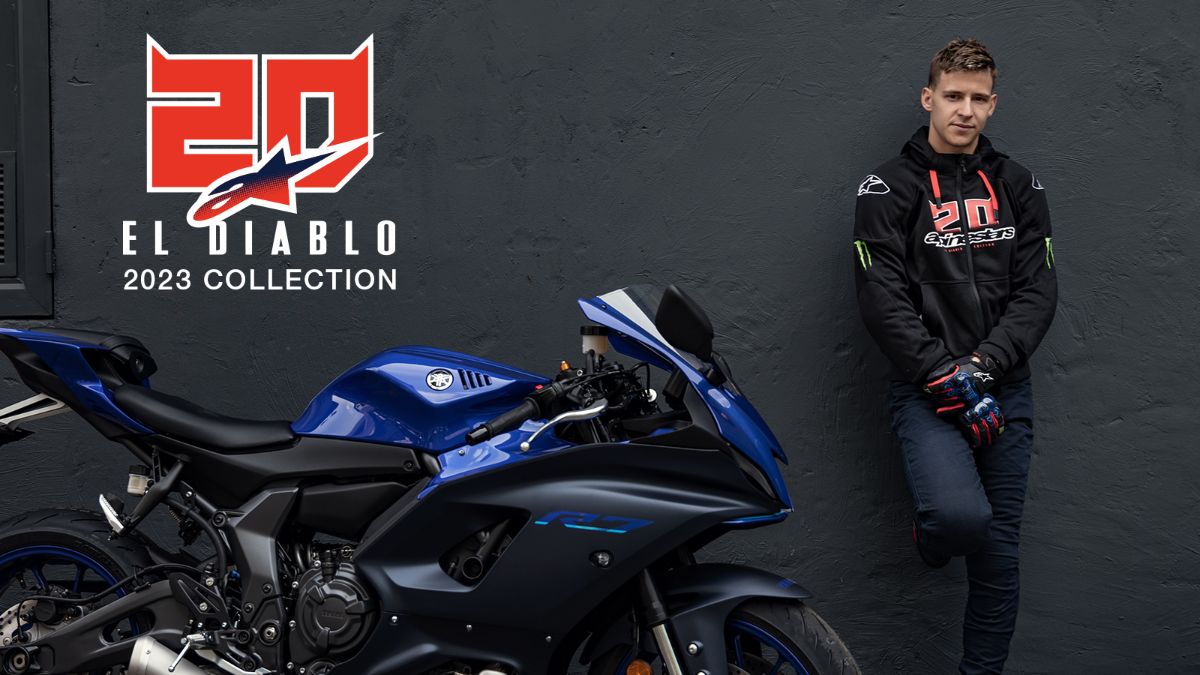 Alpinestars and MotoGP World Champion, Fabio Quartararo, have collaborated to launch the first 2024 Alpinestars X El Diablo Capsule Collection that infuses Fabio's unique racing style from the track and combines it with Alpinestars' technical product expertise. The FQ20 El Diablo collab offers a variety of products inspired by Fabio's one-of-a-kind style and racing attire for the 2023 MotoGP season, incorporating his horned devil number 20 on the chest and Fabio's signature blue and red color faded Astars logo to life!
The capsule collection pieces bring elements from Fabio's iconic El Diablo logo and the new design elements of his gear and his racing helmet. Leveraging the logos to make them stand out on the collection pieces and bringing the DNA of racing and Fabio's spirit to the new line.
"To have my own collection with Alpinestars is a pretty amazing feeling, especially because Alpinestars is a brand that I've loved since I was a kid. The inspiration of the collection was based on my first helmet with a devil, so that's why we came up with this idea for the capsule. I'm super excited to launch the El Diablo Collection especially for my fans in Asia, Europe, and all over the world."
– Fabio Quartararo
The 2024 El Diablo Capsule features jackets, gloves, performance riding shoes, and accessories including technical backpacks. Several of the jacket additions to the FQ20 El Diablo Capsule Collection are Tech-Air® Ready, designed to accommodate the expansion of the Tech-Air® Airbag System, and provide motorcycle riders with complete upper body protection.
2024 FABIO QUARTARARO EL DIABLO COLLECTION
FQ20 Zaca Air Monster Jacket
FQ20 T-SPS Air Monster Jacket
FQ20 Chrome Ignition Monster Hoodie
FQ20 Legit Crew Fleece
FQ20 Stella Chrome Sport Hoodie
FQ 20 Faster-3 Rideknit® Shoes
FQ20 Sektor Shoes
FQ20 SP-8 v3 Monster Gloves
FQ20 SMX-1 Air v2 Monster Gloves
FQ20 Reef Monster Gloves
FQ20 Reef Gloves
FQ20 Copper Gloves
Fabio's charisma, drive to be faster than everyone else, and tenacity are qualities appreciated by Alpinestars and the company's world-renowned racing program that incorporates professional athletes' feedback and involvement in product development. The new FQ20 El Diablo Collection brings these road-riding products to life, giving Fabio's fans the opportunity to ride with advanced protective gear in unique FQ20 style.
For more Alpinestars news check out our dedicated page Alpinestars News
You find out where to buy in the UK via Oxford Products website
or head to the official Alpinestars website alpinestars.com/