The #81 comes out on top after a duel to the line as Ferrari slides out in Race 1 in France.
Jordi Torres (Openbank Aspar Team) started 2023 on top! The Spaniard duelled compatriot Hector Garzo (Dynavolt Intact GP MotoE™) right to the line for the first honours of the new era, coming out on top after a last lap duel. Matteo Ferrari (Felo Gresini MotoE™) crashed out of the fight at the front and has a Long Lap for Race 2 after a dramatic start, with Randy Krummenacher (Dynavolt Intact GP MotoE™) coming through to complete the rostrum on his first electric start.
Garzo took the holeshot from Ferrari as the top two shot off the line, with Torres slotting into third from third on the grid. Nicolas Spinelli (HP Pons Los40) moved up into fourth after a solid start too, with the rookie on the move and a gap forming behind the top four.
At the front, it was Garzo vs Ferrari, with the lead changing on Lap 2 and then again a lap later, and in some style. That wasn't the end of the drama for either though, with Ferrari then suddenly crashing out with four to go… leaving Garzo with a little breathing space ahead of Torres.
The chasing group had also had a shake up, with Spinelli crashing out before both Miquel Pons (LCR E-Team) and Mattia Casadei (HP Pons Los40) went down at Turn 7 – just a lap before Ferrari did the same. That made it a duel for the win and huge group fight to complete the podium, with Krummenacher leading the train on the penultimate lap.
It also added more drama for Ferrari as the Yellow Flags were still out, and he was given a Long Lap penalty to serve in Race 2. The drama wasn't done for Race 1 yet though: a Long Lap for Kevin Manfredi (Ongetta SIC58 Squadra Corse) after a shortcut ensured the Italian wouldn't be on the rostrum, but he was still in the fight for it until the final lap.
That final lap saw Torres choose his moment to perfection, attacking into the chicane and then getting the hammer down to try and hold Garzo off. And that he did, with the number 81 able to hold on to the line, taking the first FIM Enel MotoE™ World Championship victory by less than a tenth.
Behind Garzo, the podium fight saw Krummenacher come out on top as the Swiss rider makes his electric debut on the rostrum, ahead of Kevin Zannoni (Ongetta SIC58 Squadra Corse). Hikari Okubo (Tech3 E-Racing) completed the top five.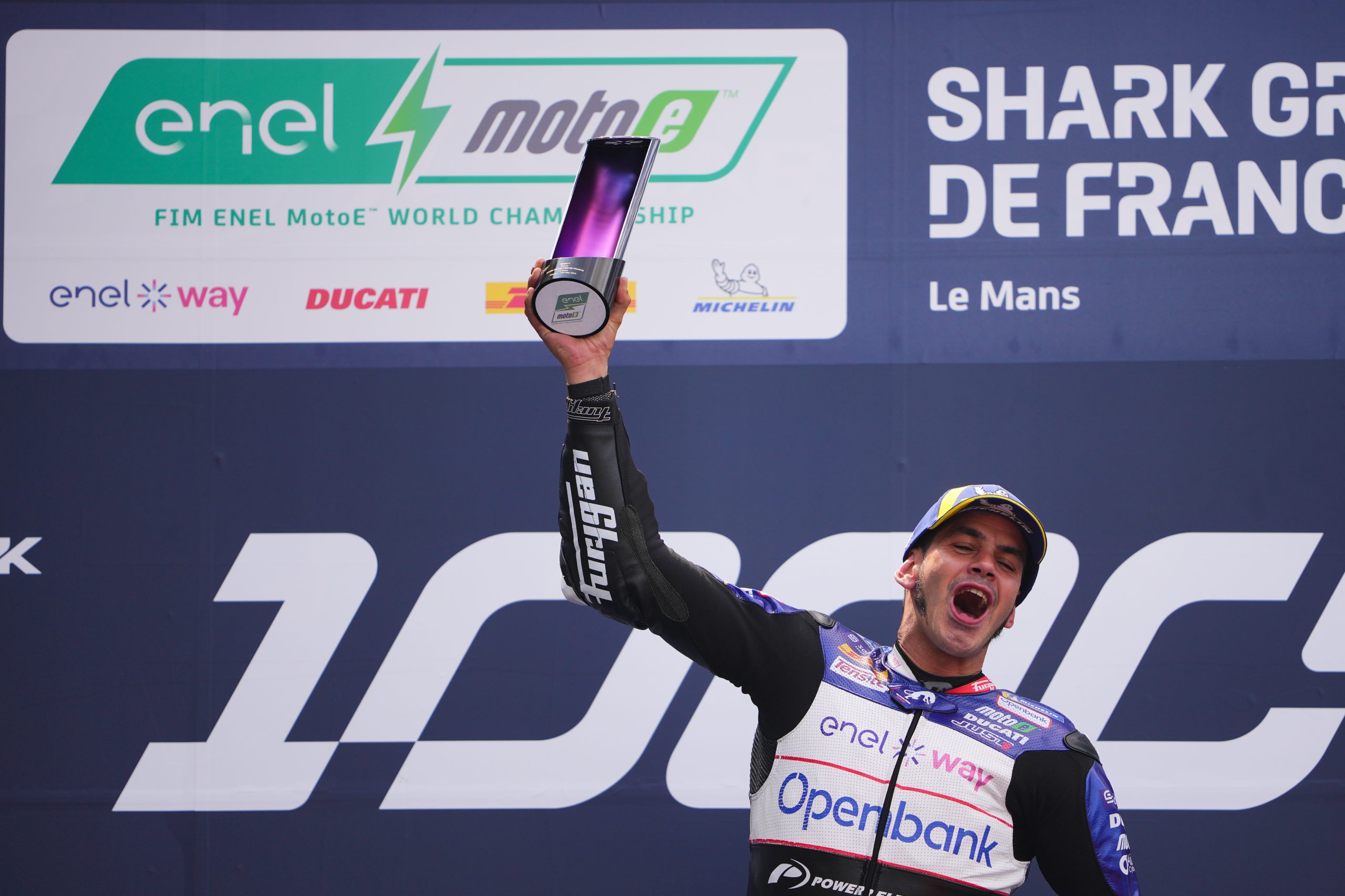 MotoE Top 4 – Race Result 1 – French GP
1. Jordi TORRES – SPA – Openbank Aspar Team – 13'29.947
2. Hector GARZO – SPA – Dynavolt Intact GP MotoE – +0.092
3. Randy KRUMMENACHER – SWI – Dynavolt Intact GP MotoE – +7.539
4. Kevin ZANNONI – ITA – – Ongetta SIC58 Squadracorse – +7.827
MotoE Top 4 – Championship Points after Race 1 – French GP
1. Jordi TORRES – SPA – Openbank Aspar Team – 25pts
2. Hector GARZO – SPA – Dynavolt Intact GP MotoE – 20pts
3. Randy KRUMMENACHER – SWI – Dynavolt Intact GP MotoE – 16pts
4. Kevin ZANNONI – ITA – – Ongetta SIC58 Squadracorse – 13pts
For more info checkout our dedicated MotoE News page
Or visit the official MotoGP website motogp.com