It was a day of firsts at Michelin Raceway Road Atlanta on Saturday with the first three races of the day featuring riders winning their first career MotoAmerica races.
Orange Cat Racing's Ezra Beaubier got things started with his victory in the Stock 1000 race and that was followed by Bad Boys Racing's Avery Dreher's debut win in the Junior Cup race. The third first-time MotoAmerica race winner was Warhorse HSBK Racing Ducati's Xavi Fores, with the Spaniard scoring his first series win in Supersport. It wasn't until the fourth race of the day, Medallia Superbike, that the winner had won before. In this case it was the more famous of the Beaubier brothers, Cameron, winning the 55th AMA Superbike race of his career.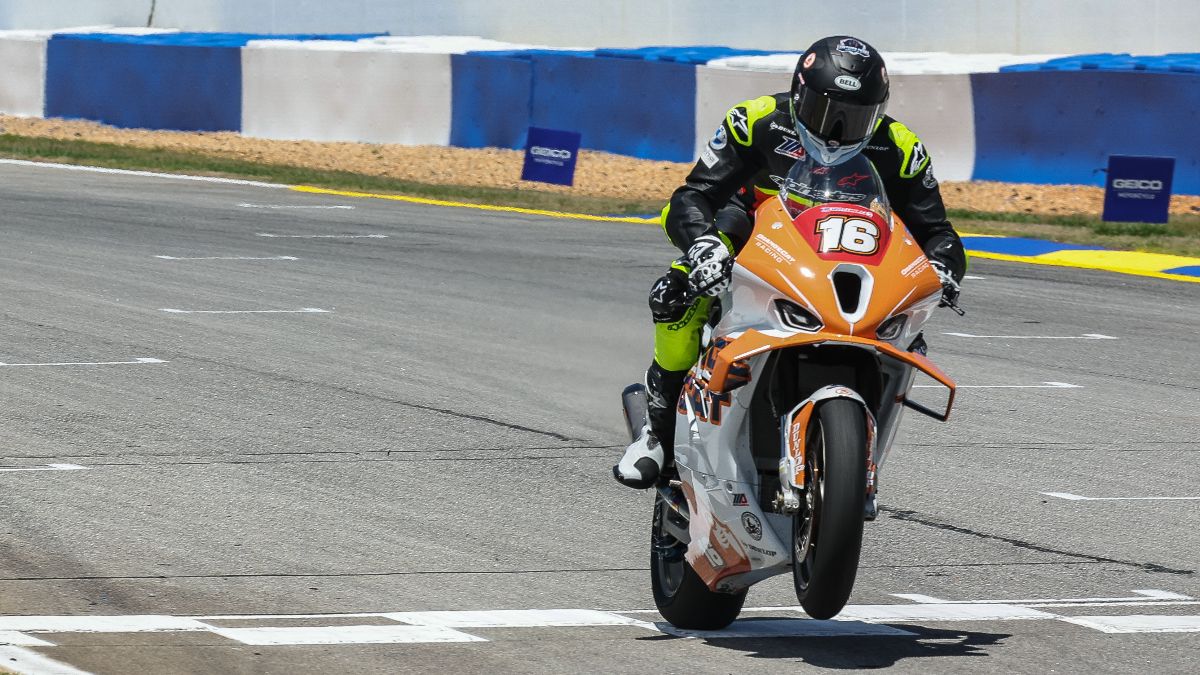 Stock 1000 – No One Better Than Ezra
Ezra Beaubier had never finished on the podium in any of the MotoAmerica classes he'd dabbled in. Not KTM RC Cup, not Stock 600, not Supersport. Last year, Beaubier raced in Superbike and Stock 1000 with a best finish of fifth in Stock 1000.
On Saturday at Road Atlanta that all changed as Beaubier didn't resemble a first-time winner as he withstood constant pressure from the likes of Travis Wyman and Geoff May to win his first career MotoAmerica race on his Orange Cat Racing BMW M 1000 RR without putting a wheel wrong.
Beaubier, who made a break for it when the lead trio encountered traffic, bested Wyman by 2.7 seconds with May another half a second behind in third at the end of the 13-lap race.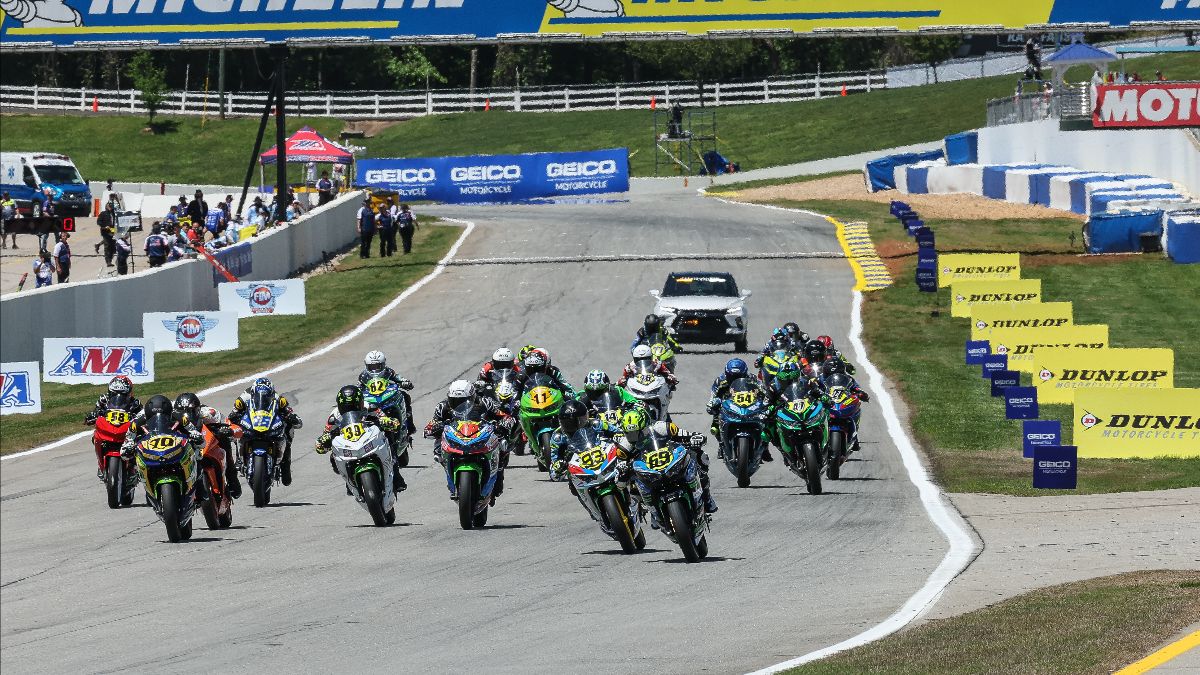 Junior Cup – Dreher's First
The Junior Cup race featured your typical Junior Cup race with a horde of racers battling to the bitter end. This one was a bit different than last year's version in that the names were mostly different as a new class of youngsters settled in at the front with last year's best moving on to other classes.
Avery Dreher was the best of the new crop on Saturday with the Bad Boys Racing Kawasaki-mounted 16-year-old besting SportbikeTrackGear.com's Max Van, a three-time winner in 2022, by .612 of a second. Bicknese Racing's Hayden Bicknese, a one-time podium finisher last year, was third and just .348 of a second behind Van.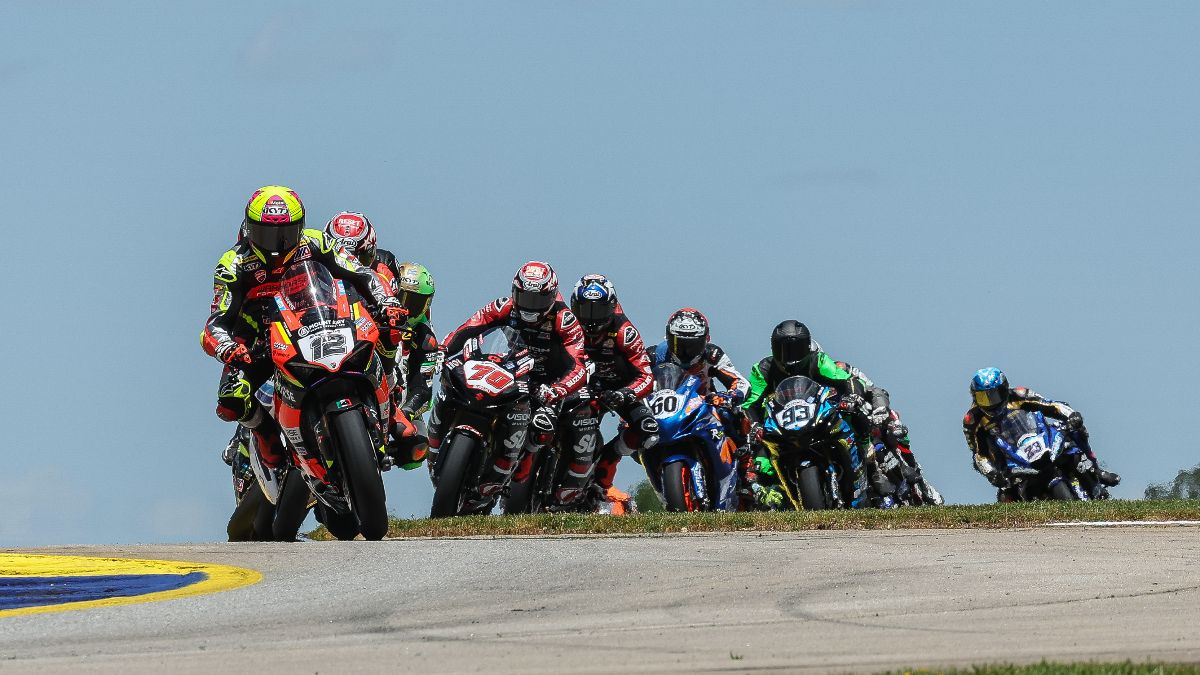 Supersport – Fores' First
Warhorse HSBK Racing Ducati's Xavi Fores raced at Road Atlanta in 2004 in a Suzuki World Cup race as a 16-year-old. Nineteen years later, Fores was back on the top step of the podium with a scintillating victory over 17-year-old Tyler Scott by a scant .041 of a second after a thrilling 18-lap battle.
For the majority of the race, it was a battle between Fores and Squid Hunter Racing's Josh Hayes, but Scott moved into contention in the closing laps and almost beat Fores to the line. Hayes, meanwhile, held on for third, just .315 of a second from victory as he searches for what would be a record-setting 87th AMA victory.
Tytlers Cycle Racing's Stefano Mesa and Michael Gilbert Racing's Michael Gilbert rounded out the top five finishers.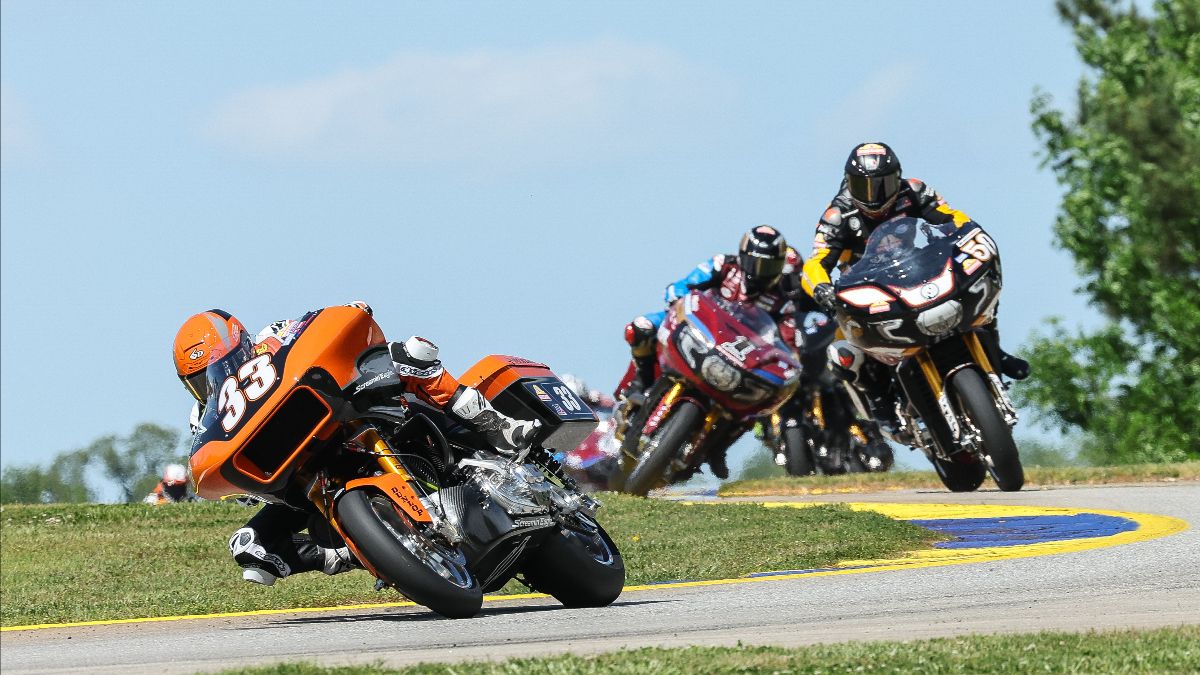 Mission King Of The Baggers – Wyman!
H-D Screamin' Eagle's Kyle Wyman was unstoppable in the first of two Mission King Of The Baggers races at Road Atlanta on Saturday. After botching his line and shift points in the opening laps, Wyman settled in and pulled away from his pursuers to take his second win of the season and his seventh career King Of The Baggers victory.
At the end of the eight-lap race, Wyman was 3.908 seconds clear of defending champion Tyler O'Hara, the Indian Motorcycle/Progressive/Mission Foods-backed Challenger rider holding off the advances of Vance & Hines Harley-Davidson's Hayden Gillim and Sac Mile/SDI Racing/Roland Sands/Indian's Bobby Fong at the finish line. O'Hara beat Gillim by .137 of a second with Fong just another .177 of a second behind.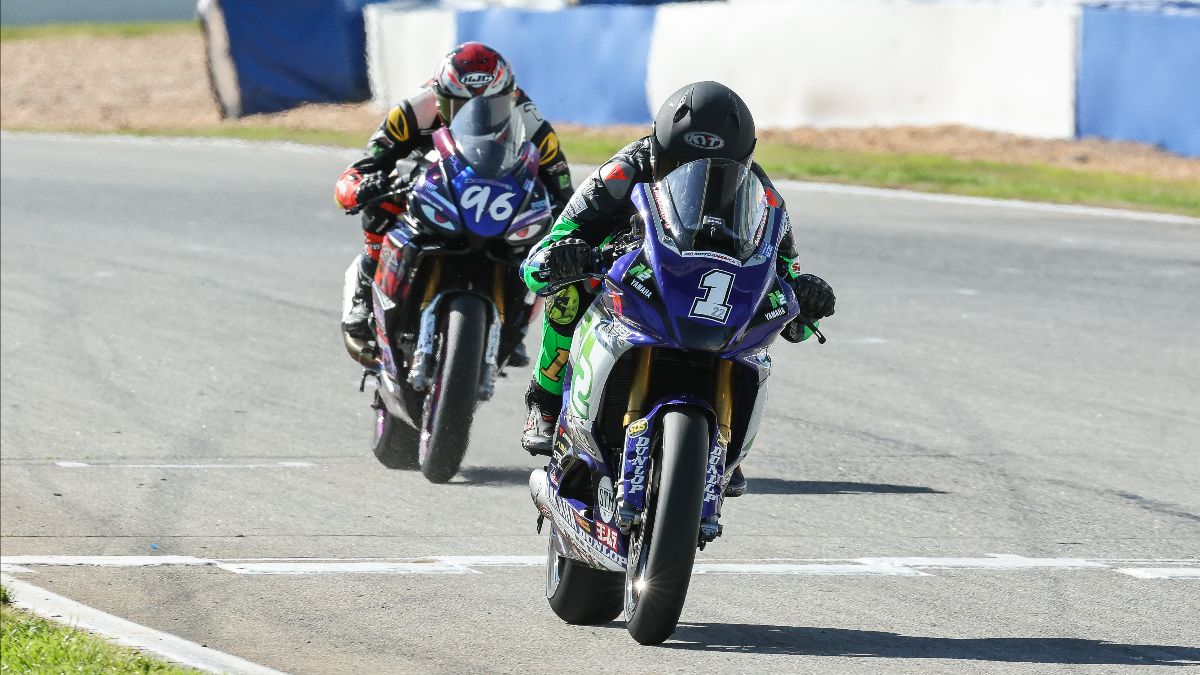 REV'IT! Twins Cup – Davis Barely
The final race of the day on Saturday was REV'IT! Twins Cup and it marked the first victory of the season for defending class champion Blake Davis, the N2 Racing/BobbleHeadMoto-backed rider besting championship points leader Gus Rodio by .276 of a second after 11 laps.
Davis and Rodio, on the Rodio Racing – Powered By Robem Engineering Aprilia battled for the duration with some six seconds in hand over the battle behind them that went to Cycle Tech's Hayden Schultz over Track Day Winner/Blackmon Racing's Jackson Blackmon.
Schultz was fortunate to be racing as he was taken out in a crash on the warm-up lap but was able to get back to the pits for repairs in time for the restart.
After three races, Rodio leads Davis by 14 points in the championship, 65-51. Blackmon is third with 49 points.
Quotes…
Ezra Beaubier – Stock 1000 Winner
"A lot has changed. New team. New bike. And just a new mindset, really. Just happy with where I'm at. Everything was just clicking. Yesterday I surprised myself with pole. I definitely did not expect that at all. To go out and win today, that was another huge shocker. I did not expect it to come that easy. I know these guys are fast. Last year I left everything I had out on the track and sometimes, a lot of times, ended up on my head. My main goal for the year was I just wanted to see every checkered flag. Last year I had so many DNFs, that I just want to be there until the end. To come out of the box swinging like this, it's a dream come true. That was the easiest race of my life, literally. Everything was clicking and working. I wanted to lead, especially coming into the lappers, just because if you're the first guy through the lappers, you usually are able to get through them a little bit cleaner. Even when Geoff (May) passed me, I wanted to go straight back past him because I wanted to be at the front. I knew I had a little bit more in the tank if needed. I just kept hitting my marks. Everything was just clicking. It was like a dream out there. It was just butter."
Xavi Fores – Supersport Winner
"Well, honestly, I was struggling all the weekend in that part, especially because our bike is quite stiff with no chassis device. It's quite stiff. On what is a bumpy area, the bike struggles a little bit. So, one of the laps Josh (Hayes) overtook me and he was first there. He pulled some meters away from me. I
said, 'Well, if I don't pass him and I defend my position, it will be hard to fight for the win because there I was losing that much.' Especially every single lap when I was putting the bike into turn one, I could hear the bikes behind me really close to me. So, I said, 'Okay, this is not my sector. I have to defend that sector and I was quite strong on the brakes.' The second and third split, I was quite fast and consistent. That was my target. To keep defending my position all the time because I had no more pace to go away and put meters. It's impossible. Josh has a lot of experience. Also, Tyler (Scott) is really fast. It was impossible. The main thing for me was try to stay always first. Try to defend the position. Tyler passed me on the last lap on the back straight before the chicane. I was lucky that I didn't lose that much on the draft with him and I could pass him on the brakes. But I was really scared in the last corner because we got the lapped rider and I had to go over the grass because I had no space to pass him. I was afraid to lose the victory. But anyway, the long, dry laps I did on the weekend because yesterday we had some electrical problems and have been forced to stay in the garage most of the time. I'm really happy to have the first victory and a good start to the season, even if it's quite long and we have to be ready for the race tomorrow."
Avery Dreher – Junior Cup Winner
"Coming into this season, I had high hopes of getting into the top three in the championship. Been working pretty hard. The race was tough. Just tried to play it smart. It sucks that we had the restart, but there was a little bit of contact in there. At the end of the race, I got shuffled back a little to fourth, and then clawed my way back up into third which was where I anticipated being. Just went by Max (Van)."
Kyle Wyman – King Of The Baggers Winner
Definitely felt like I kind of found another gear this morning. Dug deep for some into the 30s. I did a 30.4 this morning. I kind of backed it up with a 30.5. I felt like I could do that pace. During the race, I made a really clean first lap, and then second and third lap I kind of spaced a couple things, made some mistakes. I lost a half second on the back straightaway with some weird shifting. Kind of waited too long to get a shift, got rev limiter, upshift, had to backshift and upshift again. I had to gather it up a little bit in the first two or three laps. Then just kind of settled into that kind of mid to high 30 pace. I thought that that would grow the gap. It kind of stayed a little bit constant, so I kind of dug one out and put together a 30.3 with a few laps to go. That kind of finished it to where I had enough of a gap where I could relax. It's really cool that I'm in a position with the bike where I can ask a little bit more out of it at times, and it will respond well. There was a long time with these bikes where you get a little bit greedy with it, and it'll put you on the ground. I'm getting really comfortable on the bike, and I think it's showing. There's definitely some things that we can clean up for tomorrow because I kind of struggled in a few areas. So, I think we'll be even quicker tomorrow."
Blake Davis – REV'IT! Twins Cup Winner
"I figured Gus (Rodio) was going to just draft by me and out-brake me into turn ten. I ran a really defensive line coming through the kink, turn nine. Just was able to stay out front. Then also I was kind of scared going into turn twelve. I didn't know if he was going to make a last-minute dive bomb. Definitely gets a little crazy down in there sometimes. It was definitely a great race. We were going back and forth the whole time. I felt like I was really good on the brakes. Gus had his strong points also. I'm not going to give away too many secrets. It was definitely a lot of fun battling with Gus."
For more info checkout our dedicated MotoAmerica Support Series News page motoamerica-support-series-latest-news/
Or visit the official MotoAmerica website motoamerica.com/