Harley-Davidson® European 120th Anniversary Festival – live music line-up announced.
Today marks 120 days to go until thousands of passionate Harley-Davidson® fans join together in Budapest, Hungary to celebrate 120 years of the Motor Company. The 'European Harley-Davidson® 120th Anniversary Festival' will take place from the 22nd to the 25th of June and promises to be a unique and thrilling party of multiple dimensions!
This landmark festival will bring together motorcycle enthusiasts and H-D® fans from all over the world to celebrate the brand's incredible heritage, the iconic motorcycles that it has produced over the past 120 years, and a look forward to the exciting future that lies ahead.
Taking place in the Puskás Aréna Park, in the centre of the city, festivalgoers can look forward to four days packed with first-class international live music acts, with 50 bands performing across six stages and providing a comprehensive and eclectic music programme. Headlining the event's main stage are several internationally renowned artists, including popular Australian rock group Wolfmother on Saturday the 24th of June and Deep Purple legend Glenn Hughes on Sunday the 25th of June, who will be performing the group's best-loved hits. The second day of the festival, Friday the 23rd of June, will celebrate female vocalists and will be headlined by Larkin Poe, led by Nashville-based sisters Rebecca and Megan Lovell; meanwhile, many of Hungary's best-loved and top artists will also be performing throughout the event.
Alongside these crowd-pleasing music acts will be a vast range of other entertainment and activities, with something on offer for all to enjoy – from young families to adrenaline-seekers. The extensive festival programme will include:
Moto culture – a wide range of riding opportunities, spectacular moto shows and stunning indoor and outdoor exhibitions featuring H-D® motorcycles past, present and future
Dynamic entertainment – dedicated zones including Adrenaline and Family Parks, plus event showcases across the festival campus
Shopping, food and drink – 200+ traders including authorised Harley-Davidson® dealerships, and 80+ food and drink vendors offering a huge mix of international flavours.
One festival highlight is bound to be the Harley-Davidson® parade, which will see the spectacle of thousands of motorcycles riding through the heart of the city past historic landmarks.
A comprehensive range of advance tickets for this unmissable event are now on sale via hd120budapest.hu. Available ticket packages now include both single-day and full four-day festival options, plus rally packs containing exclusive event merchandise (available until the end of April). The website also provides guidance for accommodation options, with guests advised to arrange accommodation soon, as a number of hotels are already fully booked across the festival dates.
Join Harley-Davidson in June to experience a celebration like no other.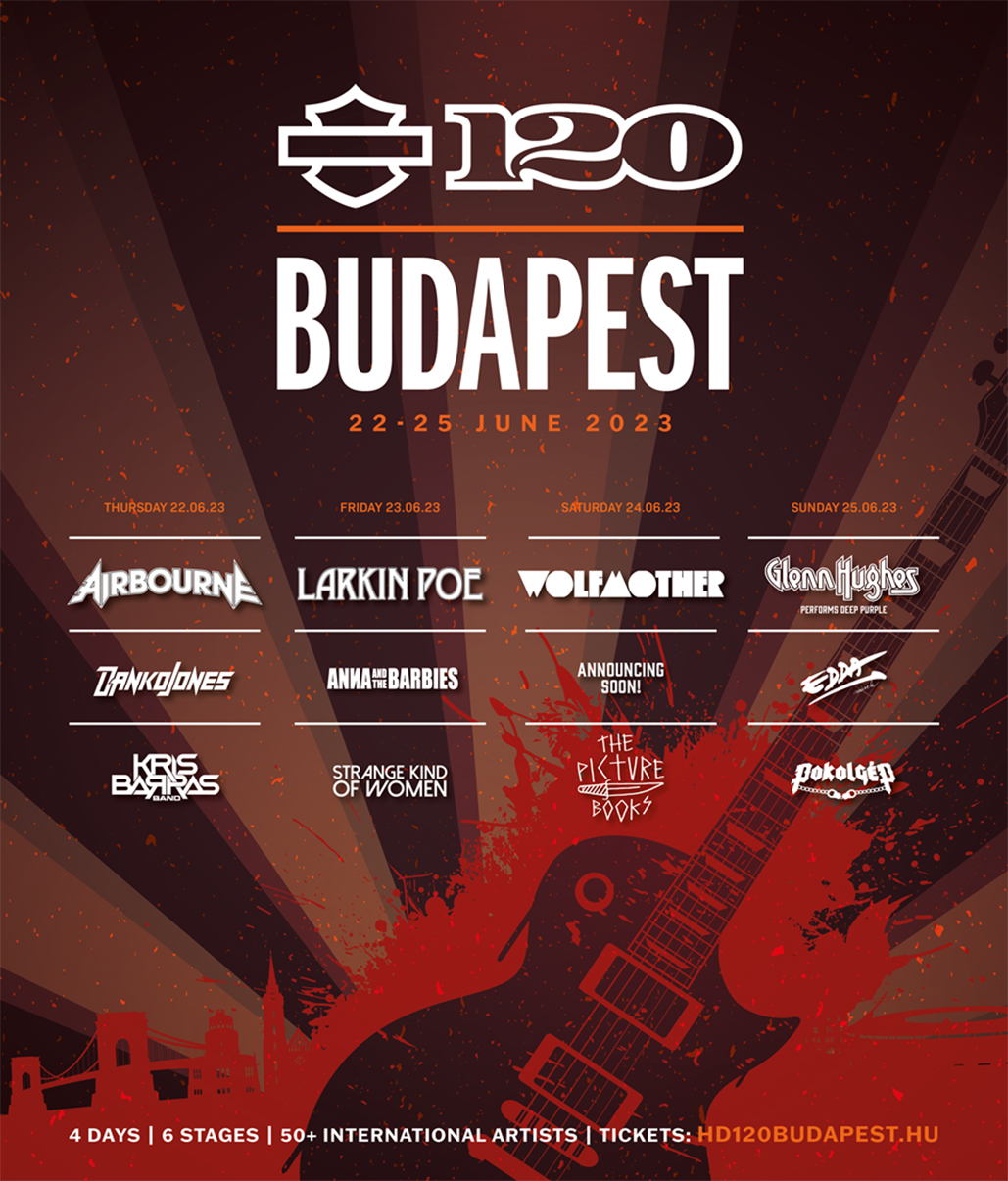 For more Harley-Davidson UK news check out our dedicated page Harley-Davidson UK News
or head to the official Harley-Davidson UK website www.harley-davidson.com/gb/en/index.html